Rick and Morty taught us that there are infinite realities. If there's even half a grain of truth to that, in one of those infinite realities, the 2022 Subaru BRZ probably wouldn't exist.
In a time where the go-to buzzwords are electrification, autonomy, connectivity, and crossovers, sports cars (especially cheap ones) are being squeezed out. Engagement is punished, comfort is rewarded. Simplicity is dead, usurped by digital-this and big-screens-that. The original BRZ and Toyota 86/Scion FR-S siblings were fun, but now, it's time to get down to business with electrification, autonomy, connectivity, and the Solterra and bZ4x crossovers. So, it's a little surprising to see a sequel to the inaugural project from the early days of Subaru and Toyota's collab.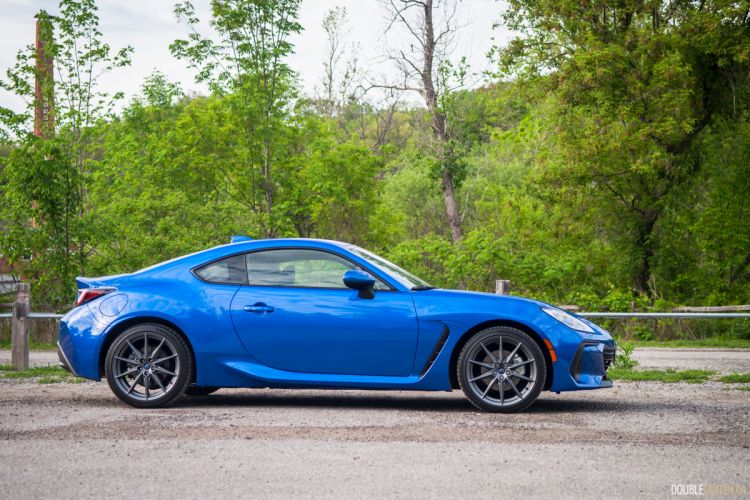 For the most part, there's nothing revolutionary underneath the new BRZ. It shares the same basic underpinnings with the original — definitely not a knock, since there was a lot to love — but marginally tweaked and stiffened here and there. The original BRZ was the furthest thing from a pool noodle; the improvements to the new one won't go unnoticed by more seasoned drivers pushing the car to its limits on a racetrack, while mere mortals such as myself will appreciate that the BRZ's balance and tail-wagging playfulness is still there, enough to make even the most mundane grocery-store run enjoyable.
Body roll is minimal, grip is plentiful thanks to the factory Michelin Pilot 4S summer rubber, and the steering is sharp and reasonably communicative. The BRZ is supposedly the more precise and serious choice for tearing up a racetrack, at least compared to its Toyota twin, but you probably won't notice a drastic difference between the two around town. Come to think of it, it might be a little too stiff for daily driving.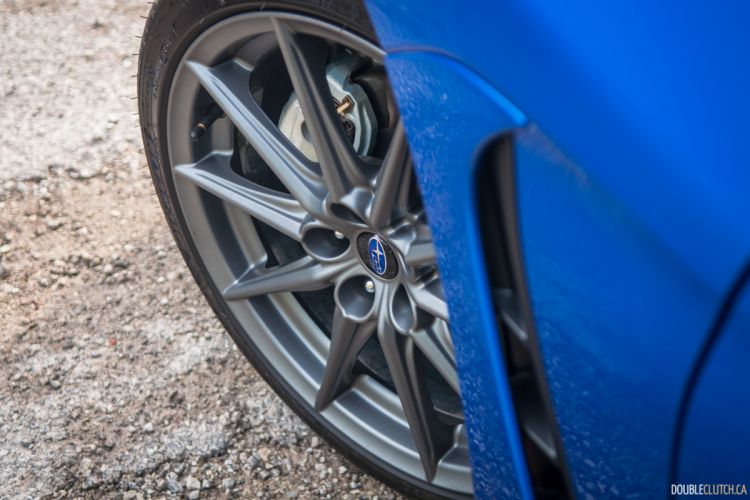 The new BRZ's underpinnings might not be vastly different than before, but the big deal here is the engine. It took them almost a decade, but Subaru (and Toyota) finally addressed the BRZ's biggest problem, although perhaps not quite in the way enthusiasts have been calling for since day one. Gone is the old 2.0-litre four-cylinder Boxer engine, replaced with an upsized 2.4L unit related to the one you'd find in the Subaru Ascent, the upper trims of the Legacy and Outback, and the equally-new-for-2022 WRX. 
Yes, that means more power. No, that doesn't mean the BRZ is turbocharged. But before you grab the pitchforks and light the torches, know this: there's no such thing as the "perfect" amount of power, but with 228 horsepower and 184 pound-feet of torque on tap — a bump of 23 hp and 28 lb.-ft. compared to the outgoing BRZ with the stick — the new car comes pretty darn close. That might not seem like a lot, but it's not how much extra kick you get,  it's where you get it.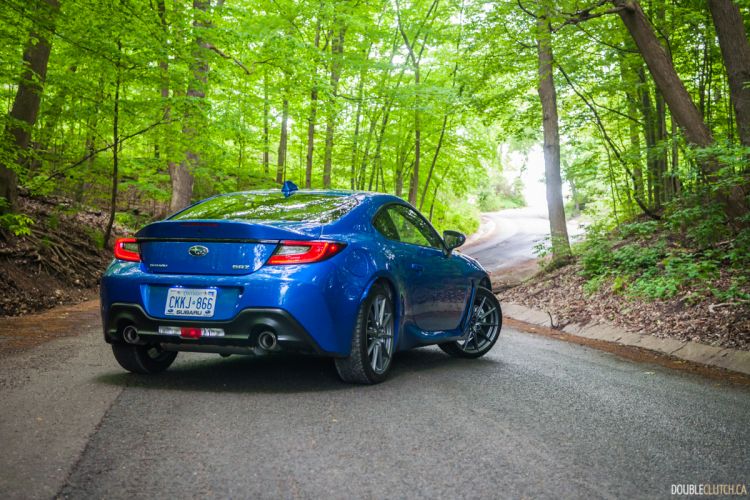 The original BRZ's torque peaked at a lofty 6,400RPM, not to mention the infamous dip between 3,000 and 5,000RPM is a well-documented quirk. But now, not only is that dip all but eliminated, peak torque arrives at 3,700 rpm. This does wonders for the car; not only does the new BRZ feel punchier, you no longer have to rev the snot out of it, or downshift a gear or two, to keep moving at a meaningful clip. The BRZ still loves to be wrung out and doing so will keep you out of trouble, but now, there's enough of a spring in its step to put a goofy smile on your face. 
As before, you can spec the 2022 BRZ with either a six-speed manual or automatic. Our particular tester was fitted with the stick, and it's another area that's seen some meaningful improvements. With the old car, snagging the gate for reverse while downshifting quickly from third to second wasn't uncommon, but that definitely isn't an issue with the new car. Throws feel shorter and a touch more precise, but that said, the Mazda MX-5 remains the benchmark for shift feel in the cheap-and-lightweight sports car segment.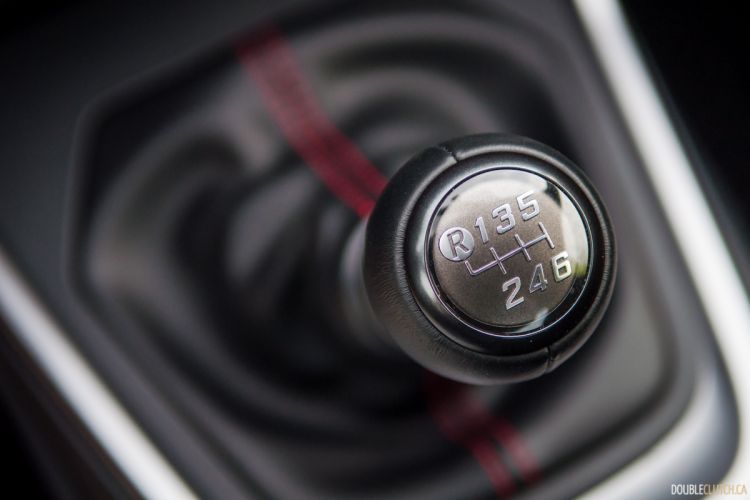 Curiously, if you want Subaru's EyeSight suite of active safety features — adaptive cruise control, forward collision alert, automatic braking, and the like — you're limited to the automatic transmission. If that's Subaru's way of keeping the manual BRZ more enthusiast-focused, we ain't complaining.
The new BRZ sees even more improvements inside, but it also manages to feel familiar. Material quality and fit-and-finish are supposedly improved, but to be frank, it feels about on par, if not slightly improved over the old car. That said, it continues to hit all the high notes — the seats are more supportive, the steering wheel and shift knob fall easily to hand, and the crisp and easy-to-read digital gauge cluster also doubles as an Easter egg for Subaru's Boxer engine layout.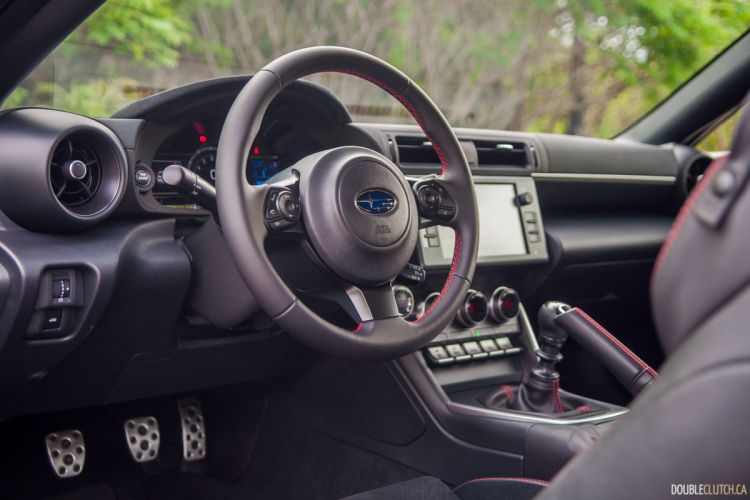 Where other Subarus like the Legacy, Outback, and WRX are moving to massive 11-plus-inch displays for infotainment, the BRZ keeps it decidedly simple with a seven-inch touchscreen running Subaru's perfectly adequate Starlink infotainment. It's an intuitive enough system, but if you prefer Apple CarPlay or Android Auto, both of those are standard. Physical switchgear dominates the radio and climate controls, done up in a triple-dial and toggle-switch setup similar to the old car. Hey, if it ain't broke, don't fix it.
The rest of the cabin is more of the same. By no means is the BRZ roomy, but the space is more useful than, say, an MX-5. There are usable cubbies and pockets, the cupholders are a little less useless (but still challenging) than before, and there's technically a back seat, although it should really be a last-resort option unless you really dislike your passengers. The trunk can happily swallow a couple of weeks' worth of groceries — and even a Costco run, if you fold the seats and you're really good at Tetris.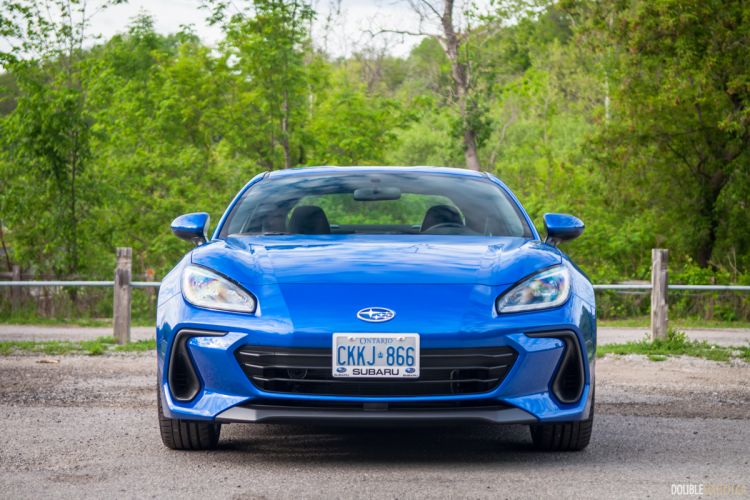 The base 2022 BRZ starts at $29,495 with the six-speed stick, while our fully loaded Sport-tech tester tops out at $32,495. Want an automatic transmission and all the active safety kit? That'll add $1,600 to the base BRZ's bottom line, and $1,800 to the Sport-tech. That's great value considering the laundry list of improvements, especially if you stick with the stick. That said, if you want a more usable back seat, an extra set of rear doors, and you're willing to compromise on the rear-wheel-drive bit, the Honda Civic Si, Volkswagen GTI, and even Subaru's own WRX are viable alternatives around the $30K mark.
Subaru (and Toyota) didn't have to give us a sequel to their spunky and affordable rear-wheel-drive sports cars, yet here we are. Honestly, it's surprising that the 2022 Subaru BRZ exists in the first place. It's even more surprising that the two automakers pretty much nailed it in addressing most of the flaws of the original. And on top of all that, it still costs basically $30,000. Maybe there's still room for cheap, engaging, and lightweight sports cars after all.
See Also: