315 horsepower, all-wheel drive, and six-speed manual transmission, sounds like a recipe for a fun time, right? Enter the 2022 Volkswagen Golf R 6MT. With one of its strongest competitors, the Subaru WRX STI out of the picture, the Golf R remains a strong contender in this segment. After spending some quality time with it, we tried to answer if a manual transmission is really required to have a great time in a modern hot hatchback.
First off, the looks. Personally, I'm a fan of how the eighth-generation Golf looks, especially in R trim. The more aggressive bumpers, mixed with the large LED light bar up front and 19-inch machine face wheels really give the Golf R an assertive stance. There is no mistaking this for a lesser model as the R badging is everywhere. Personally, I do like a little bit more nuance in the sports variant of any model, but at least the plethora of badges seem well deserved.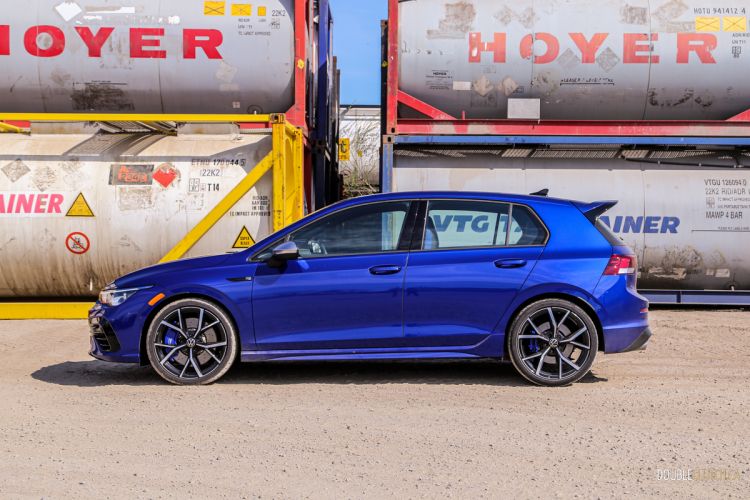 Inside the Golf R, it's all pretty standard eighth-generation Golf. The dash design is fairly plain as there are no physical buttons. There is a mix of piano black, blue, and brushed aluminum trim and a set of LED lights that can be configured or will change with the selection of different drive modes. We really liked the chunky, flatbottomed steering wheel, and pedal treatments. The steering wheel is heated, as well as the front seats which are also ventilated.
In an attempt to make it ultra-modern, VW has decided to ditch physical buttons in favour of an all-touch cockpit. I believe that this will be one of those love it or hate it kind of things and I personally don't really care for it. The problem presents itself a couple of different ways. There is too much piano black plastic, which catches fingerprints far too easily and also scratches so quickly you'd swear you'd ruin it by just staring at it the wrong way.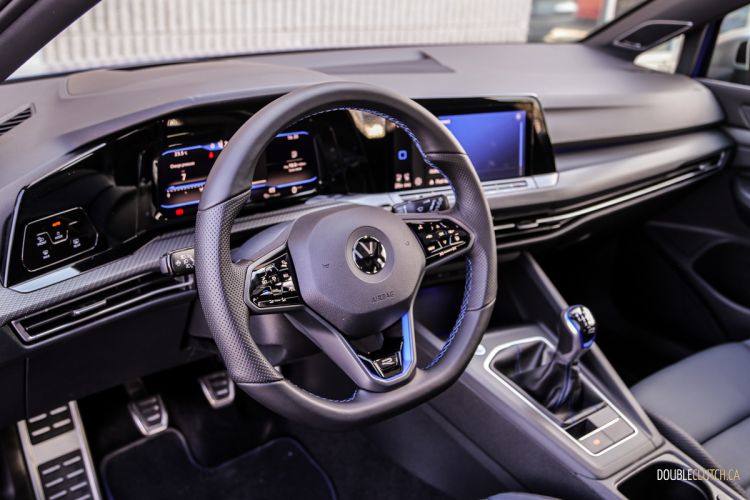 The other issue is that with everything being a capacitive touch button it truly feels like you have to relearn how to interact with everything. Granted, with any new technology there is an adjustment period, however it feels like this is an evolution of interface for the sake of movement and it doesn't bring anything new to the table. The focal point of the dash is a 10-inch touchscreen. The menus feel decent to use, however we feel that this system can use an update for the typefaces and graphics used as it all feels a little cheap.
Luckily wireless Apple CarPlay and Android Auto are present and work well if you don't want to waste time using the native interface, and audio is delivered though an eight-speaker Harman-Kardon sound system which features a subwoofer, and 12-channel amp. The instrument cluster is also another large screen and was one of my favourite parts of the Golf R. There is a good amount of customization here, and you are sure to be able to have whatever info you desire up front and centre. Paired with the excellent head-up display, drivers will not need to look far for any data required.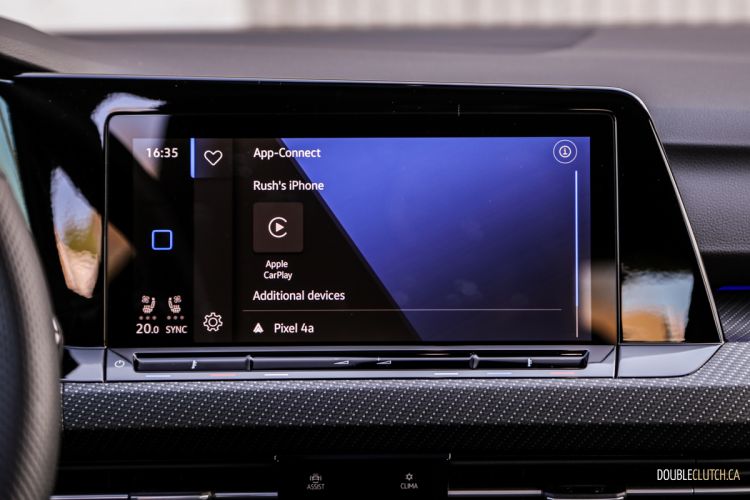 Adaptive driving tech is another high point of the Golf R. We were impressed with how well the Lane Assist worked in the real world, and when combined with the adaptive cruise, daily driving was a breeze. The only oddity here is the combination of the manual transmission and semi-autonomous driving. I don't fault VW or the Golf here, it's just one of those things that are hard to mesh very well. There are times when it feels like the manual transmission is a nuisance more than anything but for those drivers that want the best of both worlds, the Golf R seems to strike a good compromise.
When it comes to driving it yourself, there are a number of drive modes available – comfort, sport, and race, which also has three subsequent modes – drift, special and custom. Out of all of the drive modes, we felt that the default sport mode was best suited to day to day driving. The "Special" mode, which sharpens all aspects of the Golf's driving experience aside from leaving the dampers in their softest setting is the best for spirited driving. In race mode, we also really enjoyed the additional burbles and noise from the exhaust; this adds to the overall driving experience nicely.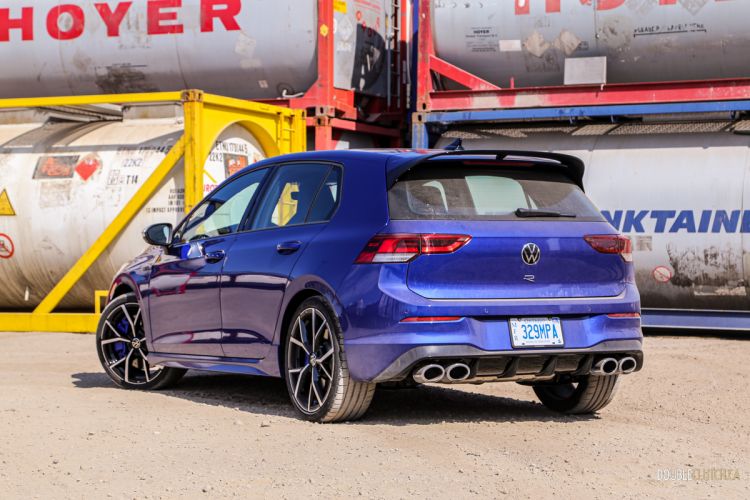 The 2.0-liter turbo four banger produces a remarkable 315 horsepower and 280 lb-ft. of torque. It may sound strange to say, but it feels like this 'hot-hatch' is missing some of the excitement of models of yesteryear. While the Golf R is astonishingly fast, because the cabin is so well-insulated, all of the technology and the lack of any drama, the Golf R feels a little bit boring to drive 90% of the time. For the 10% of the time you really extract all of the power and drive it hard, you'll be worried about getting into trouble as you'll be well above any posted speed limit.
As a manual transmission enthusiast myself, having never owned a vehicle without three pedals, it pains me to say it but it does feel that the modern DSG gearbox is best suited for the Golf R. It feels like the Golf can be optioned with a manual transmission only because it looks good on paper. The clutch feels too light and grabby, the shifter feels numb, and driving the Golf R smoothly is more challenging than you'd think. It just doesn't feel as if the manual adds anything to the driving experience the DSG transmission doesn't already have.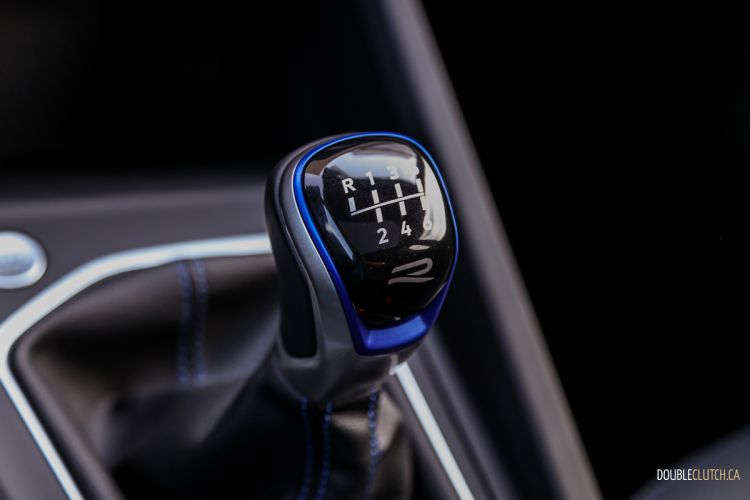 In our testing we were able to achieve 12.0L/100km in combined driving. Because some of our testing involved more spirted driving, we accept this figure as normal. The official figures of 8.3L/100km highway and 11.8L/100km city are good, however they are even better with the DSG, another reason to consider that transmission.
Pricing for the 2022 Volkswagen Golf R 6MT starts at $45,995, about $1,000 cheaper than the DSG alternative. The only option is the panoramic power sunroof for $1,250. For the price, the Golf R offers good value in the massive amount of tech and power on tap. If you think the new buttonless dash layout is one that you can get used to, we believe the only real choice you'll need to make is what transmission is best suited for your lifestyle, however in our eyes the DSG is the clear winner here.
See Also:
2022 Volkswagen Golf R: DSG or Manual?
2022 Volkswagen GTI Performance