We are now familiar with the concept of a sport truck. The F-150 Raptor and Ram 1500 TRX have shown that there are lots of buyers who like to be able to mix work and play with their transport of choice. So if you can mashup a sports car and a truck, why not take an iconic off roader and add a cargo bed? In 2019 Jeep introduced the Gladiator with the promise of delivering that legendary experience with the utility of a truck. Let's take a closer look at the 2022 Jeep Gladiator Willys to see how they made out with this Swiss army knife of off-roaders.
Expanding the classic Jeep's versatility the brand added rear doors and back seats. Now taking that a step further, the Gladiator adds a truck bed nearly doubling the original vehicle's length.  But is it still a Jeep? First and foremost to capture 80 years of Jeep heritage the Gladiator must look the part. Trapezoid wheel arches, exposed door hinges, and those round headlights (though now full LED with the rest of the lights) are all still here.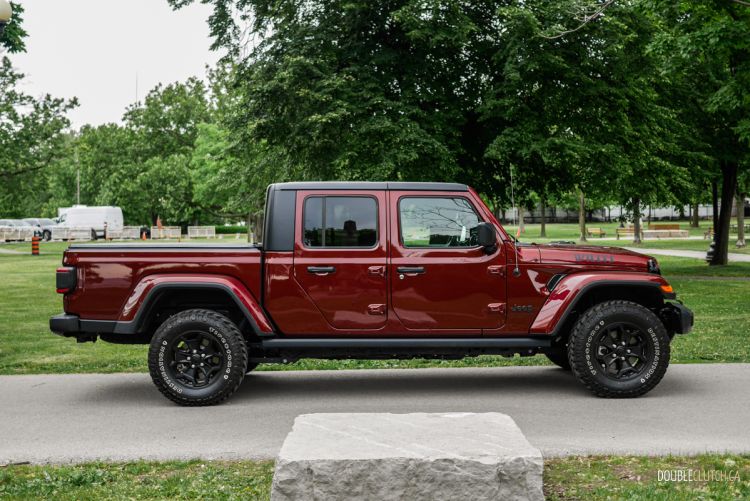 The Willys appearance package adds 17 inch black alloy wheels, 32-inch diameter mud terrain tires, heavy duty shocks, and that iconic seven slot grill presented in a sporty black finish. As for the paint, we couldn't ask for a better vehicle to celebrate pride month than this "Snazzberry" purple Gladiator. Perhaps the ultimate test – my friend's 2 year old son immediately pointed at the Gladiator and said "Jeep!".
While the Gladiator increases the length of the vehicle by an order of magnitude, the width, height and interior space all remain the same. Those new to Jeep you may find the space a little cramped at first, but this is a vehicle that offers one of the most unique open air experiences available. Our tester is equipped with a three-piece hardtop; the front two pieces are a breeze to remove and stow neatly in bags in the bed. With the windows down and these panels off the sense of open air is already quite liberating. Remove four bolts at the top of the windshield and it folds down as well.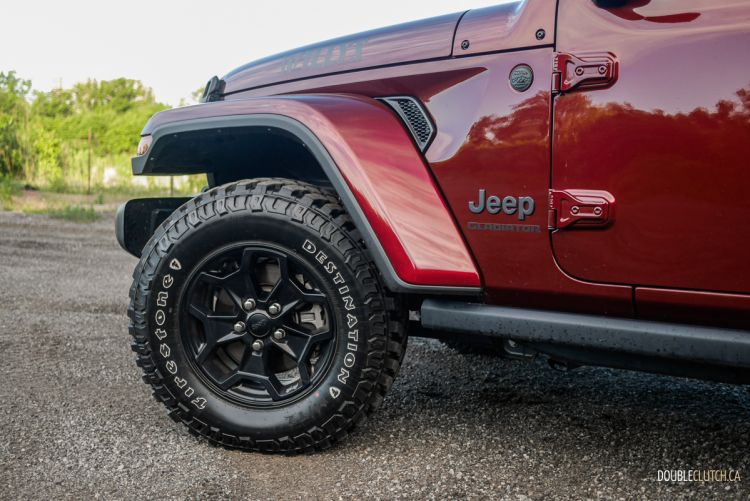 If storage space allows you can take it a step farther and truly join the ranks of the hardcore Jeep enthusiast by removing the rear section of the roof, along with all four doors.  Jeep includes a Torx tool to make this process simple along with quick disconnects for the wiring harnesses, though you'll probably need a set of extra hands to get the job done. Nothing like starting your outdoor adventure in a vehicle totally exposed to the elements.
Interior design is modern and rugged; dash is flat along with the door cards to make those doors as minimal as possible for ease of removal. The tradeoff seems to be a lack of storage areas and the unshakeable feeling of sitting in a small metal box lined with plastic. A center console cubby divided into two compartments, a small glove box, a thin mailbox like slot for stowing your mobile device and a little cubby behind the passenger seat are all the storage you get.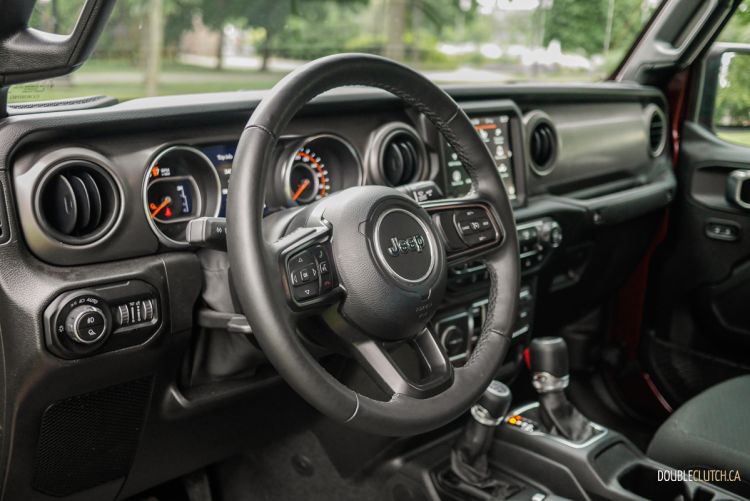 For 2022 all Gladiators come standard with a seven-inch touchscreen, though our tester has the optional extra 8.4-inch version with nine Alpine Speakers. The interface is attractive and modern, and the layout is presented in a logical way. We would describe the sound quality as loud with powerful bass – exactly what you'd want in a convertible truck. While Android Auto and Apple Car Play are supported, you'll still need a cable to activate them.
A Jeep-branded Alpine portable bluetooth speaker with integrated charge dock located behind the rear seat is a neat add on, though it will set you back an extra $395. Sound quality was great, and as it charges while you drive you can be sure it will be ready to go when you reach your destination.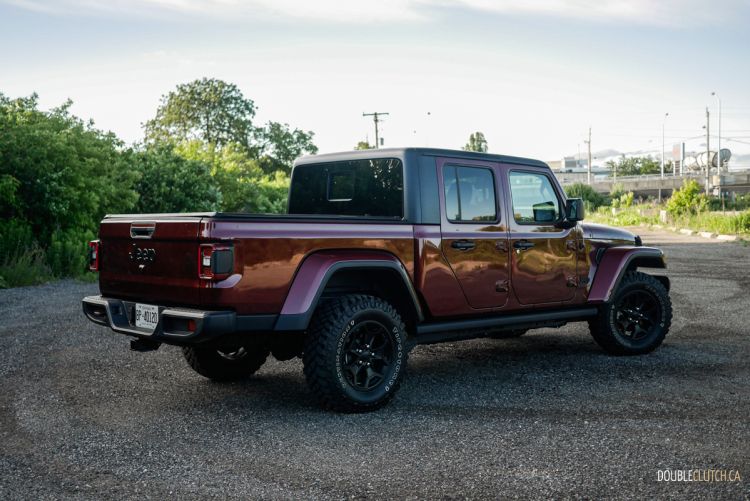 Powering the Jeep Gladiator is the Chrysler Pentastar 3.6-liter V6. Updated in 2016, the engine now includes variable valve timing and increased compression putting out 285 horsepower and 260 lb-ft. of torque. If that's not enough for you, a diesel engine making 442 lb-ft. is also available though it will cost $9,390. We found the gas engine perfectly adequate for everyday running, which should meet the needs of most Gladiator buyers.
The shift lever looks and feels the part with considerable girth but it could use a little more feedback during shifts – inputs are all a bit too light for our taste. Kudos to Jeep for using the correct manual shift pattern; up to downshift, down to upshift. The eight-speed automatic shifts quickly and smoothly but we feel a bit robbed not having the six-speed manual transmission. If an automatic is what you want, this is a good one.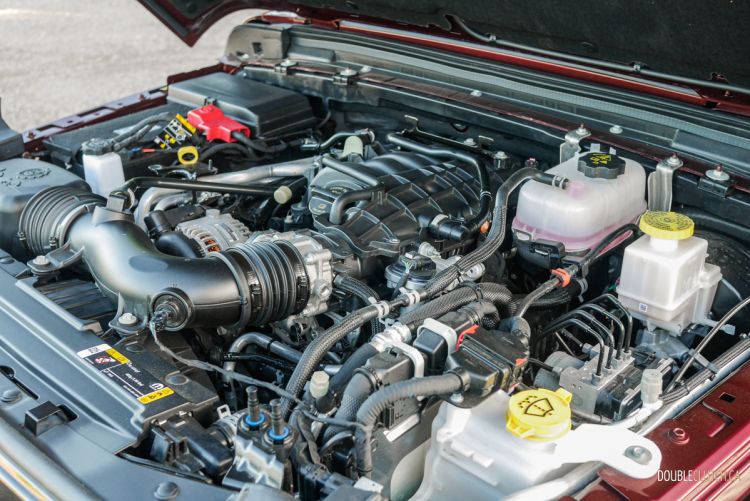 Steering inputs are more of the same – extremely light with no real feel. It's not difficult to drive but you definitely have to focus on steering correction all the time to keep from veering off course. The Gladiator is surprisingly easy to park lending to its narrow width relative to the vehicle's overall length. As a truck, the Gladiator is best in class.  When spec'd with the gas engine and automatic, the Gladiator can tow up to 7,650-pounds and carry a maximum payload of 1,700-pounds. Opting for the six-speed manual drops that towing capacity down to 4,500.
The tri-fold soft tonneau cover on our tester is a $795 option but proved invaluable keeping our cargo secure from prying eyes and through its ease of use and versatility. It turns the five-foot long box into a 1,005-liter trunk space which we used to great effect transporting an exhaust system. Bottom line, the Gladiator can truck with the best of them.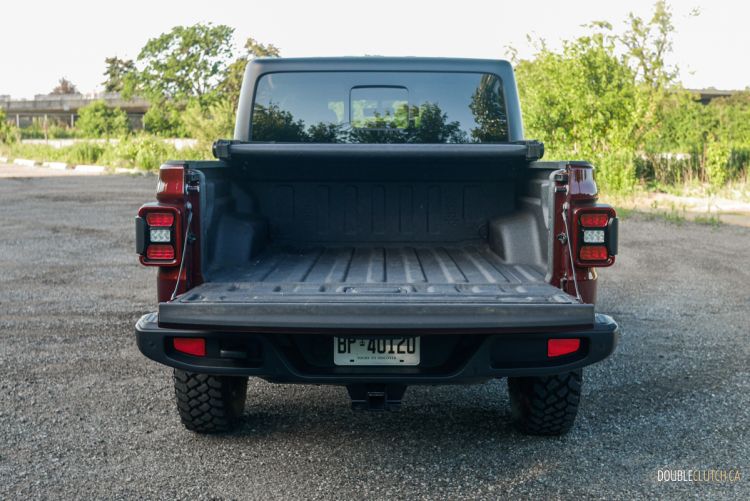 But does this Jeep truck keep its off-road chops? You don't need to know the ground clearance (28.1 cm) or approach angle (43.6 degrees); just by looking at how high this thing is off the ground it's obviously ready for adventures. The Gladiator is the first pickup to pass a series of tests that prove it can endure challenging conditions earning its Trail Rated badge. Our Willys comes with a limited slip diff in the rear along with the standard two-speed transfer case with selectable 2H, 4H and 4L modes.  Jeep fans can feel confident that adding the truck bed has done nothing to take away from the capability.
The Jeep Gladiator starts at $50,045 with seven levels available. Our Willys starts at $53,840 but it's very easy to get carried away. Inflation has crept in not only raising the base prices but also on options. Our tester has about $15,000 in options bringing the price to an eye-watering $68,830. That doesn't include the new for 2022 half metal door option, which ranges from $5,950 to $6,475 giving you an extra set of doors with the top half removed.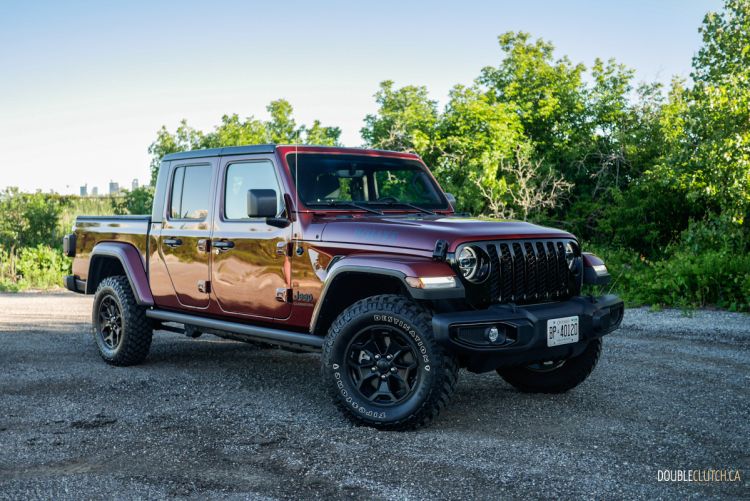 With price increases and market shortages affecting the entire industry if you are in the market for a new mid-size pickup, you should still take a look at the 2022 Jeep Gladiator Willys. It's unmistakably Jeep, plus you'll get a great pickup with the only open air truck experience on the market.
See Also: