In 1989 Nissan launched its luxury division and named it Infiniti. Developed alongside the new Nissan Pathfinder with which it shares a platform, the second generation QX60 is the brand's mid-size crossover available in four trims of escalating luxury. Can you ever have too much luxury? We spent a week with the top trim 2022 Infiniti QX60 Autograph AWD to find out.
The new QX60 has a muscular stance with modern styling. A large gloss black grill with chrome accent surround and signature "digital piano key lighting" headlights make a bold statement up front.  Chrome moldings along with the 20-inch aluminum alloy wheels with their complex layered design befitting a luxury SUV are highlights of the sleek profile. In Autograph trim it goes a step further with available two-tone paint finishes. The QX60 already has a high waistline and the black roof accentuates the low profile cabin design even more.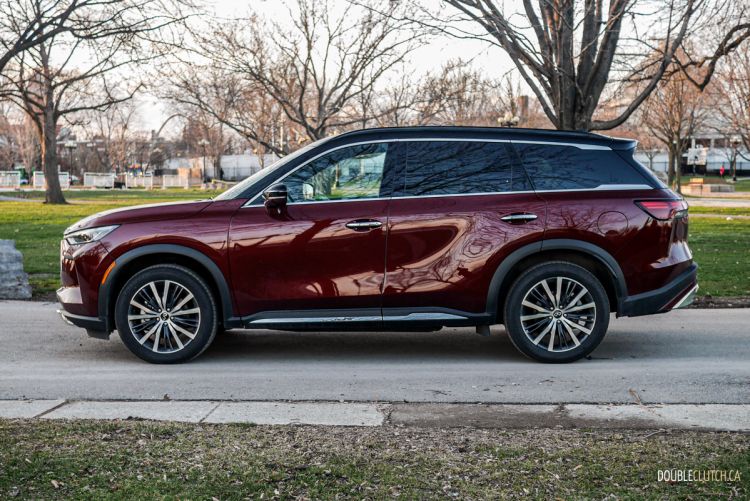 The interior of the QX60 Autograph pampers you in luxury. The results of a two-year study to determine the most pleasing materials to the human touch are on full display. As we open the door we are greeted by the chrome illuminated kick plates and intense smell of the Autograph's luxurious genuine semi-aniline leather.
Our tester is appointed in Graphite (also available in Saddle Brown) semi-aniline leather on the doors, across the dashboard and seats accompanied by Black Open Pore Ash wood trim. The leather is soft, warm and natural feeling with quilting, perforation and contrast stitch and pipe work throughout. Look closely and you'll find some other nice attention to detail touches like the traditional Japanese overlapping circular patterns in the base of the cup-holders.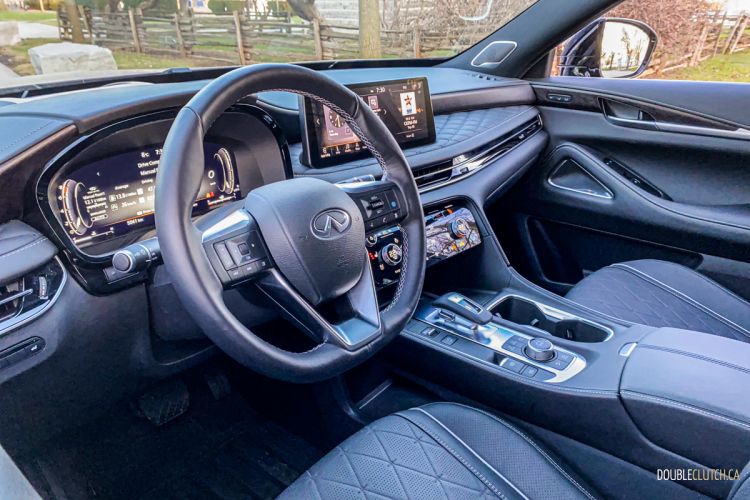 Front seats are what Infiniti calls "Zero Gravity" seats which attempt to replicate the experience felt by astronauts in Zero-G. We found that they do a good job of supporting body weight evenly for comfort on long drives. If that wasn't enough they are also equipped with a massage function with adjustable speed and intensity. The Autograph sacrifices the three-seat bench to instead treat second row passengers to a pair of heated reclining Captain's chairs with pivoting armrests with the same beautiful coachwork and materials found up front.
It can sometimes be a chore to access the last row in midsize crossovers but Infiniti makes it easier with a powerful spring action which punts the second row forward with the touch of a button. 3rd row seating has decent room when compared to others in the class and fold down for extra cargo room; they also have a power return feature activated by buttons in the rear compartment of the vehicle. A motion activated power liftgate allows easy access to the 411-liters of cargo space.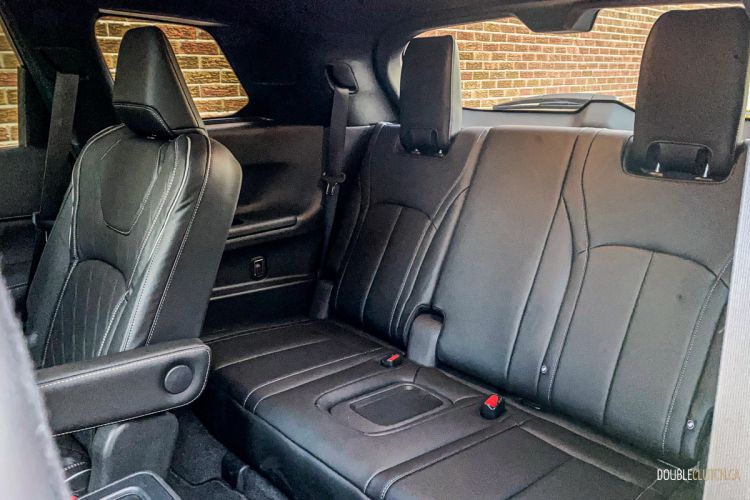 Behind the sharp looking flat bottom oval steering wheel is a 12.3-inch Meter Display capable of displaying a plethora of information through a series of menus. While the quality of the display itself is to be commended, the layout leaves something to be desired – it's a case of information overload, like the information is randomly displayed like some kind of chaotic scrapbook. We also found the acute angle of the display itself a bit off-putting as it is tilted a bit forward towards the driver presumably to reduce glare.
The seemingly random graphic design carries on into the 12.3-inch color touchscreen infotainment. You can choose to navigate the infotainment with a rotary dial in the center console but its functions have been made redundant with the touchscreen though physical shortcut buttons are still useful. The screen real estate is put to good use with split screen views.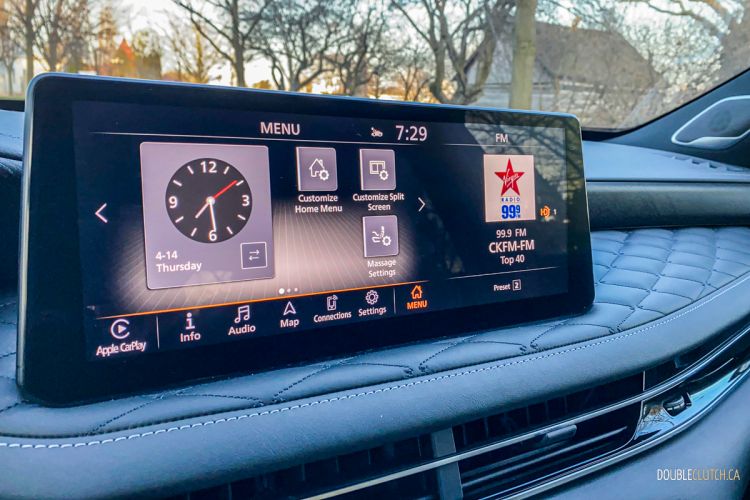 We can tell Infiniti has put some serious thought into the placement of climate controls and a handy volume knob. Controls are both intuitive to find and operate. Back-lit capacitive buttons with satisfying haptic feedback and pleasing tones provide positive feedback to inputs. An impressive Bose 17-speaker audio system comes equipped along with a smart digital rear view mirror, wireless phone charging, and a 10.8-inch heads-up display.
We're not sure we'll ever get used to Infiniti's current gear selector, a sort of floating mouse that moves back and forth like a sequential shifter – even after a week it still didn't feel natural. Automatic LED lights change direction in sync with steering inputs before the interior is showered in sunlight through the generously sized sunroof.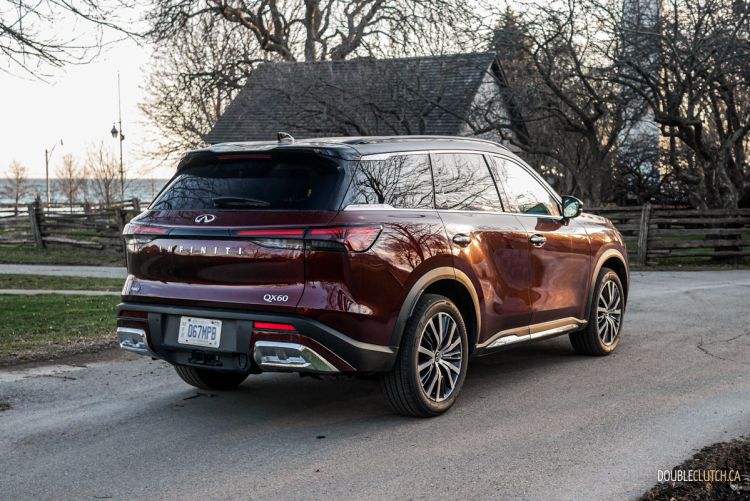 Powering the QX60 is a 3.5-liter V6 making 295 horsepower and 270 lb-ft. of torque. It's enough power to get the 4655-pounds of SUV moving, but if luxury is defined as a condition of abundance the QX60 falls a bit short of luxury in the power department. The highlight of the driving experience is the buttery smooth nine-speed automatic ZF transmission with all-wheel-drive, which does a great job of keeping you in the power band.
Overall the QX60 Autograph feels heavy to drive but in a good way, like how you would expect an expensive watch to have some heft. Braking power is good, and electric power assisted steering feel is light making it easy to maneuver. With such a soft and comfortable interior we expect an equally soft and comfortable ride quality but we feel the suspension tuning here is a bit too firm. The sheer mass of the vehicle makes you feel like you can roll over anything but in reality even small potholes are teeth clenching events – we imagine the 20-inch wheels don't help.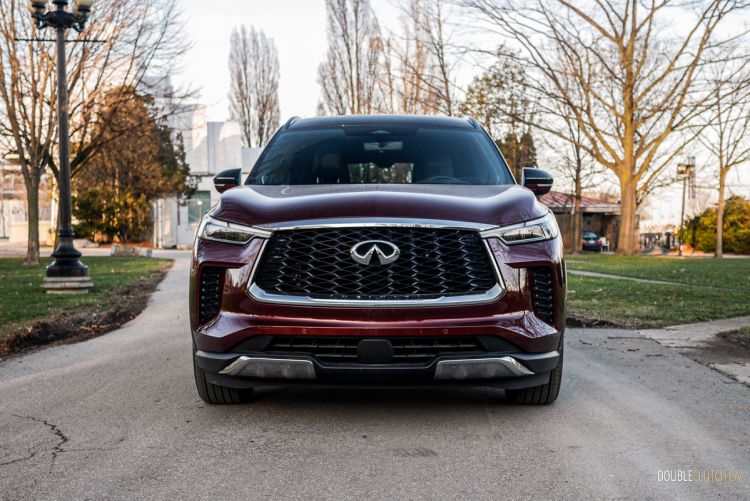 The Autograph comes equipped with integrated tow hitch and is pre-wired for trailers; capacity is 6,000-pounds. Infiniti reports fuel economy for the QX60 at 11.9L/100 km city, 9.5L/100km highway and 10.8 combined. Our observed mileage was a disappointing 13.8L/100 km with mostly city driving in fair weather conditions.
Can you ever have too much luxury? In the case of the 2022 Infiniti QX60 Autograph AWD we say no. The Sensory AWD at $64,995 is already well-equipped but for an additional $3,000 for the Autograph you can treat your sense of touch and smell to more luxury with fantastic semi-aniline leather, and more safety with a front central seat-mounted airbag. Add an exclusive two-tone paint job to give your QX60 that extra touch of individuality for another $1,000 for an as-tested $68,995.
In the realm of Japanese crossovers, if you want a more sporty drive with a luxurious interior go with the Mazda CX-9 Signature. If you want the nicest materials available and just about every luxury feature you can think of, the 2022 Infiniti QX60 Autograph AWD is probably right for you!
See Also: