Unless you've been living under a rock for the last twenty years, you know how popular pickup trucks are in Canada. The Ford F-150 has continued its reign as the number-one selling vehicle in Canada for nearly two decades. If you want a truck, but the typical options are just not enough for you; you want more off-road capability, more muscle, and more flash, the 2022 Ford F-150 Raptor is the de-facto choice since its debut in 2009.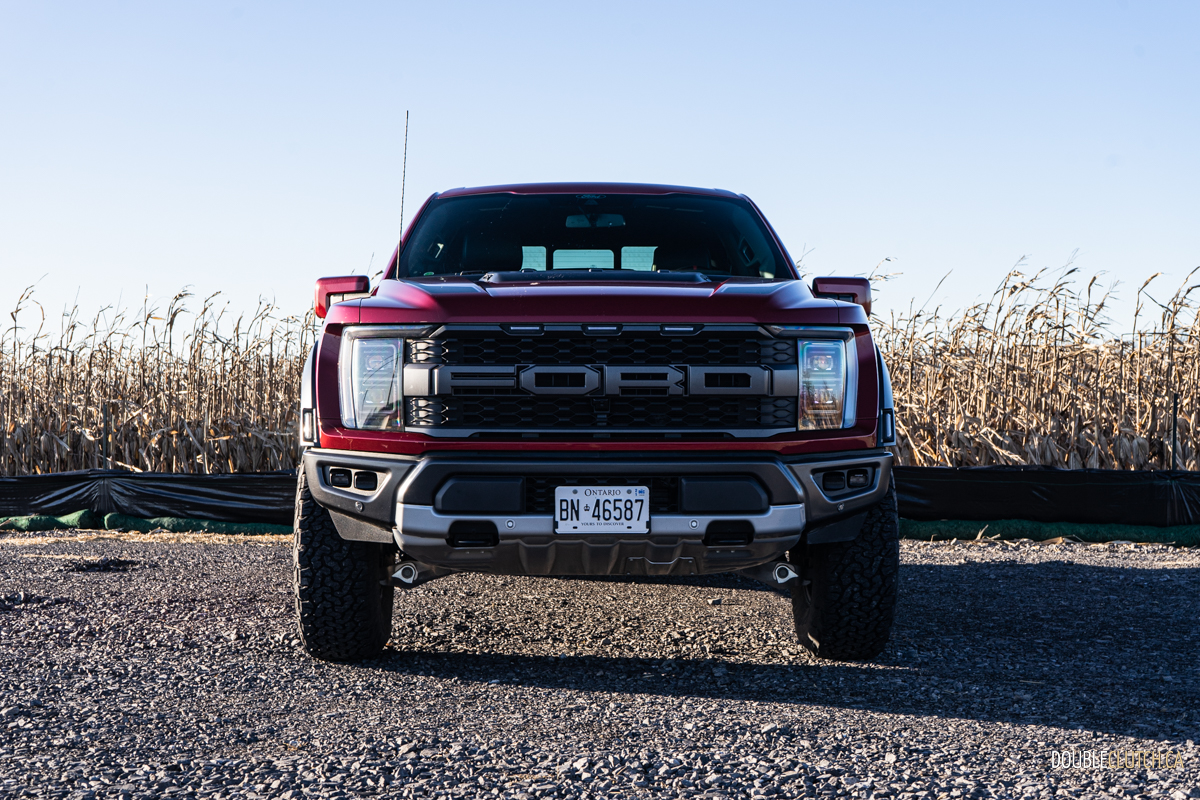 However, with last year's introduction of the Ram 1500 TRX and its insane 702 Hellcat-derived V8, Ford really needed to amp up the Raptor to stay in the game. Now, the new third generation remains powered by the familiar 450-horsepower twin-turbocharged V6, but Ford has promised to deliver a Raptor R shortly that will go head-to-head with the Ram TRX. For now, the standard Raptor will have to do, and even though it carries over its powertrain from the prior generations, there are plenty of new features, upgrades and capability.
On the outside the Raptor retains its macho extra wide, trophy truck inspired stance and hyper aggressive looks. The latest generation has been updated to reflect the newest styling. Our tester, with its "Raptor 37" performance package, came equipped with massive all-terrain tires on forged aluminum bead-lock capable wheels and Raptor 37 graphics. All of these make the truck look ready to take on the legendary Baja desert, or here in Canada, maybe some frozen tundra.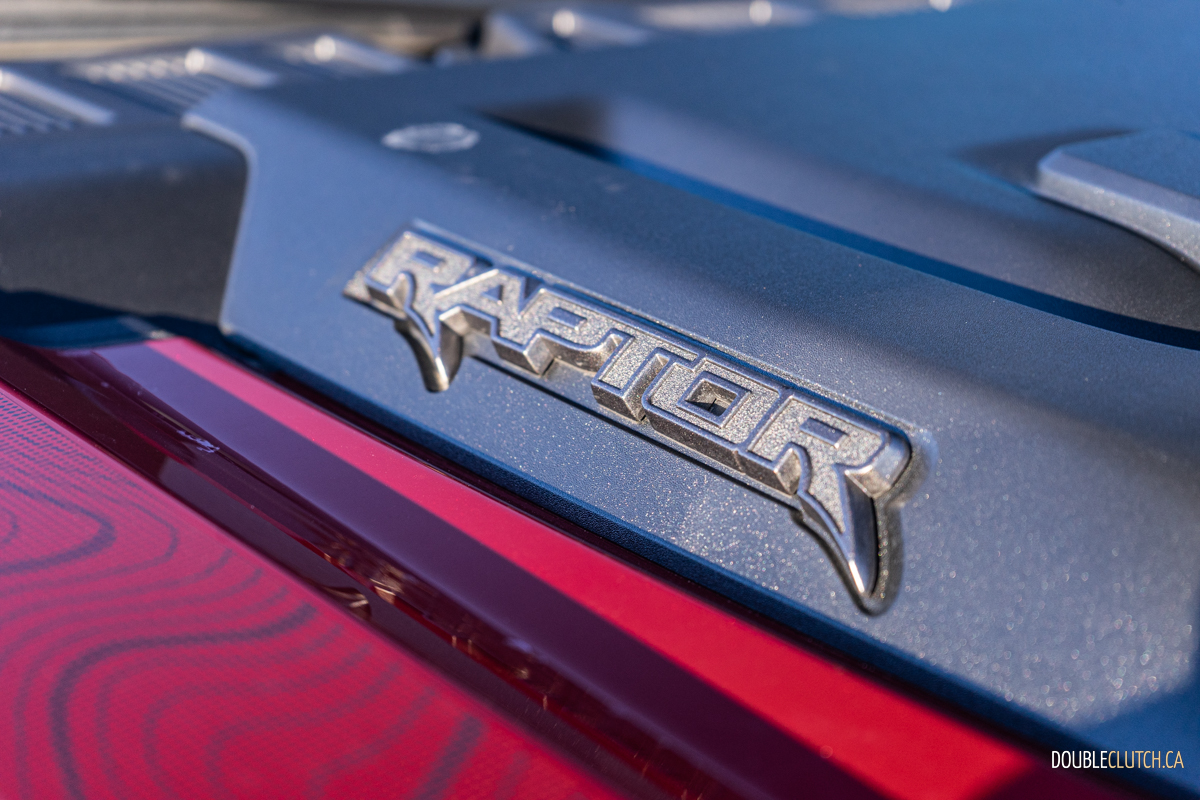 The Raptor's interior has been updated as well, also reflecting the latest updates applied to the F-150. This includes the fully digital instrument cluster, a 12-inch touchscreen infotainment system, and a console mounted shifter that folds flat to reveal a level working surface. Despite the Raptor's wild looks and off-road capabilities, the interior remains a very comfortable place. It's an F-150 after all, so the cab does everything that a good truck should, and retains the F-150's flat rear floor and extra wide opening rear doors, great for loading and hauling items that need secure weather-proof transport.
The aforementioned Raptor 37 package delivers some big interior upgrades as well, these including heated and cooled Rhapsody Blue (yes, blue) Recaro seats with orange stitching and carbon fibre interior appliques throughout. The blue is unexpected, but makes the truck feel more special than it already is, and the Recaros are the most comfortable seats I've experienced in any recent pickup truck. On trip out of town I spent a solid three hours in the seat with zero fatigue or soreness, and as an added bonus this time of year, the seat heaters are downright hot!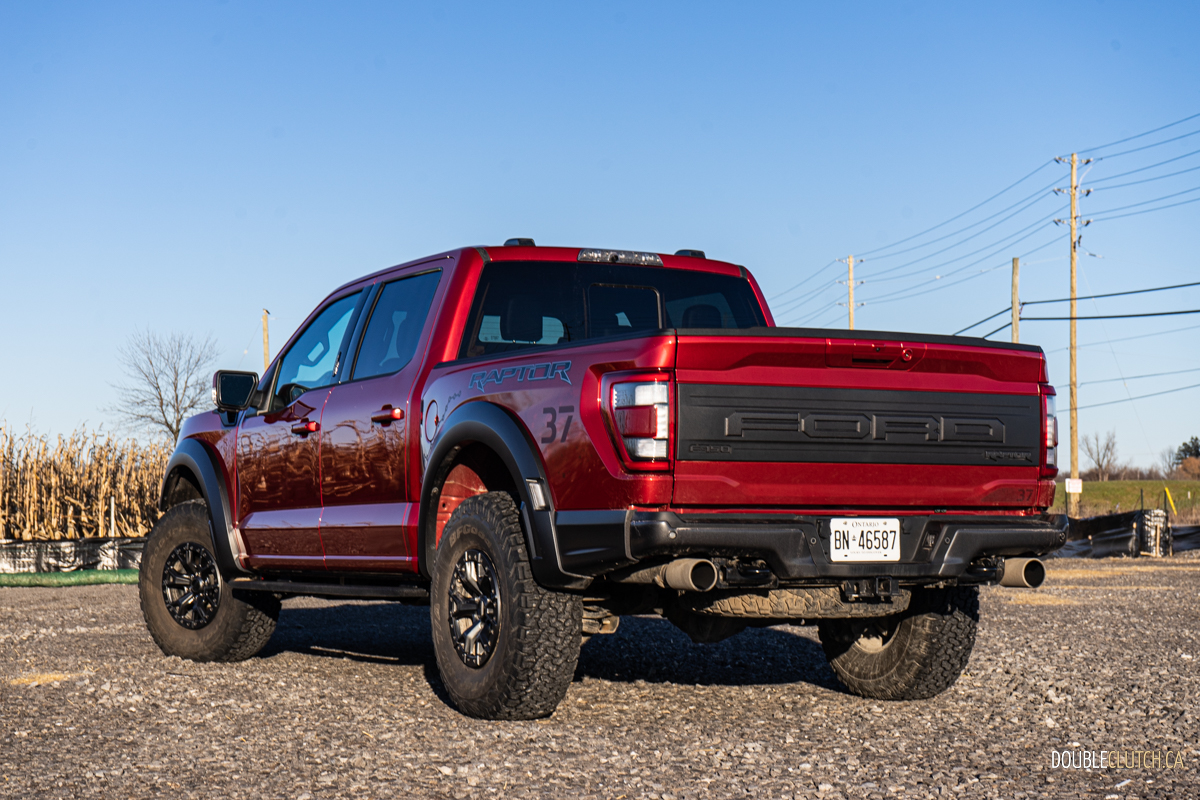 What matters more than anything when it comes to the Raptor though, is the experience from behind the wheel. This having been my first time logging any serious miles on a Raptor, I wasn't quite sure what to expect going in, and I have to say, that generally I came away both surprised and impressed.
The Raptor is powered by the 3.5-liter twin turbocharged V6, which is tuned to deliver 450 horsepower and a big 510 lb-ft. of torque. It's mated to a 10-speed automatic, which has been refined over the years to a point where it's very well-suited. On paper, it's a lot of power, and the Raptor certainly gets out of its own way, but I wouldn't say it's overpowered either, which is probably my only let-down with the way the Raptor drives. I was hoping for silly amounts of power, but instead it's just "quick".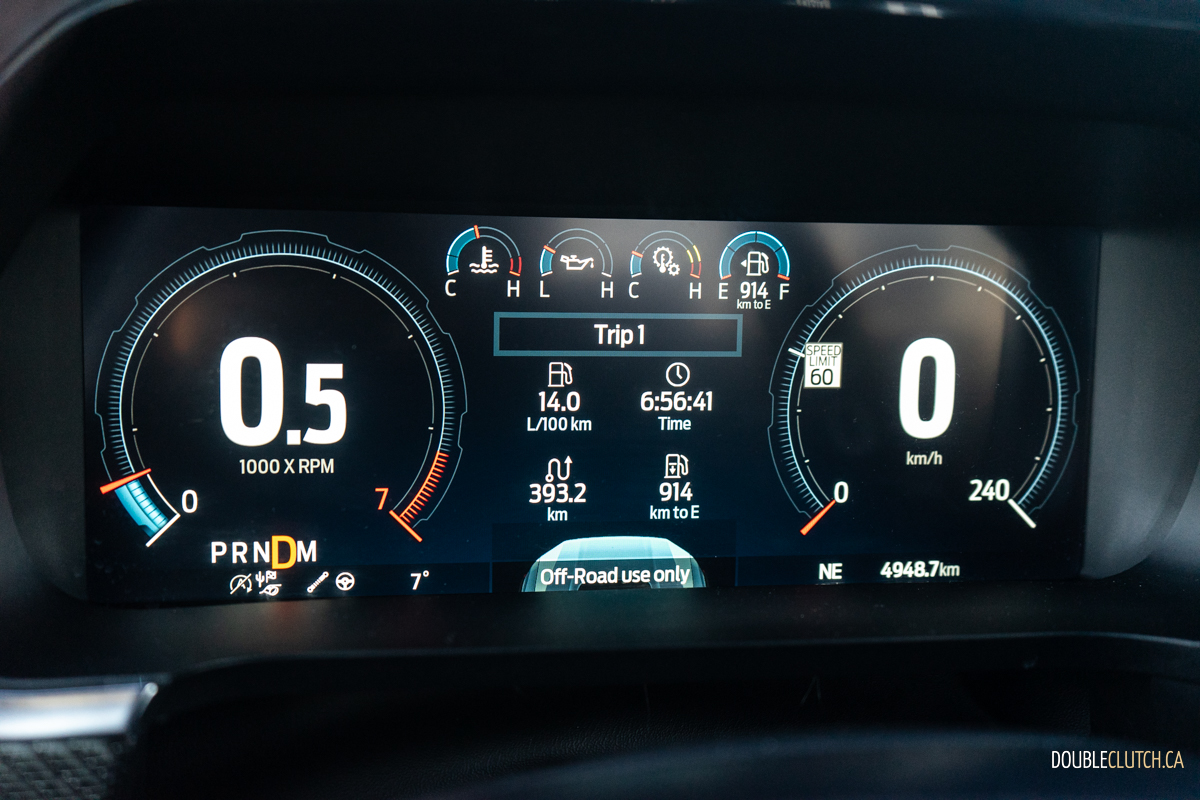 It also has two huge exhaust tips prominently integrated into the rear bumper, and four different driver selectable exhaust modes ranging from Quiet to Baja. Selecting the latter will pop up a big 'off-road use only' warning on the instrument cluster. Unfortunately, selecting any of the louder exhaust modes results in a lot of noise that's more akin to a sports sedan thanks to the smooth whine of the V6. It's not a bad sound, but absolutely does not fit the Raptor's character, which would be much better served by the deep rumble of a big V8.
That said, the handling and overall dynamics of the Raptor represent a big improvement over a standard F-150. Where I've complained about the F-150 feeling unresponsive and bulky even for a truck, the Raptor takes care of that with sharper steering, better response to driver inputs, and greatly improved composure at highway speeds or on uneven surfaces. The Raptor makes a shockingly competent highway cruiser.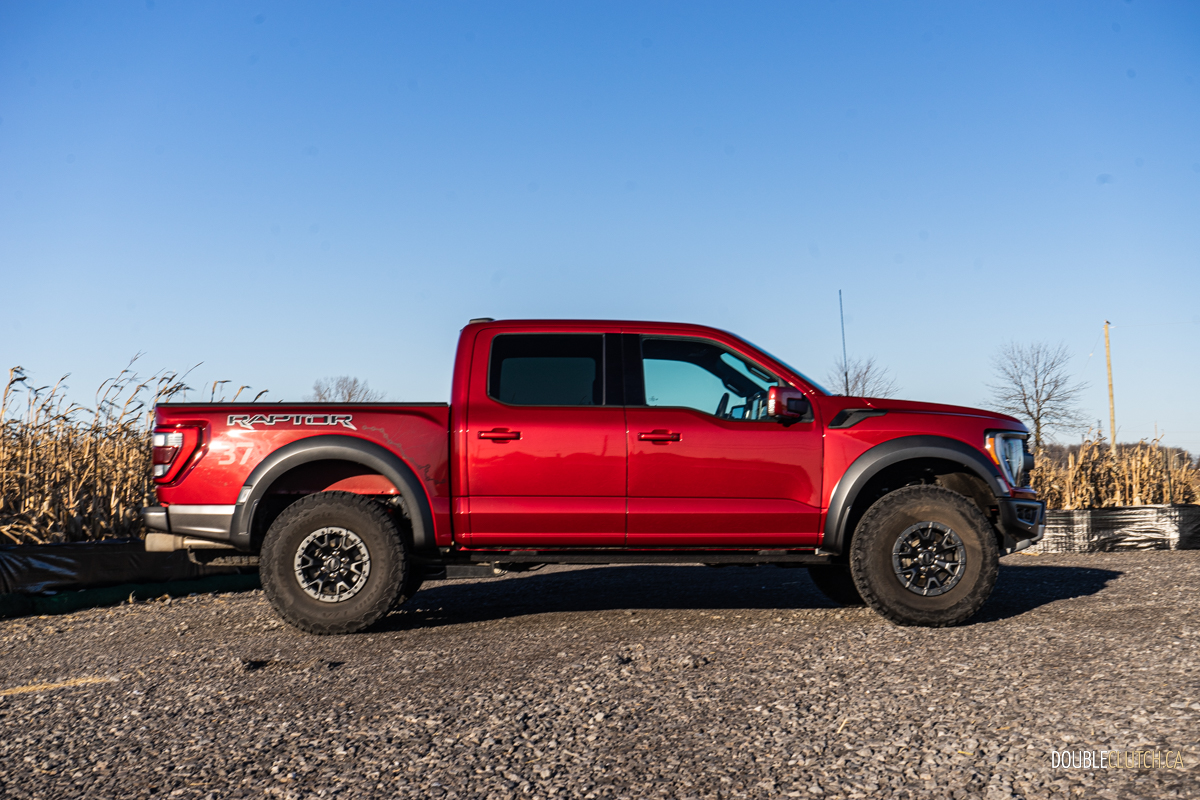 Having seen what the previous generations are capable of, and the speeds at which they can tackle some of the world's harshest terrain, I have no doubt that this newest Raptor can only improve on those capabilities. New for 2021 is a five-link rear suspension with a panhard rod, this allows for more rear suspension travel, keeping the rear tires in better contact with the ground for better acceleration, comfort, stability and control. The Raptor also gets FOX shocks that are electronically controlled for position sensitive dampening, and designed to resist heat build up to react and perform even on extended high speed off-road runs.
The Raptor obviously is not economical at the pumps, and during my first few days with it, under my typical mixed driving conditions, my average consumption was sitting around 16.8L/100km. However, the V6's smaller displacement does pay off on the highway, and on a 250-kilometer highway trip we were able to get the average for the week down to 13.8L/100km, which is very respectable for a truck of this caliber. The higher compression ratio in the Raptor's twin turbo V6 does come with a strong recommendation for premium fuel.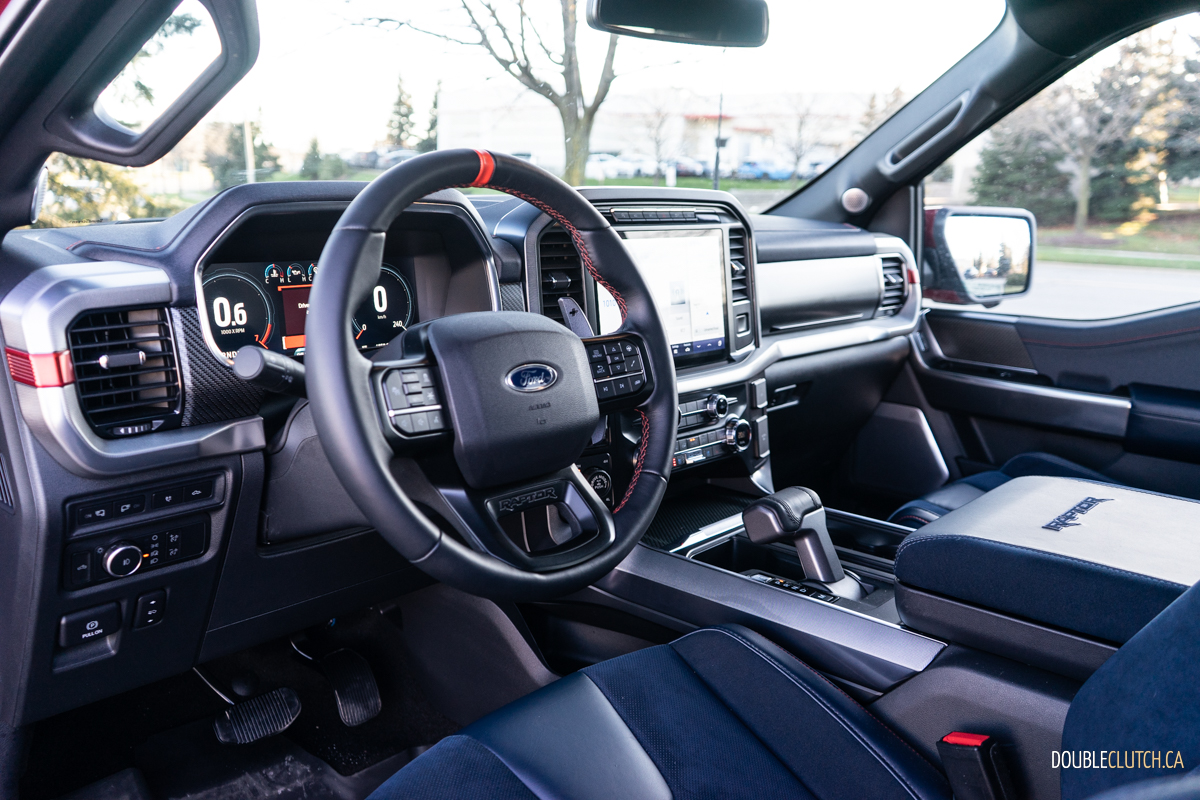 Chances are, if you're shopping for a Raptor, fuel economy is not a top concern, but purchase price might be. For 2021 the Raptor is only available in the SuperCrew configuration, which eliminates the previous available SuperCab version that was always a little cheaper. The only box size available on the Raptor is the short five-and-a-half-foot, which actually handled a load of lumber during my week with it just fine. The starting price for a base model is $86,349, right between the F-150 Platinum and Limited, which can't touch the Raptor in terms of off-road prowess or cool-factor.
There are only a couple of packages to choose on the Raptor, and our tester came pretty well fully equipped. The 801A High package includes a long list of nice-to-have features such as the tow-technology group, Torsen front differential, FORD tailgate applique, LED headlamps, heated steering wheel and rear seats, wireless charging pad, a wicked B&O 18 speaker sound system, and a bunch more. At $7,850 the 801A package is really a pretty good value.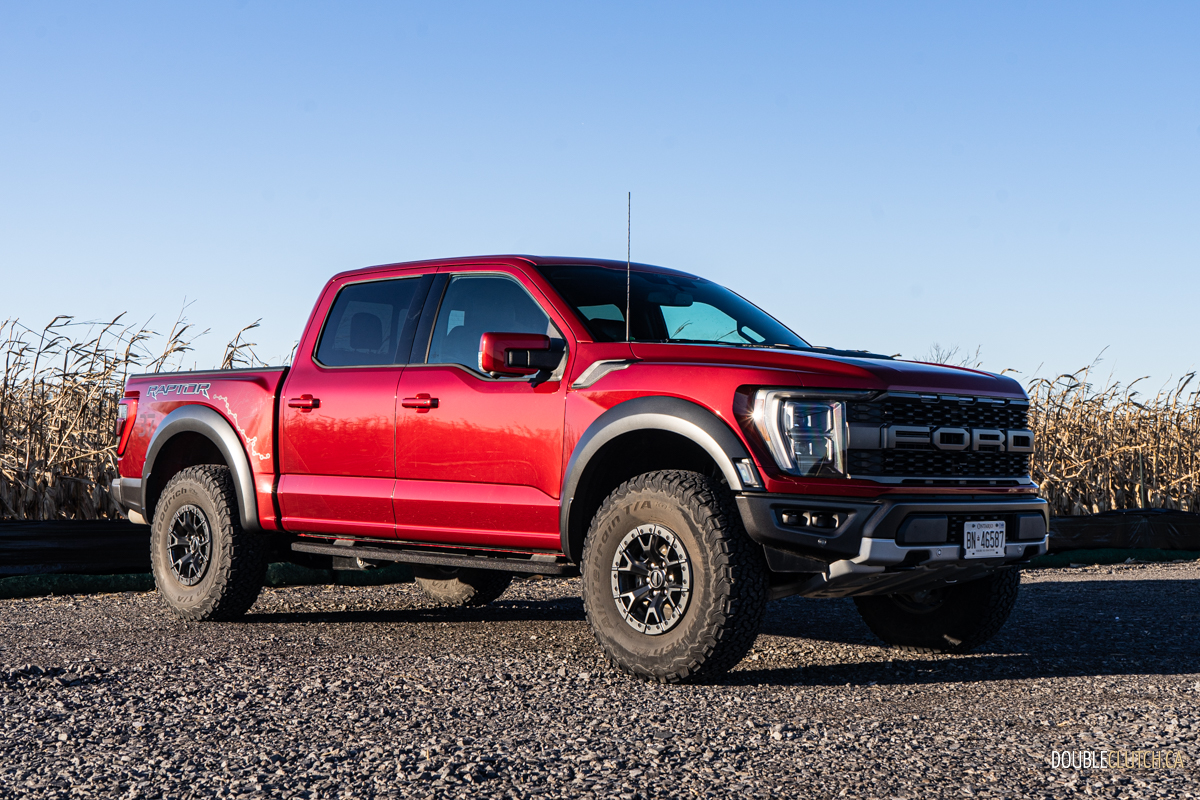 As noted, our tester also came with the Raptor 37 Performance Package which includes a number of interior and exterior upgrades, sport tuned shocks, and the huge 37" tires. The package is quite expensive though at $10,000, so I could see some Raptor buyers passing on it in favor of installing their own wheel and tire upgrades, especially if you don't like blue interior. Inclusive of these two packages and a few other add-ons, our as tested price came to $106,744.
Six figures is a hard number to swallow for a fancy F-150, but when you think about what the Raptor brings to the table, it's not all that crazy to start to justify it. Also, due to the fact that Ford does offer a lot of stand-alone options, outside of the big packages, you could spec out a Raptor, to your tastes, for well under the $100,000 mark.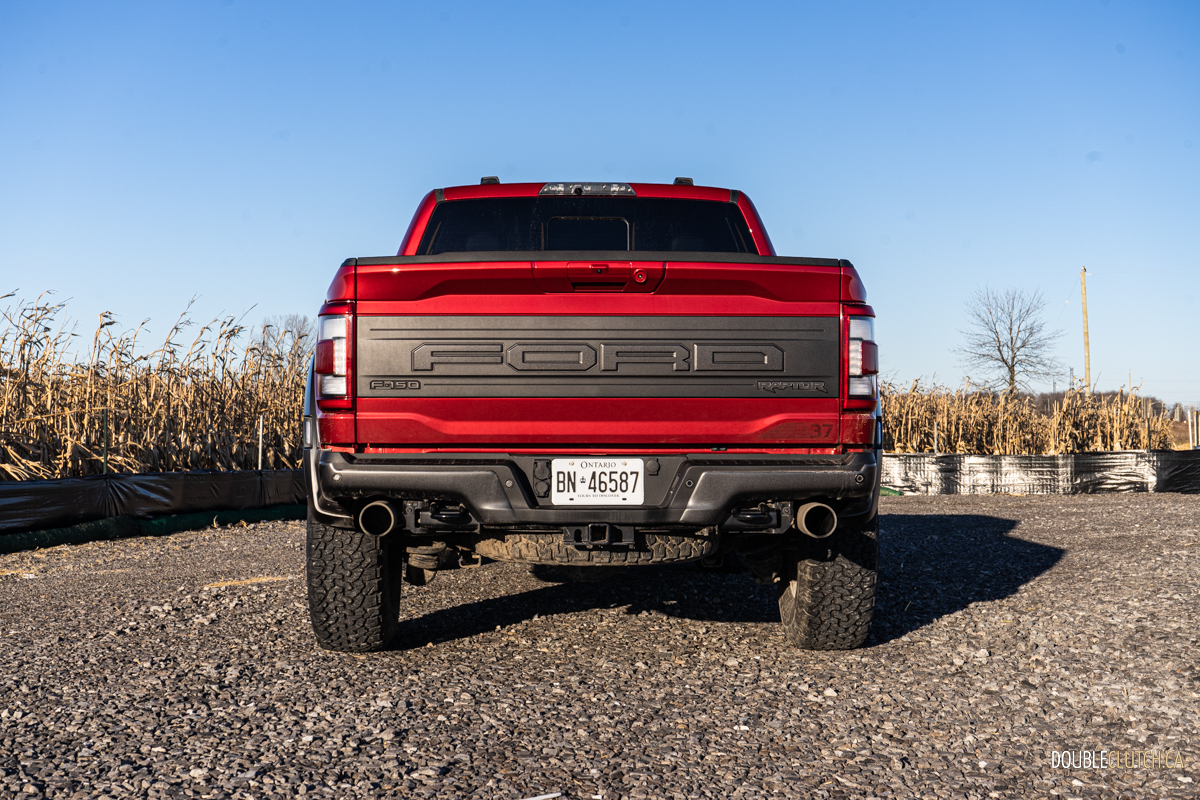 We ended our week with the 2022 Ford F-150 Raptor pretty impressed with its ability to balance its extreme off-road capability with livability. This is a truck I could easily use as a daily driver, can handle all the typical home hauling, and would be an absolute blast on the occasions that you actually get to utilize some of the capability. It's also infinitely more interesting to own than a regular F-150, and that's worth something. If you have the funds, and the time, hold out for the Raptor R as that promises to be even more exciting, and hopefully will have a proper V8 rumble.
See Also:
2021 Ford F-150 Lariat PowerBoost