When Genesis first arrived on the scene just a few short years ago, they were never considered a serious threat. While everyone was releasing SUVs, Genesis had two sedans in the market, the G90 and G80, the latter of which was a rebadged carryover Hyundai product. That is no longer the case today with a full lineup, and the 2022 Genesis GV70 3.5T Sport Plus we have here draws a line in the sand and shows its competitors that this is not a brand to be taken lightly.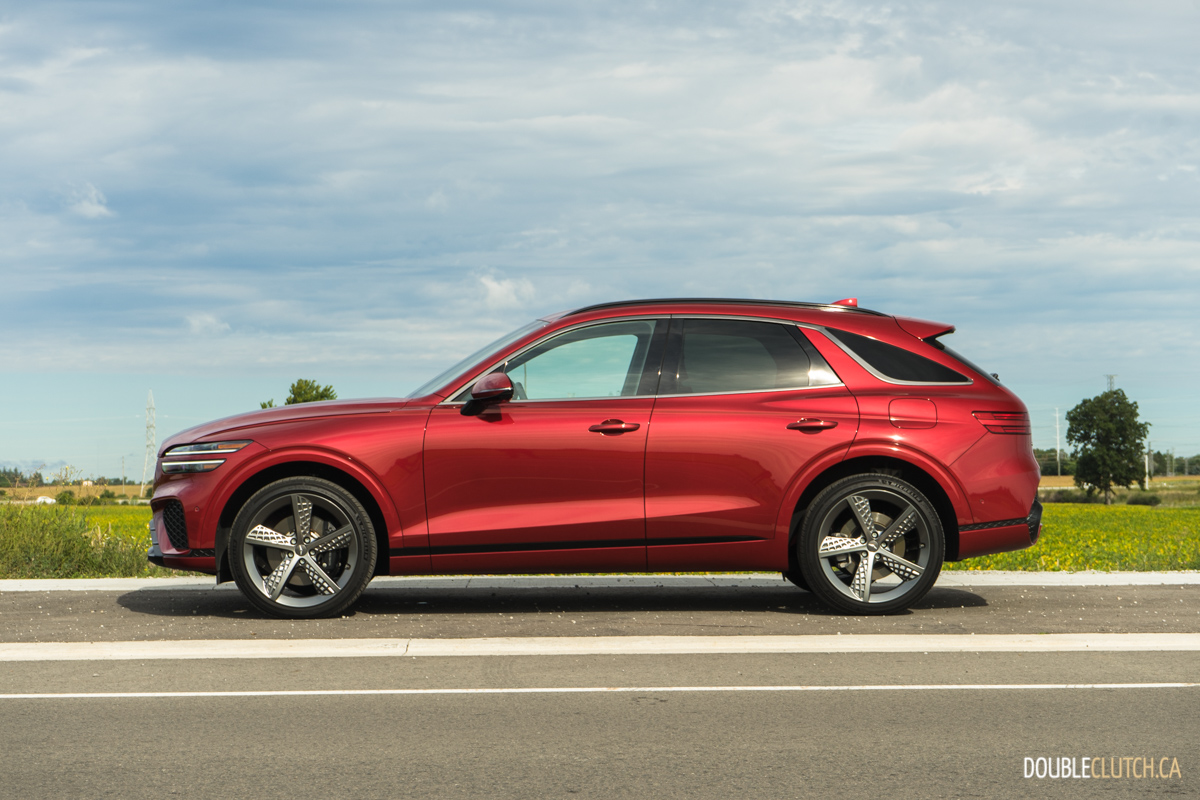 Take one look at the 2022 GV70 and it becomes quite difficult to take your eyes off it. Sitting in traffic we noticed cars to the left and right pacing us to get a better look of this brand new sport utility vehicle. The vivid colours in Genesis' line are a fresh touch over the sea of grey offered elsewhere. Pedestrians or drivers that rarely bat an eye at German or Japanese offerings suddenly approached with various questions. Comparisons to established brands are no longer a surprise, and the styling on the GV70 has made other offerings look bland and dated when put side by side.
The Genesis GV70 is another example of the brand's unique exterior design. There obviously are some design cues shared with the much larger GV80 and the G70 sedan with which it shares a platform, however the GV70 looks completely unique the same time. The grille is large but feels like the perfect size in the GV70. With the lower and side vents, everything looks clean and sporty at the same time.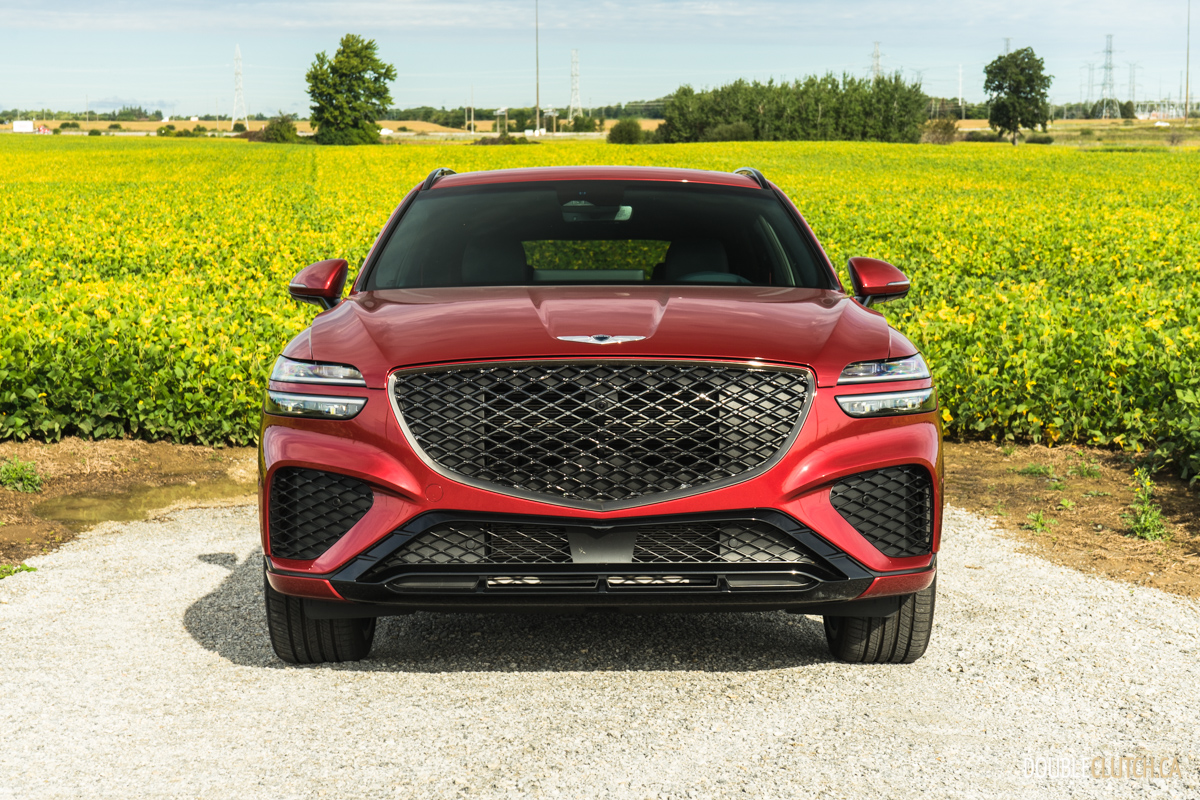 The twin headlight LED design continues the unique Genesis design across all their models.  These twin lights wrap around to  the side markers and taillights. On the Sport Plus trim we have here, the exhaust outlets are round versus the rectangular shape found on the lower trims.  Add the intricate design on the 21-inch wheels and you know that this vehicle was made to attract attention.
If you think the outside is beautiful, wait until you step inside. Oval shapes are used throughout as well as carbon fiber touches. The mix of dials, controls with haptic feedback and knurled surfaces make the inside feel fresh, unique and sophisticated all at the same time. Ultra-soft Nappa leather seating (cooled and heated) and an Alcantara headliner are standard in our tester. Soft touch materials are used throughout and finding any hard plastics requires a long, hard look. This truly is a lovely place to spend time even just sitting in gridlock.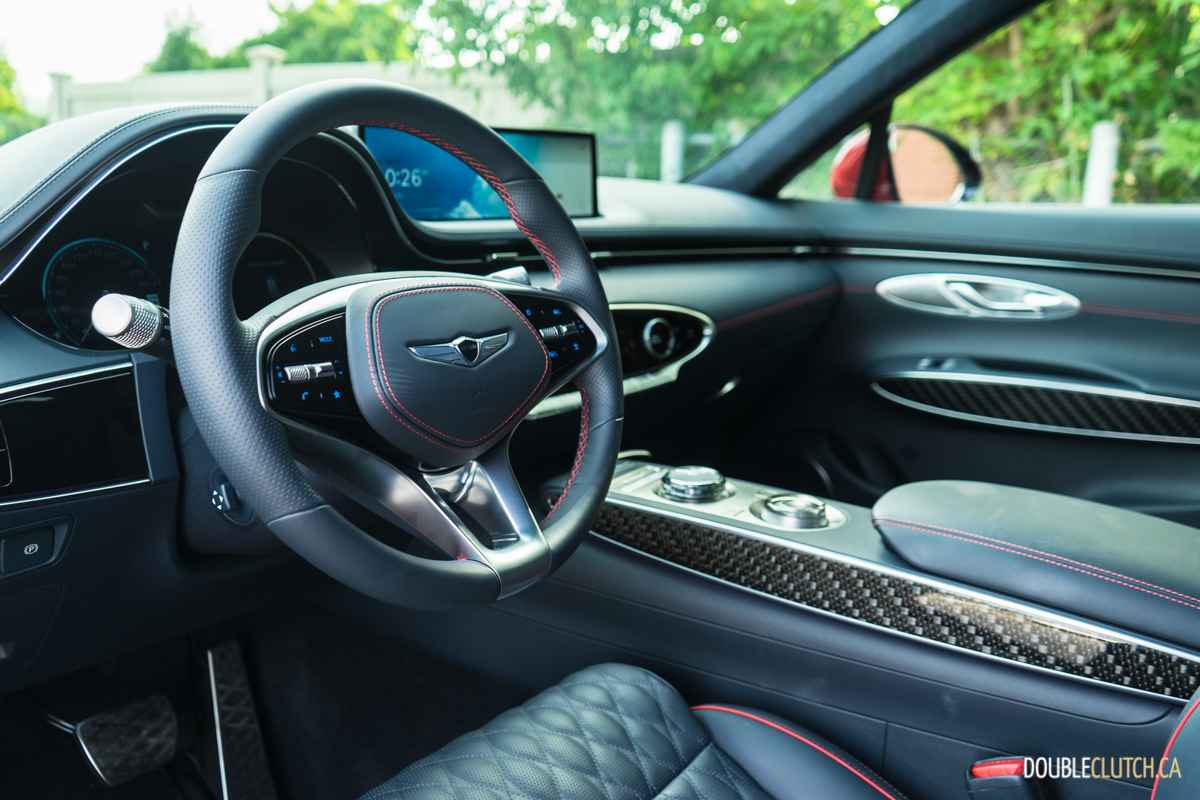 In addition to a high quality interior, those inside the GV70 are treated to tomb-like silence. The interior is nearly completely muted from the outside world. Bumps are absorbed with confidence while wind noise is non-existent. If you're looking to make some noise, the 18-speaker Lexicon audio system will do the trick, with crisp and clear sound.
The standard 14.5-inch infotainment screen is one of the best in the industry. The graphics are clear, it is fast to react and is an eye catcher to anyone that steps into the GV70. It can be operated with the crystal rotary knob that looks and feels luxurious. Users can also use the touchscreen, if they can reach it. It is placed a bit further from the driver's reach than we'd like, which will be an issue for some.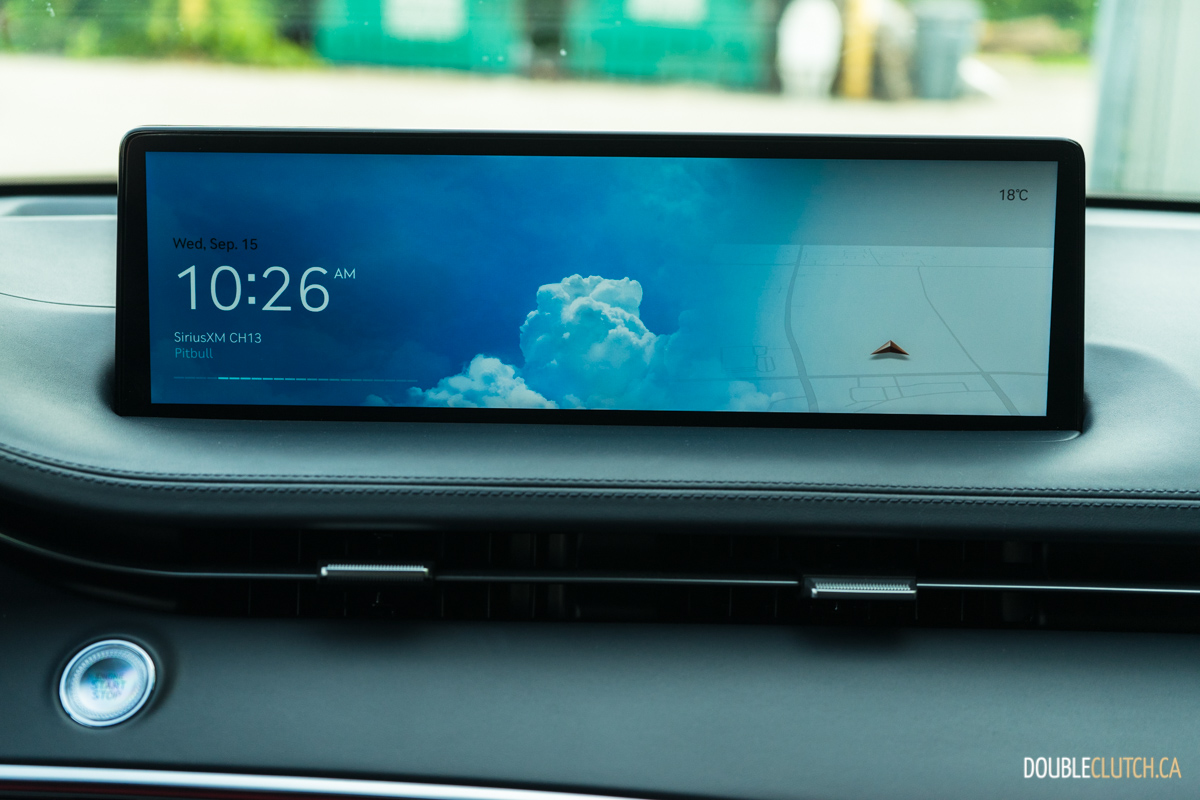 Unfortunately, wireless Apple CarPlay and Android Auto are not available. A wired setup is present and presents a missed opportunity by Genesis to keep the interior looking neat and tidy, especially considering the Hyundai Elantra offers wireless support. Our top spec model also has the 12.3 inch 3D TFT LCD digital instrument cluster that is incredibly sharp and customizable. Like the GV80, users can choose the trick 3D screen which looks great, but loses some clarity.
Under the hood, our GV70 is equipped with the 3.5-liter twin-turbocharged V6 which pushes out an impressive 375 horsepower and 391 lb-ft. of torque. This is a buttery smooth powerplant mated to a responsive eight-speed automatic transmission. All-wheel-drive is standard on all models of the GV70 and is rear-biased for a sportier drive. Our Sport Plus model is also equipped with an electronic slip differential, which is quite rare in this segment. Look for 0-100km/h sprints of around five seconds, which is in the right ballpark.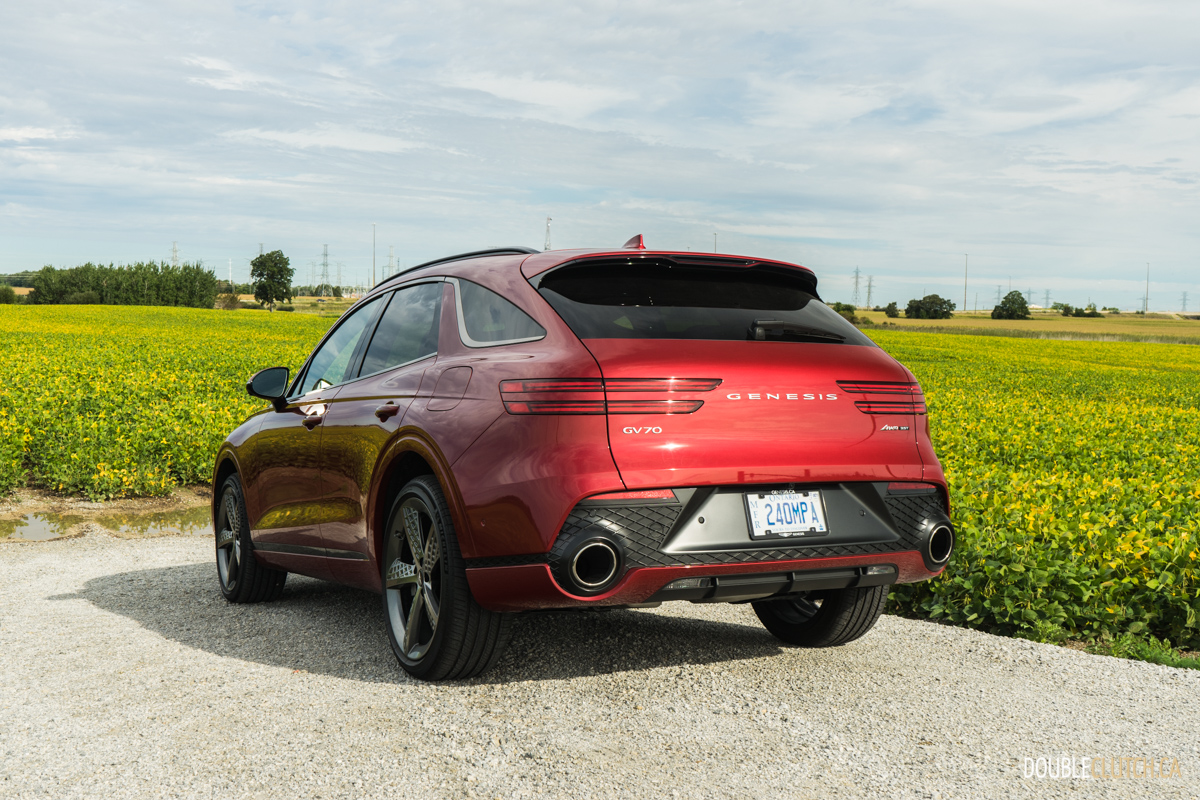 During our test week, we achieved 12.5L/100km of mostly city driving while in Sport Plus mode most of the time. The official numbers from Genesis are 12.9L/100km city and 10.0L/100km highway, which isn't bad at all for a twin-turbo V6. Historically, Genesis' V6 powertrains haven't been the most efficient, so we're glad to see more reasonable economy from this one.
While our GV70 Sport Plus is the top spec that rings in at $75,500 fully loaded, buyers also have the option of a smaller 2.0-liter turbocharged four that pushes out 300 horsepower in base form. To Genesis' credit, this eclipses most competitors' base engines by a wide margin. Models with this engine start at a very reasonable $49,000 with four trim options that can reach up to $63,000. Pound for pound, the Genesis models compete with the big luxury players from a value standpoint with no real compromises.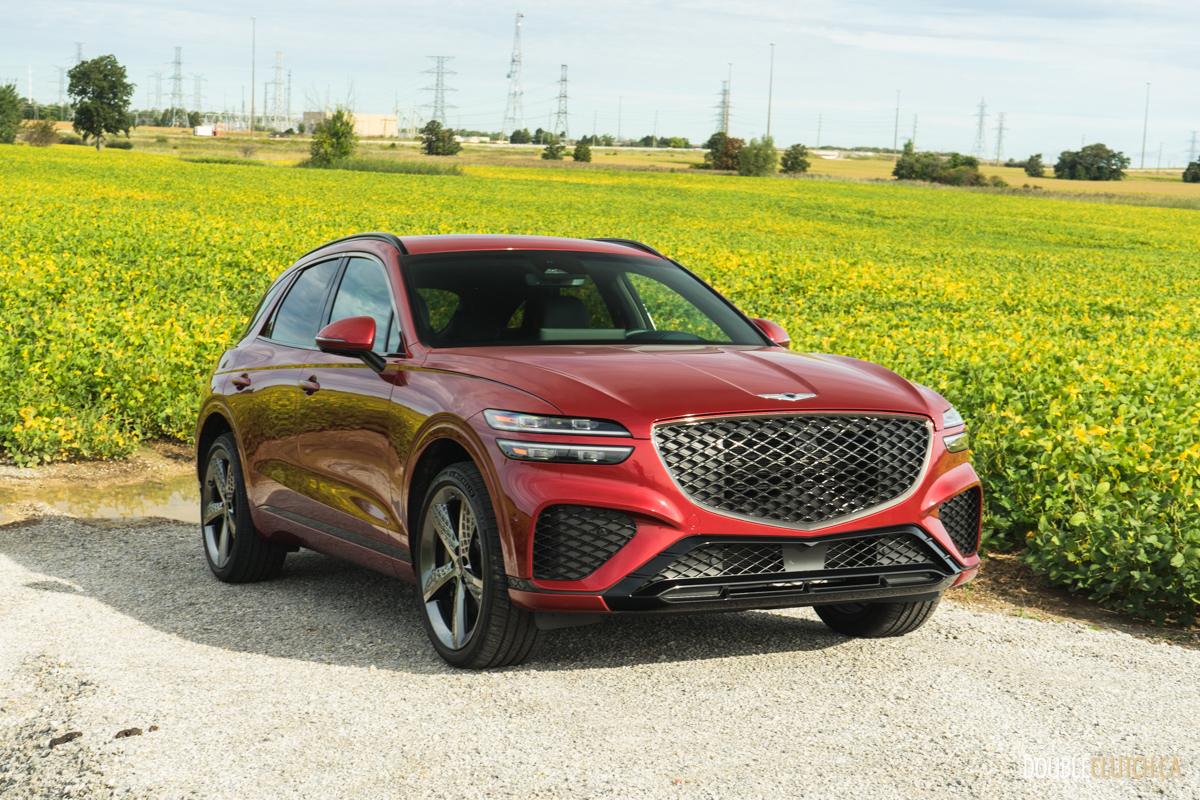 What the 2022 Genesis GV70 Sport Plus brings to the table is a serious luxury crossover that has eclipsed similar offerings from competitors such as Infiniti, Audi and Lincoln. While some will be disappointed that it does not offer enough "sport" to go up against some of Germany's best, it has the luxury aspect down pat and that is what most people in this segment look for.
See Also:
2020 Mercedes-AMG GLC 43 4MATIC
First Drive: 2022 Infiniti QX55