Ladies, gentlemen and people of all other pronouns, we are now entering a new generation of the modern electric car. The latest crop of EVs is less expensive, quicker, more refined and built for more distance than ever before. The trouble is, unless you're shopping high-end models, it's hard to actually buy one. The Hyundai Ioniq 5 and Kia's counterpart named after the band that made the heart in a blender song are still a ways out, the Volkswagen ID.4 is only available in a handful of major cities with the first run nearly sold out and the Chevrolet Bolt has been recalled for risk of fiery death. So what about an electric car you can actually buy? Enter the 2021 Kia Niro EV SX Touring, a tall electric family hatchback for the masses.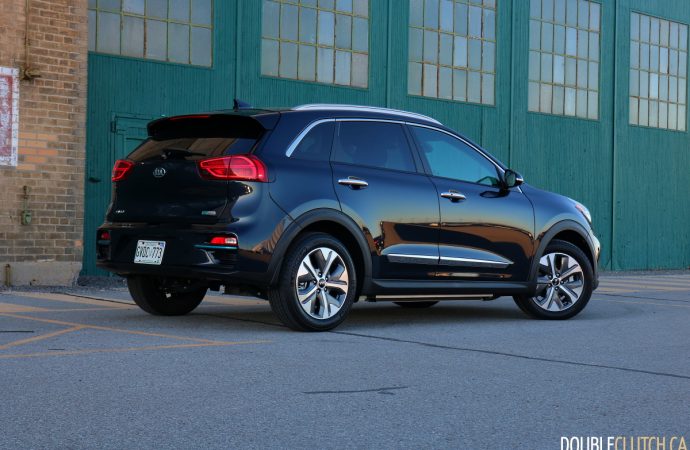 Let's start with the basics. The Niro is actually available in three flavours of increasing greenness. There's a hybrid that starts at $26,995, a plug-in hybrid for $34,495 and this, the EV. Fully-electric and starting at $44,995, it lands right in the crosshairs of the new Volkswagen ID.4.
On the outside, the Niro EV makes a good first impression, largely because it looks remarkably normal. It's not a radical teardrop or comically tall, it just looks like a family hatchback. That's a good thing. If you roll up to see friends in a BMW i3, they'll ask if you just came back from Mars. In a Niro, you may as well have rolled up in a Golf. It's fairly nondescript but handsome, with a blanked-out grille and blue accents adding just a dash of intrigue.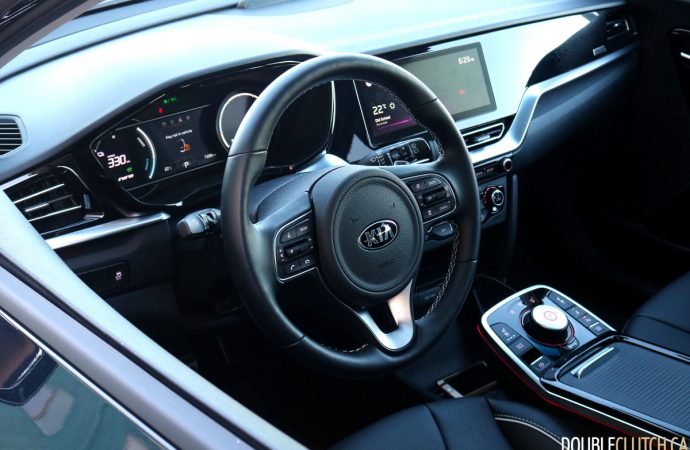 This traditional hatchback form pays dividends inside with interior room to spare. There's enough space for four actual adults to travel comfortably, although rear passenger foot space under the front seats is a bit tight. There's plenty of storage too, with two covered bins and two cupholders in the centre console, reasonably-sized door bins and a large tray on the floor between the front seats that's big enough for a small handbag. Even the retractable cargo cover stows neatly beneath the false cargo floor, a pleasant surprise for an often discarded item. General comfort is pretty good too, with reasonably supportive seats both front and rear.
On the tech front, the Niro does feel a bit five years ago in some areas. The digital instrument cluster displays range in big alarm clock LCD numbers rather than the slick digital typefaces we see nowadays and the lack of a physical home button for the infotainment is a bit irritating. There's no USB-C capability on tap here either, nor true dual-zone climate control.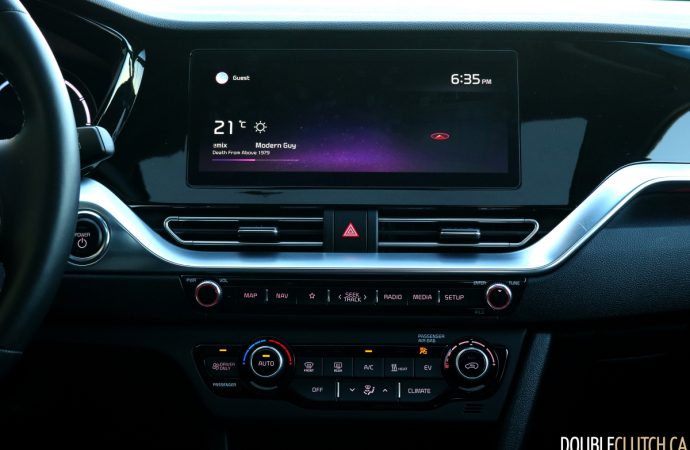 However, Kia's charging station finder is top-notch and there's still a good amount of kit on offer. My top-trim SX Touring test car included heated and ventilated front seats, heated rear seats, navigation, power-folding mirrors and a somewhat underwhelming Harman/Kardon stereo. It offers nice mids and reasonably low distortion but bass, staging and overall volume are somewhat lacking.
What about all the bits that actually make the Niro EV go? Well, the 64 kWh SK Innovation-supplied lithium ion polymer battery pack drives the front wheels through a permanent magnet synchronous electric motor. This makes for a real-world range of over 400 kilometres that exceeds its official rating of 385 and system output of 201 horsepower and 291 lb.-ft. of torque.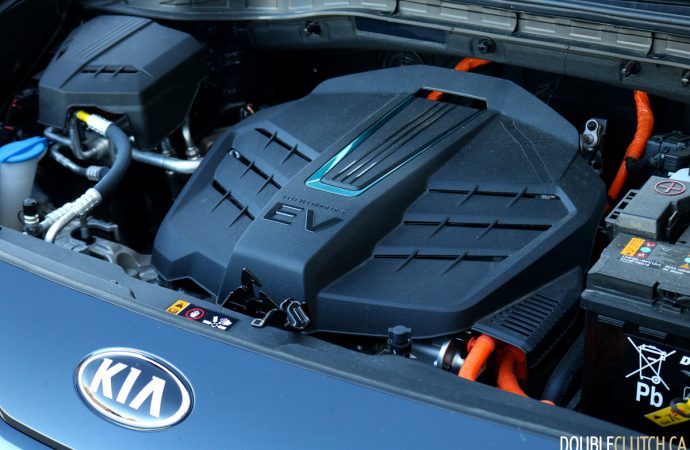 Is it quick? Ooooh yes. It goes from nought to sixty miles an hour in 6.2 seconds, fighting wheelspin nearly the entire way. That makes the Niro EV the third-quickest car Kia makes. Mount up a set of sticky tires and I have no doubt that it would drop into the high fives. That's not Nissan Leaf speed, that's Golf GTI speed. Wicked stuff. Of course, going fast means nothing without being able to rein it in and the Niro offers plenty of stopping assistance.
While there's no one-pedal driving mode on tap, paddles on the steering wheel can be tapped to quickly alter regenerative braking. The chassis's quite good too. With all the weight of the batteries down low, the Niro feels as stable as Queen's Park. The building, of course, not the people in it. Because all that weight is inside the wheelbase, it's actually quite nimble too. While it doesn't have the grip and agility of a GTI, it's not exactly a pudding.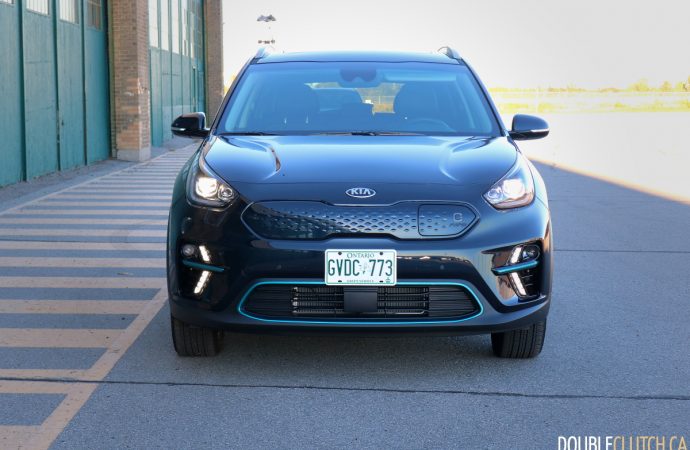 If there is a downside to the way the Niro drives, it's a lack of traction. Treat the accelerator pedal like one from a normal car and you'll earn death stares from chirping the tires at parking lot speeds. Ease up on the throttle and the usual benefits of an EV become apparent. It's very quiet inside and acceleration is very smooth. On a hot summer's day, the loudest thing in the cabin will be the fans for the ventilated seats reminding you that wearing fabric that breathes poorly is a choice. A bit judgmental but alright.
Remember that $44,995 starting price? I wouldn't recommend that particular trim level in Canada because it doesn't come with a heat pump for comfortable winter driving. For reference, the $44,995 base-model Volkswagen ID.4 comes standard with a heat pump. The lowest Niro EV trim level people will actually buy is the $50,695 EX+ trim which does offer a heat pump, while my SX Touring test car retails for $54,695 and adds such niceties as a power sunroof and a Harman/Kardon audio system.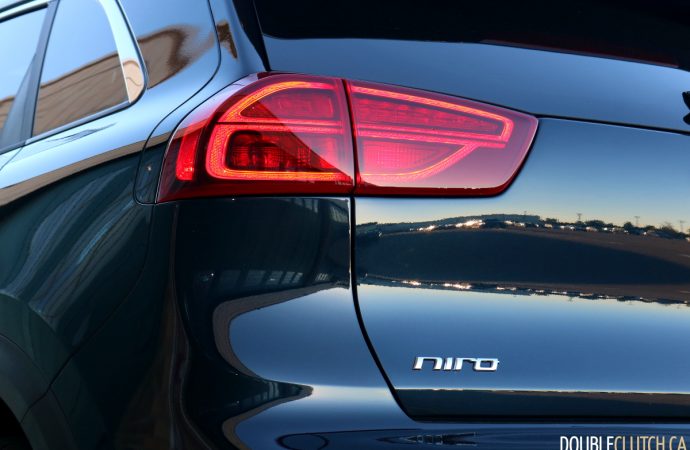 If that sounds like a lot of money, it is. A fully-loaded rear-wheel-drive ID.4 is $52,995 and features such decadence as massaging seats, a panoramic roof and a power tailgate. The Chevrolet Bolt is well-equipped from just $38,198 and the battery issues could be fixed as soon as mid-October. The federal EV incentive doesn't apply to the Ford Mustang Mach-E but at $50,495 to start, I reckon it's worth the extra money. While the Nissan Leaf isn't as good as the Niro EV, it's a lot cheaper with a top-trim big battery model clocking in at $46,098.
Really, that's the fundamental flaw to the 2021 Kia Niro EV SX Touring. While still a competent EV, it's just priced too high. While it'll likely still feel good for a fair number of years, new models offer so much more car for similar money and some manufacturers of existing models have cut prices dramatically. We don't know what Kia plans to do for pricing on 2022 models, so my best advice is to wait a few months before buying a new EV.
See Also:
First Drive: 2022 Volkswagen ID.4