The current Mercedes-Benz E-Class Is a luxury benchmark. While lesser models in the lineup barely cut it, the E-Class demonstrates the echelon of the brand effortlessly, with classical styling, smooth driving dynamics, and an interior that's up to par. With plenty of configurations from sedan to coupé, a cabriolet and a wagon, and multiple engines, there really is an E-Class for everyone. This however, the 2021 Mercedes-Benz E 450 All-Terrain, is a slightly different take on the traditional estate car.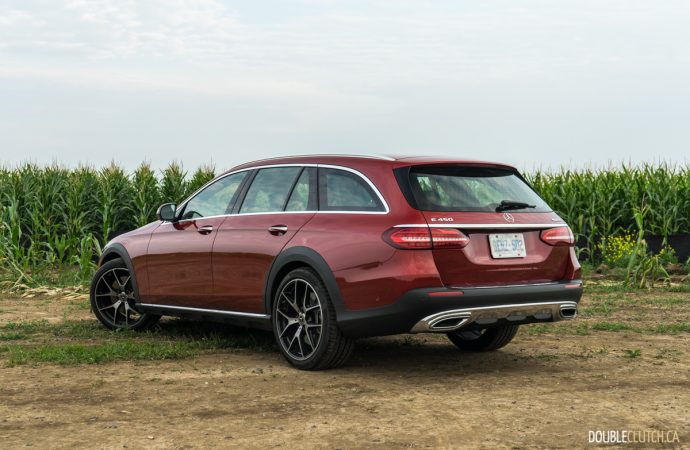 Brands like Volvo, Audi and Subaru have pulled off the "adventure wagon" for many years. The Subaru Outback is the only mainstream model on the market, though Audi's allroad is available in both A4 and A6 guise. Volvo has dropped the wonderful flagship V90 from their lineup, but the V60 Cross Country is still offered, offering buyers who vehemently oppose crossovers that special middle ground. Yes, the station wagon is very much alive, and this is one of the best examples on sale today.
Mercedes no longer sells the regular E 450 station wagon. If you want a five-door E-Class, the only other way to have it is the fire-breathing AMG E 63. This more attainable, more capable estate adds a little bit of body cladding, and a slightly more defined hood shape. The All-Terrain also adds 1.2-inches higher than the E 450, along with a standard four-corner air suspension. It's worth mentioning that the old E 450 Wagon only offered air ride in the rear. The styling is polarizing,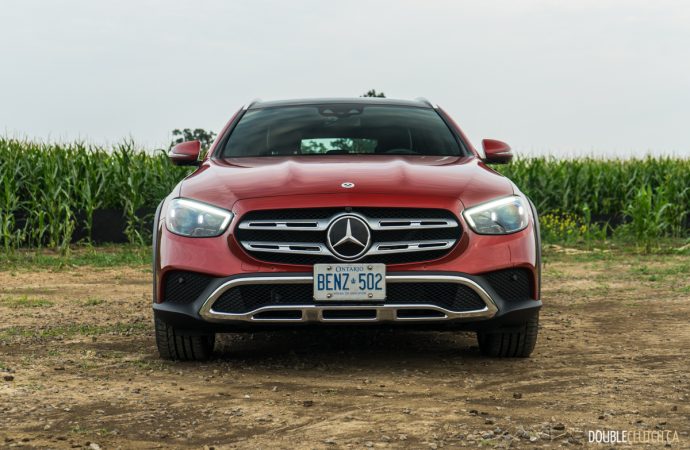 The powertrain is one of the most special parts of this new E 450, and really sets a new bar. Under the hood lies a 3.0-liter turbocharged inline six-cylinder engine. It's hooked up to a 48-volt mild hybrid system that adds smoothness, efficiency, and torque lower in the powerband. It's a de-tuned version of the AMG E 53 motor, more geared towards comfort than straight performance. It pushes 362 horsepower at 6,100RPM and 369 lb-ft. of torque at just 1,600RPM.
The biggest difference between this engine and the E 53's is the lack of an electric supercharger, but it's an omission that really won't be missed. This is one of the creamiest, slickest motors around right now. The nine-speed automatic exhibits some confused behaviour at lower city speeds, but outside of that, it's pretty well sorted. The E 450 All-Terrain pulls hard, sprinting to 100km/h in five seconds flat. There's always ample passing power on tap, and this 3.0-liter engine never seems to run out of breath.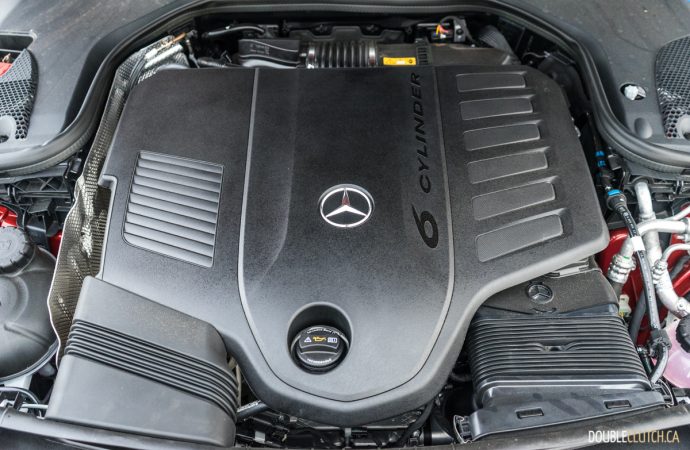 Not only is the E 450 All-Terrain powerful and smooth, but it's delightfully efficient, as well. The 80-liter fuel tank means the cruising range is up to 900 kilometers in nearly all highway driving, and we observed gas mileage dropping as low as 7.6L/100km with steady speeds. The combined average for our test finished up at 8.4L/100km, which is impressive. The mild hybrid tech means the E 450 knows when to shut off the gasoline engine when coasting, and save every bit of fuel it can.
It's also superbly quiet even at highway speeds, with virtually no road noise making its way back into the cabin. Ride quality is exemplary with the air ride, and the E-Class is softer over bumps than both the Audi and the now-defunct Volvo V90. Passengers will find the E 450 extremely comfortable, with enough room for four larger folks. A jump seat in the cargo area flips out, in traditional station wagon fashion, and makes for a somewhat usable third row for small children. The front and rear seats provide plenty of support, but we observed a lack of ventilated seats in our tester – this option requires an additional package.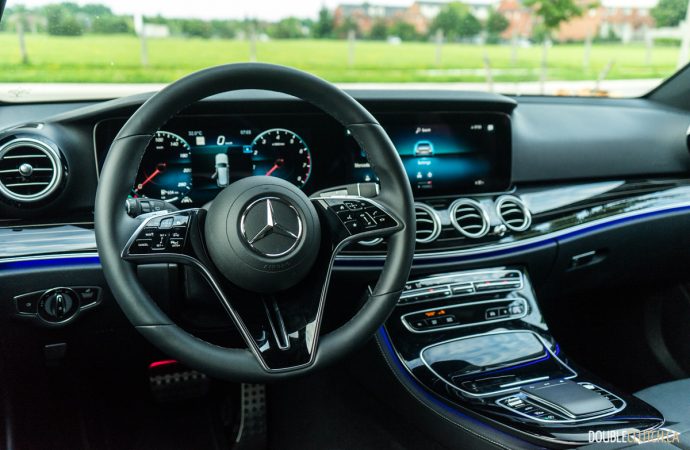 Interior quality overall is on the higher side, though our tester lacked the beautiful open pore wood that we've seen in other Mercedes-Benz models. There is plenty of piano black gloss plastic, which looks fine at first glance but is very prone to fingerprints and scratches. Configurable ambient lighting with multi-colour themes makes the overall atmosphere wonderful at night, and as we've said before, Mercedes-Benz is a leader in this department. The large panoramic sunroof also makes the cabin a great, airy place to spend time.
Two 12.3-inch screens sprawl the dashboard and house the MBUX infotainment interface. If using voice commands it's fairly intuitive, and the graphics are brilliant, but that's about where it ends. Things like skipping tracks and changing audio sources is difficult, and the touchpad makes browsing playlists in Apple CarPlay a more difficult affair than it needs to be. The main infotainment screen can be used as a touchscreen, which is really the only saving grace. Android Auto is also on board, but the Benz system has yet to support smartphone mirroring wirelessly.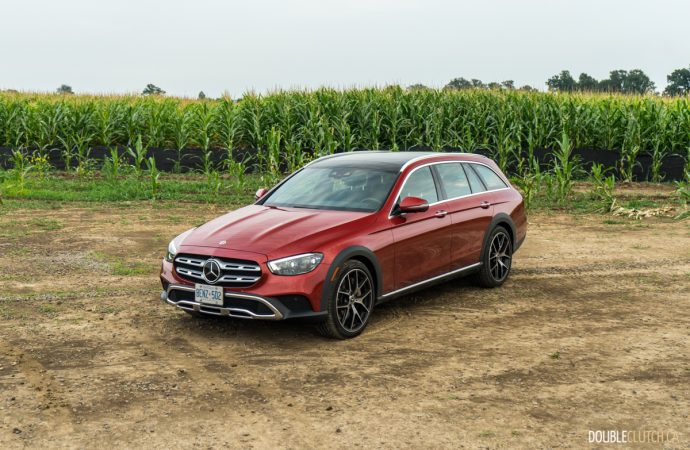 Pricing starts at $80,900 for the All-Terrain, and just adding the Hyacinth Red paint to our test vehicle adds $1,400. Our tester got the $2,400 Technology Pack adding LED lighting, heads-up display, adaptive high beams, and the MBUX Interior Assistant. A $3,400 Premium Package adds heated rear seats, Keyless Go, Burmester audio, heated front seats, and a 360-degree camera. The total sticker came to $88,600, which seems expensive, but the E 450's one competitor costs just as much.
Those wanting a regular no-frills station wagon have no real choices left, but start shopping in the luxury space and there are a few awesome options available. The 2021 Mercedes-Benz E 450 All-Terrain is one of those, with a top-shelf powertrain, modern styling, and all of the safety and tech expected from a Mercedes. Factor in the bonus third row of seating and it becomes more and more evident why the ultra-wealthy regularly opt for E-Class wagons. This really is the pinnacle of midsized luxury today.
See Also:
2021 Mercedes-AMG E 63 S Wagon
2020 Volvo V60 Cross Country T5