Minivans just can't seem to get the type of love that the crossover market has. Even though they're larger, more practical, and often more affordable than their crossover counterparts, they're just not getting the attention. Kia has decided to replace their Sedona with a brand new 'LUV' – a 'Life Utility Vehicle'. It's a minivan wrapped with SUV-like styling cues borrowed from Kia's popular SUV lineup. We spent a week with a fully loaded 2022 Kia Carnival SX to find out what it's all about.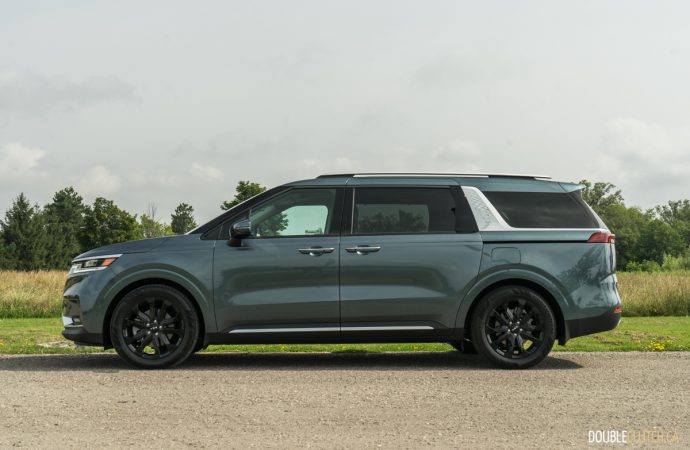 As noted, the Carnival's styling is quite unique, and from the front or rear most casual observers would probably figure they're looking at a new SUV. Our SX model came flanked with loads of LEDs up front showing off a powerful looking front grille, and another larger full length LED light bar across the back, highlighting Kia's new logo. The side profile is a little more minivan-like, but it hides its bulk and sliding doors surprisingly well thanks to sharp body lines and a distinctive textured metal C-pillar. Our tester came in 'Storm Blue' and perched on gloss black 19-inch wheels.
The interior is more function-based than the exterior, and a lot more in-line with what you'd expect to find in a modern family vehicle. Of course, a generous third row bench that'll seat three in a pinch, plus, in the SX trim, two cushy heated captains chairs in the second row. They have the Carnival's sweet 'VIP Lounge' feature that allows the entire seat to power recline with an ottoman, just like your living room lounge chair. Lesser models get a removable bench in the second row for extra seating at the expensive of luxury.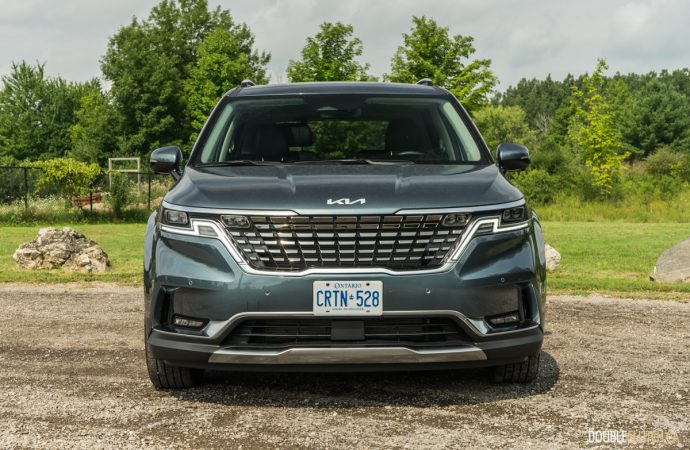 Interestingly, there is no rear entertainment system available in the Carnival, which is a bit of a miss in my opinion. Rear passengers do get their own 12V and 110V charge outlets, plus tri-zone climate control. The SX trim also offers a separate rear sunroof for passengers in the back; it's a cool feature and will please the kids, but the sunshade is manually controlled only, which is a pain for those with younger kids like mine who cannot reach it. The rear cargo area, like most minivans, is deep with the third row up so you can stack bags to make the most of the space. Otherwise, fold the third row for a large, flat loading floor.
Up front, there are two comfortable bucket seats and a wide center console with tons of handy storage. The dashboard is dominated by two large digital screens, one for the gauges and driver info, and the other a 12.3-inch infotainment screen (8-inches in the LX, LX+ and EX models). Controls are spread out across the wide dash and console; they're simple enough to understand and most functions have a physical button or knob, which is a nice treat. The only problem is that with the dash being so wide, functions toward the right side require a bit of stretching to reach.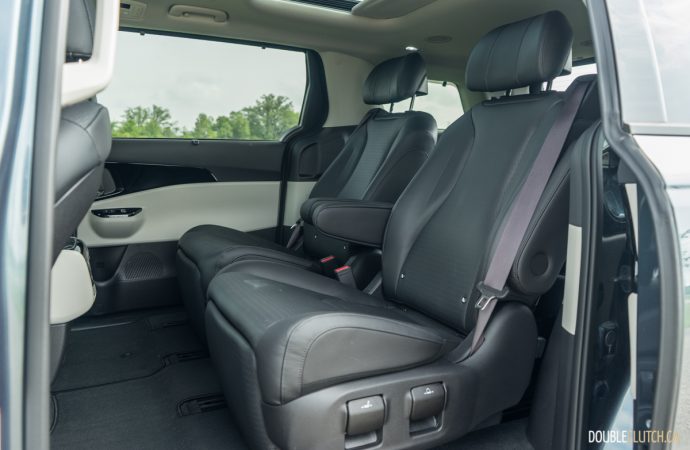 The Carnival SX comes equipped with heated and cooled leather, while lesser trims make do with synthetic leather or cloth. Awkward controls aside, it's a very functional space and offers a comfortable and commanding driving position, plenty of practical storage. The latest tech such as a 360-degree camera and a rear passenger camera is available to make this one slick family vehicle. The space is a little on the boring side though, third row access could be made easier, and overall interior fit and finish ranks on the lower end of the scale. It's not a bad interior, but it just doesn't live up to the expectations that the highly stylized exterior sets.
The Carnival is powered by Kia's 3.5-liter GDI V6 making 290 horsepower and 262 lb-ft. of torque, which flows to the front wheels through an eight-speed automatic. It's a traditional minivan setup and it delivers a respectable maximum tow rating of 3,500-pounds. Low end torque is limited meaning the Carnival feels a bit sluggish off the line, but offers plenty of passing power at speed. The naturally aspirated V6 is smooth, quiet and should prove to be a solid, reliable, drivetrain.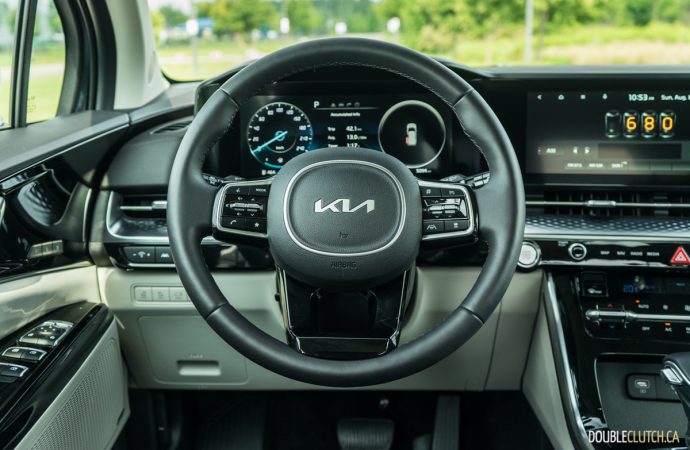 The Carnival is not currently available with all-wheel-drive, unlike the Toyota Sienna, which may be a bit of a miss for a minivan that looks so much like an SUV. On the road it impresses with smooth, refined, and quiet nature. It is graceful from behind the wheel, and nearly whisper quiet on the highway. I would put its driving refinement on-par with the Sienna and better than the Honda Odyssey.
The Carnival's fuel economy is rated at 12.0L/100km in the city and 8.9L/100km highway. Our average for the week of mixed driving came in closer to the 12.0L/100km mark, but in fairness I did take it on a lot of shorter city runs. Happily, the Carnival only requires regular fuel, so even if it's not the thriftiest V6 out there, it's not picky either.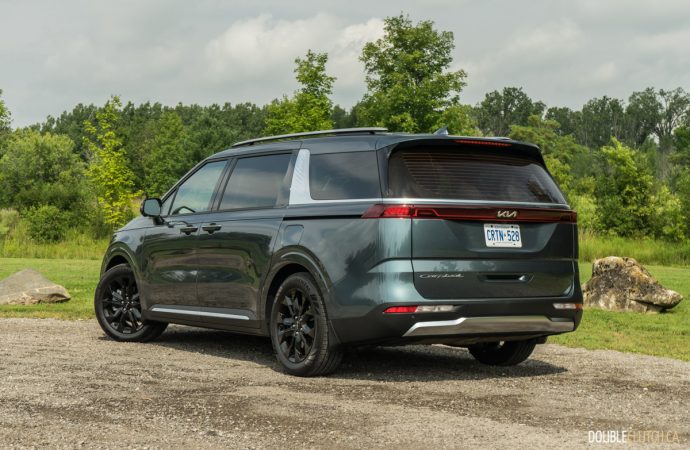 Speaking of thriftiness, the Carnival does aim to undercut Japanese competitors, both with its starting price of $34,795 and its top of the line price of $48,845. Both offer at least $5,000 savings over a comparably equipped Odyssey or Sienna. There are five trim levels to choose from starting with the base LX, the LX+, EX, EX+ and finally the SX. The EX or EX+ are in the low to mid-40s and represent the best value if you're okay with forgoing the SX specific equipment like the VIP lounge captain's chairs, dual sunroofs, and a handful of other gimmicky tech features.
The 2022 Kia Carnival SX is doing what Kia intended, making waves and turning heads toward the minivan market again. It's a clean break from the Sedona nameplate, and a fresh take on what's really a traditional minivan underneath. Whether you're looking for a bare bones family hauler and desire an upgrade in refinement from the venerable Grand Caravan, or you're looking for the ultimate family hauler and wouldn't mind saving over the Japanese options, the Carnival is absolutely worth the shop.
See Also:
2021 Toyota Sienna Limited AWD