In a landscape where SUVs are king, it's nice to know that the compact sports sedan still matters. With sports car-like soul and sedan practicality, compact sports sedans tick a lot of boxes for a lot of people. Offerings from Germany, Japan, South Korea, Italy and America range from upstart to archetypal and provide real choice in this segment. But what if none of them really float your boat? The 2021 Volvo S60 T5 R-Design might just be the car you're looking for.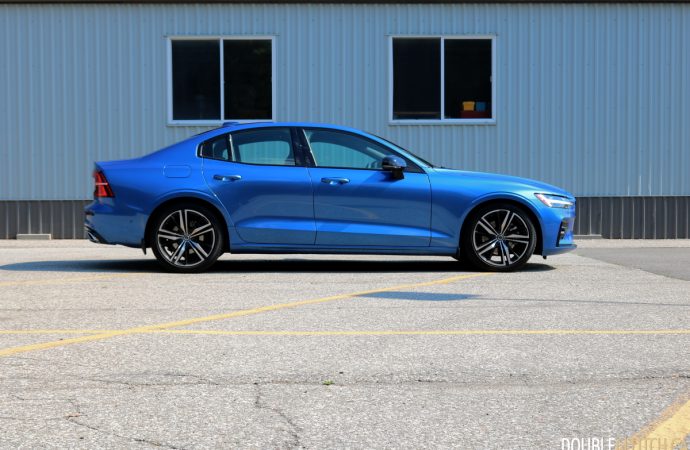 We've seen Volvo's current design language for almost seven years now and it's still devilishly handsome. Our test car came specced in Bursting Blue, a colour as loud as it is fabulous. It's exclusive to the R-Design trim, as are blacked-out trim pieces and sportier-looking alloy wheels. The R-Design-specific front fascia does a good job of anchoring the car to the ground, while the rest of the good looks are simply part of every S60's design.
The haunches are dramatic, the dash-to-axle ratio is impressive, the lines are both minimalist and crisp and the Thor's Hammer headlamps still have a huge wow factor. It's a design language that will continue to age exceptionally well for years to come.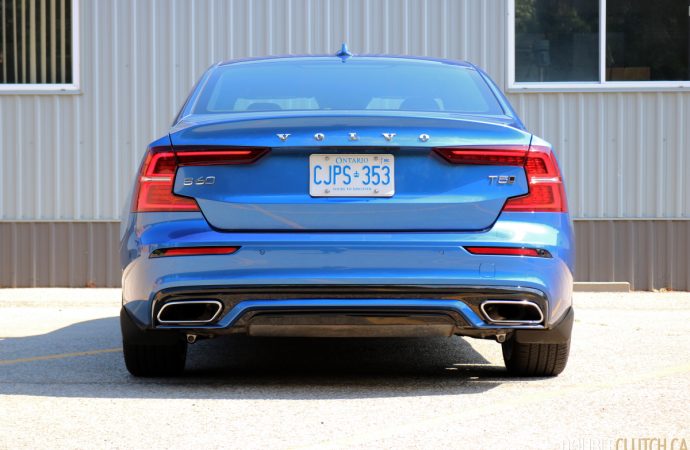 The first thing you'll notice about the interior of the S60 is how low you sit in it. Volvo absolutely nailed the low-slung sports sedan driving position and threw in a pair of very comfortable, very adjustable front seats. The centre console is at the perfect height for use as an armrest, the cowl is high but not too high and the steering column has an astonishing amount of adjustment. Rear seat space is also excellent for the segment, with plenty of legroom, headroom and seat support.
There's also been plenty of attention paid to interior materials from the knurled metal knobs on the console to the available stitched dashtop to the rich textured aluminum trim. While we aren't entirely sure if the ballistic cloth inserts are an upgrade over leather, they're certainly different and suit the R-Design trim's mission quite well.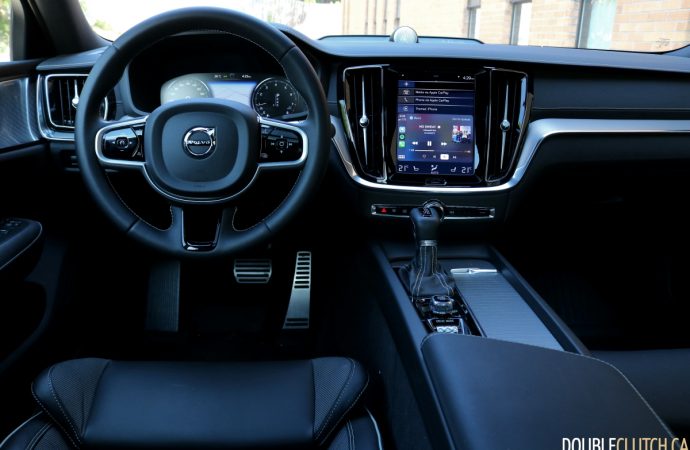 In the centre of the S60's dashboard sits Volvo's Sensus infotainment system. It features a portrait-oriented touchscreen and is both fast and responsive with excellent contrast and black levels in the screen. There is a definite learning curve to it as it's accompanied by few physical controls, but once you learn how it operates it becomes second nature.
In terms of audio, our test car came fitted with the awe-inspiring Bowers & Wilkins hi-fi system cranking out 1,100 watts of crystal-clear audio with superb staging and dynamic range. While its $3,750 list price may make it seem like an expensive option, just one listen and it will feel compulsory. I've sampled many high-end car audio systems, some costing double or triple what the S60's Bowers & Wilkins system costs, and the Volvo B&W stereo is better than damn near all of them.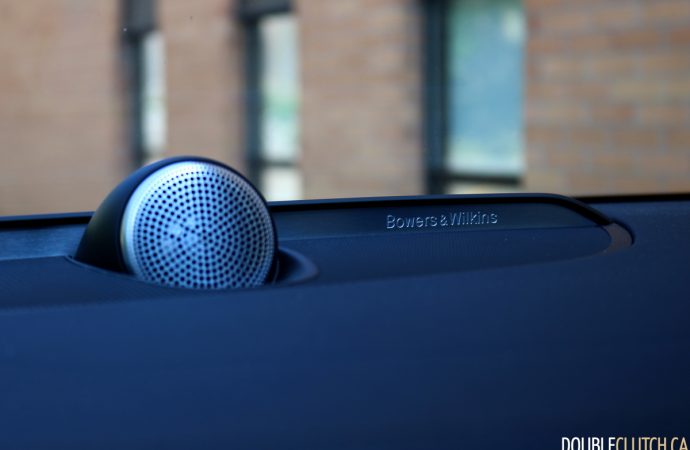 Powering the S60 T5 is a two-litre turbocharged four-cylinder engine making 250 horsepower and 258 lb.-ft. of torque. It's mated to an eight-speed automatic gearbox that puts power down to all four wheels. If this sounds familiar, that's because almost every entry-level sports sedan sold in Canada uses this formula. Needless to say, if everyone's fallen along similar lines, this sort of powertrain must be quite good.
Indeed, the entry-level S60 is a nice blend of torquey turbocharged punch, four-cylinder efficiency and luxury car smoothness. While it is a bit slower than a BMW 330i and a lot slower than the twin-turbo V6 brawler known as the Infiniti Q50, it's quicker than a Genesis G70 and right on par with a Mercedes-Benz C 300. A good place to be, if I do say so myself. While the S60's turbo four does seem to run out of puff at the top of the rev range, it's still really as powerful as anyone will ever need in a daily driver.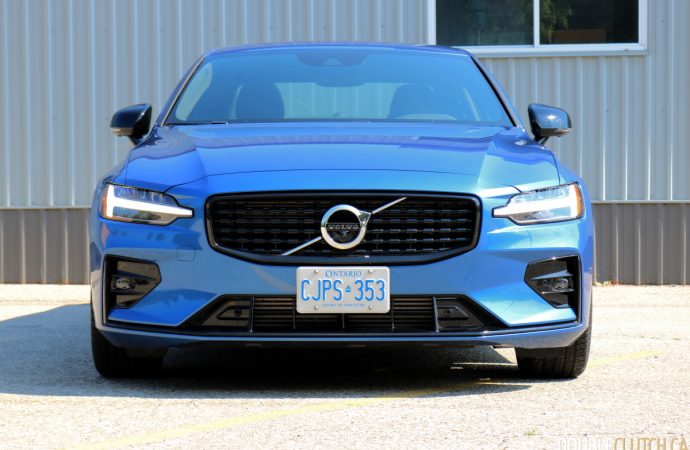 The Aisin eight-speed automatic gearbox is brilliant too, offering the smoothness of a ZF eight-speed in a more compact, front-wheel-drive-based architecture. While there aren't paddle shifters on this particular S60, drivers can select their own gears using the shifter. Although not the most en-vogue method of manumatic selection, the lack of paddle shifters is rather refreshing because it offers an ergonomically-superior grip on the lovely, smooth leather steering wheel.
As this S60 is specced in the R-Design trim, it gets a lower, firmer sports chassis than other models. Add in the thin sidewalls of the available 19-inch tires, and the ride is significantly more sporting than what most would expect from a Volvo. Then again, should this really be a surprise? Volvo's been putting out sports chassis since the 850 T5-R of 1995.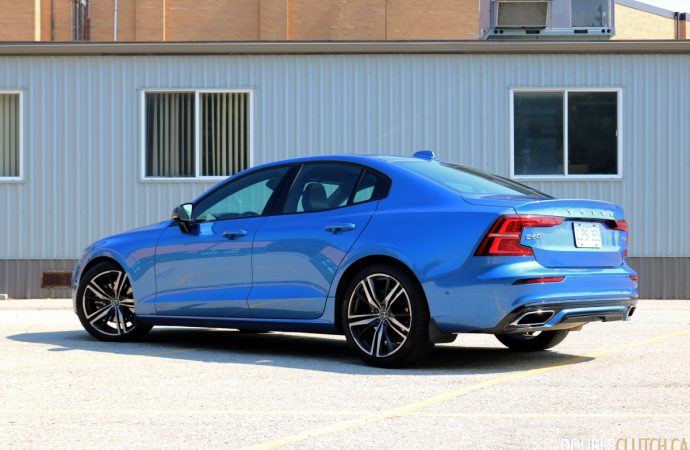 Push the S60 R-Design on a twisty road and it displays a very reasonable level of poise. The steering is a bit numb but the damping is rather well-controlled for spirited driving. The S60 doesn't have the joie de vivre of an Alfa Romeo Giulia or the unflappable confidence of a BMW 3-series, but it can certainly hold its own against most of the compact sports sedan segment.
Of course, being a Volvo, the S60 comes equipped with all the latest safety gadgets. Lane-keep assist, blind-spot monitoring and automatic emergency braking come standard while adaptive cruise control, distance alert and a 360-degree camera system are optional for a very reasonable cost. Compared to the tendency of German competitors to wall active driver aids off into an expensive package, this level of safety-consciousness is refreshing. Then again, we are talking about Volvo, they're absolute wizards when it comes to safety.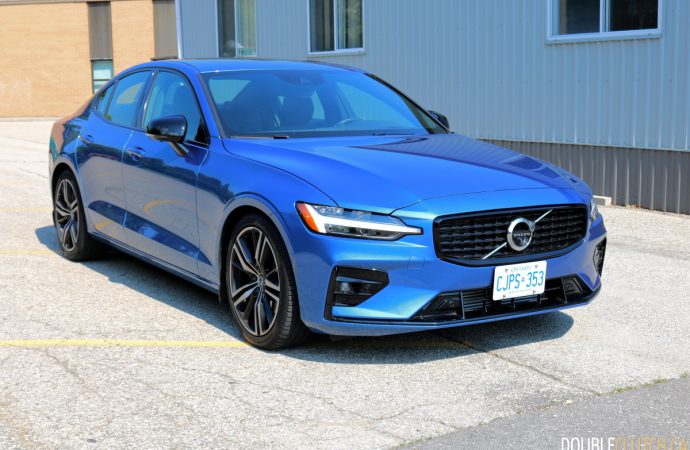 The S60 T5 R-Design isn't the sportiest entry-level sports sedan on the market. It's not the all-things-to-all-people archetype defined by the BMW 3-series or the punch-drunk punk-rock powerhouse that is the Infiniti Q50, but so what? The S60 is assured, calm, confident and individual in a manner that's rare to see in this segment.
At $52,350 to start, the 2021 Volvo S60 T5 R-Design is good value too. Even our loaded-up test car stickered in the low-60s, a touch less expensive than well-equipped examples of the BMW 330i and Mercedes-Benz C300. Of course, if you like the S60 T5 R-Design, you'll likely love the V60 T6 R-Design. It's only a few grand extra and adds wagon practicality and more power to everything good about the S60.
See Also:
2020 Infiniti Q50 Signature Edition
First Drive: 2021 Lexus IS 300 AWD