KINGSTON, ONT. – Change is a constant part of the Nissan Pathfinder's identity. After all, how many vehicles can you think of that have gone from body-on-frame construction to unibody, then back to body-on-frame, then back to unibody? Still, arguably no change in the model's history has been as important as the new 2022 Nissan Pathfinder. With the three-row crossover market roaring like the surface of the sun, the need for a more refined, more upscale Pathfinder is now more urgent than ever. Let's see how the new model stacks up.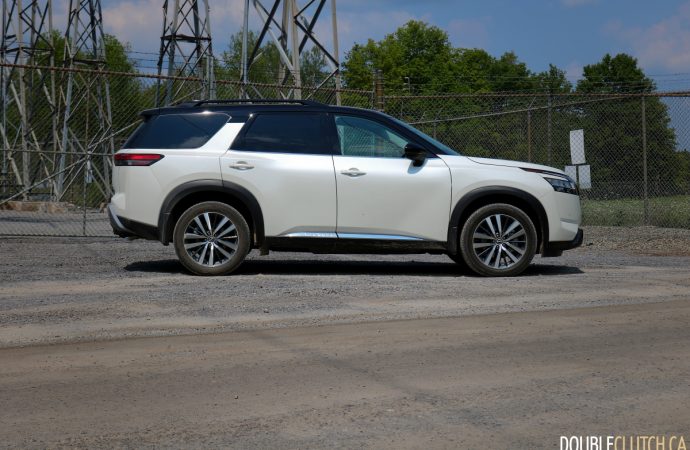 It's 2021 and Nissan has received the memo that boxy is in. That's why the new Pathfinder does away with the soft, rounded exterior of the old model and adopts bold, upright styling. We're talking muscular shoulders, a proud hoodline, dramatic vertical character lines on all four corners and a swept-forward c-pillar that harkens back to the original Pathfinder. Carefully melded with the new model's rugged silhouette are a litany of modern, minimalist styling touches.
There's very little linework on the doors, slim headlamps and tail lamps and very restrained wheel arch trims. Think Ron Swanson in an Armani suit. It's a smart, handsome look that's bang up to date with the new Pathfinder's contemporaries. On a more functional note, LED headlights and tail lights are standard on all trims, as is keyless entry with capacitive touch pads on all four doors for locking and unlocking, a nice touch for when you really have your arms full.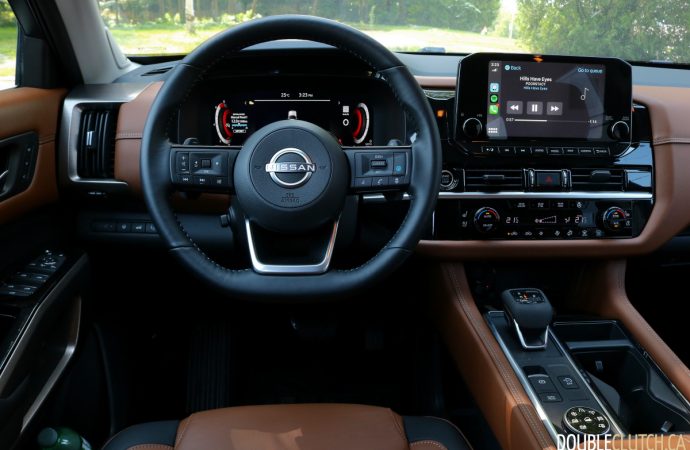 On the inside, Nissan have pulled off a thorough transformation with more room, more tech and nicer materials. The top-spec Platinum trim features semi-aniline leather and broad swaths of stitched materials on all sorts of surfaces. Materials are top-notch and there's a pleasing overtone of quality to the interior. Every button, switch and knob is as well-damped and satisfying to use as those on a high-end home amplifier.
Also nice is the amount of storage up front. By switching to an electronic gear lever, Nissan have carved out an enormous space under the centre console for a purse or laptop bag. For smaller items, there's a shelf set into the dashboard above the glovebox and there are a bladder-bursting 16 beverage holders to ensure hydration for the whole crew on road trips.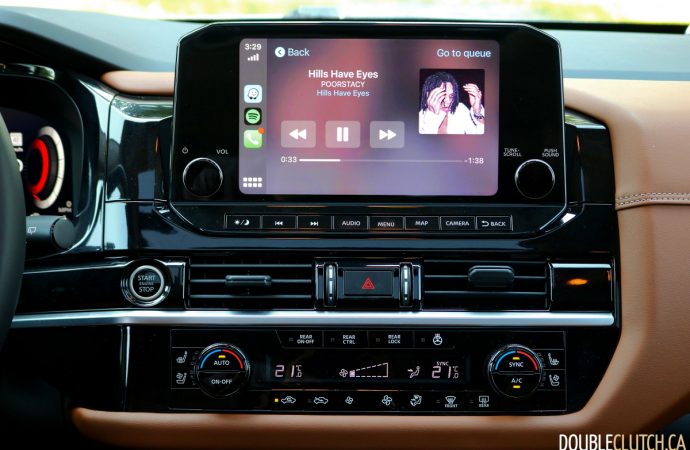 Because of the boxy new silhouette, Nissan have been able to carve out an enormous amount of interior room while maintaining roughly the same exterior footprint. Seating for eight is available for the first time ever in a Pathfinder and there's room for up to five child seats. Tick the option for second-row captain's chairs and middle-row occupants will be treated to genuine first-class comfort and adjustability, along with their own console that's big enough to hold two Happy Meals. The second row can be tilted and slid forward at the touch of a button for easy third-row entry and egress, although it can launch forward with rocket sled violence so it's best to clear all loose items before operation, lest a stray Lego accidentally shatter the infotainment screen.
Speaking of the third-row, room and comfort back there is among the best in the large three-row crossover class and considerably better than an economy seat on any major airline. While those in the way back may not get free biscuits, they do get to enjoy proper headrests and USB charging ports for their devices. As for cargo space, it's downright cavernous. There's a deep under-floor bin for all sorts of miscellaneous items and enough space behind the third row for six backpacks, perfect for the school run.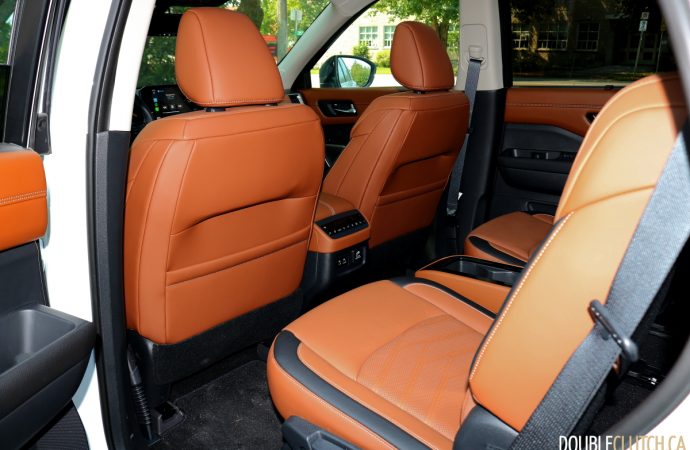 Fold the second and third rows flat and you'll be able to slide in 4'×8' sheets of building material, lay them flat and still close the tailgate. It's also worth noting that SV trim and up Pathfinders can tow 6,000 pounds, more than Explorer, Highlander, Palisade or Pilot. While that doesn't seem like a change from the outgoing model, the new one is certified using the SAE's tougher J2807 testing requirements.
When it comes to tech, Nissan have pulled out the big guns. The top-spec digital gauge cluster in the new Pathfinder is both slicker and more informative than the command deck on the USS Enterprise. Everything from the current song playing to the status of the all-wheel-drive system to speed in both metric and English units is displayed on a crisp, responsive, easy-to-use 12.3-inch screen. It's one of the best digital dashboards in the entire industry and a true ace up the Pathfinder's sleeve.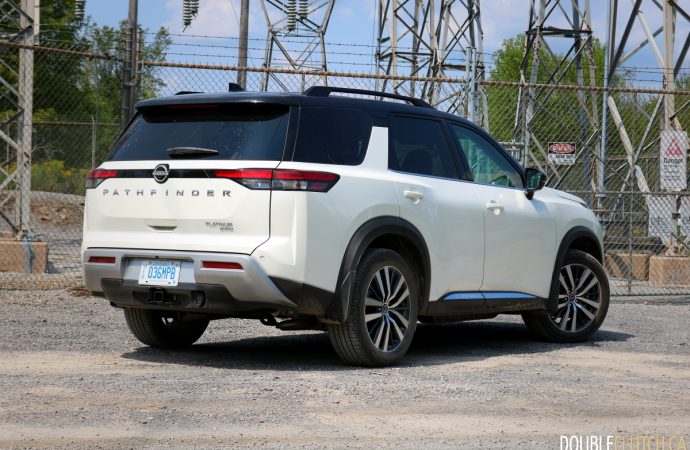 As for the infotainment screen, lower trims offer an eight-inch system while the top two trims up the size to nine inches. It's a slick and minimalist system with proper redundant controls and native FLAC support for audiophiles. Speaking of audio, the top-spec stereo in the new Pathfinder is a 13-speaker Bose system that's punchy yet still balanced. While not in the same league as the thunderous, riotous JBL system available in specced-up Toyota Highlanders, it's certainly a cut above the Harman/Kardon system in the Kia Telluride and Hyundai Palisade.
Motivating the new Pathfinder is an old engine matched to a new gearbox. Nissan's stalwart VQ35 3.5-litre V6 is still in use here, a peaky and distinctive engine that makes 284 horsepower at 6,400 RPM and 259 lb.-ft. of torque at 4,800 RPM. While down on power compared to Highlander, Pilot, Telluride and Palisade, it still provides sufficient power for large vehicle applications. The big news though, is that Nissan has ditched the previous-model's CVT in favour of ZF's 9HP nine-speed automatic gearbox. The new gearbox massively improves takeoff response from traffic lights and while it can be a touch slow to downshift at times, it doesn't force the V6 to scream like Chewbacca being squeezed into a Cuisinart like the old gearbox did and still feels crisp enough to be competitive.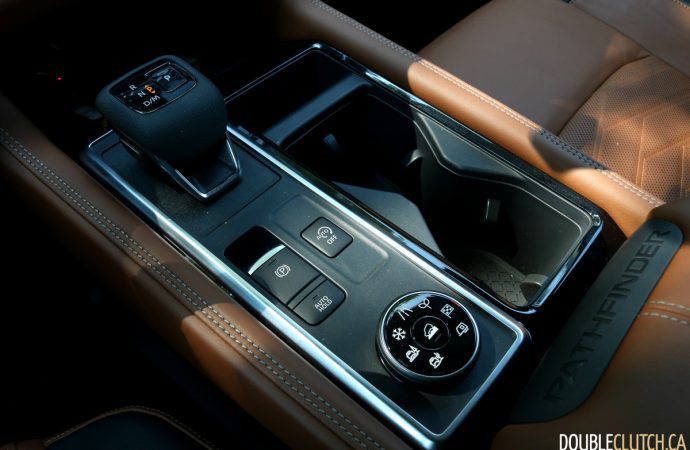 Of course, with upgrades to the gearbox come upgrades to the all-wheel-drive system. Now instead of a "slip-and-grip" system which requires the front wheels to spin before the rear wheels kick in, the Pathfinder monitors throttle input, steering angle and vehicle speed to send up to 50 per cent of the torque to the rear axle before things get hairy. In addition, there are now seven drive modes to choose from, ranging from eco to sport to mud and ruts. As the off-road section of the first drive was largely held on gravel roads where journalists could live out their 16-year-old Colin McRae fantasies, I found that engaging sport mode and deploying left-foot-braking with extreme prejudice to keep two-tons of family hauler shiny-side up was more effective than either of the off-road modes.
Back on pavement, there's an interesting mix of tautness and insulation that gives the Pathfinder an almost Teutonic feel. Laminated front windows, thicker insulation and door-mounted mirrors keep things whisper-quiet at highway speeds while a stiffer body structure contributes to a solid feel. The springs and dampers seem a touch on the stiff side on city streets but iron out rough highways like a hotel trouser press. If there's one point of contention, it's steering weight.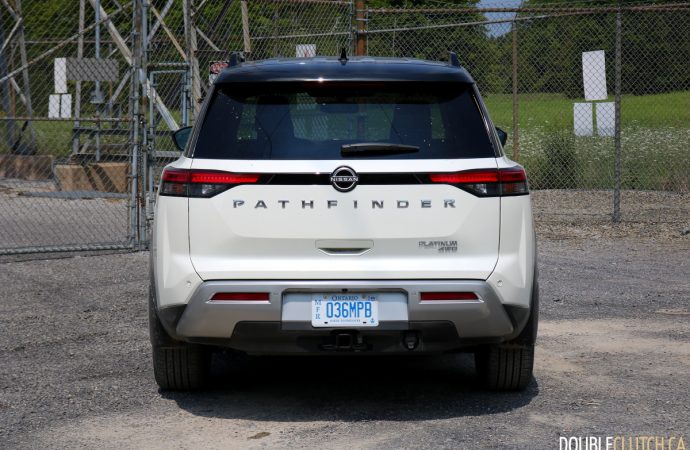 While the new dual-pinion steering rack is responsive, it is a touch overboosted. It's perfect for city driving and weights up well on the highway but feels a touch imprecise on country roads. On the plus side, every single 2022 Pathfinder comes equipped with Nissan's ProPilot ASSIST highway-driving assist suite which bundles adaptive cruise control with lane-keep assist. Also standard is blind-spot monitoring and both front and rear automatic emergency braking, features that can add huge peace of mind.
In keeping with Nissan's tradition of offering a lot for a little, the new Pathfinder is both competitively-priced and extremely well-equipped. The base S model costs $43,798 and comes with all-wheel-drive, alloy wheels, heated seats and a heated steering wheel. Stepping up to the SV trim for $46,798 adds the full 6,000 pounds of towing capability, a panoramic moonroof, a 360-degree camera system and a motion-sensing power liftgate.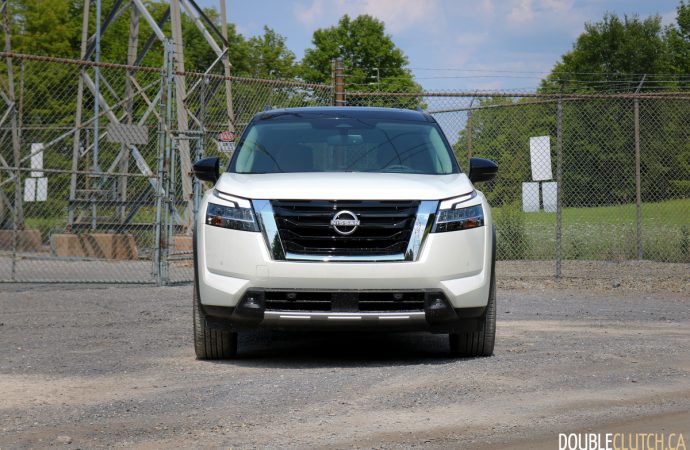 The SL trim for $50,398 adds such luxuries as navigation on a nine-inch screen, leather seats with a heated second row, wireless CarPlay and rear window sunshades. An $1,800 SL Premium package adds 20-inch wheels, a heads-up display, wireless charging and the Bose stereo while the top-trim Platinum model retails for $54,398 and adds cooled front seats, the top-spec digital cluster, second-row captain's chairs and semi-aniline leather. This all means that the Pathfinder is significantly better value than its competitors, particularly when it comes to the features most desired by crossover buyers.
In conclusion, the 2022 Nissan Pathfinder realizes its true crossover potential by providing a world-class experience with surprisingly good value. It's practical, techy, handsome, plush, pleasant to drive and will attract plenty of buyers now that it's on sale. While it's not as rough-and-tumble as its predecessors, it's refined, mature and more than worthy of a test drive.
See Also:
2021 Volkswagen Atlas Execline
2021 Honda Pilot Black Edition