By far the hottest segment for years now has been the crossover, and manufacturers have not been shy about doubling down to make sure they're competitive. There is one option that has been a favorite of those who really crave adventure and that is the Subaru Forester. Known for being a little more rugged and rough than most rivals, the Forester has earned a very loyal following among outdoor adventurers for impressive off-road prowess and no-nonsense functionality. We spent a week with this 2021 Subaru Forester Limited to see how it stacks up.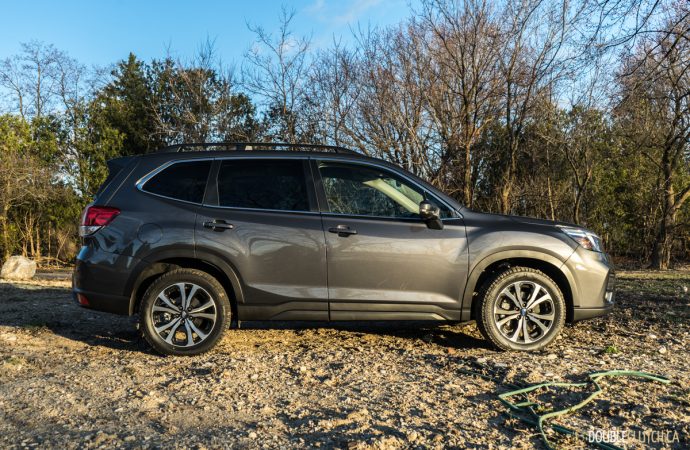 The Forester has always been a conservative looking SUV and this one is no exception, it's boxier than competitors and sits lower, despite the fact that the Forester does boast impressive ground clearance thanks to a chassis that keeps mechanicals tucked out of harm's way. This makes for easy step in, and the tall greenhouse provides loads of headroom and the best outward visibility in the segment. Our well-equipped Limited trim came sporting tasteful 18-inch alloys and highly functional LED headlamps excellent reach. Otherwise, it's a Forester and any loyalist would be able to identify it as such from 100 yards away.
The Forester has never been known for having a fancy interior, but an effort has been made to provide a highly functional and comfortable space. The end result is an interior that's a huge improvement over the prior generation, but still lacks the quality and refinement found in some of the Forester's competitors like the Mazda CX-5.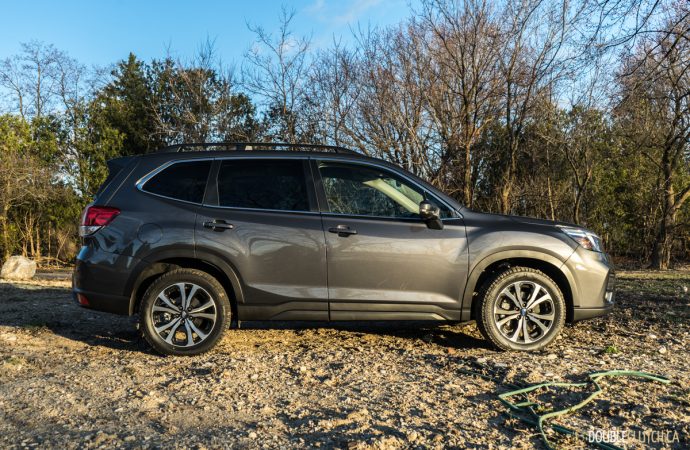 The dashboard is dominated by an eight-inch touchscreen infotainment system (lower trim levels make due with a 6.5-inch screen), which looks a bit dated, but functions quite well and is easy to navigate. It supports Apple CarPlay and Android Auto, and has USB ports front and rear. Materials are agreeable, but nothing worth getting excited over. Leather is standard on the Limited and Premier trims, and I found the 10-way power adjustable driver's seat quite comfortable even on an extended trip.
The Forester's boxy dimensions pay dividends again when it comes to interior space and rear passengers should be happy with the generous head and legroom. Additionally, the cargo area is downright cavernous for a compact SUV, and with the larger bit of the 60/40 rear seat folded I was shocked at the Forester's ability to comfortably carry four large wheels (for a project car), a bulky tricycle and three people on a little road trip.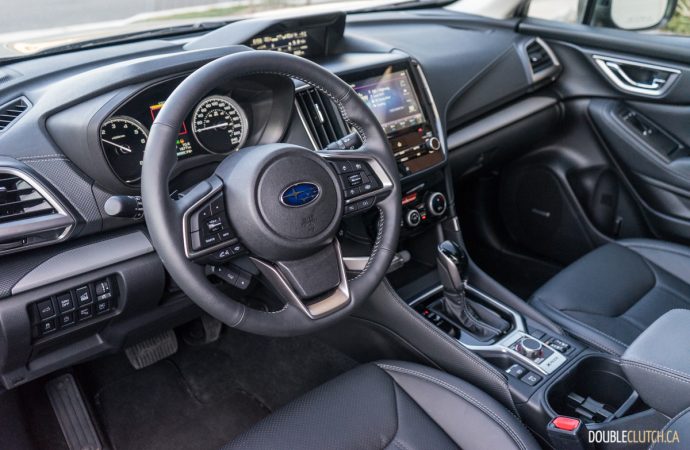 Bonus points to Subaru for actually having usable tie-down hooks in the cargo area. Up front, the cupholders and center console are on the small-side, especially for a something as utilitarian as a Forester, but the massive door pockets and convenient storage tray at the front of the center console make up for it.
The only available engine in the Forester is the horizontally-opposed 2.5-liter four-cylinder, a staple in Subaru's lineup. It makes 182 horsepower and 176 lb-ft. of torque at 4,400RPM, which is sent to all four wheels using a continuously variable transmission and of course Subaru's renowned Symmetrical All-Wheel-Drive system. The Forester is not for those interested in going quickly, that's for sure, as acceleration is laboured and throttle response happens, eventually.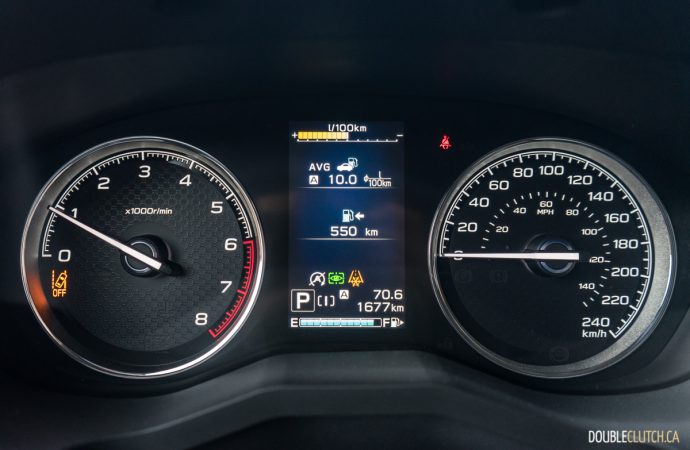 The four-cylinder also has a tendency to sound harsh. It's a trait that has been minimized in this latest model, but it still remains harsher than its competitors – often using boosted four-cylinders with much lower displacement. In theory though, the Forester's time-tested 2.5-liter naturally aspirated engine should be reliable and easier to maintain in the long-run versus the latest turbocharged high-revving offerings in the market.
If you don't mind taking things slowly, the Forester drives with surprising refinement thanks to the new chassis it received in 2019. Things that help it excel include a low center of gravity, steering that both responds quickly and feels positive on-center, and decent ride quality makes for a comfortable drive in just about any terrain. The interior is quiet and well-insulated as well. The Forester is no luxury SUV by any stretch, but the NVH (noise, vibration, harshness) in the Forester is no worse than any of the compact crossovers tested recently.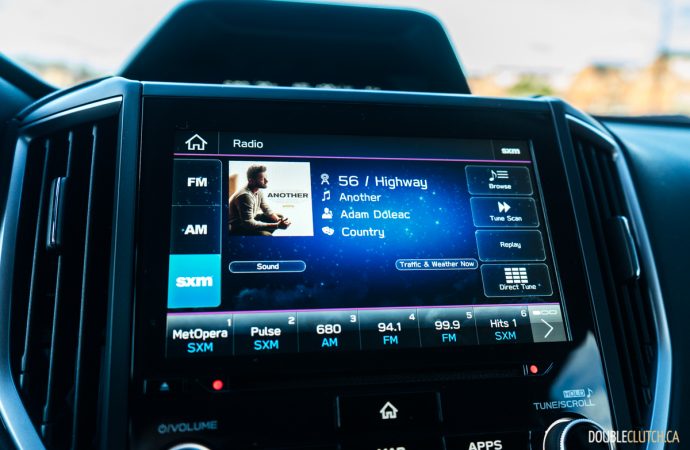 Fuel efficiency is rated at 9.0L/100km in the city and 7.2L/100km highway, for a combined average of 8.1L/100km. My real-world results were not quite as good; with 80% of our time spent on the highway our test average came to 9.4L/100km. On a positive note, the Forester is happy on 87-octane regular fuel, and the 63-liter tank provides plenty of range.
Pricing on the 2021 Forester starts at $28,995 and this does include some nice features such as heated seats, LED adaptive headlamps, Subaru's EyeSight Driver Assist package and of course all-wheel-drive. From here, there are actually five trim levels to choose from; the Touring trim at $34,495 is probably the best value of the bunch as it delivers on most of the key features SUV buyers are looking for, like alloy wheels, sunroof, heated steering wheel, the larger screen and a power closing rear hatch.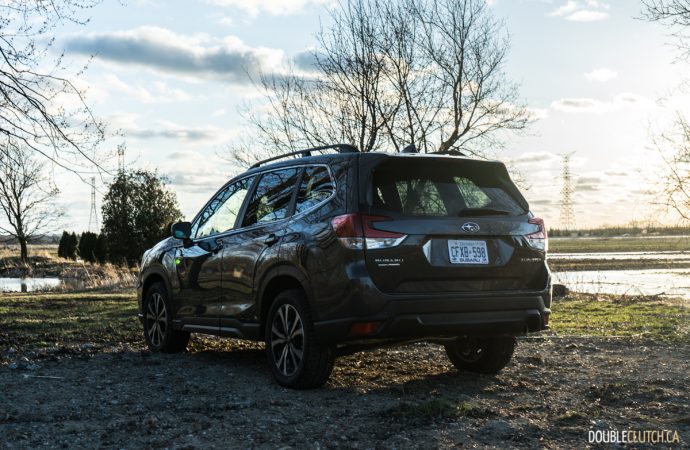 Our tester, a Limited trim, comes in at $38,795 and adds leather seating, the larger 18-inch alloys, and an eight-way power adjustable passenger's seat. Finally, a fully loaded Premier, which comes with the exclusive brown leather interior, rings in at $40,095. These higher trim levels really do get pricey on the Forester, so if you're looking for value and a long list of nice-to-have type features, there may be better deals out there.
However, for those okay with foregoing some creature comforts to have a Subaru that's as capable on the highway as it is on a cottage trail the lower trim levels could be quite appealing. After spending some time with it, the Forester is unique from its competition in that it's truly trailered for those who use their crossover as a utility vehicle. It continues to march to the beat of its own drum, and that's what makes the Forester worth considering for those looking for a more rugged vehicle.
See Also: