Lexus' infamous LS flagship luxury sedan has earned itself a reputation for bulletproof reliability, seamless smoothness, and an exceptional ownership experience. This reputation is justified, because every generation has lived up to the highest of standards set by the manufacturer. Model year 2021 is a mid-cycle refresh for the fifth generation car, and it's supposedly the best example yet. Here on test is a 2021 Lexus LS 500 AWD Executive, the top-trim model in non-hybrid form.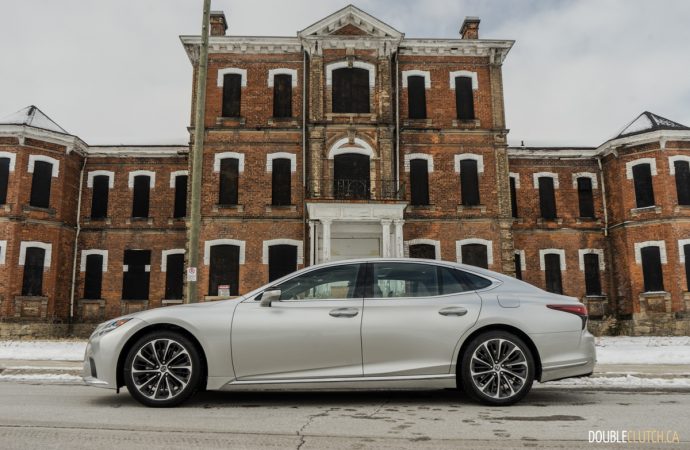 I personally have owned two LS sedans, and my daily driver to this day is a 2004 LS 430 Ultra Luxury. It now has well over 300,000 kilometers on it and continues to be a wonderful sedan to pile on the miles with. This latest generation, especially equipped like our tester, does away with the conservative, traditional visuals of previous LS models in favour of more modern, unique touches. Exterior styling is fairly derivative and on the road, this Silver Illusion example can be hard to differentiate from Lexus' much more mainstream ES 350 sedan.
Inside, the LS continues to impress, with absolutely top-notch fit and finish. All of the upholstery, switchgear, and buttons ooze luxury and feel high quality. Where rivals like the Mercedes-Benz S-Class use piano black plastic that can feel cheap, the LS 500 has matte texture that will undoubtedly age better. Interior space is more than plentiful for adults front and rear, though headroom can be tight for taller rear passengers. The Executive Package equipped here adds top-shelf kit like heated, ventilated and massaging seats all around, and reclining rear seats as well.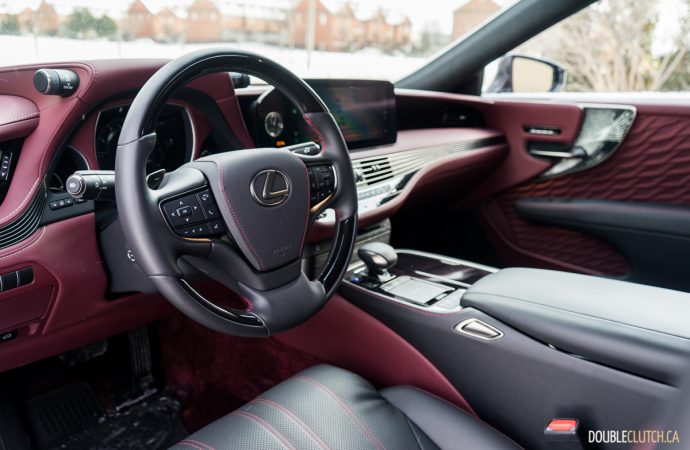 The Kiriko Glass trim on our tester combined with the Crimson Red cloth-like texture on the door panels was a bit garish and, in my opinion, not exactly suited to the LS' history and personality. Even though fine burlwoods are now just about extinct, and replaced by soft open pore setups, there's just something about a flagship Lexus that doesn't feel quite right without some sort of real wood. The metallic finish on the dashboard also looks a touch cheap; even brushed aluminum would have done the job better. However, turn on the 23-speaker Mark Levinson sound system and occupants will forget all about that.
Conversely, my single biggest gripe with the LS is the infotainment system. Lexus has modified the 12.3-inch screen to accept touch commands for 2021, but the Remote Touch Interface controlled via touchpad is still convoluted and difficult to execute tasks with. There are physical buttons that will bring up shortcut menus like seat heating and massage, but it still needs multiple steps to turn on the heated seats or steering wheel, which is simply too many. Apple CarPlay and Android Auto connectivity is also on board here, and the four-zone climate control is a nice touch.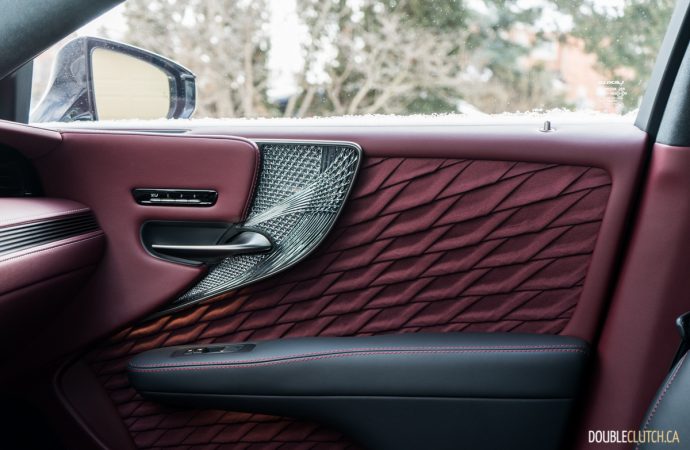 On the introduction of this latest generation of LS, back in 2018, Lexus opted to do away with their naturally aspirated V8 in favour of a 3.5-liter twin-turbocharged V6. It's direct injected and has dual variable valve timing. Output is 416 horsepower at 6,000RPM and 442 lb-ft. of torque at a very low 1,600RPM. The V6 very obviously has superior low-end grunt to the V8s of the past, and is much more eager in urban settings. Those wanting to really save fuel can opt for the hybrid-powered LS 500h, but we'd put our money on the gasser driven here.
The 10-speed automatic is quite good at ensuring efficiency, and the LS carries itself with the utmost smoothness over the road. The cabin is whisper quiet and surpasses the Germans in this regard. Adaptive dampers mean ride quality can be tweaked between sporty and comfort-oriented settings, though we must mention that in "Comfort", there is noticeable float and secondary motions felt over bumps, communicated directly to occupants' bodies. Switching to "Sport" will firm things up, but at the expense of holding gears for those more urgent passes.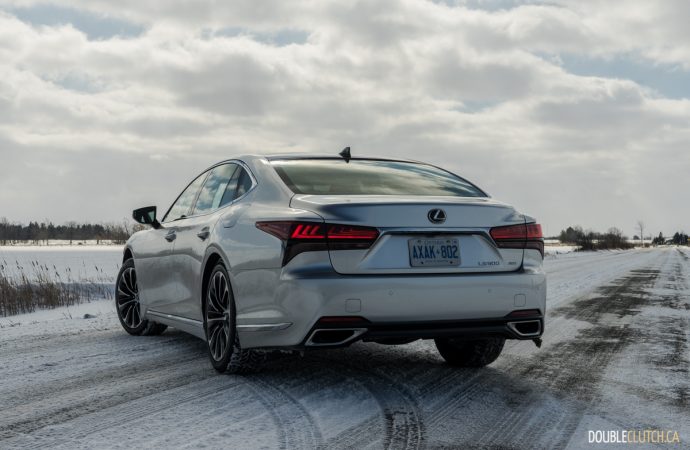 While the powertrain is fundamentally quite good, those used to putting a significant amount of highway mileage on an LS will immediately note the boosted V6's lack of substance. It performs well and is adequately torquey, but doesn't hum along as effortlessly as the 4.6-liter it replaces, or even the 3UZ-FE 4.3-liter in my LS 430. There's also the fact that many believe that one of the most essential and necessary traits of a flagship luxury sedan is a buttery V8 under the hood. Lexus does still offer a naturally aspirated 5.0-liter V8 in their LC 500, and I maintain that it's just about the best car money can buy today.
Fuel consumption is rated at a surprisingly frugal 13.8L/100km in the city and 8.7L/100km highway. We observed 12.2L/100km in combined driving, during one of the coldest weeks of the winter with temperatures consistently below the freezing mark. It's interesting that fuel consumption hasn't changed all that much over the better part of two decades – my lifetime average in my 2004 4.3-liter LS is sitting at 10.5L/100km, with typical highway mileage in the low 8.0L/100km range. The LS 500's tank will accept 82-liters of 91-octane premium fuel.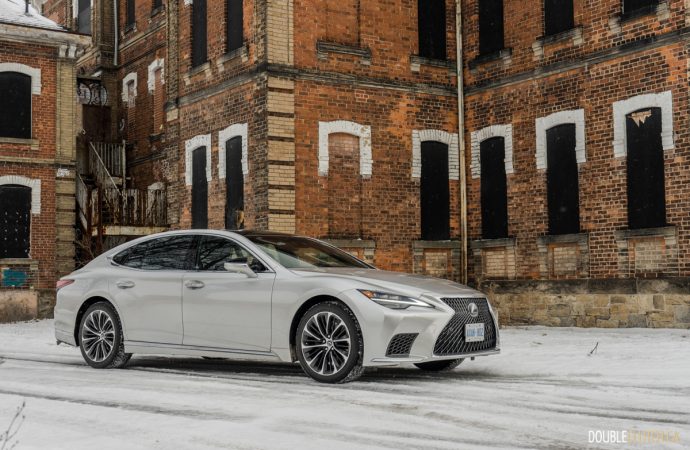 For 2021, the Lexus LS starts at $104,750 for the gasoline version and $133,900 for the hybrid. Our tester was equipped with a $25,650 Executive Package that adds everything from 20-inch wheels, panoramic moonroof, air suspension, 28-way front power seats, 22-way rear power seats, a rear BluRay entertainment system, and much more. The glass interior trim is an extra $5,600, and brings the total sticker on our test vehicle right up to $140,000. With freight and fees, $141,571 to be exact.
All of the expected active safety features are included on this latest LS 500. All-wheel-drive is standard, along with a pre-collision system with automatic braking, Active Steering Assist, Radar Cruise Control, Lane Change Assist, Pedestrian Alert, LED lighting front and rear, and 12 airbags. The Lexus Safety System+ 2.0 also includes Lane Tracing Assist and can change lanes autonomously when it determines a safe gap.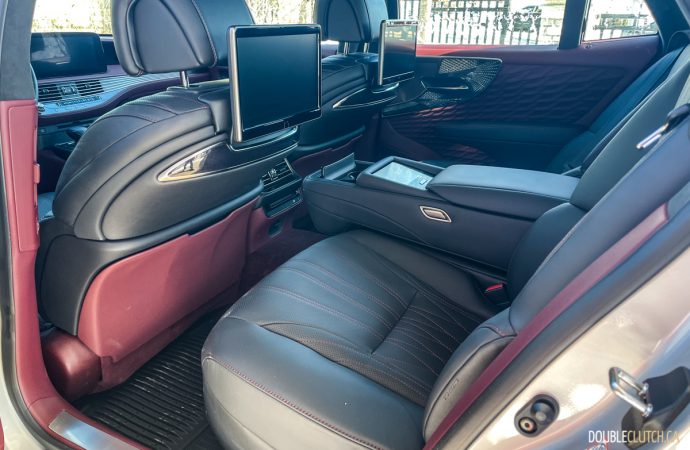 Lexus introduced the LS 400 in 1989 as an alternative to the big German players, except with actual reliability, and at a much more attainable price point. It was an "if you know, you know" kind of car, and still is to this day. Unfortunately, at more than $140,000 for our test vehicle, it's right in the wheelhouse of a well-loaded BMW 750Li or Mercedes-Benz S 580. The real value player now is the Genesis G90, which sits at $89,750 fully loaded, and is also the only flagship still available with a naturally aspirated V8.
The 2021 Lexus LS 500 AWD Executive is a fully jammed, exceptional luxury sedan with a lot to like. However, it's not quite the value player that it used to be. Those wanting to get the most flagship for their money will still want to look at the S-Class or the 7-series, but the Lexus still easily leads the pack as far as long-term ownership is concerned. History is a solid indicator of the LS' ability to retain value and provide buyers with an effortless ownership experience for many years, long after the comparable Germans have subsided to expensive failures.
See Also:
Road Trip: 2020 BMW 750Li xDrive