Before we go on, I need to confess something: I'm not a truck guy. I've lived in the city all my life, my parents never owned anything larger than a four-door family sedan, and I loathe the concept of buying an unnecessarily large vehicle for those "just in case" moments. Yet despite all that, the 2021 Jeep Gladiator Overland EcoDiesel – easily one of the "truckiest" trucks you can buy today – managed the impossible. It won me over.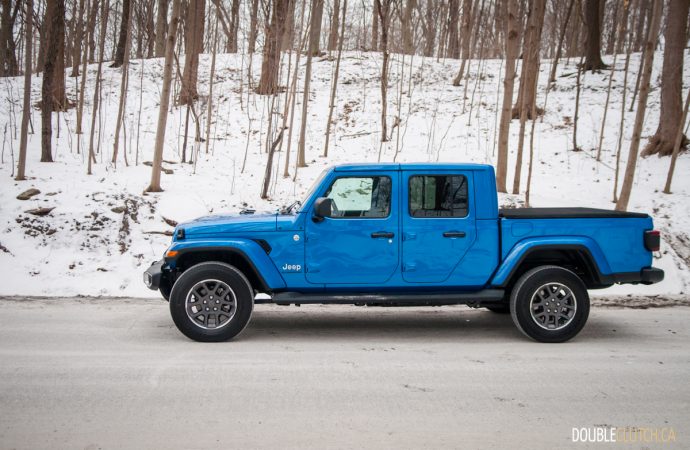 No matter how you slice it, the Gladiator is arguably the most hyped-up Jeep in a very long time, particularly with the oil-burner under the hood. But here's the thing about hype: it's very easy to be let down. One moment, you're daydreaming about the Gladiator's wild looks, gobs of low-end torque, and the inherent go-anywhere prowess that comes with anything bearing Jeep's "Trail Rated" badges. Next thing you know, you come crashing back down to earth once you park your posterior behind the wheel and thoughts like "too big," "too unweildy," and "too many check-engine lights" cross your mind. More on that last one later.
But the Jeep Gladiator more than lives up to the hype, starting with what's under the hood. Unlike the closely related Wrangler, which spoils you with no less than five powertrain options, the Gladiator is limited to only two – albeit proven – choices: the normally aspirated 3.6-litre Pentastar V6 good for 285 horsepower and 260 pound-feet of torque, or the 3.0-liter EcoDiesel V6 found in our tester.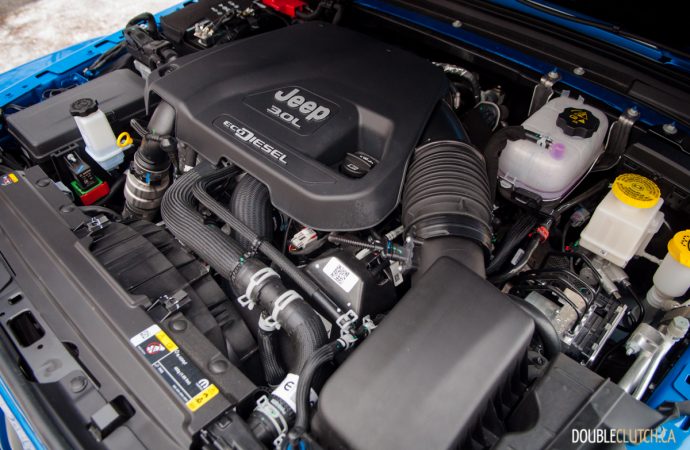 Putting out 260 hp and a meaty 440 lb.-ft. of torque, the EcoDiesel is a sweetheart of an engine. It's buttery smooth and responsive, there are gobs of low-end torque, and although quiet, the distinct diesel thrum at idle suits the macho Gladiator to a tee. While the V6 gasser can be hooked up to either a six-speed manual or an eight-speed automatic built by ZF, the diesel is automatic-only – and that is not a bad thing.
If the EcoDiesel itself is a sweetheart of an engine, it's downright dreamy paired to the automatic. Although it's "just" a conventional automatic, the mad scientists at ZF know how to engineer an excellent autobox. It kicks down seamlessly when you need to pass or merge, and fades into the background when you just want to mindlessly cruise. It's an incredibly smart, almost telepathic gearbox.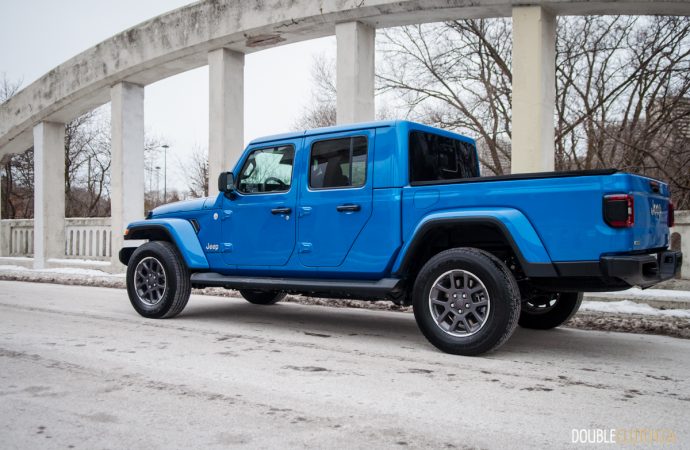 However, you very much have to pay to play. Officially, the Gladiator EcoDiesel's fuel consumption is rated at 10.8L/100km in the city, 8.5 on the highway, and 9.8 combined. After a fairly even split of city and highway motoring over the course of a week, we saw the trip computer settle at 10.3L/100km – solid numbers considering it's the dead of winter and the Gladiator has the aerodynamic efficiency of a brick. Trouble is, the diesel-and-automatic combo is nearly a $10,000 option over a stick, gas Gladiator. You have to really want (or need) the diesel in order to justify the costs, and even then, it'll take a very long time to make up the difference.
On top of all that, we experienced some peculiar issues with our Gladiator tester's diesel exhaust fluid (DEF) system. On two occasions, the it threw a check-engine light over the DEF system and recommended a trip to the dealer, lest the Gladiator's brain activate limp mode if the DEF is actually low enough. Trouble is, in both instances, we had plenty of DEF in the tank. To paraprase the great Ian Fleming, once is happenstance. Twice is coincidence. Three times is yet another trip back to the dealer. Hopefully ours was just a coincidence.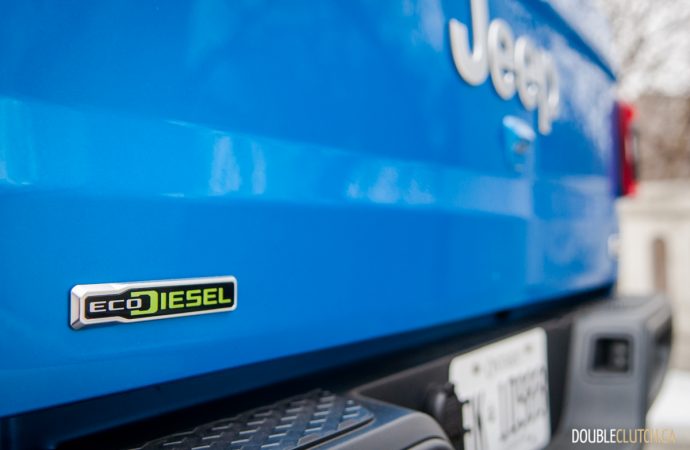 The Overland probably isn't the most off-road-ready Gladiator flavour – go for the Rubicon or Mojave for maximum off-road bragging rights – but between Jeep's Command-Track 4×4 system, the Dana front and rear axles, the locking front and rear differentials, and the aggressive approach and departure angles, the Overland should be more than enough for the occasional romp in the dirt. And although towing capacity is down over the gas-powered Overland, the EcoDiesel's ability to tug 6,500 pounds is plenty.
But that's not what won me over. The Gladiator's wild looks and sweet engine certainly help, but what really sealed the deal is just how easy it is to live with on a daily basis. Oh, its highway manners are horrendous – there's a lot of wind noise and on a windy day, you'll constantly saw at the wheel just to try and keep it in the middle of the lane – and this truck is huge.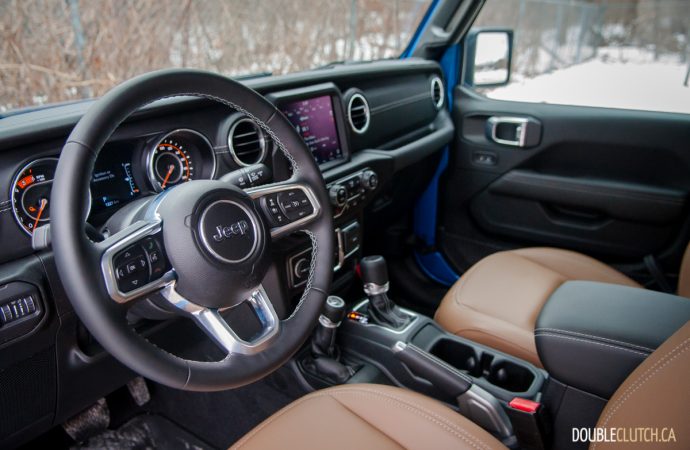 But once you get used to the size, the Gladiator is a gentle giant. You barely feel bumps and potholes, the generous low-end torque means you barely have to breathe on the throttle to pull away from stoplights, and between the big windows and mirrors, low beltline, and light steering, parallel parking is a cinch provided you find a long enough spot, as the Gladiator is a solid 19-inches longer than the four-door Wrangler. Still, they're identical in width and close enough in height, meaning squeezing into parking garages isn't as difficult as you might think.
Inside, there's plenty of headroom and legroom all around, and while the Gladiator isn't known for its top-notch materials and fit-and-finish, it's a solid cabin. The gauges are clear, the physical switchgear falls easily to hand, the Uconnect infotainment is as intuitive as ever, and the heated seats and steering wheel – part of a $995 package that also adds a remote starter – are toasty treats on days that'd make Jack Frost wear a parka. The five-foot bed may not be as large as other, more mainstream midsize pickups out there, but it's more than enough for most people and the integrated tie-downs are useful.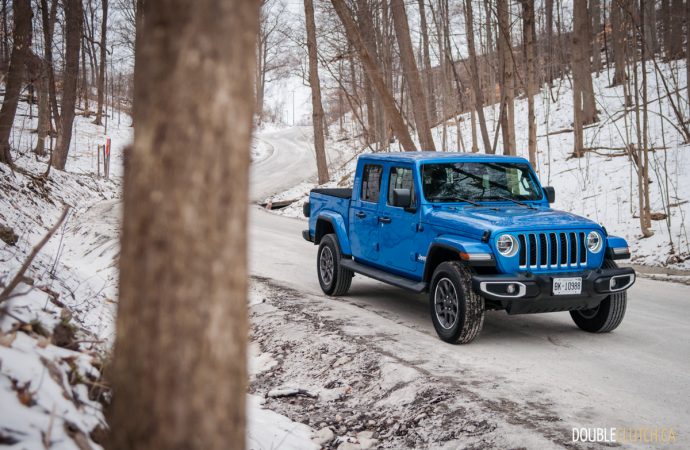 The Gladiator does many things right, but value isn't one of them. The Overland starts at an almost reasonable $52,245, but pile on the options and that gets out of hand very quickly. Our tester was loaded up with an almost Porsche-like $22,000 worth of options, including the pricey (but great) diesel and bits that should really be standard, such as LED lighting, a bumpin' Alpine sound system, and Jeep's suite active safety assists. No matter how you slice it, $74,565 as-tested for a full-jam Overland is a lot. You're almost better off opting for the EcoDiesel in the range-topping High Altitude, where most of those bells and whistles are already standard – or any other pickup, really. That's well-equipped, diesel half-ton terrirory.
Of course, very few other pickups are as distinctive as the 2021 Jeep Gladiator Overland EcoDiesel, and even fewer can live up to the hype. If the Gladiator can win me over – the least truck-guy truck guy that ever truck guy'd – it can probably win you over, too. Just go easy with the options.
See Also: