Every automaker in the world is trying to satisfy the three-row vehicle thirst that consumers have in the shape of an SUV, when what we really need is a minivan. If we would all just get over ourselves and our egos, perfectly capable, comfortable vehicles like the 2021 Kia Sedona SX Tech tested here would be in almost every suburban driveway.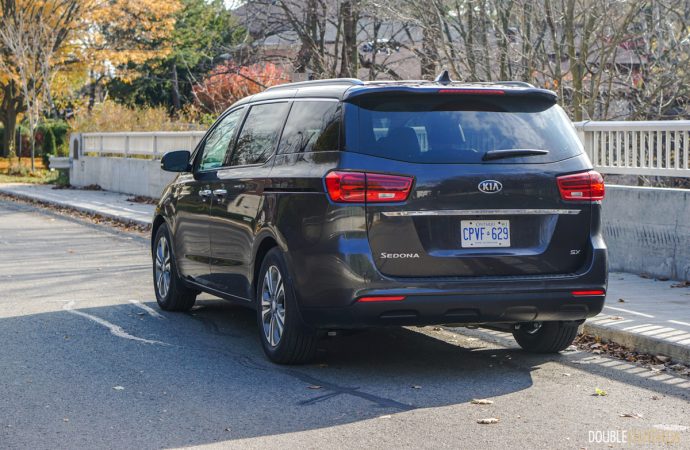 Other than the minivan, there is just no other vehicle that can cram as much stuff and people inside of it, while maintaining decent room no matter where you are sitting. The Sedona seats up to eight people, and that is a real number. It's not one with asterisks next to it detailing the exact shape and build of each human, or how many can sit with their feet on the floor instead of cross-legged. The Sedona has a very clean and functional layout throughout, with a pleasant looking dashboard loaded up with physical buttons to do whatever you need, in logical places.
Cupholders? You cannot count those on two hands in the Sedona. This is a vehicle rife with convenience, from USB ports all over the place, to a nice and low load floor for hauling cargo. When the third row is in the upright position, the trunk is so deep you may question if it is actually below the road surface. Roll-up sun shades are built in to all rearward windows for those who like to nap, and the seats are all very comfortable. The first two rows get heated seats for the outboard positions, and a heated steering wheel comes on automatically at start-up if it detects cold weather.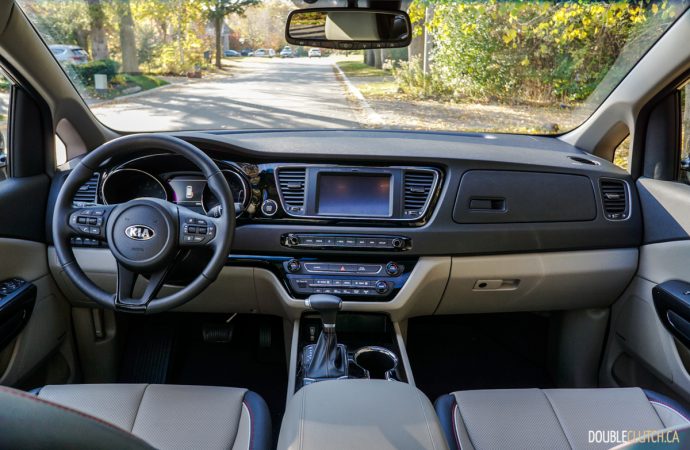 Time to talk some cold, hard numbers. Legroom in the Sedona measures at 1,040/1,045/885mm (40.9/41.1/34.8 in.) for the front/middle/rear rows respectively. Cargo capacity behind the third row is 960-liters (33.9 cu. ft.), which is what most small crossovers can hold with all of their seats folded down. With the second and third row collapsed, cargo capacity swells to a massive 4,022-liters (142.0 cu. ft.).
With a base price of $32,295 for the LX trim, the 2021 Kia Sedona SX-Tech tested here is the fully loaded version of the van. There are no options available on the SX Tech, with an as-tested price of $42,795 before fees, taxes and incentives. On top of the SX, the SX Tech trim adds, among other things, a full suite of driver assistance safety systems such as blind spot monitoring and forward collision avoidance.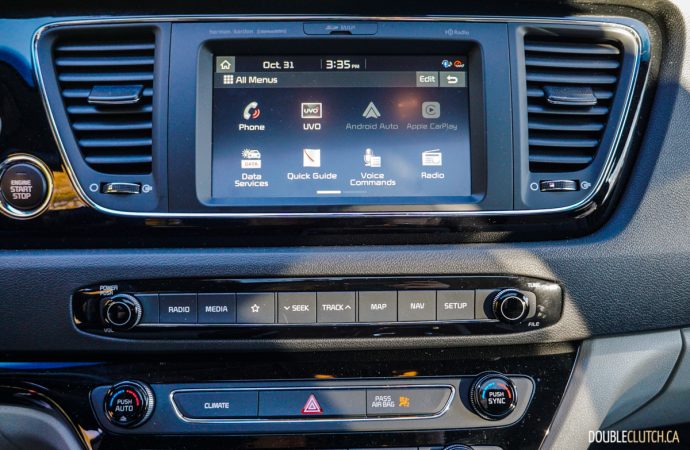 Around town, driving the Sedona is a pretty effortless affair. Despite its size, the minivan handles more like a car than an SUV, thanks to its low center of gravity. The biggest difference between the Sedona and any large SUV is the fact that it is a front-wheel drive vehicle. Thanks to the market rush towards crossovers, most large vehicles on the road these days have some sort of all-wheel-drive system.
The Sedona handles itself very well despite having half the drive wheels. When the road is wet or underfoot conditions are not ideal, the lack of all-wheel-drive becomes slightly noticeable. The size and weight of the van make the front wheels have to do a bit more grunting when a wheel slips to get everything back on track, but with a good set of winter tires, buyers have no reason not to be confident in its abilities.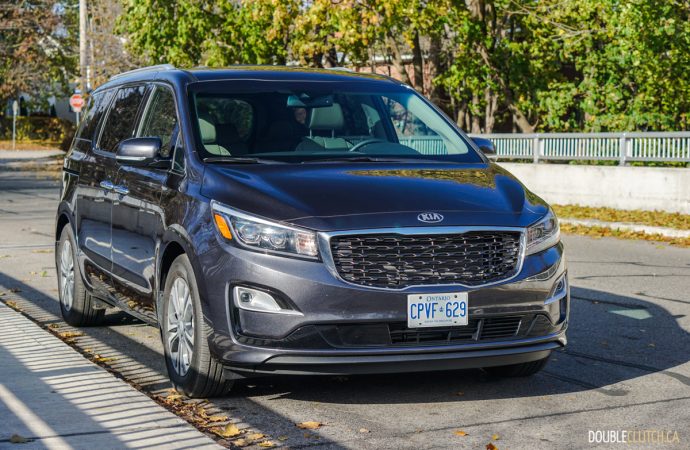 The reason the Sedona is such a pleasure to drive lies up front, behind that wide-mouthed grille. A 3.3-liter naturally aspirated and direct injected V6 engine produces 276 horsepower at 6,000RPM, and 248 lb-ft. of torque at 5,200RPM. Keeping all that power in check, and on tap when it is needed is a nice eight-speed automatic. It's buttery smooth and operation, and goes about its business imperceptibly and pleasantly. Towing capacity is a respectable 1,588 kg (3,500-pounds), higher than most smaller crossovers, but nowhere near that of a large SUV.
Curb weight for the heaviest Sedona is 2,124kg (4,683-pounds) which is not surprising given the size of the van. Fuel economy checks in at 12.7L/100km city, 9.9L/100km highway, and 11.5L/100km combined. It's one of the weakest in the segment, but not by much – the new Toyota Sienna has moved to a hybrid-only powertrain. Fuel tank capacity is 80L, and the Sedona only asks to be filled with regular fuel.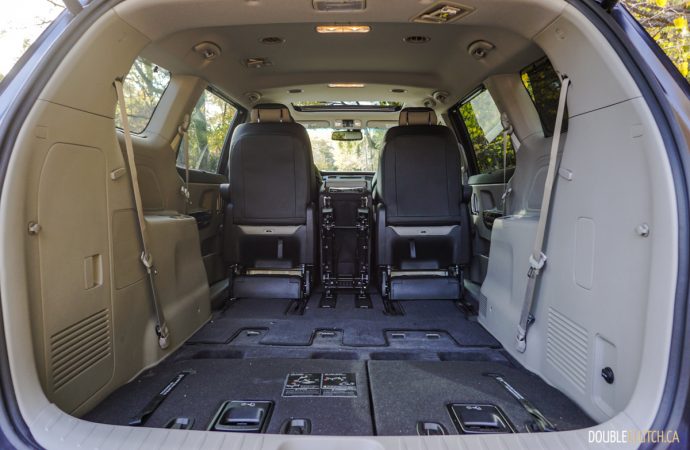 It is hard to be innovative in the minivan segment, Honda has put vacuums in the Odyssey for years, Toyota has been equipping the Sienna with all-wheel-drive for generations, and the Chrysler Pacifica has taken the plug-in hybrid route to try to shake things up. All of these contenders do the job really well, with each having their own pros and cons and needing a test drive to really see what suits your style.
The 2021 Kia Sedona SX Tech does everything well without complaining, with a clean, functional interior that has everything the typical buyer will need. The Sedona is one of the lowest priced vehicles in the segment and that should not be seen as a negative. With the exit of the aging Dodge Grand Caravan from the segment, it's time to look at the Sedona and realize that it provides incredible value for the money.
See Also:
2020 Toyota Sienna SE Nightshade