We're living in an era where this segment, one that I hold particularly close to my heart, has become more competitive than ever. Cars like the BMW M340i, the Mercedes-AMG C 43 and Genesis G70 are clawing at each other to earn the throne. This 2021 Kia Stinger GT Limited is an underdog, one that we first drove three years ago. Time has been kind to its styling, but we jumped in for a week to see how the rest of it has fared.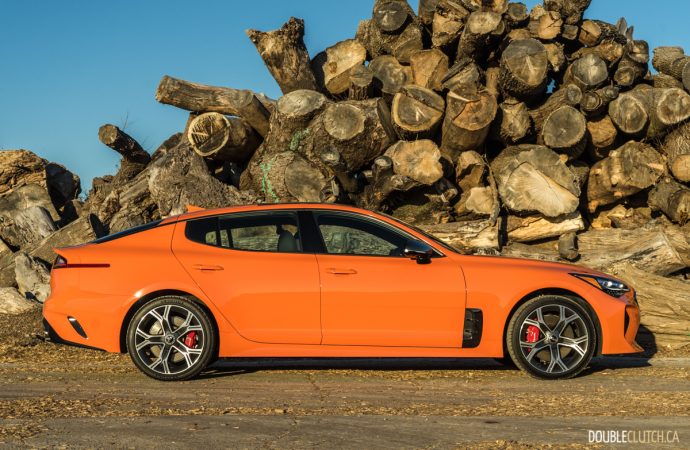 From a styling perspective, the Stinger GT is a winner. A long swooping silhouette makes up the side profile, with an aggressive fascia up front and lovely lighting outlining the rear hatch. That's right, we said hatch – the Stinger's liftback design gives it an additional point, up there with the Audi S5 Sportback. The Neon Orange on our tester looks exceptional, and while it may not age as gracefully as a more conservative colour, it saw no shortage of attention from the public. It's all positive attention, too.
The Stinger's cabin is an elegant, well designed place to be. Seating for five is reasonable and the rear accommodations are notably more usable than its platform-mate, the Genesis G70. Materials are quite good, with brushed aluminum throughout. There are definitely some plastics used, but they appear high quality and the Stinger feels more upscale than a previous-generation C-Class. An electronic shifter, three large center vents, and physical buttons for most major commands such as heated seats and drive mode selection are all nice touches.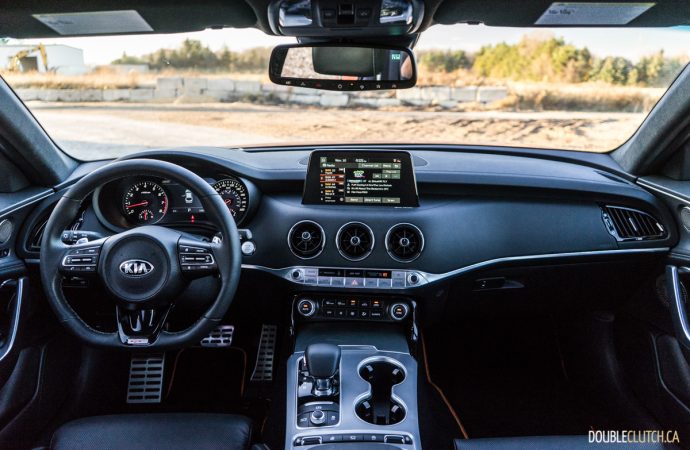 Infotainment is delivered through Kia's UVO interface, which in this application uses an eight-inch touchscreen. As the industry has progressed over the past few years, the need for a larger screen has become more urgent. However, this screen is fairly responsive and houses Apple CarPlay and Android Auto, and also pipes your tunes through a lovely 15-speaker Harman-Kardon sound system. We did experience a few glitches including spontaneous system reboots over our test week, which is consistent with what owners are reporting online.
What really allows the Stinger to punch above its weight class is its powertrain, also shared with the Genesis G70. It gets a 3.3-liter twin-turbocharged V6, good for 365 horsepower at 6,000RPM and 376 lb-ft. of torque between 1,300 and 4,500RPM. This power is routed to all four wheels using an eight-speed automatic that's quite good. This is a legitimate sports sedan that can fly to 100km/h in five seconds flat, a solid number. While just about every other rival offers an entry-level 2.0-liter model, Kia has done away with theirs, sticking with only the top-dog engine here.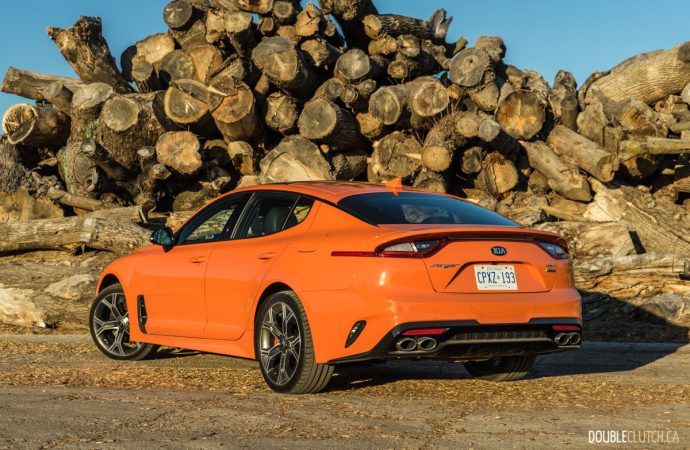 The GT Limited on test features a limited slip differential and feels extremely planted. Handling is responsive and the 4,000 pound Stinger handles with grace and poise. The steering is well weighted and the chassis is actually tuned to oversteer surprisingly easily. This is a very good car, and one that has earned its wings as a legitimate performance machine. Adaptive dampers make for exemplary ride quality regardless of the road surface, and as a result, the Stinger remains a great choice as a highway mileage-eater.
Kia Canada rates the Stinger GT at 14.0L/100km in the city and 9.6L/100km on the highway, for a combined 12.0L/100km. Over roughly 600km of driving, we observed a right-on-the-money 12.8L/100km. Yeah, it's pretty thirsty, especially when cars like the BMW M340i can deliver much better fuel efficiency. The Stinger requires premium fuel as well in order to make optimal performance numbers, but if you don't care about the health of your engine, it technically can accept regular as well.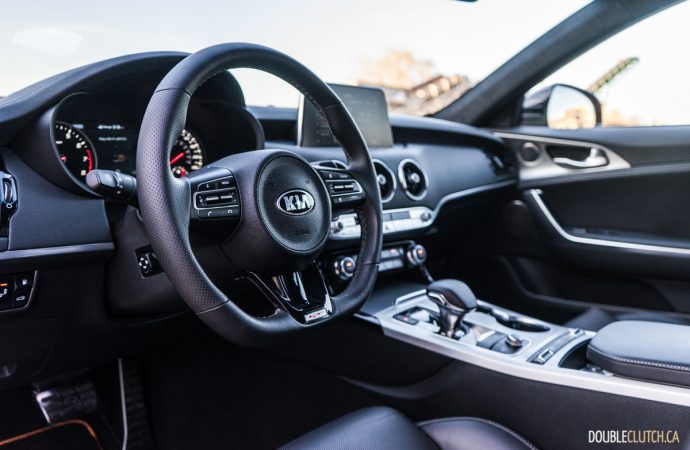 Pricing for the 2021 Stinger starts at $44,995 for the regular GT, and $50,495 for the Limited. The Limited adds a heads-up display, 15-speaker audio system, premium Nappa leather, a limited-slip differential, and eight-inch touchscreen with navigation. If you're really into the orange on the tester pictured here, you may want to opt for the $51,995 Neon Orange model, which adds orange-trimmed floor mats and the unique paint. For most, the GT Limited will be plenty, and this model undercuts the competition by a substantial amount.
For instance, the Genesis G70 with the 3.3-liter engine starts at $56,000, and to get the Sport with all the performance bits here would be $58,000. A fully loaded BMW M340i gets deep into the $70,000 range, and same goes for the Mercedes-AMG C 43. The Stinger's interior finishes may be a step below these premium offerings, but the level of performance is definitely in the same ball game, and while it's serious value, it's hardly a compromise in any way.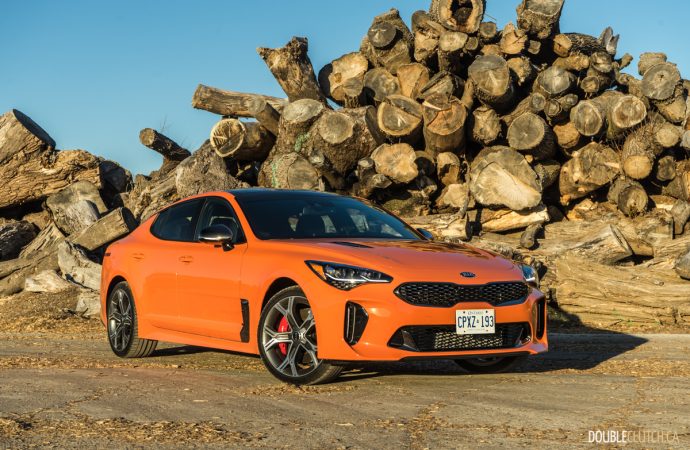 The Stinger features all of the necessary safety tech including forward collision assist, lane keep assist, adaptive cruise control, cross traffic alert, blind spot warning, and a 360-degree camera – all of the things Canadians have come to require in their new vehicle purchases. As it sits, the 2021 Kia Stinger GT Limited is a wonderful car that will suit a variety of buyers. It really is a legitimate performance contender in the entry level segment, and offers enough to satisfy the young professional perfectly.
See Also: