Other car enthusiasts around me know that I have a certain preference for cars. Cars that are large and more comfortable, with a smooth powerband and enough utility for my gear. That is not this, so when I picked up the keys to this 2021 Mercedes-AMG CLA 45 4MATIC+, I was not expecting to like it very much at all. But boy, was I in for a surprise…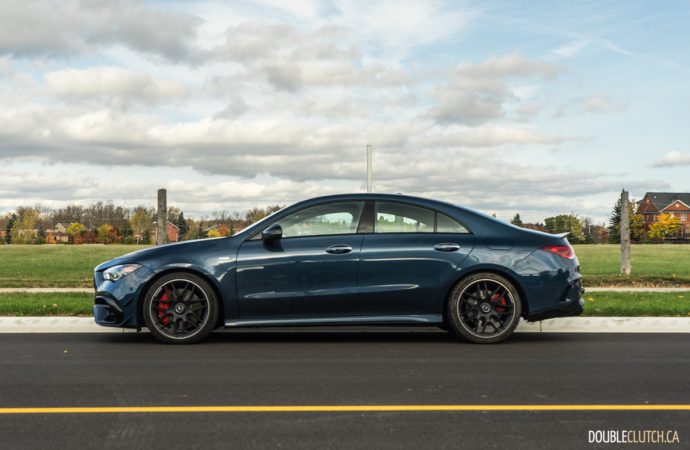 When redesigning the new CLA 45 4MATIC+ Coupe, the developers at AMG decided to not settle for mediocrity and dialed up its level of craziness to the max. That is not a statement to be taken lightly from the performance subsidiary of Mercedes-Benz, which has offered us vehicles like the amazing AMG GT R and the 577-horsepower G 63 SUV.
A hand-crafted engine that produces 191-horsepower per litre? Check. A compact sedan achieving a zero to 100 km/h sprint in 4.1 seconds? Check. 270 km/h top speed? Check. Overboost? Drift mode? Firecracker sounding exhaust? Yep, got'em.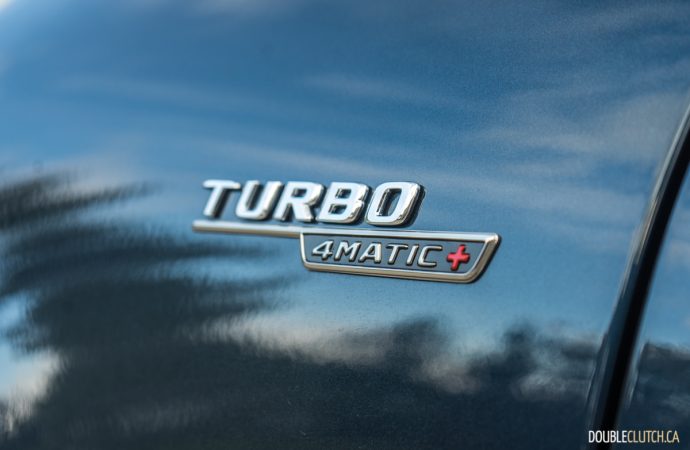 The first thing you notice walking up to the 2021 Mercedes-AMG CLA 45 4MATIC+ is the distinctive front fascia. Gone are the days where the grille on the CLA 45 4MATIC+ is hardly distinguishable from the standard CLA; it now features the dedicated AMG-specific Panamericana grille with the vertical slats. The CLA 45 4MATIC+ is designed as a four-door coupe, similar to its big brother the CLS, and AMG dressed our tester up further with an optional aerodynamic package adding front splitters and the wider side skirts. It garnered a lot of attention, and quickly became one of my favourite designs in its segment.
The heart and soul of the CLA 45 4MATIC+ lies in its 2.0-litre turbocharged four-cylinder engine. Touted as the world's most powerful engine of its configuration, it produces 382-horsepower at 6,500 RPM and 354 lb-ft. of torque from 3,000 to 4,000 RPM. This sends the CLA 45 4MATIC+ on its way with ferocity that will satisfy most thrill seekers and speed addicts.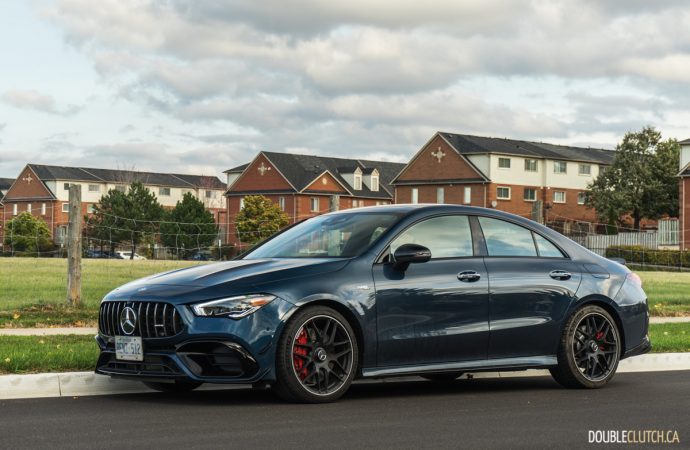 The quick-shifting AMG SPEEDSHIFT DCT-8G dual-clutch transmission bangs in gears swiftly with a satisfying bark, and it helps keep the engine reach the ideal powerband so there is little lag throughout. Before it runs out of breath, you are in the next gear already; and it repeats the exercise right up to its electronically limited 250 km/h top speed (270 km/h with the AMG Track Package).
The AMG Performance 4MATIC+ all-wheel drive system not only manages power between the front and rear wheels, it also has the ability to independently distribute its torque to its left and right rear wheel based on the situation at hand. Many of its attributes are customizable for a unique and tailored driving experience, including powertrain, transmission, AMG DYNAMICS (steering, ESP and all-wheel control), exhaust mode, and suspension.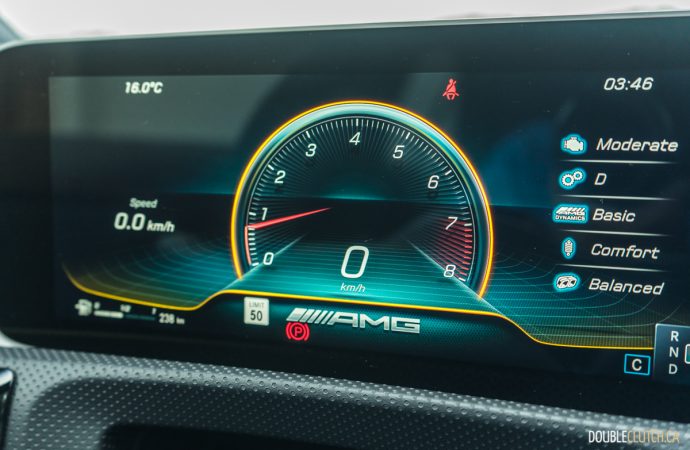 We appreciate that many of these modes can be adjusted using the optional AMG Drive Unit controls on the steering wheel, or on the centre console, and Mercedes-AMG had also created six preset profiles for even quicker adjustments while on the fly. Our tester gets an additional 'Drift mode' as part of the optional AMG Track package, giving drivers another exciting (read: silly) way to enjoy the CLA 45 4MATIC+.
Despite all the fun we had driving the CLA 45 4MATIC+, it managed to only consume an average of 11.2L/100km all week, a phenomenal achievement given the performance it outputs and the temptation for one's right foot. Mercedes-AMG has not published its rated fuel economy at the time of writing, but as expected, it requires premium grade gasoline for its small 51-litre fuel tank.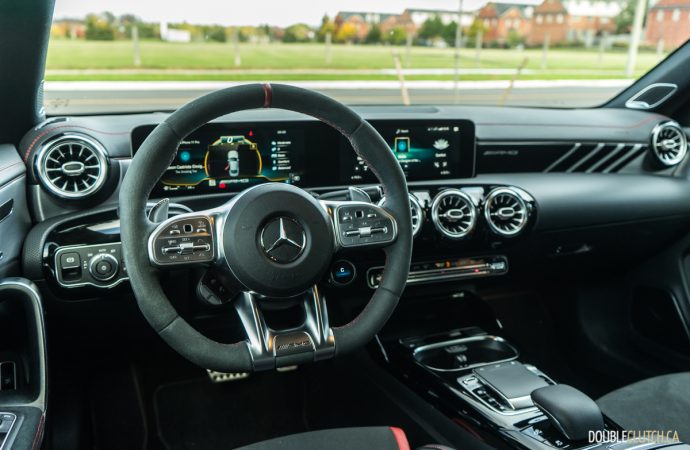 Mercedes-Benz has stepped up their interior design in recent years, so much so that they have become the benchmark. The redesigned CLA received the same upgrades that includes the latest MBUX infotainment system, the widescreen cockpit incorporating the instrument and touchscreen multimedia display, and a clean yet futuristic layout. The infotainment system includes useful AMG-specific features including dedicated performance data displays, and three selectable AMG display styles.
The MBUX system looks great, but it is not the most intuitive system to use. There are shortcuts you can set to make navigation a bit easier, and the system supports Apple CarPlay and Android Auto integration as part of the optional Premium Package. The package also includes the class-leading Burmester 12-speaker surround sound system, as well as wireless charging with NFC pairing feature. Our tester also had the optional Navigation Package that includes the state-of-the-art MBUX Augmented Video.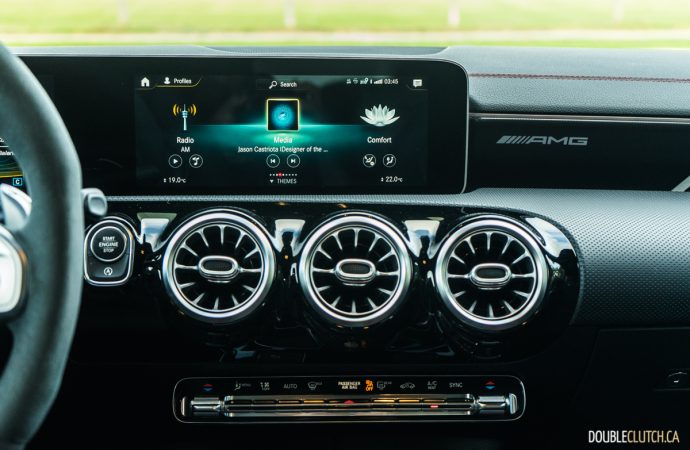 Interior fit and finish in the CLA is excellent. The optional AMG Performance Seats look and feel great, and we appreciate the AMG aluminum trim with the black leather and microfibre upholstery. The AMG Performance steering wheel feels great on the hands, but as with all suede steering wheels, we have durability concerns as it was already showing signs of wear despite having less than 4,000 KM on the odometer. There is good head and legroom up front, but taller rear passengers will encounter headroom issues with its raked roof design. Cargo capacity is rated at a respectable 460 litres.
As with many of its German peers, a driver assistance suite is optional. Adaptive Highbeam Assist and radar cruise control systems are part of the Technology Package, Blind Spot Assist and Active Parking Assist systems are part of the Premium Package, and the rest of the systems such as Active and Evasive Steering Assist, Active Lane Change Assist, and Mercedes Benz's PRE-SAFE are exclusive to the Intelligent Drive Package.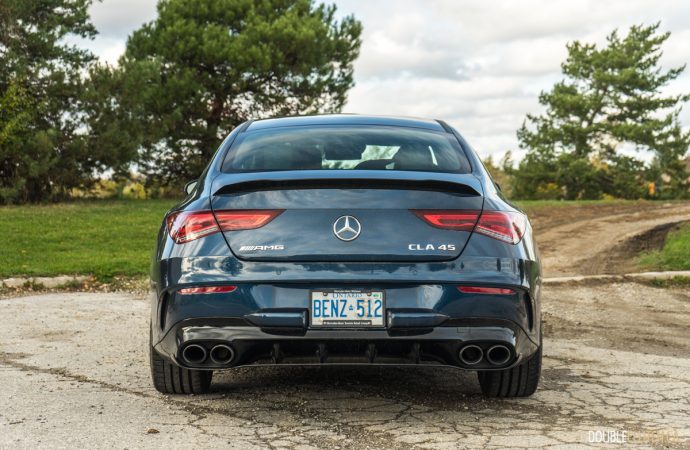 Pricing of the CLA 45 starts at $59,200, and our tester included a long list of options bringing the as-tested total to $80,640. While the sticker price might seem a bit shocking, it is worth mentioning that this was a fully loaded example. The performance and pricing are very competitive against the BMW M2 Competition and the Audi RS3, with the CLA 45 getting the edge on delivering better looking interior appointments, and a more visceral driving experience.
After a week of driving the 2021 Mercedes-AMG CLA 45 4MATIC+ Coupe, I was blown away. The wild exterior styling, primal looking engine bay with the exposed turbocharger and metal piping, and its fiery characteristics come together to bring out the inner child in me. This is a car that reminds me of a modified tuner car, but one created with such precise German engineering. This is a toy that truly feels like a toy, and a special one that made me second guess my own car preference after all.
See Also: