G.O.O.A.T.: Greatest Outback of All Time. This term is being used in marketing by Subaru Canada for the newly redesigned Outback, which has a brand new platform underpinning the latest midsize wagon-crossover sport utility by the Japanese automaker. While the styling is not much of a departure form the last model at all, updates to the interior and safety systems are the biggest changes. This makes a reasonable amount of sense if Subaru didn't want to mess with a formula for resounding success, especially when considering that it's been a strong seller since its inception for the 1995 model year. We took a 2020 Subaru Outback Premier out for a spin for a week to see what the new changes were all about.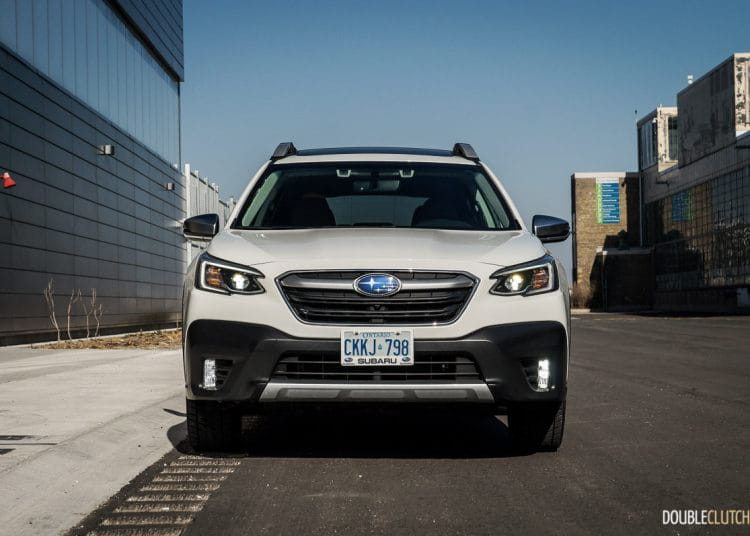 While the base Outback starts at $30,695 for the Convenience trim and tops out at $43,795 for the turbocharged Premier XT, the up-level Premier non-turbo was an as-tested $40,995. For your money, you get a powered rear liftgate, a power sunroof, 18-inch alloy wheels, LED headlights, an 11.6-inch infotainment screen with navigation and Harman-Kardon 12-speaker audio, automatic climate control, heated front and rear seats, heated steering wheel, and chromed door handles. This pricing is on par with top trims of smaller compact crossovers such as the Toyota RAV4, Honda CR-V, and Mazda CX-5, which makes the Outback quite competitive for those looking for a longer rear cargo area.
With a good bit of extra overall length over a compact crossover, there's plenty of cargo space in the 2020 Outback. Families requiring only two rows of seating will find themselves able to carry everyone and all their stuff with ease, and there's a generous 920 litres (32.5 cubic feet) of cargo space. The floor length of 1,067 millimetres (42 inches) is good for dogs in particular, and folding down the rear seats blows cargo capacity out to 2,144 litres (75.7 cubic feet).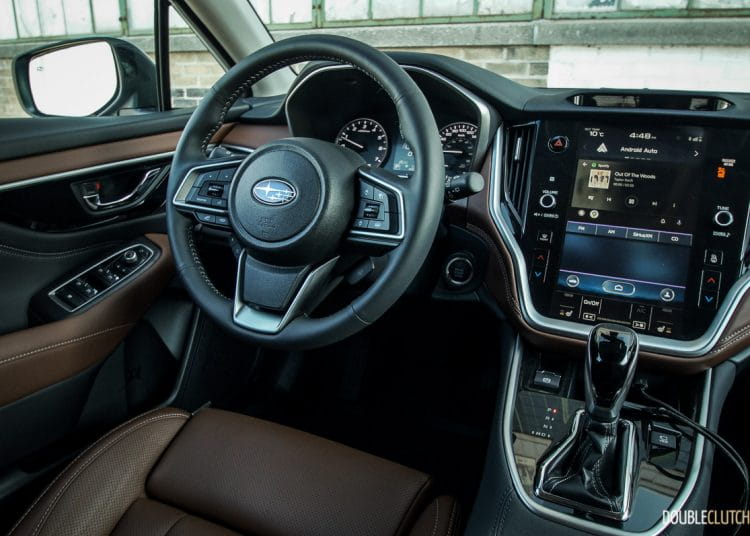 On the Premier trim level specifically, the seating surfaces are covered in supple Nappa leather, and are more than comfortable enough for long hauls. The seats and interior do look great, but do note that brown is the only choice available on the Premier. For seating, rear seat leg room is plentiful for children and adults alike, and any sort of child seats will be easy pickings for the Outback.
For those into Technology, the 11.6-inch screen on the infotainment system is flashy and bright, but the interface is clunky and not particularly friendly to preventing driver distraction. For the automatic climate control and front heated seat controls, too many touches are required to adjust them – if there were hard buttons, they could have been operated in all weather conditions and based on muscle memory.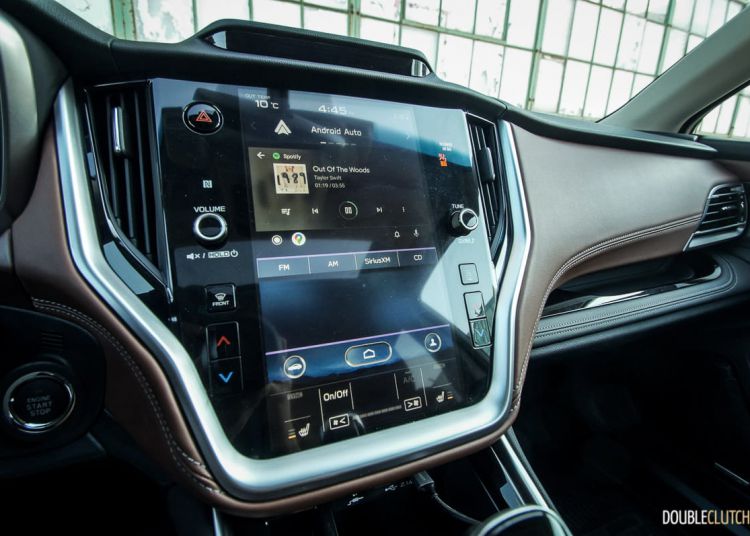 Historically, Subaru's infotainment systems have been admonished for being laggy and clunky. Today, the lag is gone, the screen is massive, but the clunkiness remains. Luckily, smartphone users will be happy to know that Android Auto and Apple CarPlay functionality is standard equipment, and standardizes connectivity and hands-free communication to something that's known to be good.
Colloquially, some have referred to Subaru as the Volvo of Japan, and that's largely due in part to Subaru's passioned approach to vehicle safety. Subaru's EyeSight uses two cameras mounted at the top of the windshield, and comes with a glut of autonomous assists to either prevent or reduce the severity of collisions. There's forward collision warning with autonomous braking, adaptive cruise control, lane keeping assist, blind spot monitoring (on all trims but the base Convenience), and rear cross traffic alert. Premier models also get DriverFocus, which uses a driver-facing camera to detect distraction. When this happens, the gauge cluster will flash and EyeSight system will beeps in an attempt to correct the behaviour. While it does have trouble seeing drivers wearing sunglasses, it's pretty effective and not overly obtrusive – drivers who find it obtrusive might want dig deep and double check their own driving.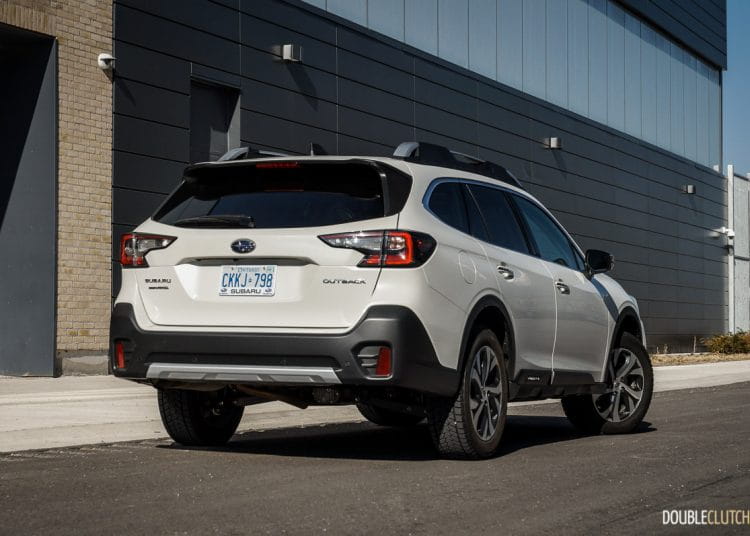 Like the previous generation, under the hood of all non-XT Outbacks is a slightly revised 2.5-litre flat-four ("boxer") engine. Horsepower is up by seven to 182 at 5,800RPM, and torque is up two to 176 lb-ft. at 4,400RPM. Those who want more punch would be smart to go for the XT, which gets a 2.4-litre turbocharged boxer. It cranks things up to 260 horsepower at 5,600RPM and 277 lb-ft. of torque between 2,000 and 4,800RPM. This power makes it to the wheels via Subaru's sure-footed symmetrical all-wheel drive system, which does an excellent job and getting going in just about any driving condition.
When it comes to moving the Outback's 1,711 kilogram (3772 pounds), this combination won't have drivers going anywhere in a hurry, and the automatic continuously variable transmission (CVT) requires a good bit of revs in order to get things going. While vibration and harshness are well-damped, noise from the powertrain is typical to almost all Subarus since forever. While the motor is a bit gruff, it tends to sound a little less laboured than its inline-four peers. Nominal fuel economy ratings for the non-turbo 2020 Outback weigh in at 9.0L/100KM in the city, and 7.1L/100KM on the highway. In mixed driving, 8.8L/100KM was observed. Regular fuel is acceptable on all Outback powertrains, and tank capacity is 70 litres.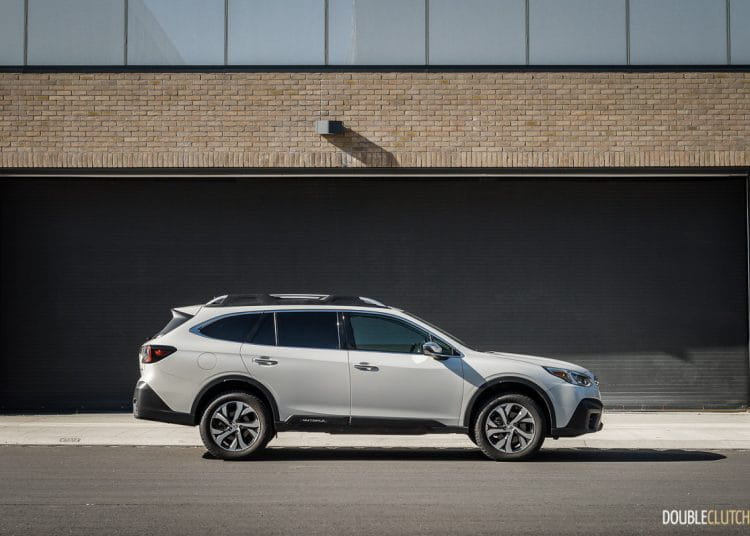 Cruising about in the 2020 Outback isn't a huge departure from the 2019 model it replaces. Ride quality is good, if not a little bouncy, and the light steering made it difficult to maintain a straight line at highway speeds. Part of this could potentially be chalked up to the fact that the test vehicle was still equipped with aggressive winter tires, which are soft and pliable in order to work in lower temperatures. Owing to the aforementioned noisy engine, the cabin is quiet only at idle and once already up to speed. Those who do more highway driving will be less bothered.
At the end of the day, the 2020 Subaru Outback Premier represents a solid option in the upper end of the mainstream crossover echelon. As one of the early pioneers in this segment in the 1990s, Outback owners are fiercely loyal to their cars, and their resale values stay high for good reason. They strike a perfect balance of all-wheel drive, durability, versatility, efficiency, safety, and value for money. While the new model doesn't look or drive drastically differently to those from 2019, updates in safety structure and autonomous assists (as it evolves every year) make the redesign absolutely worth looking at. Is it the Greatest Outback of All Time? Yes – but not by much.
See Also:
2020 Subaru Outback Outdoor XT
2020 Volvo V60 Cross Country T5