The compact to midsize mainstream crossover is one of the most important segments in today's automotive industry. With a plethora of options from every major manufacturer, Canadians have never had more selection when looking for a safe vehicle for either established or growing families. Honda's CR-V has been at the forefront of this movement since the 1990s, having debuted as a spunky little sport-utility to battle the likes of Toyota's RAV4. 2020 marks a mid-cycle refresh for the current generation, and Canadians get two unique trim levels aside from the standard lineup. We jumped into a 2020 Honda CR-V Black Edition to determine if this little ute is still at the top of its class.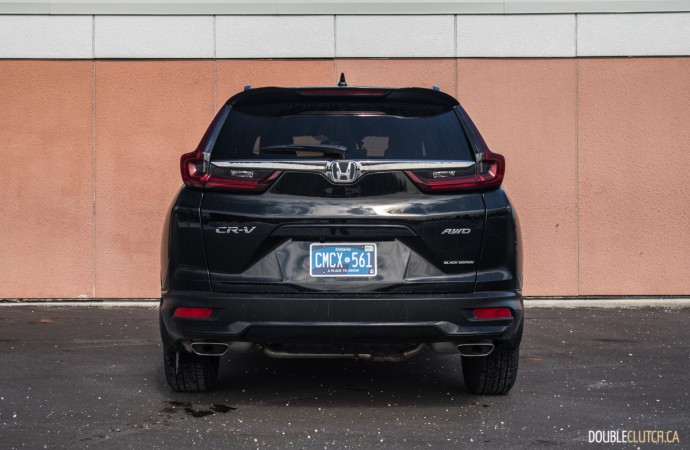 The Black Edition trim is essentially just an appearance pack, with blacked-out looks and dark wheels. All 2020 CR-Vs get smoked taillight housings as well, which give it a bit of a fresh look. The styling overall is conservative yet funky, with sharp lines and very distinctive taillights. LED headlights and fog lamps are standard issue on the Touring and Black Edition, though lower trim models get projector halogens.
Canadian models of the current CR-V, which debuted for 2017, get a very simplified trim walk with just one powertrain option. It's powered by a 1.5-liter turbocharged inline four-cylinder engine, good for 190 horsepower at 5,600RPM and 179 lb-ft. of torque between 2,000 and 5,000RPM. Sending power to all four wheels is a continuously variable transmission. Those who have been keeping up with the news may recall that Honda's 1.5-liter engine was hit by a serious oil dilution issue. While Honda claims this has been rectified, it remains a very real concern for those interested in purchasing the CR-V.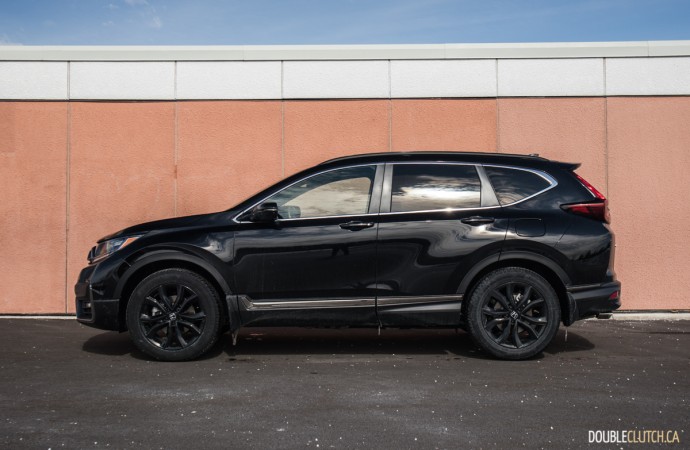 In operation, the 1.5-liter turbo-four is extremely smooth and quiet, feeling much more refined than the grumbly naturally aspirated mill in the current Toyota RAV4 (reviewed here). Power is more than adequate, though with competitors offering more powerful optional engines, it would have been great to see Honda offer their turbocharged 2.0-liter as an extra, especially on this trim level. Regardless, the 1.5 provides adequate passing power and great response in the city. The only gripe here is that the CVT gives a rubber band effect when trying to pull off quick passes, creating more lag than a conventional automatic with swift kick-downs otherwise would.
Ride quality, even on the 19-inch wheels equipped, is admirable with the CR-V having no issues soaking up everything the tail end of a Canadian winter can bring. Our commute during the test week involved plenty of city driving with potholes galore, and the black Honda handled it all with ease. It's much quieter than the RAV4, too, and this is especially evident on the highway where occupants can carry on conversations at surprisingly low volumes. While we do miss the rugged looks with a spare tire on the liftgate, the CR-V has grown to fit the needs of baby boomers that bought early models many years ago.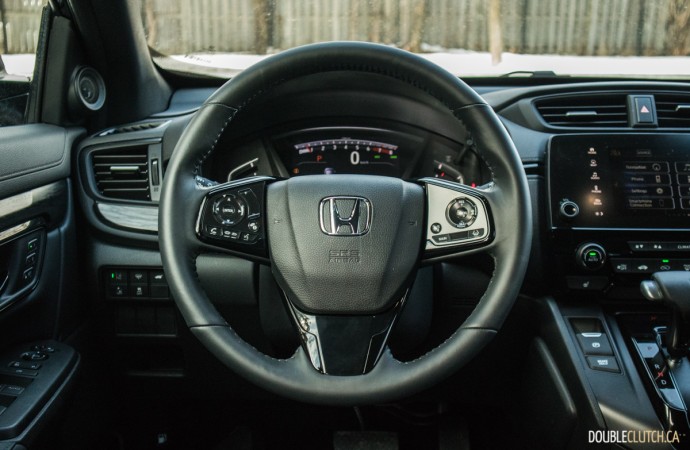 Running strictly on 87-octane regular fuel, Honda Canada rates all all-wheel-drive models at 8.7L/100km city and 7.4L/100km highway, for a combined rating of 8.1L/100km. Despite a few good highway runs, our test returned no better than 8.5L/100km, which was a bit on the disappointing side. The base front-drive CR-V is a bit more frugal, with a combined rating of 7.7L/100km. The 53-liter tank is also on the smaller side, which means buyers will have more refueling breaks on long road trips.
Honda has always paved the path of practicality, and the CR-V's interior is no exception. The cargo area of the CR-V will hold 1,065 liters with the rear seats in place, and when folded, 2,146 liters. It's a very simple and well-designed fold-flat system, making for a very efficient use of space with no compromises. The interior has space to comfortably hold four occupants, or five in a pinch. I recall when the current CR-V first launched, five adult members of our team had set off on an antiquing adventure over an hour away, and there were no obvious complaints about a lack of space.


The dashboard layout is well designed, however the infotainment system with its seven-inch touchscreen could use a refresh. It's missing the tuner knob that has resurfaced in the current Accord (reviewed here) and other models, and response from the system itself is slower than it should be. Apple CarPlay and Android Auto are supported, and a wireless charging dock is up front and center. There is also plenty of space for daily carry items, including a massive hidden cubby that can hold an iPad, D-SLR camera, and a winter hat/gloves all at once. One annoyance – the button for the emergency flashers is not easily reachable by the driver.
The CR-V starts with a base front-drive LX model at $28,190. Most Canadian buyers will want all-wheel-drive, and a well-equipped LX AWD now comes with HondaSensing as standard equipment at $30,990. Slotted above the Sport and EX-L models, the Touring comes with everything you'd want and more at $40,590, and if you do want to be unique, the Black Edition comes in at $42,990. Unique features to this model include the black 19-inch wheels, perforated leather with "Black Edition" monograms on the seatbacks, and black woodgrain on the dashboard.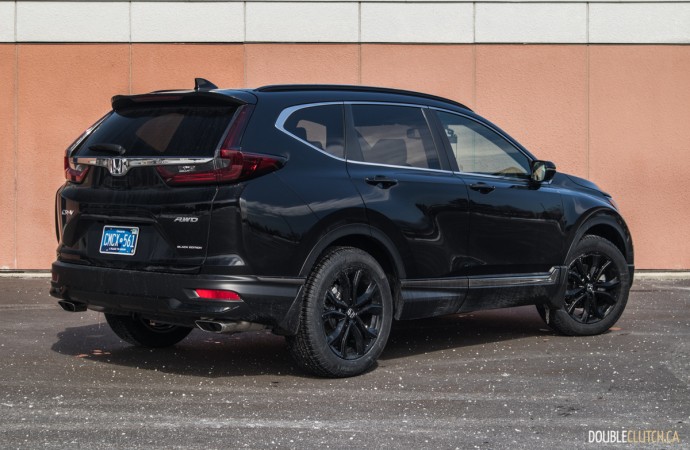 It's worth mentioning that the Black Edition builds on the Touring which already includes a panoramic sunroof, hands-free power tailgate, 19-inch wheels, rain-sensing wipers, LED headlights, and a blind-spot information system. All CR-Vs include the HondaSensing active safety suite, which now comes with collision mitigation braking, forward collision warning, lane departure alert, adaptive cruise control, lane keep assist, and road departure mitigation. Also standard are the standard safety features including stability control, a rear-view camera, hill start assist, and a tire pressure monitoring system.
Despite them all generally looking the same, many of today's crossovers have distinct personalities. The Toyota RAV4 in non-hybrid form is trying to be rugged, sacrificing refinement as a result. Mazda's CX-5 is focusing on an engaging driving experience, at the expense of some practicality and in certain cases, efficiency. The Subaru Forester is a solid rival, following the brand's motto of "safety first". We'd skip the Black Edition unless you really do want to be unique, but a 2020 Honda CR-V in top Touring or volume Sport trim is a fantastic all-around choice for today's family needs.

See Also:
2019 Toyota RAV4 Trail
2020 Mazda CX-5 Signature Diesel
2020 Kia Sportage EX Tech AWD