We may be well beyond the peak minivan days of the 1990s, but just because they're not the hottest family haulers anymore, it doesn't mean that there aren't some great options out there. If we're honest for a minute, a minivan is more practical than a large crossover or SUV for most big families. They offer large sliding doors, comfortable seating for passengers, low step in for easy entry and loading, and a powerful and dependable V6. Are families ignoring these factors, or are they missing out? After spending most of the winter testing crossovers and SUVs, we spent a week with a 2020 Chrysler Pacifica Touring to find out.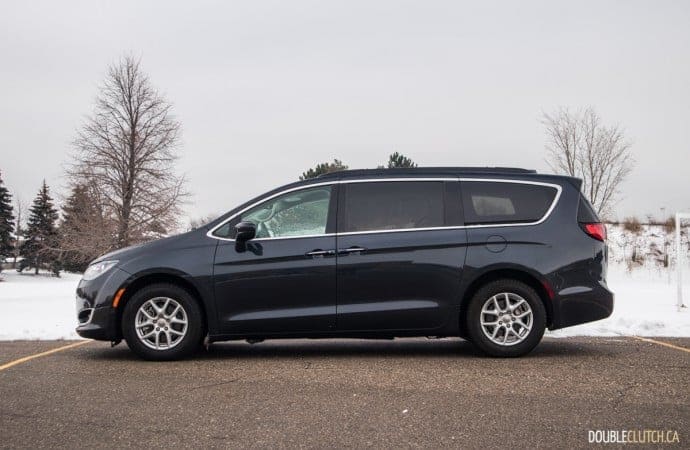 The Pacifica was originally launched for the 2017 model year and replaced the outgoing Town and Country. The Pacifica is a large departure from the previous boxy design and offers much sportier fluid lines, a very modern take on the original Chrysler vans. Not much on the exterior has changed since the 2017 introduction, but it still looks fresh and distinctive on the road. Our tester came finished in a tasteful, if a tad boring, dark grey called Maximum Steel Metallic and sat on bright silver 18-inch alloy wheels optional on the mid-range Touring trim.


Vans are all about the interior; space is king, and that's no exception with the Pacifica. Clearly, the designers have put a lot of effort into creating a very functional and comfortable family friendly space. Being a mid-range model, our tester got by without a lot of unnecessary luxuries that could be optioned, and instead focuses on practicality. Durable cloth seating for eight, Stow'N'Go third and second row split benches that fold totally flat into the floor leaving a super sized cargo area – ideal for the casual handyman. Even with all the seats in place, the Pacifica offers tons of cargo room in the deep cargo area, complete with stacked cubbies on the left side for smaller items.


Up front there is abundant storage for all your daily carry items, plus whatever else the kids will drag into the van, huge door pockets, trays in the dash, and a well designed center console. The majority of these storage areas are lined with removable rubber matting for the inevitable spills, and interestingly the rubber liner for the center console features line drawings of the Chrysler minivan lineage – a nice touch honoring the van's heritage.
Comfort is clearly a priority here, and even our fairly basic tester delivers with plenty of features to keep everyone happy including tri-zone climate control, heated steering wheel, heated front seats, power sliding doors, power tailgate, and a remote starter. All of these features saw regular use during our week with the Pacifica, and we didn't miss anything that wasn't equipped. Chrysler usually has the dash layout and controls down to a science, and the same applies within the Pacifica. The layout is clean and visually appealing and dominated by a large 8.4-inch Uconnect touchscreen which serves as the control hub.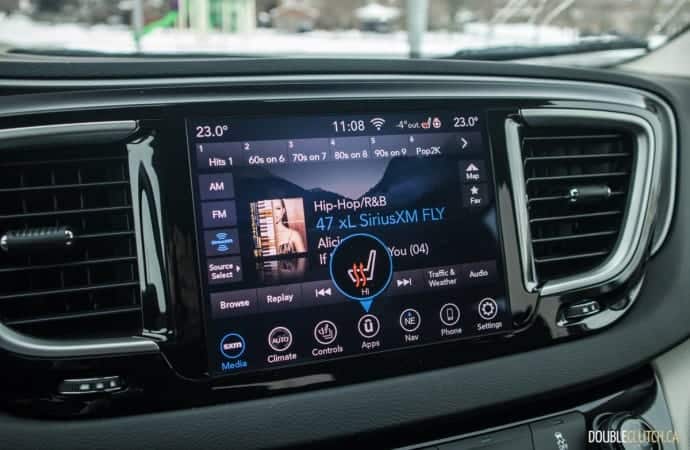 All Pacificas are powered by the tried and true 3.6-liter Pentastar V6, including the Hybrid model (reviewed here) which adds a supplementary electric system. Our tester makes 287 horsepower and 262 lb-ft. of torque at 4,000RPM, flowing to the front wheels through a nine-speed automatic. The V6 has been around for years now, so it's well sorted and reliable, though it doesn't reach its peak torque until fairly high in the rev range. That said, it makes fairly light work of moving the Pacifica around, and the van feels peppy and eager to accelerate, both in the city and while making highway passes.
Our tester came equipped with a beefy set of Yokohama Ice Guard winter tires, and handily proved during this snowy week that all-wheel-drive is not a requirement for getting around Toronto. However, it was also announced our test week that all-wheel-drive will be made available on the refreshed Pacifica starting in 2021, so scratch one more advantage off the list for crossover competitors.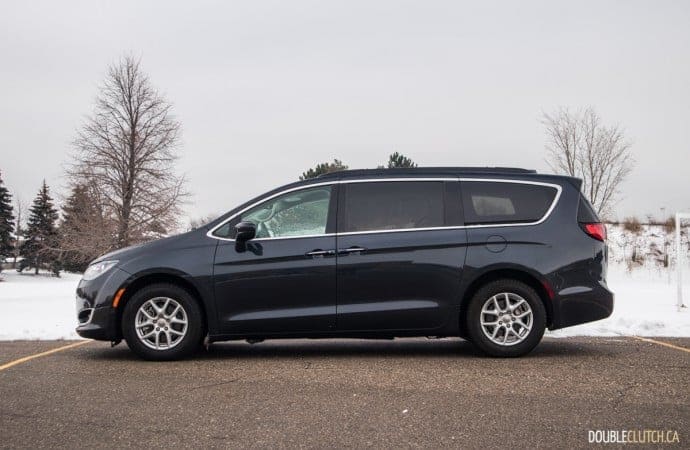 Driving the Pacifica is a bit of a throwback. The experience has gotten a lot more refined; quieter, smoother and more powerful, but there is a certain feel to driving a minivan that remains. Most of the van's weight is on the front end, so handling and braking is very forward-biased meaning the van doesn't have the more confident and balanced feeling that comes with a crossover or SUV platform. Steering is light and desensitized, which is nice for relaxed driving, but it is a bit twitchy which isn't ideal. Passengers, however, will love the buttery smooth ride and nearly silenced road noise.
One advantage of the Pacifica's front-drive platform and modern aerodynamics is that it actually returns surprisingly good fuel economy, especially for an eight passenger people hauler. After a week of rush hour commuting in freezing temperatures and liberal use of the remote starting system, we observed an average of 10.8L/100km. The van is happy on regular grade fuel and the large 72-liter tank provides plenty of range, which is great for those extended family trips.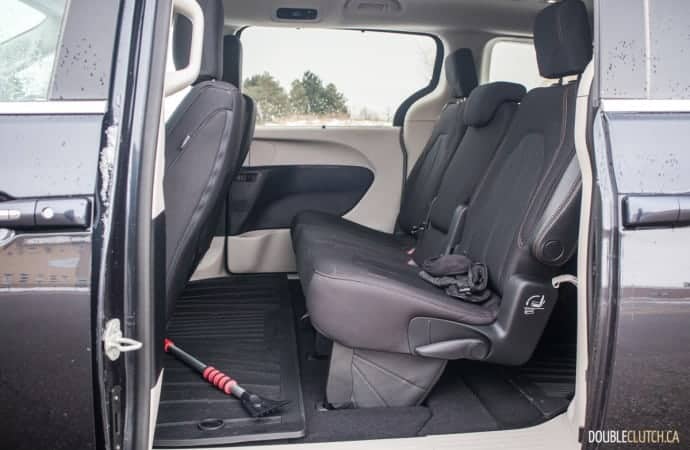 Pricing however, is where some of the sensibility gets knocked out of the Pacifica. Vans like the Dodge Grand Caravan sell well because they offer the most space and practicality per dollar. It's a value play and minivans have always done it well. The Pacifica though, is right up there in SUV and Crossover territory, and at those prices I suspect many buyers are giving into trend and opting for the alternative. To illustrate, a truly stripped down Pacifica L starts at $34,045 with very few options. Adding some basics like the tri-zone climate control, automatic headlamps, and softer suspension puts you into the LX trim at $36,045.
Starting at $37,795 the Touring trim, tested here gets LED taillamps, foglamps, and an upgraded floor console. Upgrading to the Touring L, will add leather seating among other things at $39,795. The price continues to climb through three more trim levels up to $48,795 for the fully loaded Limited with ventilated Nappa leather, panoramic sunroof, and handy integrated vacuum. Our tester was loaded with a few options including the Mopar Interior Protection Package for a floor liner, sill plates, and storage tub liners. It also got the Safety-Tec group ($995) with blind spot warning and rear park assist. Adding to that came the Cold Weather package ($695) and the upgraded 8.4-inch Uconnect system.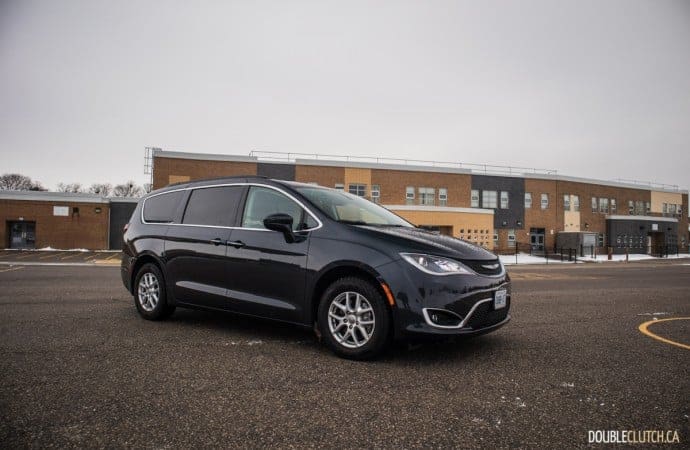 Our as tested price came to $44,110, and though I am convinced stepping up a trim level or two rather than optioning up this lower trim level would've saved some money, it's still a tall ask given the level of equipment and competition for family haulers right now. A good example of this is the electronic safety tech; many crossovers offer a full suite of safety tech standard, or at least as an affordable add-on. The Pacifica doesn't come with any such technology standard, and adding the $995 Safety-Tec package only provides blind spot monitoring and rear parking assist. If you're willing to spend $1,995 you can add the full suite including forward collision warning, lane keep assist, adaptive cruise control, and more. This sort of technology is table-stakes for family shoppers, so it's a shame that it isn't more accessible.
After spending a fair bit of time with the 2020 Chrysler Pacifica Touring it's easy to see why the minivan took the market by storm during my own childhood, and remains a formula that is still relevant today, if overshadowed by the fashion of the latest crossovers. The Pacifica is just as good, or better in many areas at hauling the family, and all their stuff, but with its current pricing structure it just doesn't make a compelling enough case to move many buyers over into the minivan camp. That said, if you're reading this and thinking that a minivan might be right for you, the Pacifica should definitely be a front-runner on your list.

See Also:
2019 Chrysler Pacifica Hybrid
2019 Honda Odyssey Touring
2019 Toyota Sienna SE AWD