The recipe for a luxury flagship is a large, four-door saloon with a V8 engine, an interior made up of the world's smoothest cowhide, and a space that is as much intended for its rear passengers as the front. By that definition, the newly refreshed 2020 Genesis G90 5.0 Prestige would be the ideal luxury limousine, except for one intangible; brand recognition. Many prospective buyers would prefer their mode of transportation to be from a prestigious brand such as the Mercedes-Benz S-Class (reviewed here), BMW 7-series (reviewed here), and Lexus LS (reviewed here). We sampled a 2020 Genesis G90 5.0 Prestige to see if it has what it takes not just to be a flagship for the Korean automaker, but to lift a young brand to new heights.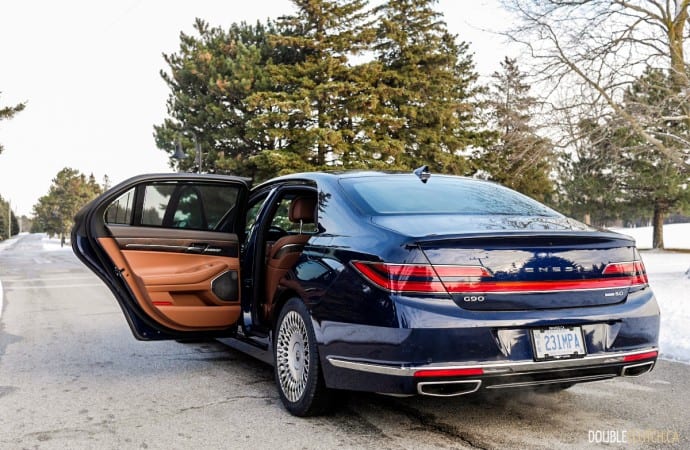 Curb appeal is an important aspect for luxury buyer, and the Genesis G90 certainly knocks it out of the park in that regard. The newly designed exterior carries a wow factor, and a prominent grille announces its arrival in dramatic fashion. Genesis emphasized the G90's exterior design based on its 'G-Matrix' design philosophy, which includes the futuristic quad LED headlamps and the classy mesh design of the 19-inch wheels inspired by the light reflecting from an illuminating diamond. Refreshed taillights echo the headlight design and resemble the wings of the Genesis logo. The imposing design is not for everyone, but having controversy is a good way to get others talking which can only help to build awareness for its brand.
The 2020 Genesis G90 is powered by a silky smooth 5.0-litre V8 engine that produces 420-horsepower at 6,000 RPM, and 383 lb-ft. at 5,000 RPM. All-wheel drive is the only configuration for Canadian G90 models, and power is transmitted through an eight-speed automatic gearbox. The power figure might not jump out at you in this day and age where a compact sedan can extract 500+ horsepower from a four-banger, but effortless power delivery is what makes the G90 feel truly special. The V8 engine never needed to be pushed to get the 4,960-pound vehicle going, and acceleration carries an amount of poise that is only expected from something of flagship status.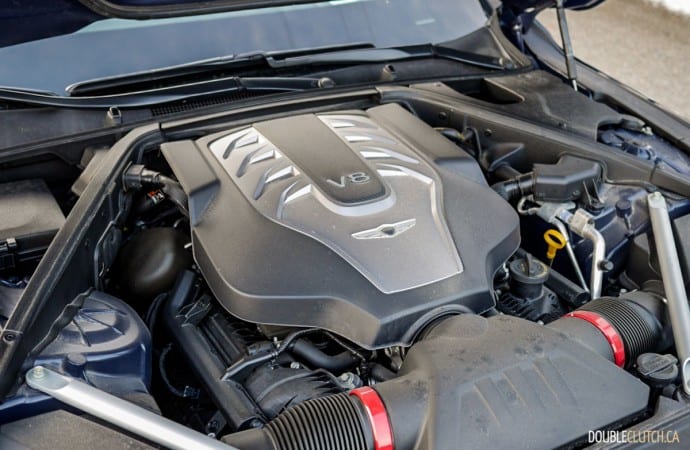 Another attribute to be expected from a flagship vehicle like the G90 is great ride quality, which it was able to deliver easily. The G90's ride is superbly comfortable for all of its occupants, and the cabin is whisper quiet. It does feel a touch bumpier than its competition when driving over rough surfaces, but it certainly cannot be considered uncomfortable. The steering, while lacking in feel when compared to its German competition, is nicely weighted and we enjoyed the handling abilities. While the Genesis G90 is not at the BMW 750i's level of driving engagement, it is not punitive to those relegated to driving duties.
Rear passengers get the best of the enjoyment in a Genesis G90, there is no lack of head and legroom regardless of the seating position from the front row, and the rear seats can be adjusted up to 14 different ways to create a truly first-class cabin experience. The rear window shades are power operated, and there is an option to add a dual 10.3-inch display rear seat entertainment system for an additional $2,500. The power trunk lid opens to 444-litres of cargo space, but our real-world testing suggests that its measurement might have been conservative with the way it accommodated our testing equipment all week.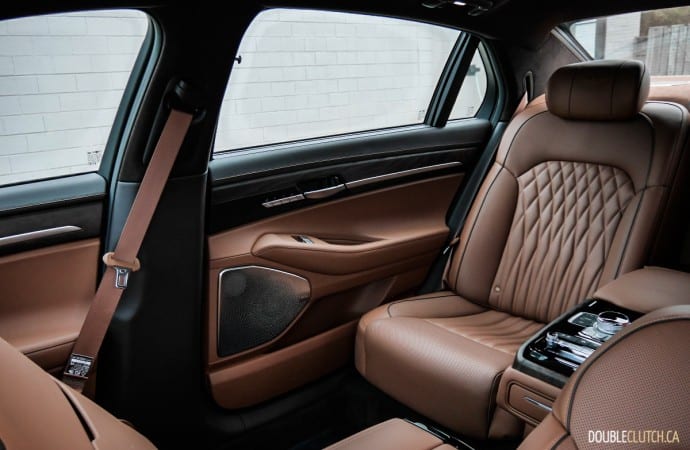 Genesis spared no expenses when it comes to the G90's materials. Our tester's Havana Brown Nappa leather looks and smells rich, and the open pore olive ash wood trim adds a touch of elegance to the beautifully crafted interior. Infotainment is controlled using the 12.3-inch touchscreen navigation system that is easy to use with great resolution. Apple CarPlay and Android Auto connectivity are supported, and the G90 comes standard with a 17-speaker Lexicon premium sound system.
As expected with vehicles in this segment, the Genesis G90 comes with a full suite of driver's assist and active safety system to protect its VIPs onboard. The system includes Forward Collision Avoidance Assist with Pedestrian and Cyclist Detection, Land Change Oncoming Evasive Steering, Parking and Rear Cross Traffic Collision Avoidance Assist, Blind-Spot Collision Avoidance Assist, and Lane Keep Assist with Lane Departure Warning systems. Throughout our week, the advanced systems worked together flawlessly to add confidence to our commutes and the proactive Lane Keep Assist system is brilliant.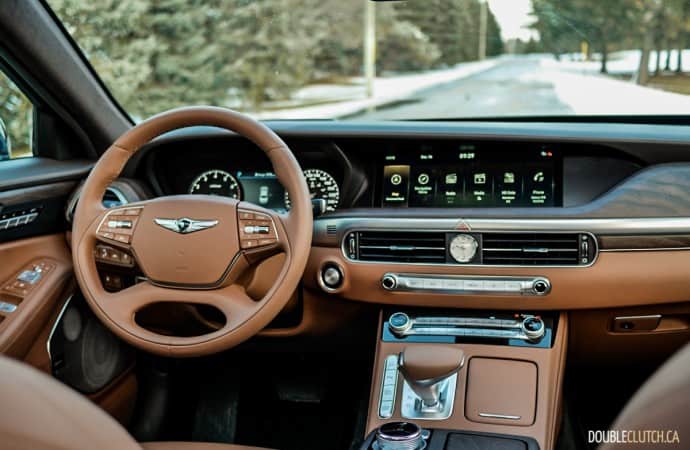 Fuel economy is rated at 15.4L/100km in the city and 10.3L/100km on the highway for a combined rating of 13.1L/100km. We observed an average of 14.5L/100km over our week of city-heavy commuting, which is within our expectation given its beefy curb weight and thirsty V8 engine. Premium grade gasoline is required for the 83-litre fuel tank.
One of the most important ingredients in building strong branding is a premium consumer-centric approach, and Genesis is at the forefront when it comes to creating a unique car buying and ownership experience. The Genesis at Home program, available to anyone within 50 kilometers to the closest Genesis distributor, allows buyers to schedule a personal product demonstration at their home or office, as well as for owners within the first five years or 100,000 km to schedule a vehicle pick up from their location of choice for any regular maintenance or warranty work.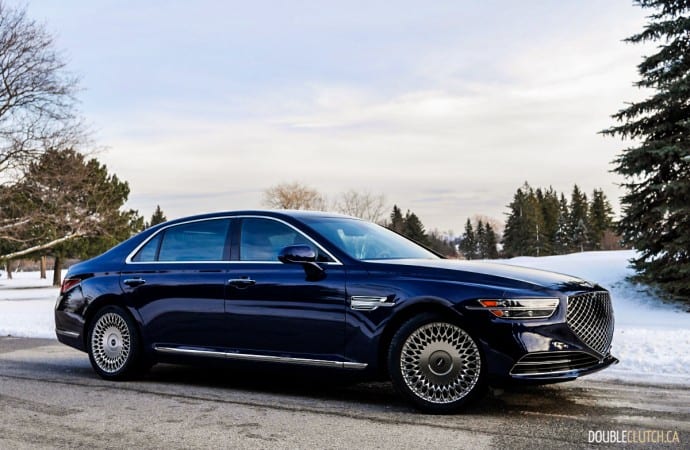 Genesis will even leave behind a courtesy vehicle for owners to use while their own vehicle is away, and provide complimentary scheduled maintenance during that timeframe. This industry-leading onboarding experience sets Genesis apart from its competition, and goes a long way in making a name for itself.
Pricing of the 2020 Genesis G90 5.0 Prestige starts at $89,750, representing an increase of $2,750 from the 2019 model, and Genesis Motors employs an all-inclusive pricing strategy that includes all freight and PDI charges to make car buying simple for consumers. There are no options available other than the rear seat entertainment system, and it can be considered a bargain when compared to the Lexus LS 500, its chief rival from Asia, which is easily $20,000 more expensive when similarly equipped. On top of its price advantage, the G90's engine is also more fitting for this class of vehicle than the Lexus' six-cylinder, even though the LS 500 is the better choice for drivers and it also comes with a rock-solid reliability rating.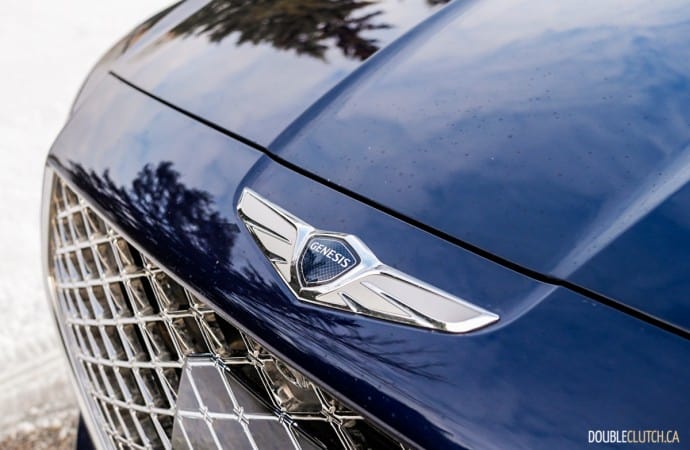 The 2020 Genesis G90 5.0 Prestige presents an amazing value proposition in the luxury vehicle segment. Its world-class craftsmanship, premium materials, and compliant ride quality all fit the mold of a flagship sedan. Genesis Motors is on track to gain a greater market share with their industry-leading buying and ownership experience, leading to better overall brand recognition in the long run.

See Also:
First Drive: 2020 Genesis G90
2020 BMW 750Li xDrive
2018 Mercedes-Benz S 560 4MATIC