Over the last couple of months, we've had the opportunity to the more mainstream option for Mercedes-Benz's new generation of midsize sport utility. This time around, the 2020 Mercedes-Benz GLE 450 4MATIC was in our garage for a week of evaluation, and is the next model up from the GLE 350 4MATIC (reviewed here). The GLE's curvaceous but elegant look lends itself well to what is expected to be a volume seller for Mercedes-Benz, and while the new car mostly adheres to a similar formula as the original 1990s ML-Class, consumers now rally around unibody frame construction SUVs that blur the line between car and truck.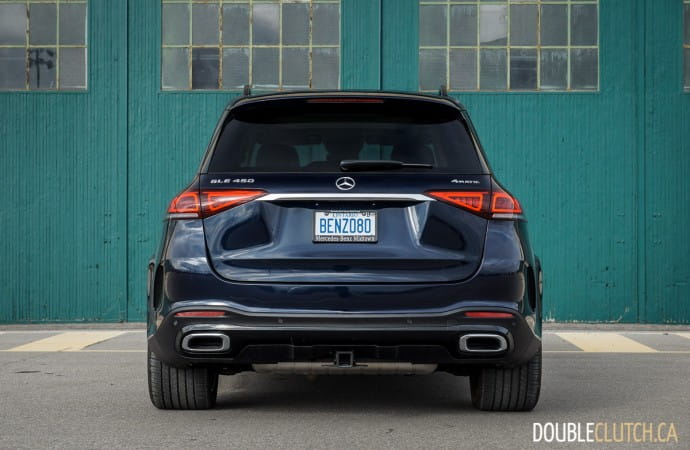 The base price of admission for a GLE 450 4MATIC is $72,000, which is $8,000 more than the cheapest GLE 350. Engine options notwithstanding, standard equipment includes two 12.3-inch screens inside – one for the gauge cluster, the other for touch screen infotainment. There's also adjustable damping suspension, 64-colour LED ambient lighting, side mirror logo projectors, rain sensing wipers, power tailgate, heated steering wheel, ARTICO synthetic leather upholstery, and a power sunroof. As should be expected for vehicles of this caliber and in this price point, a number of today's safety suite features is standard issue. There's forward collision warning with autonomous braking, blind spot assist, trailer stability assist, traffic sign assist, and active parking assist.
Options on the test car proved to be plentiful, and among them were a wonderful $6,900 Burmester High-End 3D surround sound audio system, $6,900 for E-Active Body Control (an add-on to the air suspension – more on that later), $3,000 for the Premium Package (panoramic sunroof, foot-activated tailgate release, heated armrests), $2,700 for the Technology Package (head-up display, upgraded LED lighting), $2,600 for the comfort package (massage front seats, cabin air fragrance system), and $2,450 for AIRMATIC air suspension.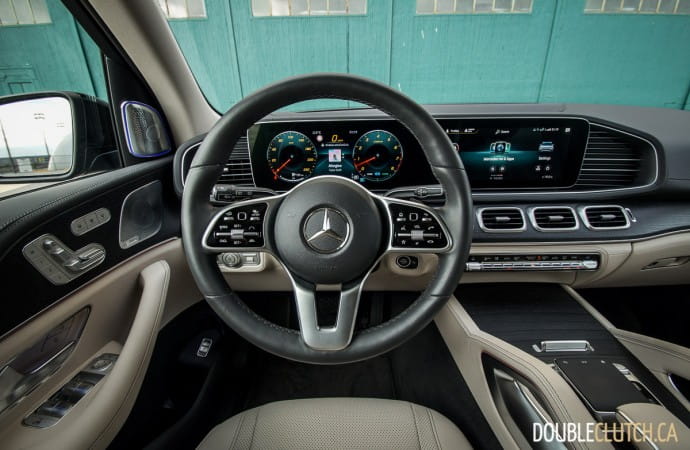 With nearly a dozen other option tickboxes checked, all told, the as-tested price came out to $107,040. Of note, the Macchiato Beige on Magma Grey leather upholstery was $1,990, and designo black flamed open pore wood was $1,000. These two things alone made for a very elegant interior, and as we felt with the GLE 350, the GLE 450 can still easily be regarded as having one of the nicest interiors in the industry at any price point.
More advanced driver assist system features are available with the $3,000 Intelligent Drive Package, such as adaptive cruise control with stop-and-go, and full on active steering assist systems that can actually provide steering input to change lanes on the highway. These kinds of autonomous driving features are akin to Tesla's Autopilot, and are more or less Level 2 on the SAE scale, which still needs full human attention at all times.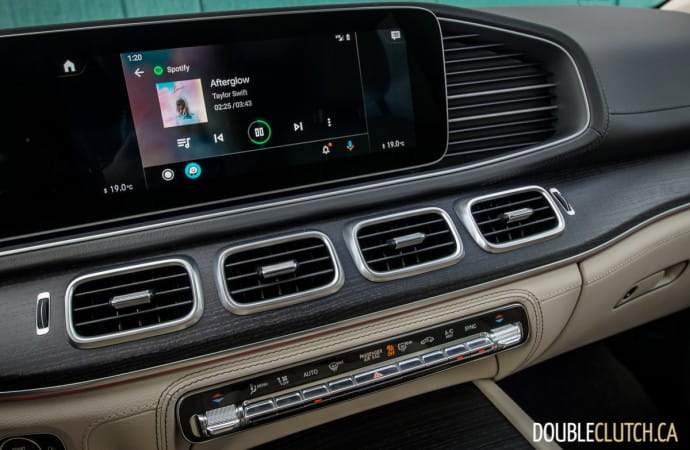 The MBUX infotainment system is standard issue across the board in the GLE range, and offers voice prompts in addition to multiple different ways to interact and put in commands: there's a slightly awkward touch pad on the centre console, two smaller touch pads (in a throwback to BlackBerry phones of the previous decade) on the steering wheel, and of course, the touchscreen itself. While it's better optimized than most touch ad and touch screen systems out there, it is still more distracting and less ergonomic than having proper buttons and knobs.
The voice commands are a little clumsy, and will occasionally get your requests quite wrong. If Google Home or Amazon's Alexa are a 10/10 on the scale, MBUX is a solid 7. If you'd like to bypass the Mercedes system for all intents and purposes, the GLE comes standard with Android Auto and Apple CarPlay, which are both wonderful smartphone connectivity suites that should be included on all cars on the market regardless of price point – especially in the name of reducing distracted driving with handheld devices.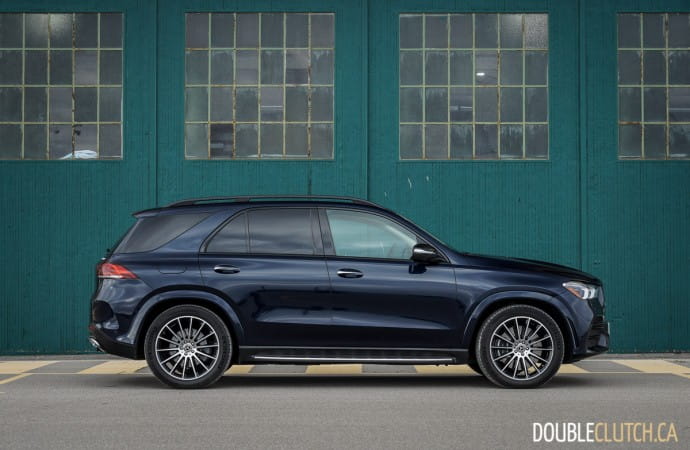 With a miles-long options rap sheet, the 2020 GLE 450 4MATIC is more or less a dream to drive on a smooth, open road. The cabin is whisper quiet at any speed, and occupants are superbly isolated from the road beneath while being coddled by the front seat massage. Steering and handling is generally effortless, and in this regard, the GLE really feels as premium as it costs, especially when combined with the interior environment. It's a nice place to be.
Where the GLE isn't quite as good as its competition is in the ride over choppier pavement at lower speeds. We noticed that the GLE 350 previously tested had exhibited some excessive lateral movement over bigger bumps affecting only one front wheel. It's as if the anti-roll bar tuning was causing a confusion between the left and right wheels when the suspension rebounded after soaking up a bump. The GLE 450, with its optional AIRMATIC and E-Active Body Control (totalling $9,350 extra), does noticeably better in this regard, but still exhibits some of the same low-speed instability when the suspension is set to "Comfort". Using the Individual drive mode to firm up the suspension a bit while keeping everything else soft is the best drive mode to use, and results in much better body control without making things too harsh.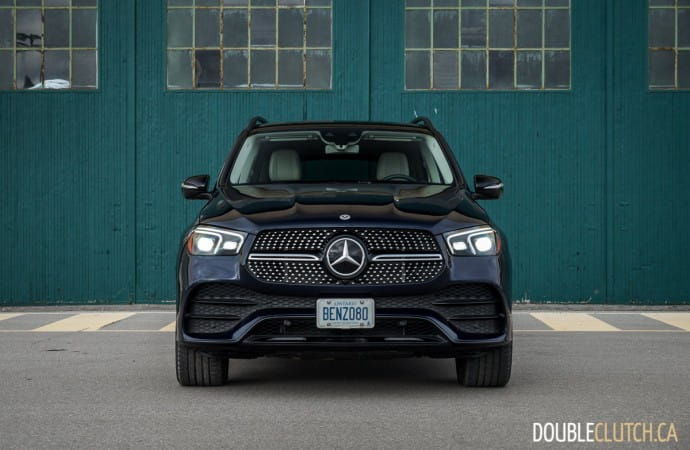 With the suspension configuration for the best driving experience sorted, there's another couple party tricks to E-Active Body Control. Activating Curve mode causes the air suspension to go full motorcycle by leaning into curves with steering input. While this does decrease body roll, and likely improves mechanical grip somewhat, the system does respond with milliseconds of lag, which makes things feel artificial and doesn't make the GLE feel like it handles any better. Not to mention, passengers may start to feel a little queasy with the counter-intuitive body motion in a corner.
If Curve mode isn't enough for you, there's Free Driving Assist mode. With the off-road drive mode setting activated, turning on Free Driving Assist at low speeds causes the air suspension to vigorously bounce the GLE up and down for about thirty seconds in order to free a hypothetically-stuck GLE out of mud, sand, rocks, or snow. In practice, it's a great way to command attention in a parking lot and make members of the public wonder just exactly what is going on behind closed doors.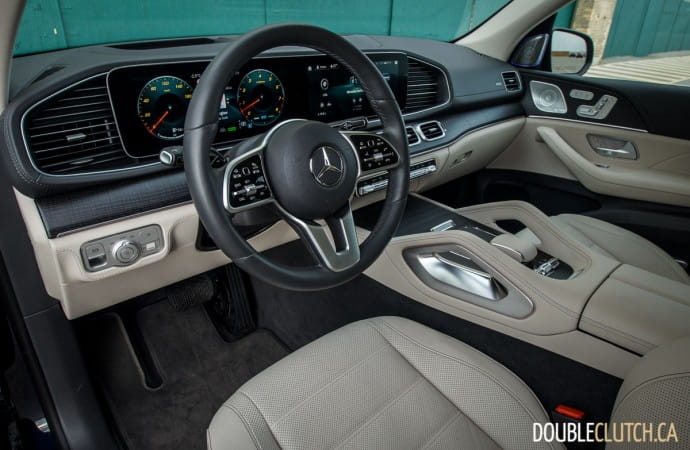 Powering the GLE 450 4MATIC is a new setup for this model – a 3.0-litre turbocharged inline six-cylinder that also happens to be a mild hybrid. Total system output is 362 horsepower between 5,500 and 6,100RPM, coupled with 369 lb-ft. of torque between 1,600 and 4,500RPM. The electrification isn't quite in the same vein as other hybrids, as the GLE can't really get moving under its own power on battery alone. Instead, the electric motor provides a little extra juice as torque fill, entirely eliminating turbo lag and making the GLE 450 feel very much like a naturally aspirated engine. Combine this with the silky smoothness of an inline six, and you have a real winner of a power plant.
Only one transmission option is available on the GLE 450 and a 9G-TRONIC nine-speed automatic does a decent job at keeping things moving. For shift smoothness, it's not quite as refined as the ZF 8HP eight-speed that can be found in BMW and many other automakers' products, and the ZF still is the pinnacle of the industry. That said, the Mercedes 9G-TRONIC is always in the right gear and the right time, and despite the number of ratios to choose from, it practically never gets it wrong.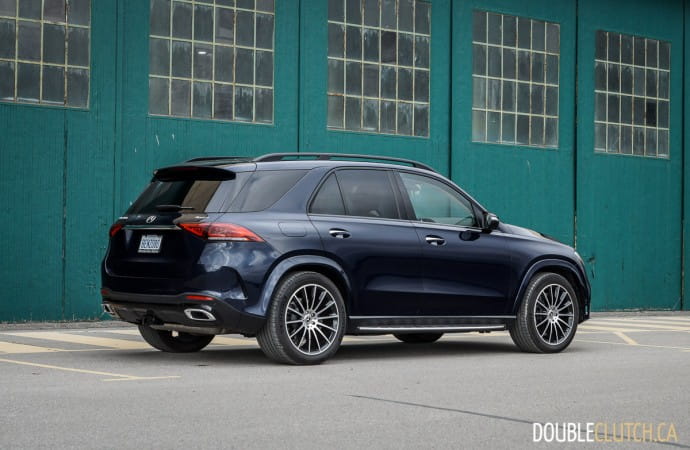 The gearbox also helps to optimize fuel both performance and fuel economy. Nominal rated consumption figures were not yet available at the time of publishing, but observed economy came in at 10.8L/100KM with a bias towards highway driving. Tank capacity is 85 litres, and premium fuel is required. This is not a whole lot far off the GLE 350 – expect real world differences to be smaller than expected.
Overall, the 2020 Mercedes-Benz GLE 450 4MATIC is another welcome entrant in the $75,000 to $100,000 luxury midsize SUV market. With its handsome looks, wonderful interior, great practicality, and sexy engine, it deserves to be a contender to be cross-shopped against the likes of the BMW X5, Audi Q7, Volvo XC90, and Range Rover Sport. The GLE 450 with AIRMATIC air suspension and skipping out on E-Active Body Control is probably your best bang for the buck, as it greatly improves ride quality without breaking the bank. Those concerned about long term reliability and complexity can skip AIRMATIC and stick to softer riding 20-inch wheels instead of 21-inchers, which should help. With one of the best interiors in the business – let alone its class – the GLE is able to shine on this aspect alone.

See Also:
2019 BMW X5 xDrive50i
2019 Volvo XC90 T8 Inscription
2020 Range Rover Sport HSE Td6