LOS ANGELES, CALIFORNIA – Every November since 2013, a handful of us amongst our editorial team have made our way down to sunny Southern California in order to cover the Los Angeles International Auto Show. It's often home to new unveils, and is one of the larger ones in terms of industry buzz. While we're down there, we usually book a series of cars to test on the twisty canyon roads, as well as some of the densest urban traffic in the world. This year, the Italian 2020 Maserati Ghibli S GranLusso fit the bill. We've noticed in years past that it is a very popular car amongst the more well-to-do in LA, so when in Rome, as they say.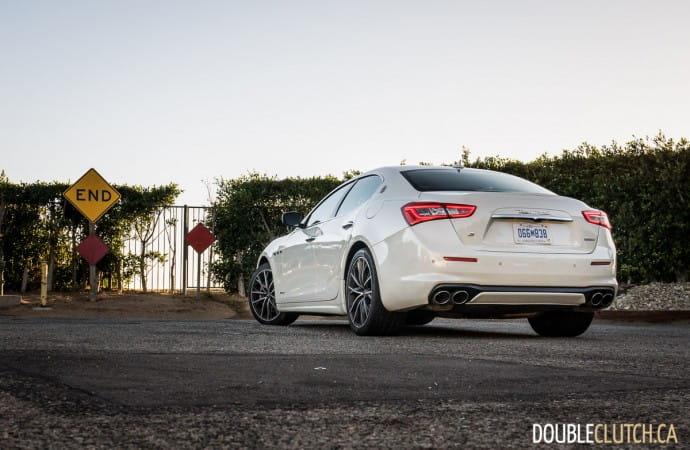 With the big Neptune's trident adorning the front grille, the Ghibli is definitely a good looker amongst sedans. At a base price of $99,000 Canadian, it's the entry level option in Maserati's lineup below the big-daddy Quattroporte, although the new Levante sport utility (reviewed here) does start at a few grand cheaper. The American-spec S GranLusso we tested is a rear-wheel-drive model, whereas Canadians can only get all-wheel drive in Q4 guise. The test car in LA was the mid-level GranLusso trim, which bumps pricing up to $105,000 Canadian, again including all-wheel drive.
For your money, the Granlusso gets adaptive LED headlights, a sunroof, heated and ventilated front seats, an 8.4-inch touchscreen infotainment system, parking sensors, blind spot monitoring, and 10-speaker Harman Kardon audio. Options include $3,200 for Bianco Alpi metallic pearl white paint, $360 for red calipers, $2,820 for 20-inch wheels, $460 for Ebano wood interior trim, $1,890 for the Driver Assistance Package (adaptive cruise with stop-and-go, surround view camera system), $2,390 for extra-premium Bowers & Wilkins audio, and $160 for sport pedals, among other things. All told, the bottom line would come down to $117,600 in Canada. Similarly optioned, the rear-drive American test car was $88,760 USD. Factoring in today's exchange rates, that's just about a wash between the two countries.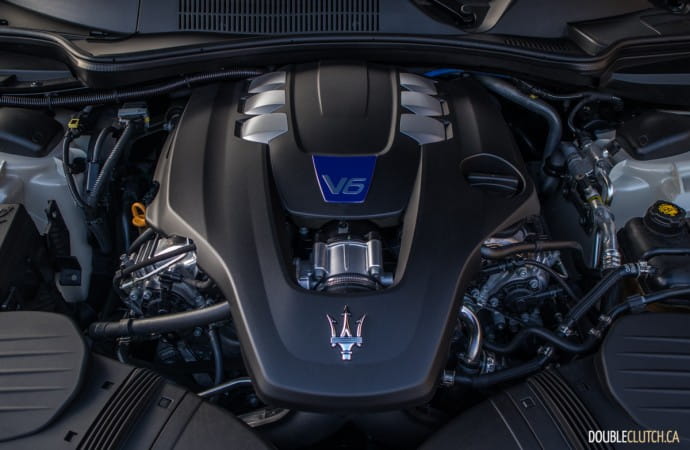 Under the hood of all Canadian cars is a 3.0-litre twin turbocharged V6 engine that pumps out 424 horsepower at 5,750RPM and 428 lb-ft. of torque between 2,250 and 4,000RPM. It's a power plant that makes full use of the parts bin and engineering resources of parent company Fiat Chrysler Automobiles, and this is not necessarily a bad thing. The engine block casting starts out life as a variant of a Chrysler Pentastar, cast in an American plant, but then is shipped to Italy for further machining, assembly, and high-performance tuning by Ferrari.
The end result is a punchy V6 that moves the Ghibli along with authority once the turbochargers spool up after a bit of turbo lag. For those familiar with the Pentastar 3.6-litre V6 that's used across the board in Chrysler minivans, trucks, and SUVs, some of the basic personality is there, including the engine's intake and exhaust note. While forward thrust is much greater throughout the rev range, the tuned-by-Ferrari treatment doesn't translate into crazy amounts of exotic feel – redline is about 6,500RPM, which is no higher than the standard Pentastar. We couldn't help but notice that it feels like a bit less responsive but more powerful version of the excellent Hyundai-Kia 3.3-litre twin turbo V6 found in products like the Kia Stinger or Genesis G70/G80.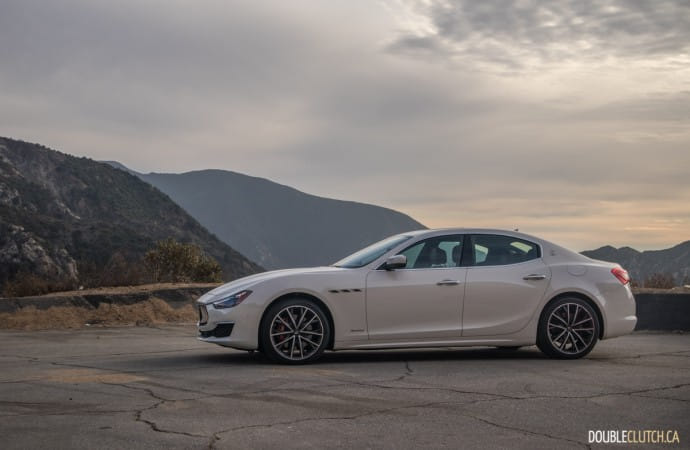 Paired with the twin turbo V6 is an eight-speed automatic transmission, and like many others in the Fiat Chrysler family, it's built by ZF. These transmissions are known to be very smooth and confident in their shifting, and in just about any calibration, gear hunting is not an issue. Curiously, steering wheel gear shift paddles are an extra $650 Canadian, and were not equipped on the test car. Manual shift control was only doable on the shifter itself, necessitating taking one hand off the steering wheel.
Fuel economy ratings for the 2020 Ghibli come in at 14.7L/100KM in the city, and 9.9L/100KM on the highway in S Q4 configuration. Observed economy over a week of testing netted 13.6L/100KM in mixed driving that included as much spirited driving in the mountains as it did cruising the highways in and around LA, or sitting in standstill traffic on the I-405. Premium fuel is required, and tank capacity is 80 litres.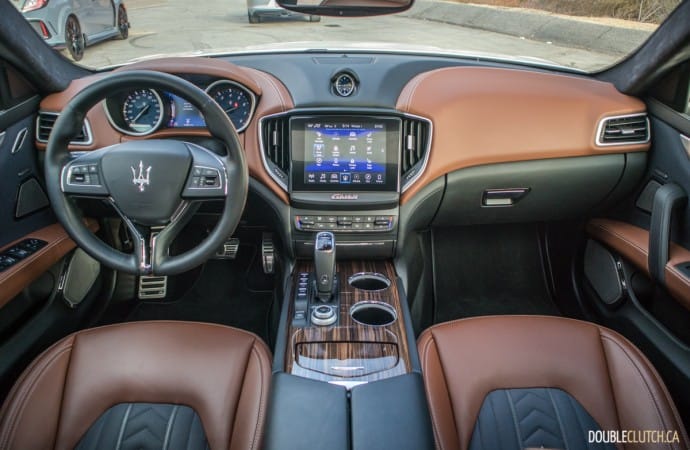 In the canyons north of Los Angeles such as Angeles Crest Highway or Glendora Mountain Road, the Ghibli proved itself to be a very competent grand tourer. Its 1,810 kilogram (3,990 pound, and add 60 kilograms or 132 pounds for all-wheel-drive) curb weight means that it is not the most agile performer in terms of the rules of physics, but the optional Skyhook adjustable suspension does its level best to keep things moving when the going gets quick. Turn-in response isn't the most linear and takes some getting used to, but once this happens, there is an impressive amount of neutral handling and mechanical grip that let the Ghibli hang with much more agile cars.
Set to Normal mode, the Maserati's ride quality is also well calibrated for longer drives on the highway. The Ghibli S loved to swallow up the 1,200 kilometres (754 miles) that we put on it, and didn't waver in stop-and-go traffic, either. As perhaps a nod to the mad-scientist vibes coming from Italian cars of yesteryear, there were plenty of squeaks and rattles coming from inside over any sort of rough pavement or bumps. In these cases, turning up the Bowers & Wilkins audio helps to lighten the mood. This extra-cost sound system isn't as good as other same-branded setups we've seen in Volvo and BMW, but some time spent tweaking the equalizer was a huge help.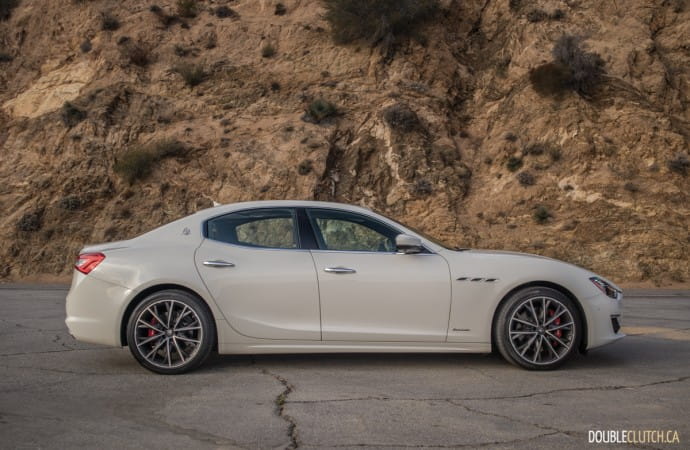 Looking further around the cockpit, and one might notice that the rest of the interior of the Maserati Ghibli features plenty of Chrysler parts bin. The window switches and much of the pushbutton controls are straight from cars like the Jeep Grand Cherokee, and while that may be a move in the wrong direction for some people, they're not particularly bad switches in the Jeep, nor are they particularly bad switches in the Ghibli. Using common parts here makes sense here in order to save costs.
The 8.4-inch touchscreen infotainment, dubbed Maserati Touch Control (MTC) is a re-skinned version Chrysler UConnect with Android Auto and Apple CarPlay. Again, not a bad thing considering UConnect is one of the better systems in the industry, aside from some buried-in the-touch-screen heated seat controls. With the Cuoio and Grigio coloured Luxury Zegna Package colour scheme, the rest of the interior is great to look at, too.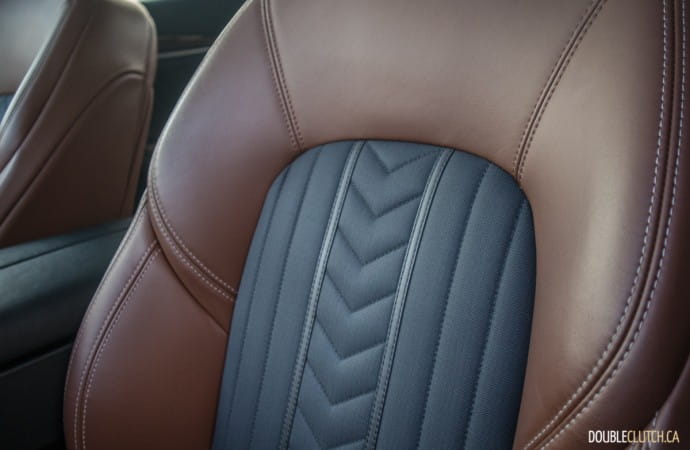 In a vacuum, the 2020 Maserati Ghibli S GranLusso is a great looking premium luxury sedan that still commands attention in the image-conscious parts of Southern California. While it has many great individual traits as can be seen in this review, it doesn't necessarily come together to create a package that shines as hard as its competition. The BMW M550i makes more power, and both it and the Mercedes-Benz E-Class feature better design and driving dynamics. Like the previously mentioned engine comparison, we couldn't help but feel that the Ghibli drives and feels like a Kia Stinger GT or Genesis G80 3.3T, and while both are very good cars, they're in a much lower price bracket. The Maserati's price tag hurts the value proposition, but if you're into the look of Maserati, and want people to look at you in your Maserati, then the trade-offs might just be worth the vanity.

See Also:
2019 Maserati Levante GTS
2019 Alfa Romeo Stelvio Quadrifoglio
2019 Mercedes-AMG E 53 Coupe