Audi's R8 has been around for well over a decade now, and it's one of those cars that doesn't just stand out, but captures the heart all over again each time the engine is started. A car that started out with eight cylinders and with a gated manual transmission, the R8 has evolved considerably over the course of its life. It has been given a mid-cycle refresh this year, and while the upgrades are relatively minor, the real news is that this generation will be the final time the glorious naturally aspirated V10 engine will be made available. The 2020 Audi R8 V10 Performance isn't just any current supercar, it's truly the last of its breed.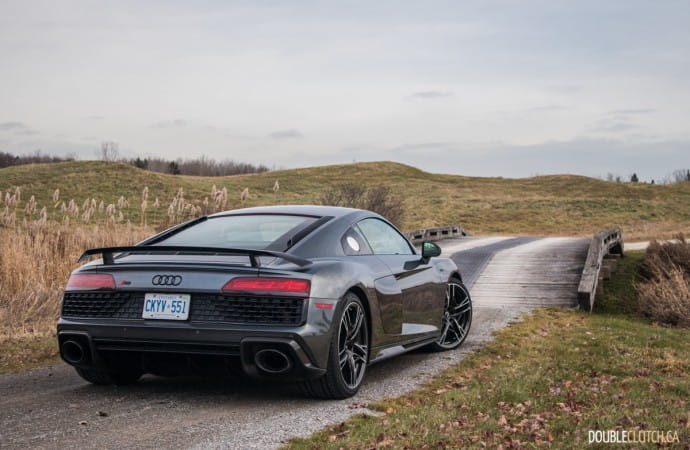 Supercars are wholly frivolous purchases, and there's no getting around that. Striking looks, a relative lack of practicality, a tendency to break without real cause, and jaw-dropping performance are typical traits. Recent years have brought the current crop of supercars and hypercars closer to electrification, with plug-in hybrid variants and turbochargers. The horsepower wars are in full force, but the days of screaming V12s that would spit flames are all but over. The R8 is one of the last naturally aspirated supercars in existence, and when taking its sister, the Lamborghini Huracan (reviewed here) into consideration, these are the last two V10 toys on the market.
All R8s get a mid-mounted 5.2L V10, with the base version pushing out a "measly" 562 horsepower. The Performance model tested here pushes that number to 602, specific to the North American model. European cars get a horsepower bump, but we get a louder exhaust and trust me – it's worth the trade-off. The V10 climbs revs with the intensity of a thoroughbred race car, and can hit 100km/h in 3.3 seconds, and to a claimed top speed of 303 km/h. In a world where turbochargers are rapidly taking over, it's refreshing to experience the immediacy and response of a naturally aspirated mill with an 8,500RPM redline.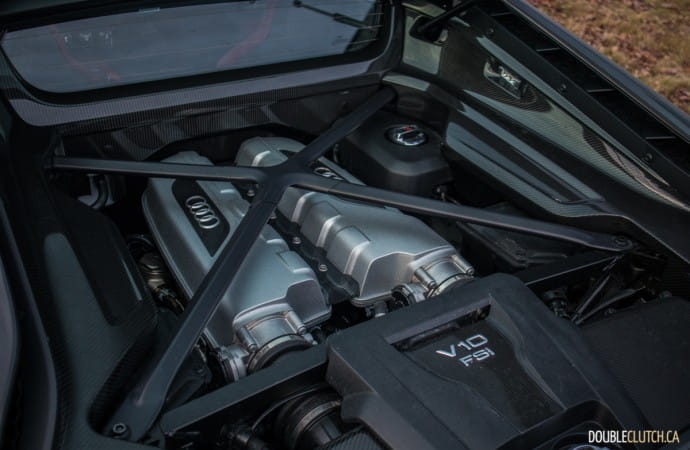 When Audi brought us the second generation R8 for the 2017 model year, they also did away with the brilliant gated six-speed manual transmission. I've been lucky enough to spend countless hours behind the wheel of first-generation R8s with this option, and while it's nowhere near as quick as the S-tronic dual-clutch on the current car, it provides a level of purist engagement that no automatic will ever be able to achieve. Even still, S-tronic has gotten better and better over the years, and in manual mode, is now at a point where Porsche should start worrying about their PDK being de-throned. With launch control as standard equipment, the R8 gets to speed with the noise, drama, and urgency only a supercar could deliver.
While S-tronic is extremely fast when manually shifting, if left to its own accord it can become a bit rough and abrupt. Again, just a quirk that's worth mentioning but should have no bearing on the car's overall personality. One cool touch that Audi does with its paddle shifters is that pushing and holding the left paddle will downshift as many gears as possible to give the car the most urgency, excellent when going into corners or trying to pull off a fast pass. The suspension on the R8 V10 Performance consists of fixed dampers, and makes for an extremely firm ride. Our weeklong test consisted of typical commuting in a winter setting, with plenty of potholes and even a serious blizzard – the adaptive suspension in the standard V10 model would have been beneficial here to soften things up.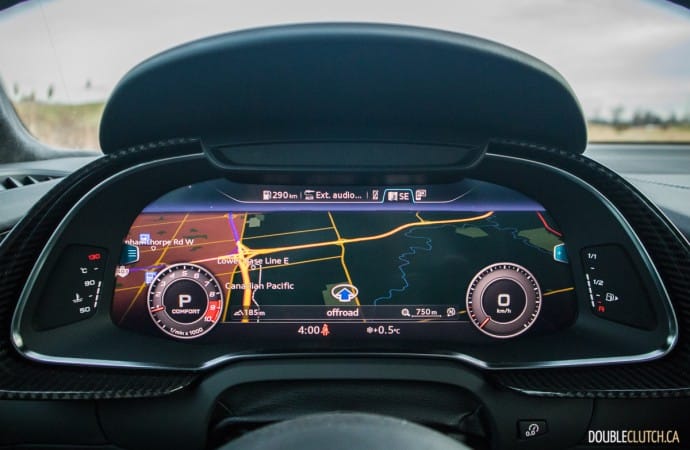 It's no secret that the R8 is extremely fast in a straight line, but where it really comes alive against its competition is its ability to remain compliant for that weekend morning bakery run, or a nice night out with your significant other or a friend. Non-car people will complain about how hard it is to get in and out of a BMW i8 (reviewed here), or the amount of attention drawn by a McLaren or Lamborghini. The R8 is a chameleon that blends into any situation it's placed into, and still looks good doing it.
Plus, the quattro all-wheel-drive system means it's compliant to drive year-round, with the only real issue being ground clearance. Our test car was put on Pirelli Sottozero winter tires, and was a total hoot in the snow. It never got stuck, and should you desire, the back end will kick out eagerly once traction control is disabled. In most major cities where snowplows clear most of the accumulation, a car like this is no issue at all – try to say that about your McLaren 570S (reviewed here).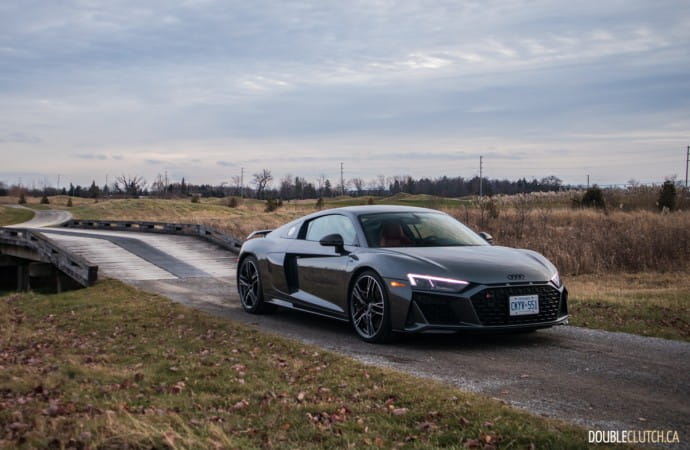 The R8 has been known to exhibit more understeer than its rivals, but this will only really be evident if you're using it as a track weapon. In day-to-day driving, the steering is point-and-shoot, with very good feel through the wheel. Fuel economy can't be described as good, though if you're in the market for a fuel-efficient supercar, you're not looking at an Audi R8 anyhow. We observed an eye-watering 20.1L/100km over the course of our test on 94-octane fuel, and the lifetime trip computer in our test vehicle showed a similar number.
Stepping into the driver's seat, the R8's cabin is extremely similar to that of the smaller TT RS (reviewed here), with a simplistic and very driver-focused layout. There is no central infotainment screen, only the digital instrument cluster known as Virtual Cockpit. Controls on the steering wheel and a central rotary make navigation easy, and Apple CarPlay and Android Auto are both supported. Drive mode selection, performance exhaust, and engine start/stop are also conveniently located on the wheel, meaning there is minimal distraction around you as you carve through your favourite back road in the 2020 R8.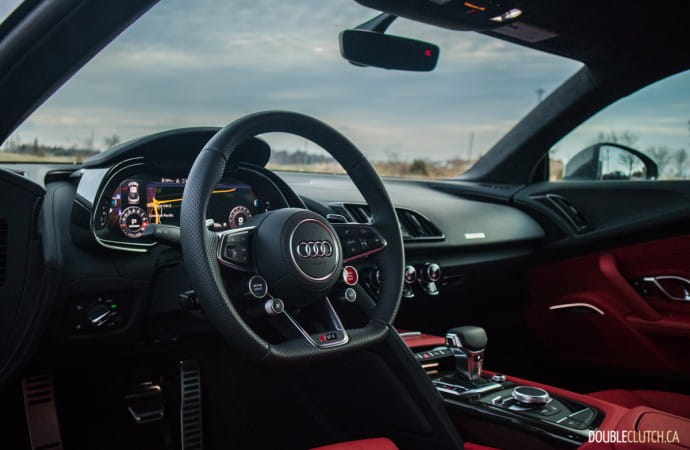 Audi Canada prices the R8 from $188,400 for the fixed-roof variant, and $201,400 for the Spyder. The V10 Performance starts at $220,400, and our test vehicle was equipped with the optional Audi Sport Package (sport exhaust, dynamic steering), Diamond Quilted Leather ($6,200), milled-cut wheels ($2,500), and a few other options. The total sticker crested an eye-watering $240,000. While it seems expensive on its own, the R8 is a downright bargain compared to the Huracan it shares so much componentry with.
Even after all this time, the public's dreamy gaze towards Audi's supercar hasn't faded one bit. Driving this 2020 Audi R8 V10 Performance around the winter wonderland that is Toronto in December had a consistent smile on my face, and the car was the recipient of plenty of positive attention. The R8 continues to prove that it's entirely possible to have the looks and personality of a thoroughbred supercar, with minimal compromises and the ability to enjoy it every day you choose to.

See Also:
2018 Lamborghini Huracan Performante
2019 McLaren 720S Spider
2018 Acura NSX