A quiet, fuel efficient, and well-built full sized sedan with ample room.
As someone who has had very little day-to-day experience with plug in hybrid electric vehicles (PHEV), I was looking forward to my week with the 2020 Honda Clarity Touring.  The Clarity has been out since 2018, but competition in the PHEV space has been increasing seemingly daily; how relevant has it remained? We tested the Clarity when it was first launched and came away with decent impressions (except the awkward visual appeal), but after the first few kilometres of my test, I immediately knew that this car was something unique and became more eager to see how the rest of the test would shape up.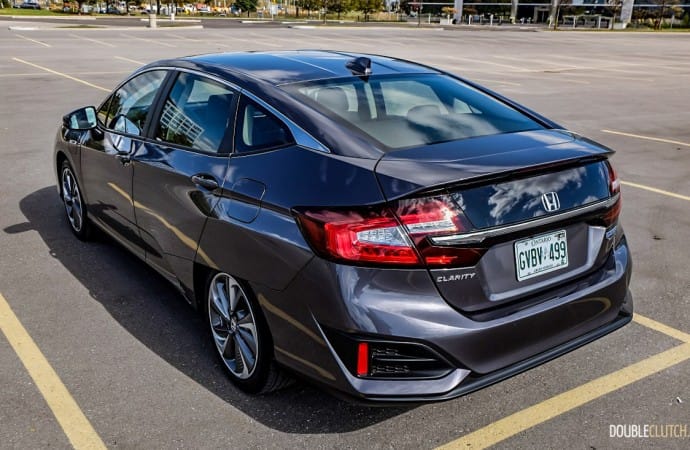 The most noticeable point of the Clarity is just how big it is. A tick under 193-inches long, with its swooping roofline it looks much longer. While it may look like a hatchback from its profile, this is a full blown sedan with a traditional trunklid; interior space is cavernous to say the least. Five adults can sit in comfort with more than ample leg and shoulder room. Volume inside the trunk is smaller (439L)  when compared to the 2019 Honda Accord Sedan (473L), but the battery pack needed to go somewhere. Luckily, right when you open the trunk, you are greeted with more depth than expected, which allowed me to put my rather large car detailing case in with no fuss. The rear seats can be dropped down in a 60/40 split, but the battery pack gets in the way of usability here.
The actual look of the Honda Clarity is extremely polarizing; it's a love it or hate it relationship right from the get go. The rear fender flares coming over the wheel arches are the biggest topic of discussion from anyone brave enough to say something to a complete stranger in a parking lot. Case in point; an older gentleman approached me and said it reminded him of the rear fender flares of cars from the 50s and 60s.  Personally,  I don't think this is what Honda had in mind when looking at ways to improve the airflow dynamics of the Clarity.  LED lighting adorns the exterior for that clean and modern look, and it has taillights that stick with Honda's familiar design philosophy.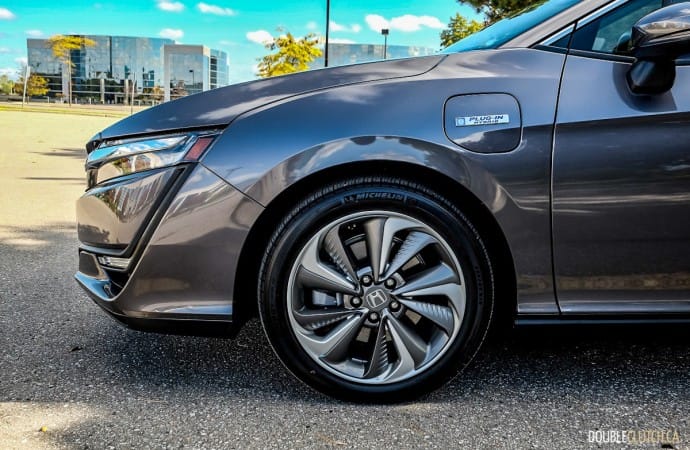 The interior is fairly typical Honda, with high quality materials, ergonomically accessible and tightly put together with no squeaks or rattles. With the exception of the dashboard with the hybrid system monitoring gauges, and extra screens on multimedia head unit, you could easily mistake this for any other Honda. Unlike the Toyota Prius (reviewed here) which has a more "I'm a hybrid" interior, people will appreciate the simplicity within the Clarity.  However, for the price, omissions include a lack of power seats, and a multimedia head unit that is extremely dated. From the rear view camera resolution to the navigation system graphics, the system has not aged well especially when consumers have access to high resolution phones at their fingertips.
With this being the Touring model of the Clarity, buyers do get a leather trimmed steering wheel and seating, built in navigation, HomeLink and access to Sirius XM radio. Standard on all models is a 180-watt sound system with Apple CarPlay and Android Auto, 18-inch wheels and more.  From a safety perspective, the Honda Clarity is loaded with driver knee, front and curtain airbags, ABS, Stability Control, Collision Mitigation Braking (CMBS), Forward Collision Warning (FCW), Lane Departure Warning (LDW), Road Departure Mitigation (RDM), Adaptive Cruise Control and Honda LaneWatch.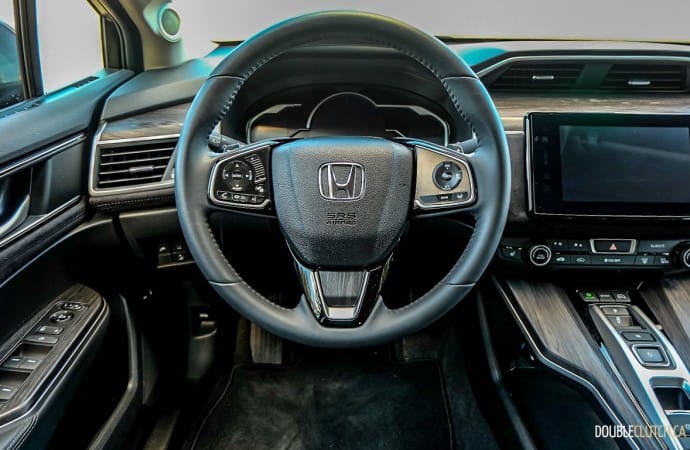 Unlike traditional hybrids, what sets the Clarity apart is the plug-in capability that allows drivers to travel up to 76 kilometers on pure electric power before using any gasoline. Depending on your daily commute, you can get away with never having to use fuel. Charge with a 120v outlet and expect to take 12 hours from empty to full. Using a 240V quick charge station will take all of 2.5 hours. If you do need to dip into that gas tank, fill-ups only require 26.5 litres of regular fuel.  Honda says consumption is 2.1 Le/100km, but this will obviously vary depending on your driving style.
Power comes through a 1.5-litre Atkinson-cycle four-cylinder pushing 103 horsepower at 5,500RPM and 99 lb-ft. of torque at 5,000RPM. This is combined with an electric motor putting out 181 horsepower and 232 lb-ft. of torque.  Combined power is rated at 212, which will allow a sprint from 0-100km/h in 7.7 seconds. This isn't bad for a car tipping the scales at 4,063 pounds. The transmission of choice is a CVT that works well with this car especially when running purely on electric power.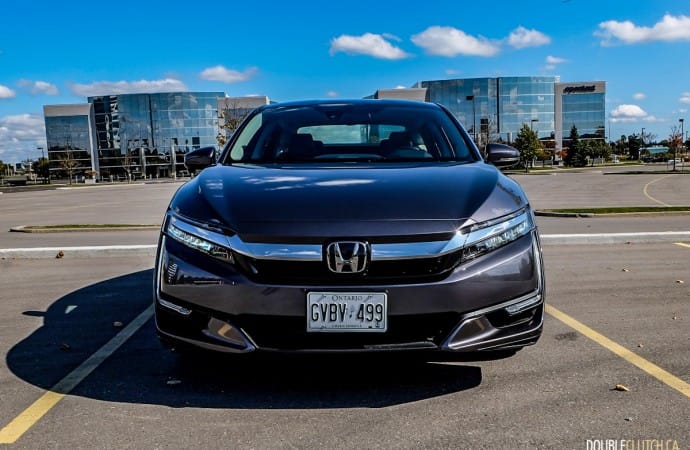 In operation, the Clarity is incredibly quiet and smooth. Factor in the accurate and precise steering that Honda is known for and this can be an engaging ride when pushed, especially if you choose its sharpest "Sport" mode.  EV mode is the default setting when you start the Clarity, but choose Sport for more spirited driving and you will move from pure electric to the combustion engine. An "HV" mode will use more gasoline to generate battery power that can be used at a later time.
With all of the technology in the Clarity, the car does come at a price. The starting price for the base model is $40,100, while the Touring starts at $44,100. What must be factored in is that at the time of this writing, the Clarity is eligible for Canadian federal rebates ranging from $2,500 to $5,000, depending on whether the buyer finances or leases.  Starting Price for the base 2020 model is $40,100 while the Touring starts at $44,100. Buyers in certain parts of the country are eligible for an additional provincial rebate, as well.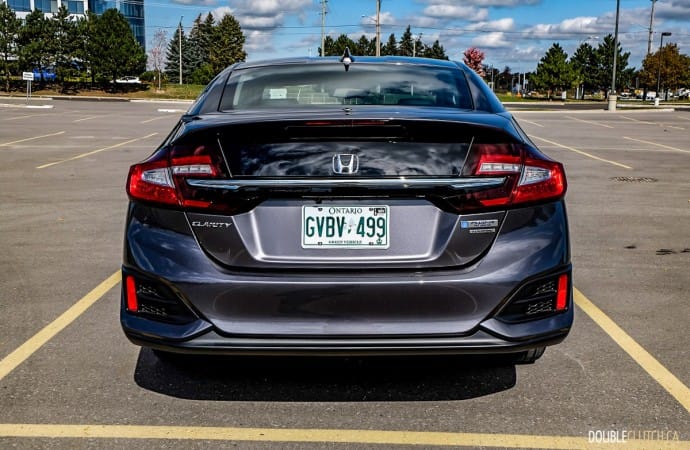 If you want a quiet, fuel efficient, and well-built full sized sedan with ample room and the ability to plug in, this just might be the ticket. Spending a week with the 2020 Honda Clarity Touring allowed me to appreciate the flexibility of a plug-in hybrid, without having to deal with the range anxiety that's inevitable with a full electric vehicle. The quiet ride and minimal vibrations in the cabin make for a stress free environment that will be appealing to a wide array of buyers, as long as they can deal with how it looks.
See Also:
2019 Ford Fusion Energi Titanium