While the premium subcompact crossover segment is relatively new, having been around for less than a decade, the last few years have seen it flourish. Popular sellers in this segment include the BMW X1 (reviewed here) and Mercedes-Benz GLA 250. Newer entries such as the Volvo XC40 take on the same fundamental formula and improve it significantly, and it was only a matter of time before Lexus wanted a piece of the action. New for the 2019 model year, their latest crossover has design and price working in its favour. We spent a week behind the wheel of the 2019 Lexus UX 200 F-Sport.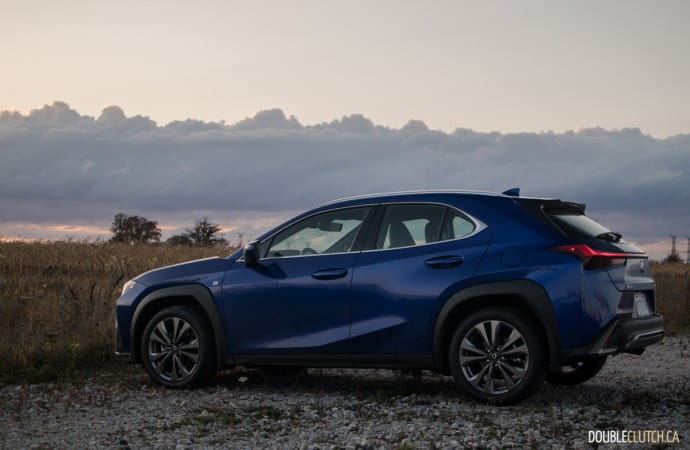 The UX builds on the same swoopy, aggressive styling as the larger NX (reviewed here) in Lexus' lineup. It compromises interior space in favour of the perception of style, something that we have also seen with other examples like the BMW X2 and the Mercedes-Benz GLA. The execution is fairly good, with wide hips and a sharp fascia. Two models of the UX are available, with this UX 200 being the entry-level model. Those wanting a focus on fuel economy and all-wheel-drive will need to opt for the UX 250h (reviewed here) hybrid.
Built on the Toyota New Global Architecture (TNGA), the UX's underpinnings work favourably towards handling. The main stand-out here is that despite being front-drive only, the UX 200 corners more sharply and with more precision than almost every single one of its rivals. Steering feel is adequate at best with some artificial electrical boost, but the response is simply marvelous. Handling is flat and the suspension is well-sorted to minimize body roll in most circumstances. While this is an appealing personality trait for car enthusiasts, most buyers will likely never notice or be able to appreciate the UX's handling.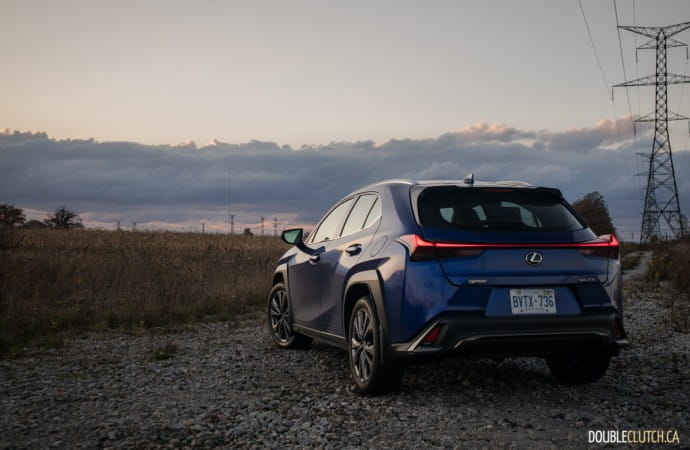 Powering the UX 200 is a 2.0-liter inline four-cylinder engine, naturally aspirated. It's the same engine that powers the Corolla, and output is 168 horsepower and 151 lb-ft. of torque. This motor is fairly advanced, with Variable Valve Timing with Intelligence (VVT-i) and one of the more refined four cylinders around. However, 168 horsepower isn't very much, and the UX runs out of breath quickly when passing at highway speeds. Around the city it works well, but dare I say, Lexus' smallest crossover could benefit from the turbocharged 2.0L in the NX 300.
A CVT is in play here, the only available transmission on any configuration of the Lexus UX. It works well with the four-cylinder to make for a fairly smooth ride, but this transmission is on the coarser side and not quite as refined as examples from Subaru and even Nissan. Lexus has implemented a feature called "Active Sound Control", enabled using a button on the dashboard. This is artificial sound synthesizing to provide the effect of a traditional geared transmission. In "Sport+", the UX 200 also adds more simulated sound – something that's particularly gimmicky on a subcompact front-drive crossover.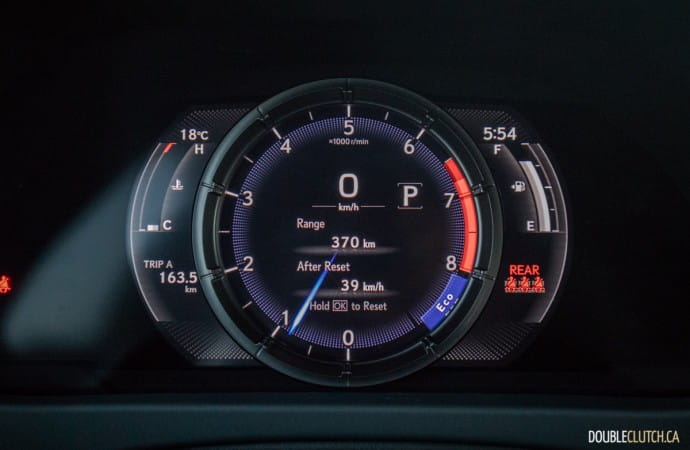 Fuel efficiency is rated at 8.0L/100km in the city and 6.3L/100km on the highway. Our test consisted of a heavy mix between the two, and came in at an average of 7.8L/100km. The UX 200 works happily on 87-octane regular fuel, one stand-out against nearly every single competitor in its segment. Comparatively, our road test of the UX 250h netted 6.1L/100km with more of a city bias. The UX 200's 47-liter fuel tank could benefit from some extra capacity, but overall should be able to result in a total cruising range of 500km before needing to refuel.
Inside, the UX 200 can't be called "roomy" by any stretch of the term. My six-foot frame has no issues staying comfortable in the driver's seat, but the rear seats are incredibly tight. Much like the Mercedes-Benz GLA (reviewed here), those with small families will be forced to move the front seats forward in order to comfortably fit a rear facing car seat. Even without car seats, the rear quarters should be limited for children only, with adults only for short stints. Luggage capacity in the rear cargo area is 486L, which is acceptable, but again, those with small families will find it challenging to fit all of the necessities for a weekend away.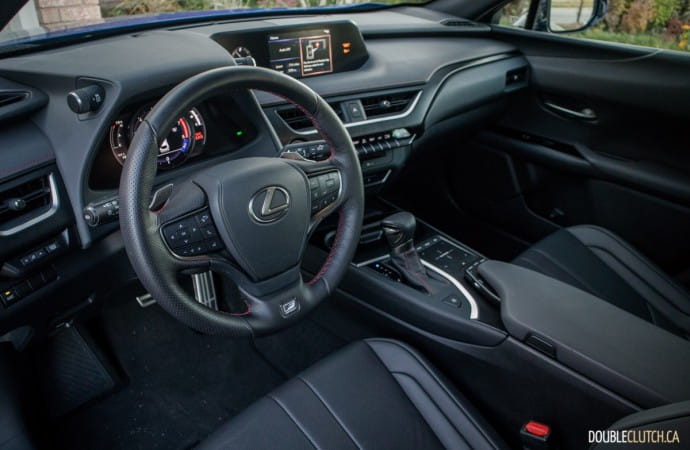 The UX's interior is well designed and the materials are up to the expected standard of the Lexus brand. The NuLuxe seats feel great, and fit and finish throughout the cabin is top notch. The infotainment is provided by Lexus' Remote Touch Interface, a touchpad-based system that now supports Apple CarPlay as well. A seven-inch screen is not touch-capable, and has dated graphics when not using CarPlay. The touchpad is distracting and sluggish to use, and this system is in dire need of a full overhaul. It's difficult to pinpoint the specific command, and simple tasks are made tedious. Additionally, while dual-zone climate control is standard, there is no easy way to synchronize the two zones.
The UX 200 starts at $37,100, and the all-wheel-drive UX 250h starts at $39,700, an initial premium of $2,600. The F-Sport Series 1 package, the only available option on the UX 200, brings the total to $39,400, as with the test vehicle here. This package adds heated front seats, LED lighting including fog lamps, 18-inch wheels, and an F-Sport front grille and steering wheel. Other features like a heated steering wheel, Apple CarPlay, and intelligent key are all standard equipment. Lexus' Safety Sense 2.0 suite is standard on all models, and features pre-collision braking, adaptive cruise control, automatic high beam control, and Lane Tracing Assist.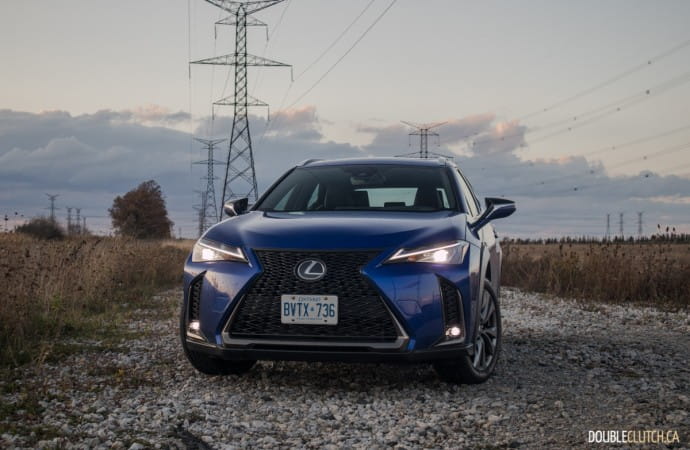 With regards to pricing for rivals, Lexus has the budget-friendly choice. A well-equipped Mercedes-Benz GLA is well over the $45,000 mark, and it's not difficult to option a BMW X1 over $50,000. After adding features like a heated steering wheel and a power tailgate, the Volvo XC40 Momentum (reviewed here) crosses $50,000 as well. Without AWD in this model, it's really a more premium option against front-drive entries like the Toyota C-HR and Nissan Kicks.    
Lexus has priced the UX 200 to be appealing to a wide array of Canadians, and save for the omission of all-wheel-drive on this model, it offers a value proposition for those looking for a small urban runabout with the feel of a premium product. If you can get by with the front-drive setup, and can live with the lack of modern infotainment, this model might be right for you. For most buyers though, it will be worthwhile to spend an extra $2,600 in favour of the UX 250h, benefiting from more features as well as a more refined and advanced drivetrain.

See Also:
2019 Lexus UX 250h AWD
2018 BMW X1 xDrive28i
2018 Mercedes-Benz GLA 250 4MATIC