Up until its refresh for the 2019 model year, the Hyundai Elantra remained a favourite in our office. We enjoyed its smooth driving dynamics and overall comfort, but since this platform's debut for the 2017 model year, two rivals have caught up, namely the Toyota Corolla (reviewed here) and the Mazda3 (reviewed here). This week, we set out to spend time with a 2020 Hyundai Elantra Ultimate, packing a new gearbox and an increase in fuel efficiency, to see if it can regain its spot on the throne.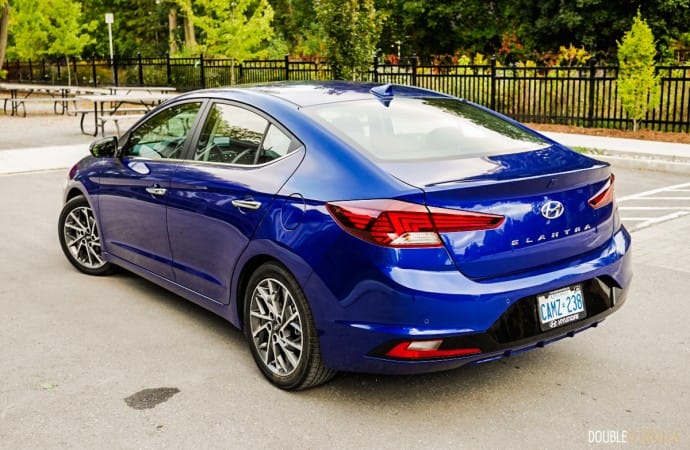 This Elantra Ultimate, painted in Intense Blue, is an attractive compact sedan. With decent proportions and sharp looking LED lighting, it has styling that will not offend anyone. The oversized front grille took some getting used to when it first came out last year, but now it seems that bigger and bigger grilles are coming out with every new car. The Elantra's controversial design has quickly been accepted by most and actually looks quite modern – though we still prefer the 2017-2018 fascia. The standard 17-inch wheels look particularly handsome and added a layer of sophistication to the otherwise simple styling.


All Elantra sedans are powered by a naturally aspirated 2.0-litre four-cylinder engine, delivering 147 horsepower at 6,200 RPM and 132 lb-ft. of torque at 4,500 RPM. For 2020, Hyundai has replaced the six-speed automatic transmission with an Intelligent Variable Transmission (IVT), which is essentially a continuously variable transmission. This is the transmission that debuted with the current Kia Forte (reviewed here), the Elantra's sister vehicle. Driving the Elantra, the IVT is much smoother than the regular automatic transmission it replaces, and does an admirable job of staying out of its own way while quietly delivering power to the front wheels. The real benefit in switching to the IVT however, is in its fuel economy.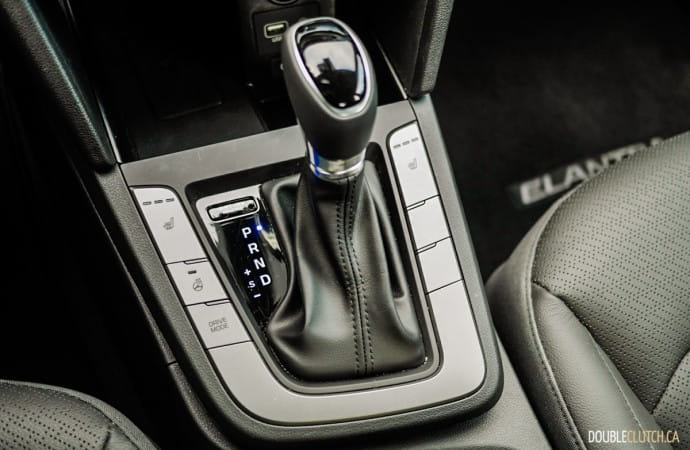 The 2020 Hyundai Elantra is rated at 7.8L/100km in the city and 5.6L/100km on the highway, for a combined rating of 6.8L/100km. It is an improvement from last year's 8.3/6.4/7.4 ratings. Our real-world testing in a mixed setting yielded a consumption average of 6.6L/100km, a slight improvement from the 2019 model but it is worth noting the last test took place in winter which is normally detrimental to fuel economy ratings. Even with the fuel consumption improvement, the 2020 Elantra's drive range did not increase as its fuel tank size had decreased by three litres to 53. Regular grade gasoline is accepted and is all that's required.
Although the Elantra is not a fast car by any standards, it is a fairly good driving companion. Steering is light, and despite the lack of feedback, the car remains very easy to drive. Buyers who want to row their own gears can opt for the six-speed manual transmission in the base Essential model, an option that is not available for our U.S. counterparts. A "Sport" driving mode is available to dial up throttle response, and is a feature that will largely be ignored by most buyers. There is adequate head and legroom in the cabin, putting it on par with leaders such as the Corolla and the Civic. Trunk space is measured at 407 litres, similar to the Civic (416) and trumping the Corolla (371) and Mazda3 (374).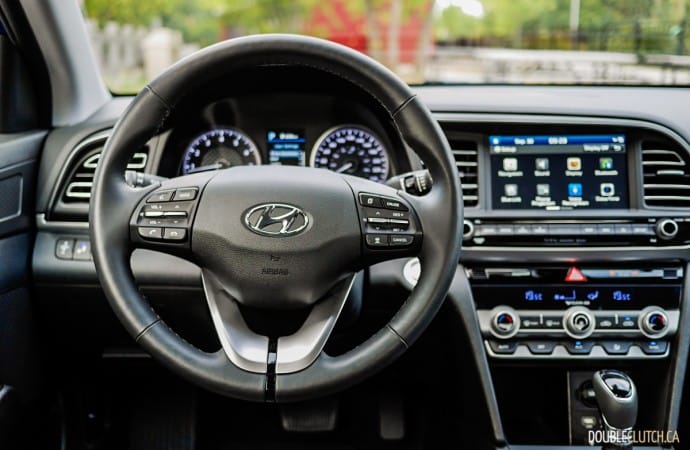 The Elantra's interior appointments are simple and functional. The all-black interior is pleasing to look at, and there are metallic and faux carbon fibre trim pieces for accent purposes. The quality of the leather seats is above average, but there is still more hard plastic than we would like to see. Overall, the Elantra's interior is better than most cars in the compact segment, but the new Toyota Corolla has pushed the envelope so far above everyone else, this makes the Elantra look plain and almost cheap by comparison.
The Ultimate gets an eight-inch touchscreen with navigation as standard, an upgrade over the five and seven-inch units in other trim levels. Android Auto and Apple CarPlay integration is supported, and those who do not wish to use smartphones with their cars will be happy to find out how easy Hyundai's infotainment system is to operate. Functions are easily reached within a click or two, and the system is responsive to touch commands with resolution clear and legible. The Ultimate also comes standard with an Infinity eight-speaker premium audio system that sounds a notch above many compact sedans.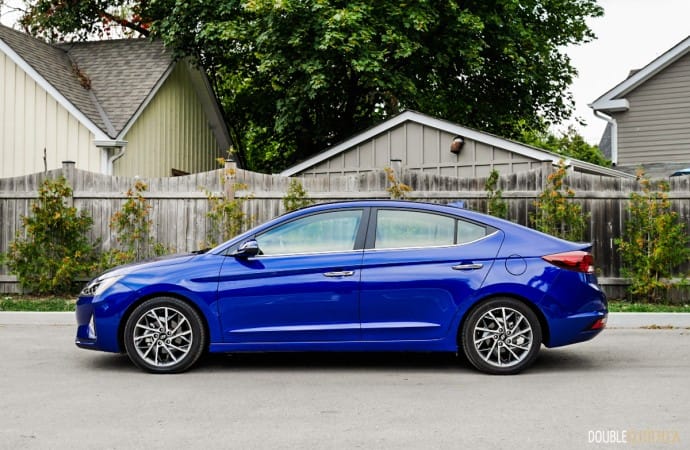 Many young drivers often pick compact sedans as their first car as they are inexpensive, efficienty and easy to drive. These same drivers use the most help from their cars to keep them safe, and Hyundai has equipped this Elantra Ultimate with a full SmartSense active safety suite. This includes Blind-Spot Collision Warning, Rear Cross-Traffic Collision Warning, Forward Collision-Avoidance Assist with Pedestrian Detection, Adaptive Cruise Control, Lane Keeping Assist, Land Departure Warning, and Reverse Parking Distance Warning. The Safe Exist Alarm system is particularly useful for families with young children as it uses its radars to warn occupants of oncoming vehicles coming in the way of anyone exiting the vehicle.
The base price for the Elantra Essential has increased by $100 to $17,099, and the top-of-line Ultimate trim starts at $27,549. The only option on our tester was the Intense Blue paint job for $200, bringing our tester's as-tested price to $27,749. We enjoy Hyundai's easy, all-inclusive packaging, where buyers are only expected to pick a trim level and do not need to pick any additional options. The Elantra is priced competitively against the Toyota Corolla XLE and the Mazda3 GT, and both comfort and driving dynamics are on par. The Corolla offers a better all-around package with its premium interior, and has quickly become our favourite in the compact sedan segment.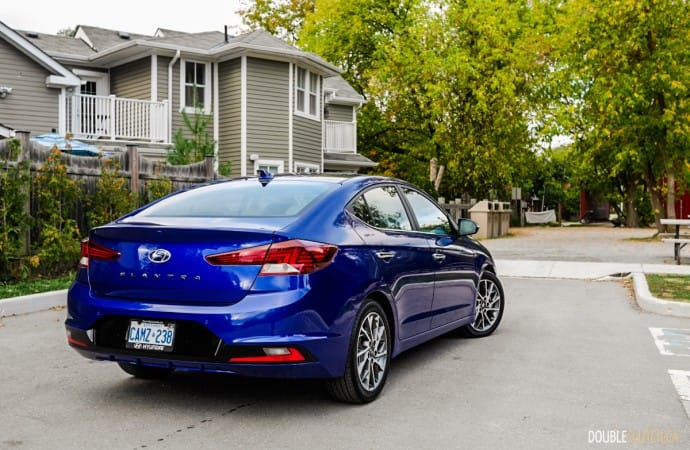 Building on the current success of the Elantra, the 2020 Hyundai Elantra Ultimate is a fine vehicle on its own. The change to the IVT gives it added smoothness and fuel economy, but at the end of the day, the updates are not significant enough to keep it at the top of its class. The Toyota Corolla remains the valedictorian in this competitive compact segment, and we know the fight is not over any time soon with Hyundai and Honda hard at work planning their next generation Elantra and Civic models.

See Also:
2019 Kia Forte EX
2019 Hyundai Elantra Ultimate
2019 Volkswagen Jetta Execline