The first blast of cold and wet winter weather is upon us here in Toronto, fueling the march of the crossovers as they continue to take over. Most summer toys are tucked away, and attention has turned to making it through another winter of treacherous commuting as safely as possible. This is where crossovers shine, but if the thought of driving around in an awkwardly tall hatchback all winter gives you a chill, there are a couple of winter-battle ready sedans worth considering.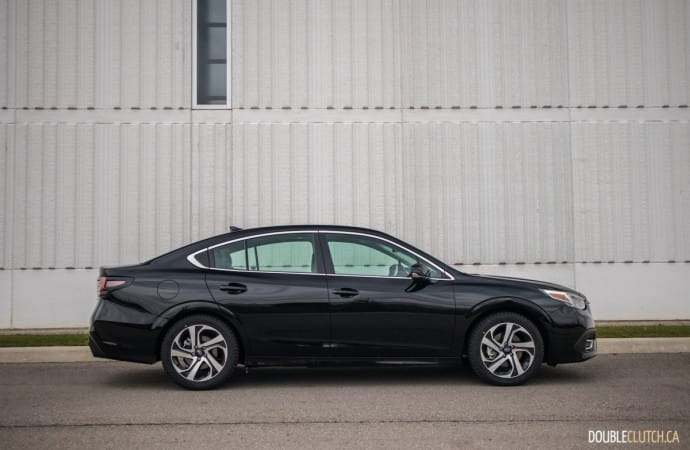 Perhaps the most prominent is the Subaru Legacy, which has long carried the all-wheel-drive sedan torch, but has been totally redesigned from the inside-out for 2020. Subaru says that the new Legacy is more efficient, refined and fun, so I spent a cold and dreary week with a mid-range 2020 Subaru Legacy Limited to see not only whether it's still a solid alternative, but how it stacks up against its new competition.
The Legacy wears the corporate Subaru suit fairly well, but lacks any real defining features, resulting in a sedan that looks quite anonymous. In fact, despite being all new underneath, the new Legacy's look is more of an evolution of the outgoing model rather than charting a new course. That's fine, as the previous generations of Legacy mostly won hearts through engineering and performance rather than looks, but more seductive lines certainly wouldn't hurt the car's appeal.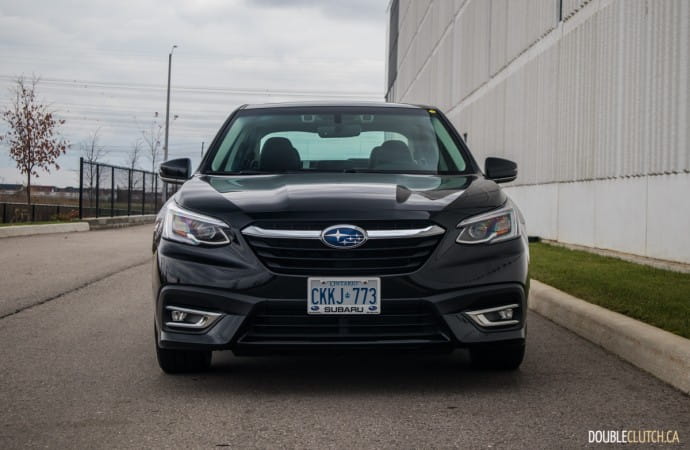 The fascia is the Legacy's best angle as it benefits from the recently refreshed Subaru grille and steering-responsive LED projector beam headlamps. Beyond that there are a lot of bulky and awkward looking lines that do make the styling look older than it really is. Our Limited-trim tester came finished in black, and sported the larger 18-inch alloys that come with Limited and Premier trims, though their aggressive saw-blade style is a bit much for the otherwise tame looking sedan.
The interior of the Legacy has benefitted from a number of improvements in just about all aspects. Passenger volume is up, both in the front and rear, with rear head and legroom that rivals much larger sedans and SUVs. The overall design is conservative, but has been updated to a fresh look with more modern and higher-quality materials. Our Limited tester came with leather seating that looks fine, but the feel leaves something to be desired. The seats in the Limited are heated all the way around, and I did find them quiet comfortable, and complete with an extendable thigh cushion.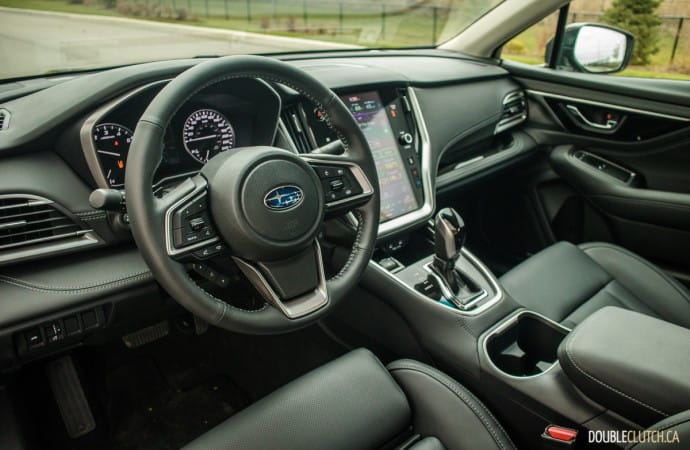 There's a soft-touch leather-look dashboard with real stitching that ties in well with the seats. The real surprise inside the Legacy is the new 11.6-inch central touchscreen, standard on all but the base model. The unit features sharp resolution, well thought-out menus and quick response time. Moreover, the designers were wise enough to retain real volume and tuner knobs as well as physical temperature control buttons.
The Legacy shares its underpinnings with its close sibling, the Outback, which outsells the Legacy many times over. However, this means that Subaru's engineers get the budget to build a really solid global platform. Drivetrain options consist of an updated naturally aspirated 2.5-liter flat-four that makes 182 horsepower and 176 lb-ft. of torque at 5,800RPM, and a new turbocharged 2.4-liter boxer four-cylinder that cranks out 260 horsepower and 277 lb-ft. Both engines come mated to a CVT transmission and standard all-wheel drive.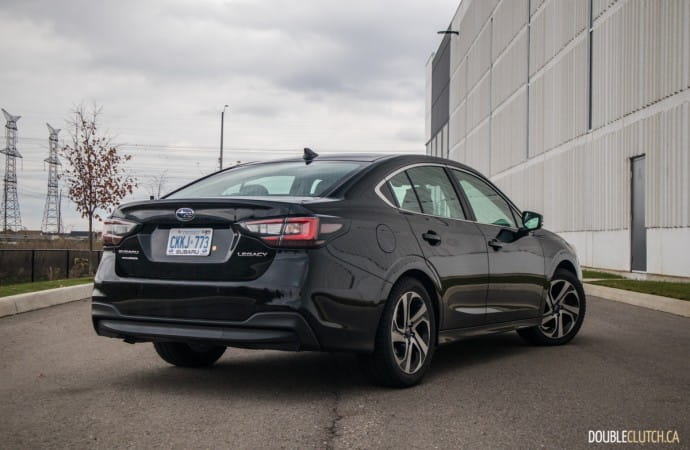 Our test car came equipped with the base 2.5-liter engine and while it's adequate for moving the car around, even up to highway speeds, asking it to do anything more is pushing it. Brisk acceleration is laboured and highway passing needs to be well planned out. This isn't surprising, a naturally-aspirated four pulling a large all-wheel-drive sedan through a CVT transmission is typically not a recipe for stirring performance. The Subaru CVT does make an effort here, and as far as CVTs go it's one of the more livable units thanks to its simulated shifts and willingness to kick down when asked.
The rest of the driving experience from behind the wheel of the Legacy is what I'd call agreeable. The steering is direct and decently weighted, and the stiffened chassis feels firm and confident, but soft suspension means the Legacy isn't set up as a corner carver either. It does ride very well, even on potholed city streets, and maintains a nice sense of control at speed on the highway. This makes the Legacy a comfortable commuter and a decent long-haul highway car, but with little driving excitement.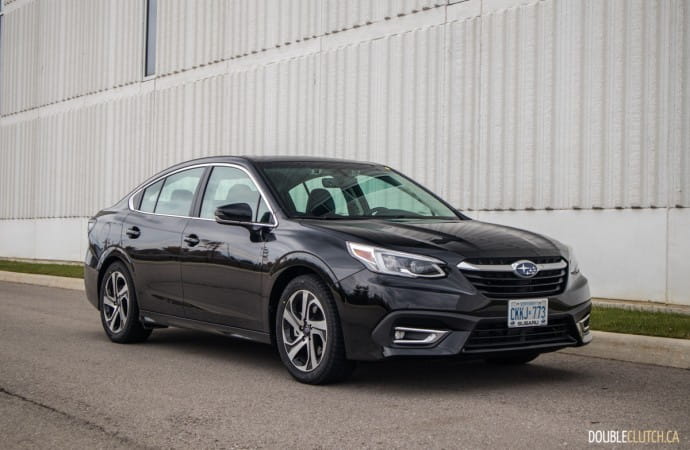 Of course, the Legacy does get Subaru's legendary Symmetrical All-Wheel-Drive system, widely regarded as one of the most capable and balanced AWD setups on the market. The latest version uses torque vectoring technology to keep you pointed in the right direction – a feature than not only helps in adverse conditions, but can help with aggressive cornering and emergency maneuvering too.
All-wheel-drive does come with a price, and it's usually at the gas pumps, though the Legacy's newly refined engine and CVT make a strong effort to keep things efficient. After a week of rush hour commuting, our average consumption sat at 8.4L/100km on regular 87-octane fuel. This isn't all that much thirstier than a comparable front-drive sedan, and slightly worse than the Legacy's newest competitor, the Nissan Altima (reviewed here).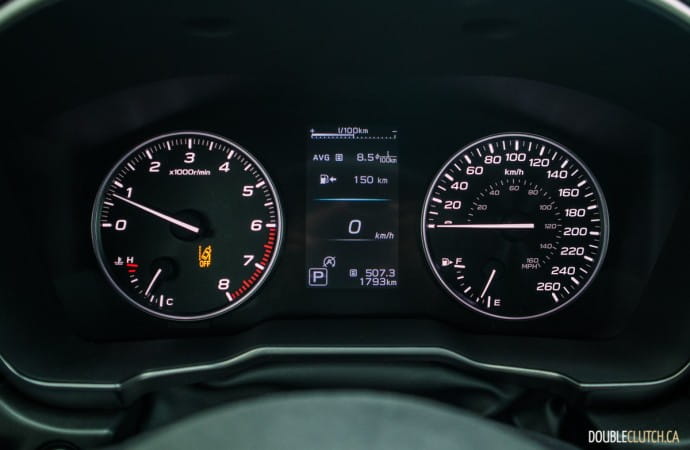 Standard in all Legacy models is Subaru's EyeSight suite of advanced safety features. The system utilizes two cameras to monitor activity on the road ahead, help identify potential danger and provide assistance to the driver when needed most. The system incorporates all the latest driving assists such as Pre-collision Braking, Adaptive Cruise Control, Lane Centering Assist, Lane Departure Warning, Lane Sway Warning, Lane Keep Assist and Lead Vehicle Start Alert.
Pricing for the Legacy is in line with expectations; the Convenience starts at $26,395 and at that price you still get standard AWD, EyeSight and heated front seats. The $30,295 Touring adds alloy wheels, sunroof and the impressive touchscreen. The Limited here, which comes in at $34,295, adds leather seating, heated rear seats, Harman-Kardon audio, and larger 18-inch wheels. Finally the Premier adds Nappa leather, ventilated seats and some extra gadgets for $$36,295. Both the Limited and the Premier are available with the much more powerful turbocharged 2.4L engine at a $2,800 premium, worth considering if you're an enthusiastic driver.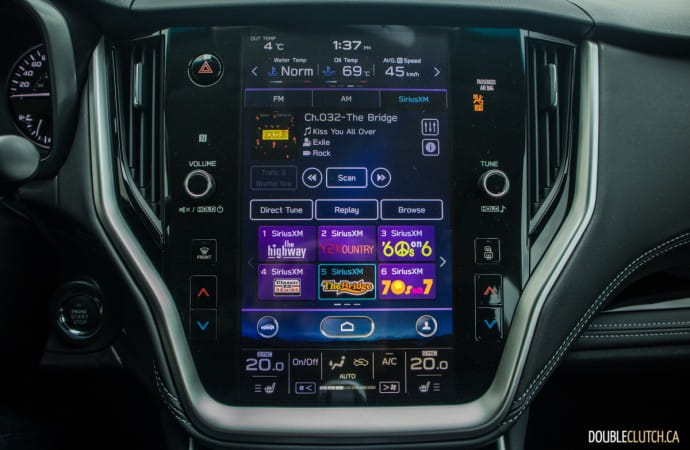 The Legacy's biggest problem right now is Nissan's all new Altima with standard all-wheel-drive. The Subaru has enjoyed years of being one of only a handful of affordable (non-luxury) four cylinder mid-sized sedans on the market and therefore hasn't had many direct competitors. That's changing now as Canadians are demanding AWD, and Nissan has responded with their Altima. The similarities are stark as the Altima is also powered by a 2.5-liter four making 182 horsepower, mated to a similar CVT that pushes power to all four wheels. T
he Nissan AWD system may not be as time-tested as Subaru's, but the Altima's lower torque curve and stiffer suspension does make it marginally more engaging to drive than the Legacy. The Altima also boasts an advanced safety suite, and benefits from sharper exterior styling. From a pricing standpoint the cars are very close as well, with the Legacy's base price coming in about $1,700 cheaper. Once you start stepping up in the trim levels the cars price out within a few hundred dollars of each other. I also found the Altima quieter on the highway, and just slightly more refined overall.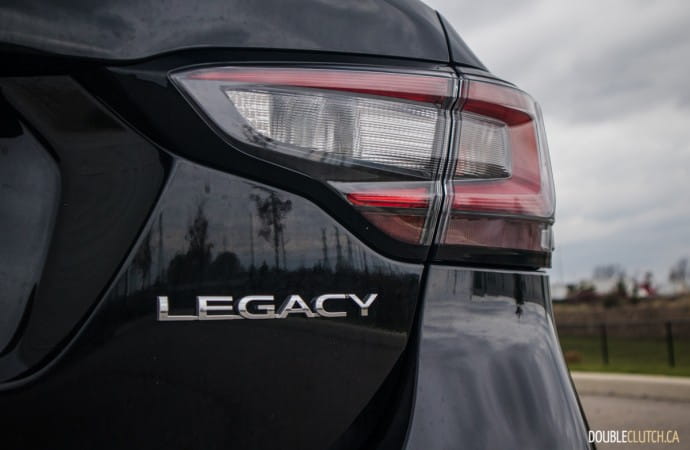 The Legacy's infamous all-wheel-drive system, large interior and advanced safety suite mean it delivers just as much foul weather confidence and capability as just about any crossover out there. If that's your mark, then the 2020 Subaru Legacy Limited is very likely the right sedan for you. If you are more of a traditional sedan buyer looking to get into something with AWD, then I would definitely recommend spending time with both the Legacy and the Altima to see which is a better fit for you, both have their merits, and neither is a bad choice.

See Also:
2019 Nissan Altima Platinum
2018 Toyota Camry XSE
2019 Honda Accord 2.0T Touring