Over the past decade, we have seen a rampant increase in this odd crossover-coupé mishmash segment. This is a niche class that was sparked by the introduction of BMW's X6, and has since seen entries from Mercedes-Benz, Acura, and even Honda. This year, we are seeing three new entries from Lamborghini, Porsche, and Audi. This is the 2019 Audi Q8 quattro in Progressiv trim, which just might be our favourite application of this body style yet. We jumped behind the wheel for a 1,700km road test to Northern Ontario to determine just what it's like.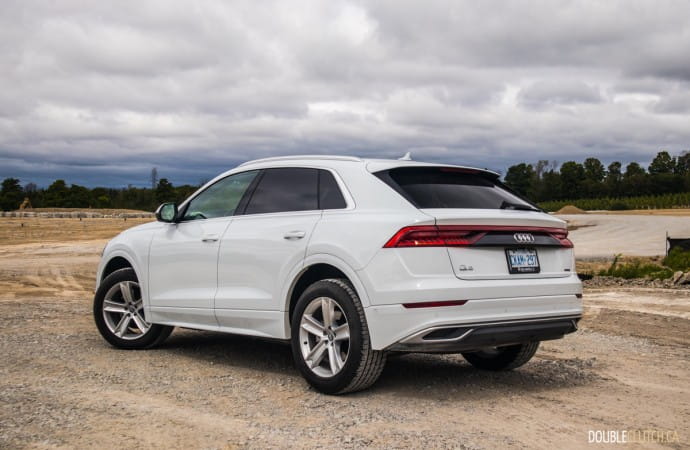 While the main premise of a coupé crossover is to compromise some practicality in favour of perceived style, the Q8 manages to execute in a more polished and conservative manner than its German rivals. It shares its platform with the Lamborghini Urus (reviewed here), and I subjectively prefer the Audi's design language over the in-your-face fascia of the Lamborghini. The side profile and raked roofline specifically differ the Q8 from the larger, three-row Q7, and while it's a little bit more expensive, it offers a higher level of sophistication than the Q5.



The Q8 55 TFSI quattro steps up the interior kit as well, with a slightly better looking cabin and the same excellent fit and finish. Audi's Virtual Cockpit is standard fare, and looks spectacular. It's also much easier to configure than Mercedes-Benz's unit, and more visually appealing. Audi's new dual-screen infotainment system is also almost fully touch-controlled, and is something Land Rover could learn a thing or two from. There is haptic feedback that feels natural on your fingertip, and response is also quick.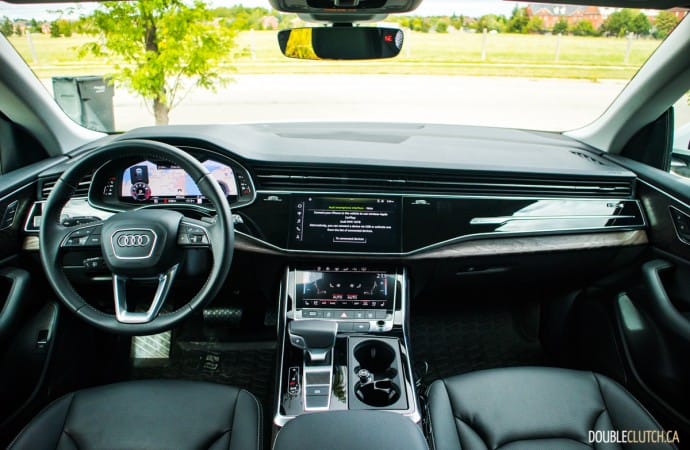 On the downside, a fully touch-powered system does mean that you're relying on your eyes to find the right place for your finger to go, rather than relying on muscle memory as you would with physical buttons. Apple CarPlay and Android Auto are both supported, and it's pleasant to see a vehicle that's not a BMW supporting wireless CarPlay. It's worth keeping in mind that using the latter will drain your phone's battery fairly quickly, so we opted to keep the phone plugged into the USB port the majority of the drive.
While the Q7 still carries its supercharged V6, the Q8 gets a new 3.0-liter turbocharged V6 that's mated to a 48-volt hybrid-assist system. Output is 335 horsepower and 369 lb-ft. of torque, and it's all put down through the ZF eight-speed automatic transmission. The Q8 is quick – we observed 0-100km/h in 5.6 seconds, which is no easy feat for a 5,000-pound goliath. Setting the drive mode selector to "Dynamic" sharpens things up and makes for a surprisingly fun crossover, and the Q8 has tremendous pull when passing at highway speeds.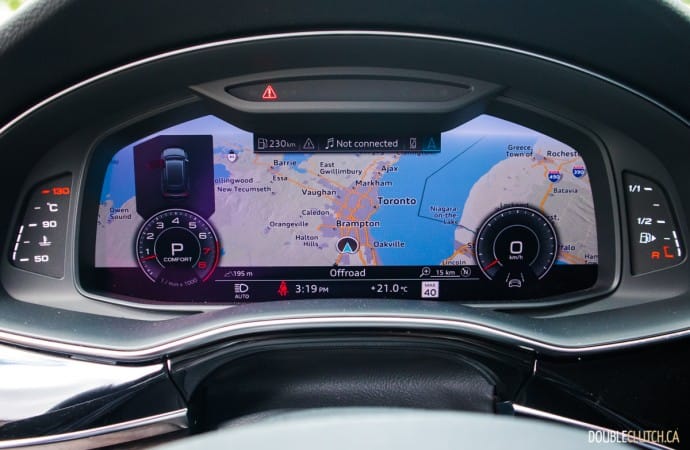 The mild hybrid system comes in using a 10-Ah battery and a belt-driven starter/alternator that allows the Q8 to coast with the engine off when decelerating to a stop. Effectively, it can also de-couple the gasoline engine between certain speeds and work in a regenerative manner. It works seamlessly and almost gives off the effect of a more advanced idle start/stop system.
Even with this system, this big Audi remains fairly thirsty. We observed 10.3L/100km over our long road trip, which consisted of strictly highway driving. In the city, it's not all that frugal, delivering numbers closer to 14L/100km that are more in-line with its other six-cylinder German counterparts. On the plus side, a gigantic 85-liter fuel tank means a theoretical range of 800km is quite possible without refueling. Premium 91-octane fuel is required and recommended.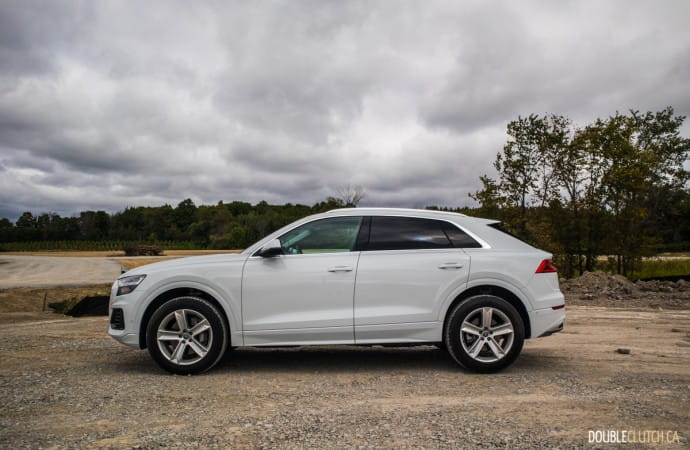 The Q8 is based off a new version of the MLB architecture, called MLB Evo. This platform is shared with the Lamborghini Urus and the Bentley Bentayga, two heavy hitters. As such, the platform is incredibly versatile and also can support a substantial amount of power. Ride quality isn't compromised even without the optional air suspension not equipped on our test vehicle, with positive impressions from the driver and all passengers on the vehicle's road manners.
Another nice touch to the new MLB Evo platform is that the Q8 is one of the first non-sport Audi models with good, communicative steering. In the past, the dull steering was a detriment to the brand's otherwise-capable vehicles, but we're pleased to report that the Q8 is actually quite fun to toss around corners as well as winding roads. On a particularly twisty jaunt through North Bay, Ontario, we observed decent feel and fetching response through the steering wheel and chassis. Again, Dynamic mode is required for maximum engagement.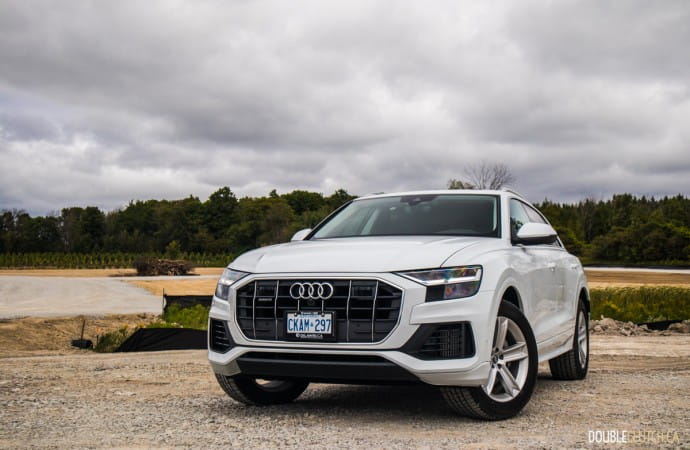 Up from the Q7's $66,300 starting price, the Q8 carries a significant premium, with a base sticker of $81,200. This number is for the Progressiv model, while the Technik adds more premium kit and starts at $88,800. Our Progressiv tester also included a $2,650 Driver Assistance Package adding Intersection Assistance, traffic sign recognition, Audi Active Traffic Jam Assist, and Audi Active Turn Assist. The 20-inch wheels are included in the price, and the only additional option is an Audi phone box for $400. The total sticker came to $83,850 before taxes and fees.
With a cargo capacity of 1,755-liters with the reclining rear seats folded down, the Q8 isn't exactly impractical, either. Its striking lines also mean the Audi doesn't look like a sports sedan that has awkwardly been placed on stilts. After spending a considerable amount of time behind the wheel, the 2019 Audi Q8 quattro proved to us that it's not only a reasonable road tripper, but a very attractive luxury crossover.

*A huge thank you to Audi Barrie & the Dilawri Mobile Team for the use of this vehicle for review purpopses* 
See Also:
2019 Lamborghini Urus
First Look: 2020 BMW X6
2019 Infiniti QX60 Pure AWD