'La Mechannica Delle Emozioni', is Italian for 'The Mechanics of Emotion' and is the tagline of one of the most storied franchises in the automotive landscape, Alfa Romeo. Having been around since the early 1910s, with worldwide involvement and success in motorsports for over a century, the company has become a synonym for sports cars and a living representation for Italian passion. After a 13-year hiatus in the North American market, Alfa Romeo returned with a bang by introducing us to their 8C Competizione coupe in 2008, followed by the smaller, more affordable 4C in 2016 (reviewed here).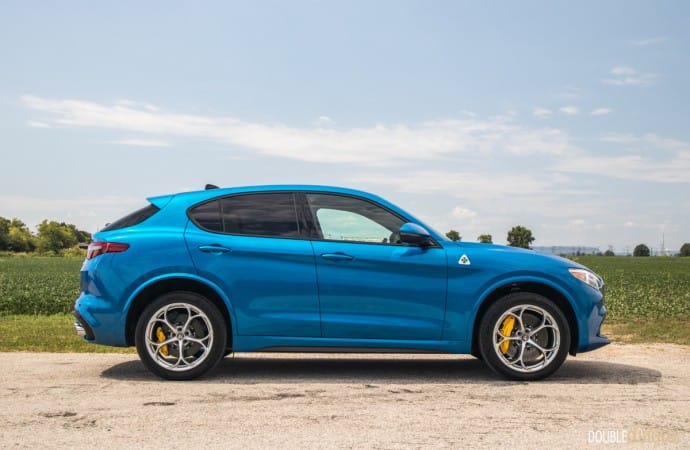 Expanding beyond these full-fledged sports cars, Alfa Romeo launched their highly anticipated Giulia sedan in 2017, and the Stelvio in 2018 as their crossover offering. They both come with a base 2.0-litre turbocharged engine with a healthy output of 280 horsepower, and share a fire breathing 2.9-litre twin turbo V6 engine in the performance oriented Quadrifoglio models. Several months ago, we had the opportunity to put the 2019 Alfa Romeo Giulia Quadrifoglio to the test at the legendary Chelsea proving grounds (review here). This week, we have the 2019 Alfa Romeo Stelvio Quadrifoglio in our garage to properly evaluate Alfa Romeo's performance brand and see how it stacks up against the likes of Porsche, BMW M and Mercedes-AMG.
Alfa Romeo is known for striking designs that evoke emotion. From the classic Spiders to modern sports cars, and even their regular passenger cars such as the Brera, 156, and Giulia, Alfas carry a sense of visual excitement. The Stelvio is no exception to this, with great proportions and beautiful curves lining the exterior. The signature 'V Scudetto' grille is displayed proudly up front so there is no mistaking for any other brand, and the Stelvio's size is cleverly masked in its sculpted body panels so it looks more like a jacked-up hot hatch rather than a bulky SUV.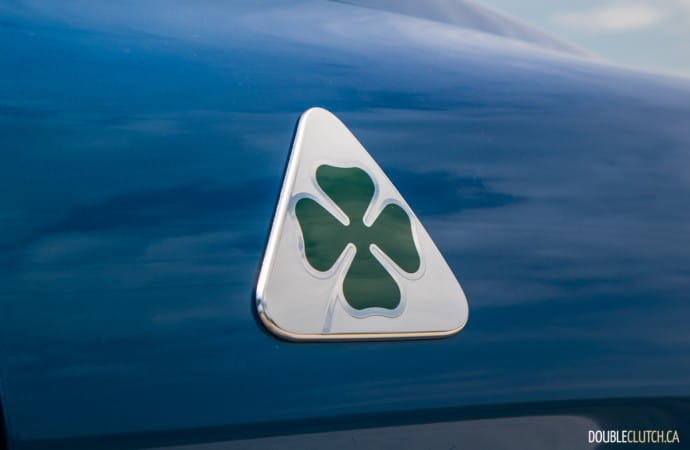 You will notice the four-leaf clover logo, formally known as the Quadrifoglio badge, all throughout the Stelvio to indicate the specialness of this Alfa Romeo. This tradition of gracing Alfa Romeo's Formula One race cars and Quadrifoglio vehicles with this badge pays tribute to the company's race car driver Ugo Sivocci, who won first place after painting his own car with a four-leaf clover symbol. This symbol became quite a conversation starter for many keen observers as we drove the Stelvio around town.
Maybe it is the mystique of the famed Italian brand reappearing after over a decade, the striking Misano Blue Metallic paint job, or quite simply from the gloss yellow painted Brembo carbon ceramic brakes showing from behind the 20-inch aluminum wheels. The amount of attention received with the Stelvio Quadrifoglio is unmatched by most crossovers on the market right now.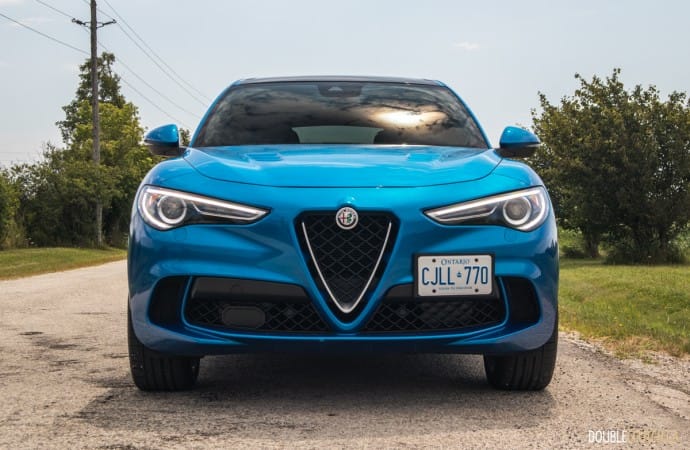 An all-aluminum 2.9-litre twin-turbo V6 engine powers the Stelvio Quadrifoglio from a standstill to 96 km/h in 3.6 seconds, all the way up to its 285 km/h top speed. With 505 horsepower and 443 lb-ft. of torque on tap, the Stelvio accelerates with such ferocity that makes you think you are driving a dedicated sports car. Fun fact, the twin-turbo V6 engine is derived from Ferrari's F154 V8 engine, adding a unique appeal to those shopping for this Italian brand, and making it one of two SUVs in market that share the special Ferrari DNA (click here to see the other).
Alfa Romeo allows drivers to select various drive modes using the DNA system. DNA stands for Dynamic, Natural, and All-Weather, with a special Race mode added for the 4C Spider and Quadrifoglio models. Race mode gives drivers complete control of the Stelvio by turning off Anti-Slip Regulation and stability control, as well as letting loose the engine and exhaust notes. It wakes up the otherwise muffled interior with an exhilarating soundtrack that is reminiscent of certain vehicles made out of Maranello.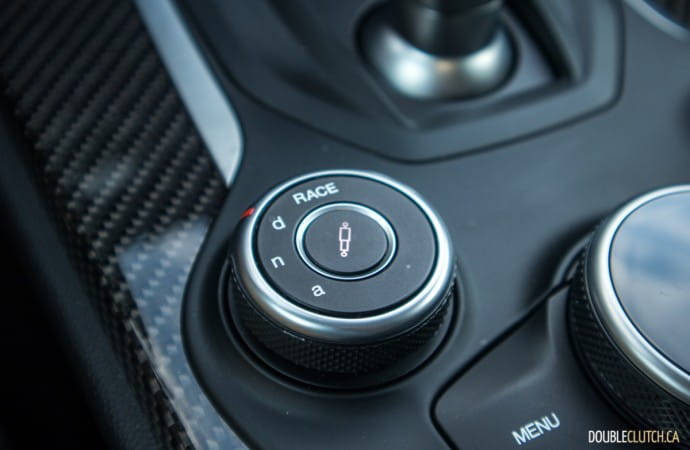 We would have liked to have the option of turning on the acoustics without having to switch off driver assist systems. These systems serve an important task of keeping this 505-hp beast in check and allow most amateur drivers the opportunity to enjoy this capable machine while maintaining control over the roads ahead.
Sitting in the optional Sparco leather and Alcantara race seats that are constructed using carbon fiber, there is an immediate sense of focus and you know the journey ahead is going to be an exciting one. The flat-bottomed steering wheel, made up of carbon fibre and Alcantara, is one of the best steering wheels in the industry today. Steering feel is absolutely brilliant in the Stelvio Quadrifoglio, turn-in is razor sharp and there is genuine road feel that has unfortunately been lost even amongst the best German sports cars.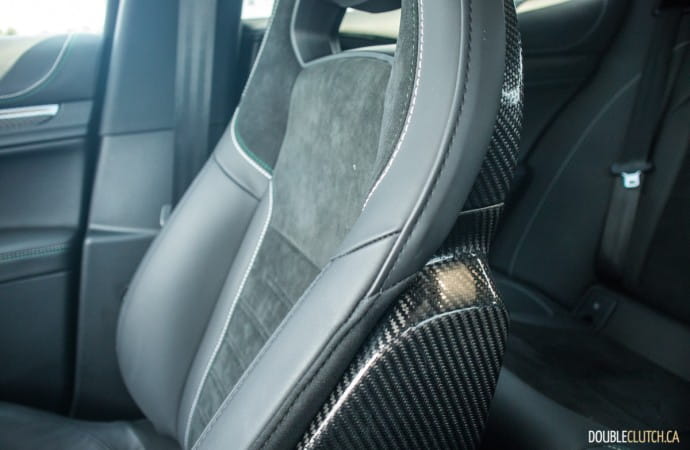 This is a fast steering rack so there is a slight bit of twitchy feeling at highway speeds, but never once did we feel that we have lost control of where the car is going. It is the best steering in its segment, beating out the all-new BMW X3 M Competition (reviewed here) and the Porsche Macan Turbo. The class-exclusive steering column-mounted aluminum paddle shifter rewards each driver input with great sound and feel, and elevate the entire sensory experience to a whole new level.
As expected with any Alfa Romeo, the Stelvio Quadrifoglio is also really good around corners. Its Q4 all-wheel-drive system offers greater confidence on winding roads than the RWD Giulia Quadrifoglio, and the near-perfect 50/50 weight distribution means the car feels absolutely natural even at the limit. It is so capable, that it managed to break the SUV record on the famous Nürburgring in 2017. Even though this record has since been broken by the Mercedes-AMG GLC 63 S (reviewed here), the fact that these two fast SUVs lapped around the 20.8-kilometre race track faster than a BMW M2 Competition (reviewed here) goes to show just how capable these hyper-SUVs are when put in the right hands.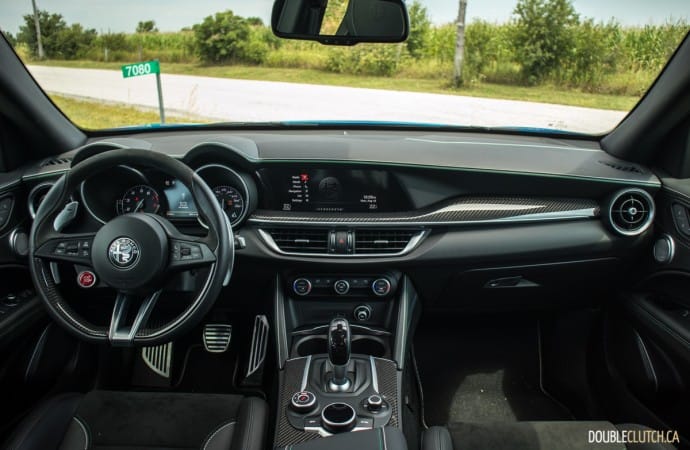 The 2019 Alfa Romeo Stelvio Quadrifoglio has a fuel consumption rating of 14.1L/100km city, 10.4L/100km highway, for a combined 12.4L/100km overall. During our test week, which consisted of mainly city commutes and a couple hours of serious backroad testing of the Stelvio's capabilities, we observed an average of 13.9L/100km. As expected, Alfa Romeo requires premium 91-octane fuel to feed its twin-turbo powerplant.
The interior design employs a simplistic and driver-centric design language. There is a large amount of leather, Alcantara, and carbon fiber laid out in the cabin, and the white/green exposed stitching on the dash is a nice touch that gives reference to the Quadrifoglio badge. Fit and finish is above-average, and the overall ergonomics is quite good thanks to the supportive chairs and perfect driving position. We observed excellent outward visibility, and a fair amount of head and legroom for all passengers. The panoramic sunroof gave the monotone cockpit much appreciated brightness, however we encountered difficulty in operating the sunroof during our test week, leading us to ponder its long-term reliability.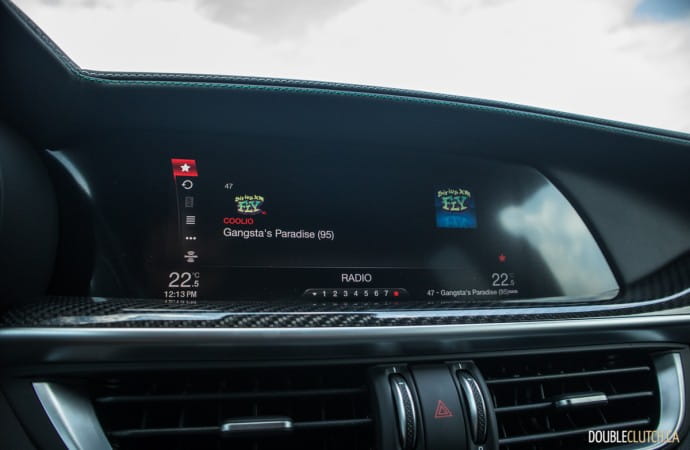 Infotainment is controlled by the rotary dial below the gear shifter and displayed on the 8.8-inch widescreen. Screen resolution is not the sharpest, but we like that the Uconnect-based system is easy to use and the rotary dial is quite responsive. Given how close the dash is to the driver, it would be nice if the display screen were touch sensitive for added user-friendliness. The Stelvio comes standard with Harman/Kardon premium audio system, and Android Auto and Apple CarPlay connectivity is supported.
The Stelvio Quadrifoglio comes standard with Blind-Spot Monitoring with Rear Cross-Path Detection, Forward Collision Warning, and Front and Rear Park Assist systems. Our tester was added with the optional Driver Assistance Dynamic Package, which adds Lane Departure Warning, automatic high-beam, and Adaptive Cruise Control systems as well as solar control windshield glass to the SUV.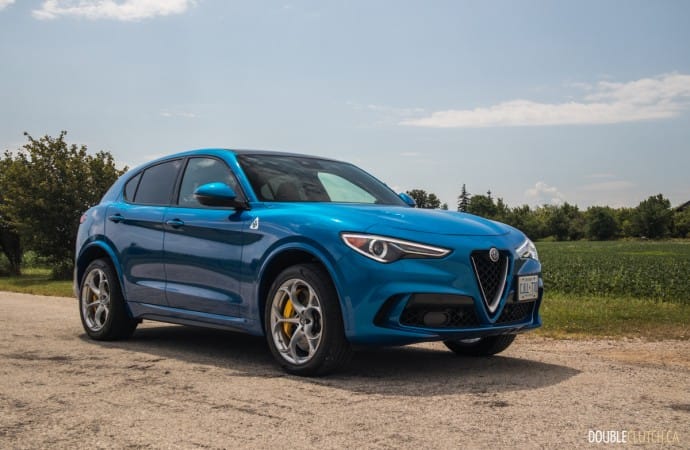 The base price for the 2019 Stelvio Quadrifoglio AWD is $95,000, and our tester is equipped with optional features such as the Sparco race seats ($4,100), Driver Assistance Package ($1,500), Convenience Package ($450), Brembo carbon ceramic brakes ($8,250), Dual-pane sunroof ($1,595), Carbon fibre steering wheel ($600), and the Misano Blue Metallic paint job ($700). The as-tested total for our tester comes to $112,195, which puts it on the high side of the performance SUV segment that includes popular choices of Mercedes-AMG GLC 63 S, Porsche Macan Turbo, and BMW X3 M Competition.
There is, however, a dark horse in this segment called the Jaguar F-Pace SVR (reviewed here), which elicits as much emotion from its driver as our test car today, and goes about it with more conviction thanks to its thunderous sounding supercharged V8. The 2019 Alfa Romeo Stelvio Quadrifoglio offers the best driving feel of the group, wrapped in an attractive package that stands out in a parking lot full of SUVs. Its high price and the perceived reliability issue will deter some buyers, but the amount of sheer emozione it evokes is undeniable. You can feel the amount of passion within the engineering of this car, and it's a good choice for those who like to break the mold.

See Also:
2019 Mercedes-AMG GLC 63 S 4MATIC+
2019 Porsche Macan S
2018 Jaguar F-Pace S