WHISTLER, BRITISH COLUMBIA – Building on a record sales year of 2018, the Ram 1500 and 2500 trucks were both redesigned for 2019. We had a chance to try out their Ram 1500 Limited 4×4 (reviewed here) on-road and walked away impressed. This time, we received a special invitation to take Ram's two dedicated off-road trucks off the beaten path and thoroughly evaluate their capabilities.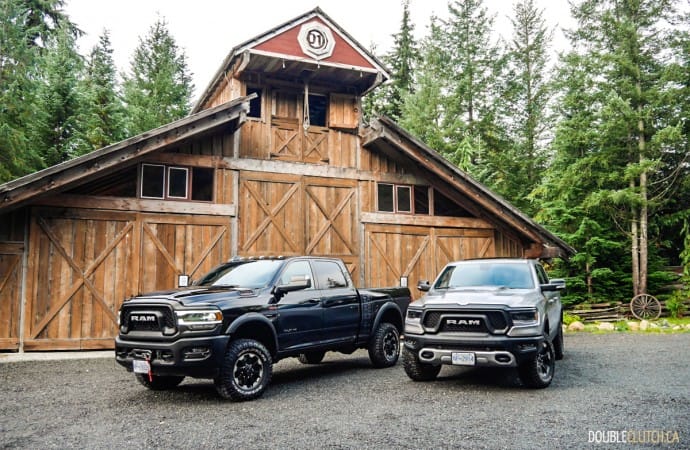 FCA Canada invited us to Whistler, British Columbia to fully experience these trucks' off-roading prowess. We were asked to take the 2020 Ram 2500 Power Wagon and the 2020 Ram 1500 Rebel 4×4 to the top of Sproatt Mountain, a whopping 4,937 feet in elevation. With the help of a few off-roading experts, we slowly ascended up over the narrow, rocky terrain, and through a tough stretch of roads that are normally only permitted for ATVs and snowmobiles. Spoiler alert, the Ram 1500 Rebel and 2500 Power Wagons passed the test with absolute flying colours, and we were able to enjoy the gorgeous scenery on top without breaking a sweat.
The 2020 Ram 1500 Rebel is available in Quad or Crew Cab configurations. An extra inch of ride height, and a set of aggressive 32-inch Goodyear Wrangler DuraTec off-road tires work to establish its ruggedness over the standard 1500 lineup. The sport-performance hood is also standard, as well as black bumpers, badges, and front grille. The Ram 1500 Rebel features full skid-plate protection, tow hooks, and just like any 1500 models, it can be equipped with optional air-suspension.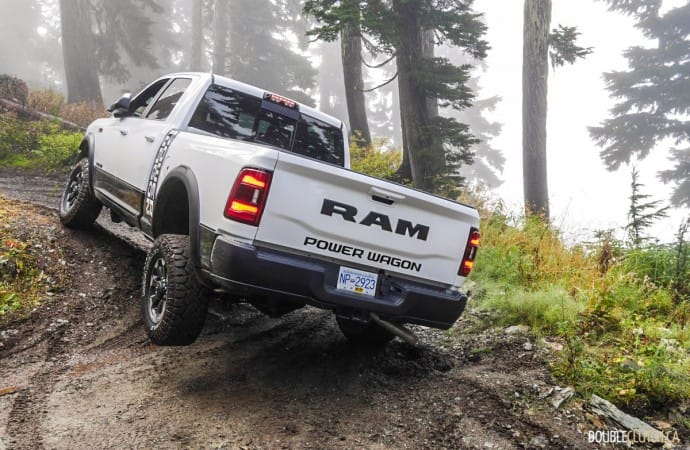 Aside from the optional side and tailgate decals, the 2020 Ram 2500 Power Wagon focuses on function over form. Ram claims this is 'Canada's Most Capable Full-Size Off-Road Pickup', and to back that up, they have added a disconnecting sway bar, electronic locking axles with Hill Descent Control, manual transfer case, and a reworked suspension system geared towards off-road uses. The specially designed Articulink front, five-link rear coil spring suspension system gives the truck a two-inch lift in ride height, and is specially tuned to allow for more flexibility and axle articulation.
A special feature that is unique to the Power Wagon is a winch that is fully sealed inside the front bumper. With a 12,000-pound capability, it can help get itself or others out of any trouble. The all-new synthetic winch line saves 28 pounds and is more maneuverable. The Power Wagon comes with 17-inch wheels and beefy 33-inch Goodyear Wrangler DuraTec tires. Unlike the 1500 Rebel, the Ram 2500 Power Wagon can only be ordered with a Crew Cab configuration. To protect its underbody against rocks and other obstacles, the 2500 Power Wagon comes standard with skid plates as well.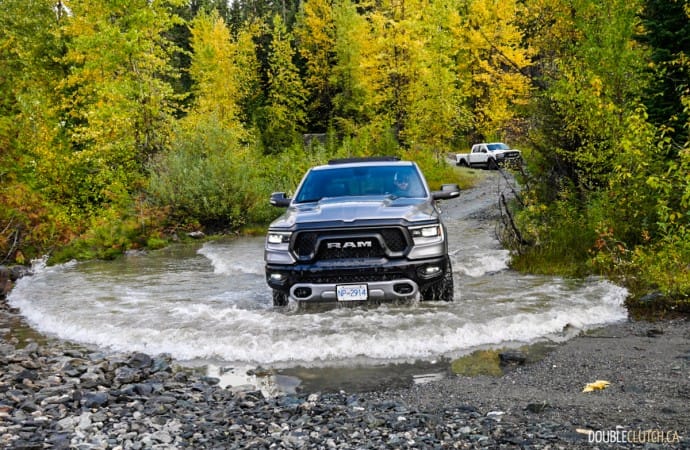 A standard 5.7-litre HEMI V8 engine powers the Ram 1500 Rebel, and all-new for 2020, a 3.0-litre V6 EcoDiesel engine is also available. Power of the 5.7L HEMI is rated at 395 horsepower and 410 lb-ft. of torque, and the 3.0L diesel engine pumps out 260 horsepower and a best-in-class 480 lb-ft. of torque. For the Ram 2500 Power Wagon, there is only one engine choice. It is a 6.4L HEMI V8 engine, and produces 410 horsepower at 5,600 RPM and 429 lb-ft. of torque at 4,000 RPM. Both the Rebel and the Power Wagon are available in 4×4 configuration only, and power is delivered through an eight-speed automatic transmission. To aid off-road capability, the Rebel features a 3.92 axle ratio, and the Power Wagon's axle ratio is measured at 4.10.
On today's rocky terrain, we had a chance to try out most of the dedicated off-road technologies on both Ram trucks, including the low range selection, locking front and rear differential, hill descent function, as well as some unique functions like the adjustable ride height in the 1500 Rebel and the disconnecting sway bar and optional Surround View Camera in the 2500 Power Wagon. Even with the changing terrains and various ground slope and soil conditions, the trucks handled the 4+ hours of off-road challenges with ease. Our guides were constantly reminding us that we are in uncharted territory for a truck, yet most of the journey felt no more challenging than navigating a Tim Hortons Drive-Thru lane.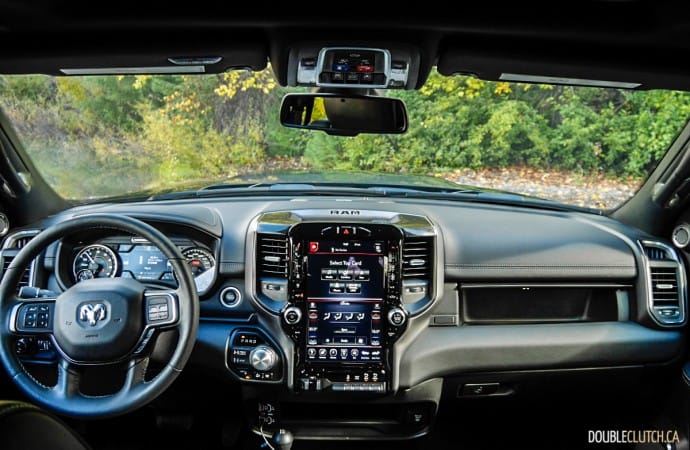 The differences between the trucks were instantly evident; the Rebel has a more compliant ride, and the Power Wagon is the more capable off-roader of the two. We enjoyed driving both trucks back to back and can confirm both are more than most people will ever need for tackling any unpaved roads. For those planning to tow a watercraft or snow mobile, the 1500 Rebel with the gas engine has a towing capacity of 11,340 pounds with the Crew Cab configuration and up to 11,470 pounds in a Quad Cab setup. The 2500 Power Wagon will be able to tow up to 10,620 pounds.
Pricing of the 2020 Ram 1500 Rebel starts at $60,095 for the Quad Cab, and $61,795 for the Crew Cab. The 2020 Ram 2500 Power Wagon has a starting sticker of $64,245. Both trucks come with a seemingly endless list of options to tailor the truck to one's preference. The Ram 1500 Rebel can be equipped with optional packages such as Rebel Black Appearance, Leather & Sound Equipment, and Level 1 & 2 equipment, Rebel Safety, Trailer-tow Mirrors and Brake, and Bed Utility packages. The 2500 Power Wagon has a few unique ways of customization as well, including the Power Wagon Level 1 and 2 Equipment, Bed Utility, RamBox Utility, Safety, and Tow Technology packages.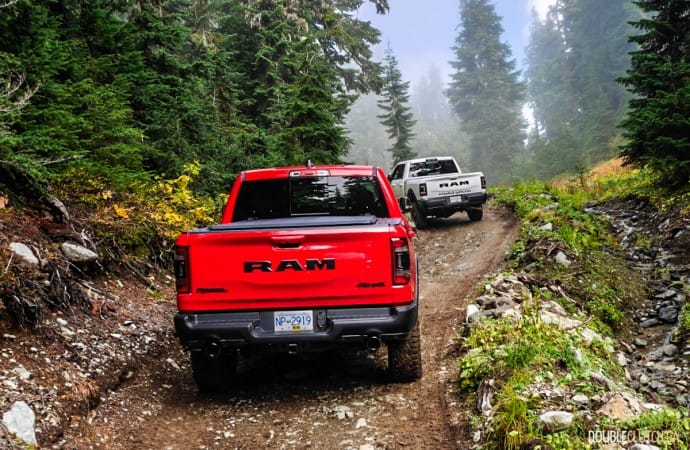 At the end of the day, we were thoroughly impressed with the 2020 Ram 1500 Rebel and the 2500 Power Wagon's ability to navigate the toughest off-road terrains. Both trucks are considered niche in their perspective markets, but those in search of a truck that suits their outdoor lifestyle will not be disappointed. Personally, I would not mind to sacrifice a bit of fuel economy and get the 2500 Power Wagon as it has everything I would want out of an off-road truck. For those looking for a smaller lifestyle truck, the Ram 1500 Rebel as well as the all-new Jeep Gladiator (reviewed here) are excellent choices for more uncharted territory and back.

See Also:
2019 Ram 1500 Rebel Crew Cab 4×4
2019 Ram 1500 Limited 4×4
2019 Ram 1500 Sport Crew Cab