For the last few decades, the Mazda 323, then Protege, and most recently the Mazda3 have decorated Canada's landscape as one of the country's favourite compact cars. All throughout, they've been loved as a sportier alternative for cheap and reliable transportation. This year, a new generation 3 has made its debut, and we had a chance to take a 2019 Mazda3 GT AWD sedan out for a week-long spin. While it does have big shoes to fill, it comes with plenty of updates that definitely appear to up the ante.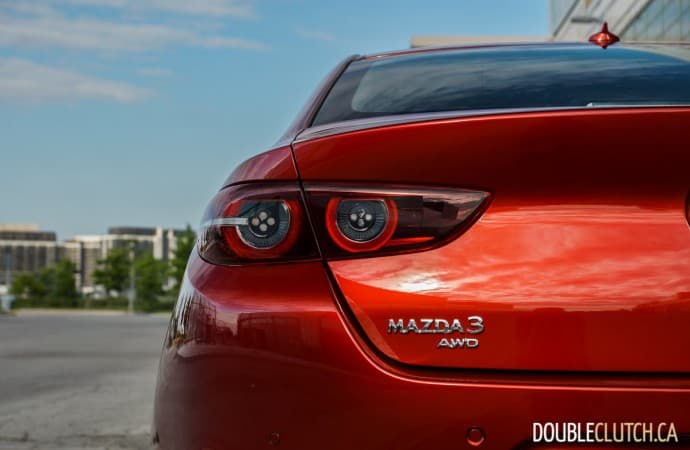 Although the most basic versions of the Mazda3 (the GX trim) start at $18,000, that doesn't include air conditioning or much in the way of luxury features. The mid-trim GS comes in around the mid-20 large mark, and the flagship GT test car started at $26,200. Options equipped included the $2,500 Premium Package, which adds leather upholstery, power driver's seat with memory, rear parking sensors, navigation, a head-up display, front wiper de-icer, and a piano black grille. All-wheel drive – which is a first for Mazda3 – is $1,700. Add to this another $450 for the especially stunning Soul Red Crystal Metallic paint, and the as-tested price came in at $30,850.


Modern autonomous-style safety features feature a full complement on the top-dog GT trim, and comprise of forward collision warning with pedestrian detection, lane keeping assist with lane departure warning, adaptive front headlights with automatic high beams, a driver attention alert system, and rear cross-traffic alert. There is also autonomous collision sensing and braking capability when reversing at speeds between two and eight kilometres per hour.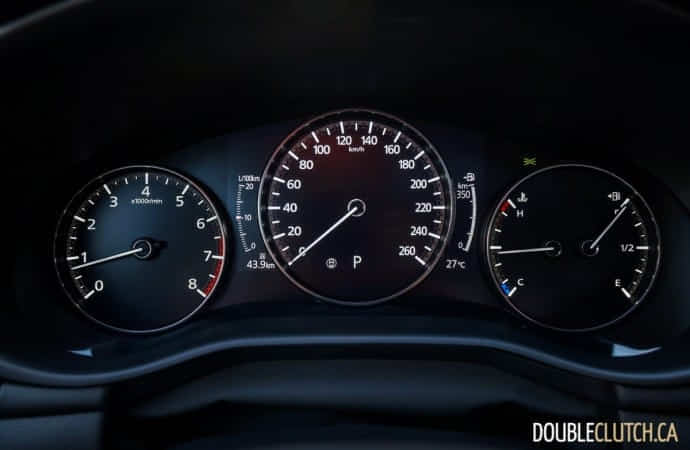 Compared to the rest of its competitors, when neglecting all-wheel drive, the Mazda comes in a little bit above for pricing. For front-drivers, the Honda Civic Touring and Toyota Corolla XSE CVT sedans are about a grand or two cheaper, and for all-wheel drive cars, the Subaru Impreza enjoys a similar advantage as the other two. Based on appearances and feel inside and out, however, it can be said that the Mazda carries a more premium air this time around, and gives off more high-end vibes than any Mazda3 before it.
Other than the addition of all-wheel drive, powertrains on the 2019 Mazda3 are more evolutionary than revolutionary. Once again, 2.0 and 2.5-litre engines are the name of the game, with the all-wheel drive available as an option on mid-level GS and top-level GT trim. Peak output on the 2.5L GT test car is 186 horsepower at 6,000RPM, squared up with 186 lb-ft. of torque at 4,000RPM. This time around, the engine's noise, vibration, and harshness (NVH) has been greatly improved, and solves a common gripe about the previous generation's design. There is still a little bit of coarseness to the engine note, but this is not something too out of the ordinary for a compact car.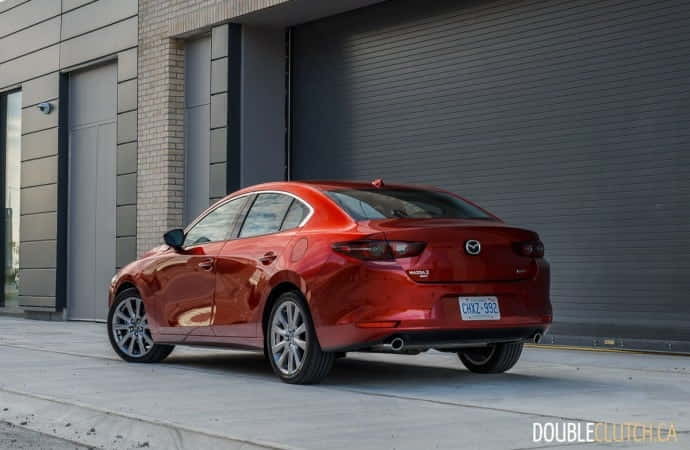 All GT trim level Mazda3 models come equipped with cylinder deactivation, which is purported to affect real-world fuel economy more than the Natural Resources Canada rated numbers suggest. The 2.5-litre GT with all-wheel drive is rated for 9.2L/100KM in the city and 7.0L/100KM on the highway, which is a bit worse than the front-drive version, which is rated for 8.8L/100KM and 6.6L/100KM, respectively. This isn't too much of a surprise considering that there's a 92 kilogram (203 pound) weight penalty on top of increased drivetrain losses needed to send power to all four wheels. Observed economy over a week of testing returned 9.0L/100KM in mixed driving. Tank capacity for all-wheel drive GTs is 48 litres, down by two litres compared to a front-drive 3.
Providing shifting duty in the Mazda3 GT AWD sedan is a six-speed automatic that's also not too far off its predecessor. Shifts are smooth and crisp, and the gearbox does its job without complaint. GT trim cars with the cylinder deactivation receive a taller final drive ratio compared to GS models with the 2.5-litre engine. When combining this gearing with a 1,479 kilogram (3,261 pounds) curb weight, the GT AWD is pretty sluggish to get off the line, and feels as if the gears are too tall for sporty driving. The first three gears could use the most improvement by being spaced better, but the upper gears do mostly fine for highway cruising.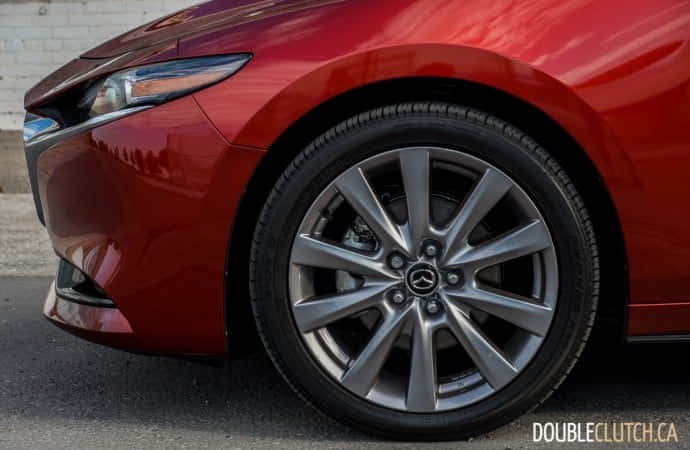 With its new generation for this year, the Mazda3 has always been and continues to be a standout in terms of handling and driving dynamics. That said, a controversial change for 2019 is a move to a torsion beam design for the rear suspension. While this layout is good for packaging, cargo space, cost, and simplicity, it generally does not do too many favours for handling. In another twist of fate, the new-for-2020 Toyota Corolla now has an independent multi-link rear suspension that makes it wonderful for carving corners.
The Mazda3's torsion beam setup does have carefully designed bushings and care and attention for the suspension geometry, and so the Average Joe won't really notice in a normal street driving setting. We'd like to get a 3 on a race track some time to see if there are more glaring differences with the new suspension design. The all-wheel drive system provides sure-footed traction in all conditions, and the little Mazda didn't skip a beat during hard launches in the wet, even when excess steering angle was applied.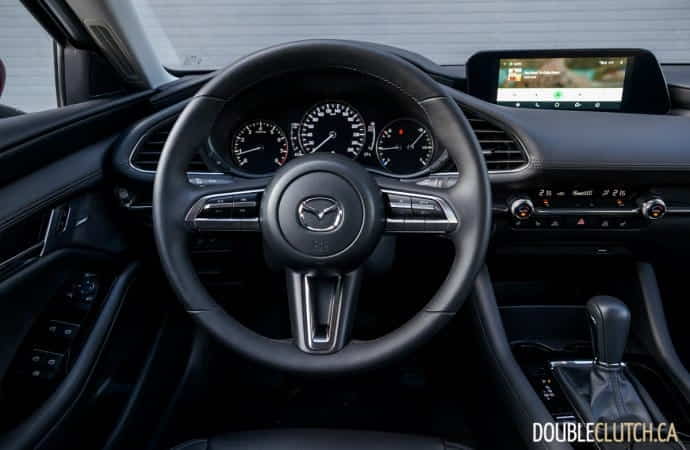 Inside, the 2019 Mazda3 is a much more premium feeling design than ever before, but it still maintains a similar layout. All touch points and switchgear feel just as good as a luxury car does, and more or less blows the competition out of the water. The seats are moderately comfortable in all positions, and there are enough ergonomically correct buttons for common functions such as climate controls. Cargo capacity is pleasantly good for a compact sedan, and the rear seats fold in a 60/40 split.
Turning to tech, the old HMI Commander control dial has been redone and is now known as Mazda Connect: the dial is now the only way to maneuver around the 8.8-inch screen. With a little bit of muscle memory after a week of use, the menu system became easier to navigate, and the same can be said for dial-only Android Auto and Apple CarPlay integration. The head-up display is nice and clear, and the gauge cluster is simple and concise.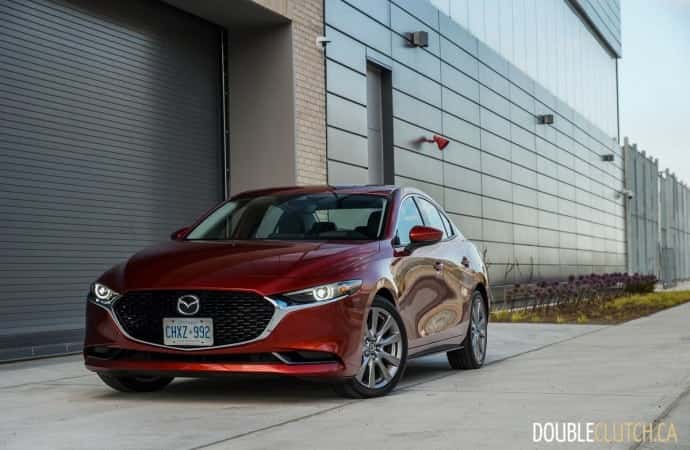 All in all, the 2019 Mazda3 GT AWD Sedan is a better Mazda3 than ever before, and the inclusion of all-wheel drive means that it is just about the only compact sedan option that's knocking on Subaru's door. Against its peers, it carries itself more luxuriously all around, and for a little bit more money, the gains are a good value. Handling is still a strong suit, but fuel economy and straight-line performance take a bit of a hit with the all-wheel drive. Although a front-drive Mazda3 with proper winter tires will be fine for the vast majority of Canadians, the extra security of all-wheel drive is hard to deny. Buyers will need to weigh the pros and cons of each drivetrain and find the better fit for themselves.

See Also:
2020 Toyota Corolla XSE
2019 Subaru Impreza Sport 5-door
2019 Mazda3 Sport GT