While mainstream automakers like Toyota, Honda and Nissan all once offered touring coupé variants of their popular sedans, all of these are now a thing of the past. In the six-figure luxury flagship bracket however, the war to have the best grand tourer is very much alive. We got behind the wheel of an instant favourite; the 2019 Lexus LC 500, in traditional gasoline form, to see how it fares just over two years since its launch.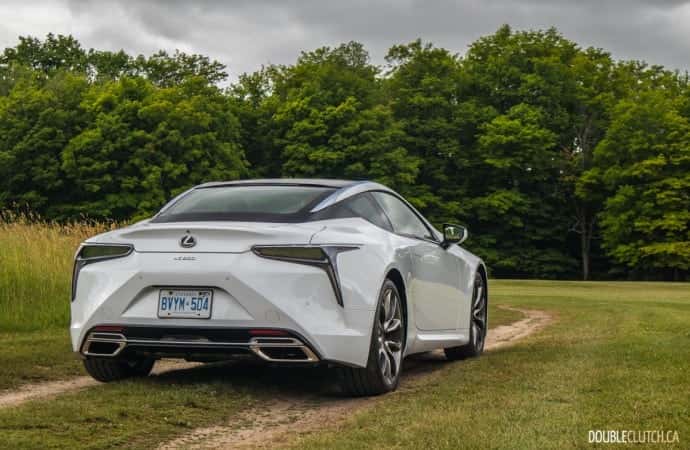 Two huge players against the LC 500 are the BMW M850i (reviewed here) and the Mercedes-Benz S 560, both of which are heavy hitters from Germany. Two things that both of these rivals have in common are also factors that, in my humble opinion, take away from what a grand touring coupe should be. Both Germans are all-wheel-drive (at least in Canada), and both come standard with turbocharged engines. In my eyes, a somewhat exotic flagship like this should be naturally aspirated and rear-drive, and the LC 500 delivers on both accounts.
A naturally aspirated 5.0L V8 engine lives under the long hood, putting out 471 horsepower and 398 lb-ft. of torque. While the LC 500h offers a six-cylinder and hybrid tech, the gasser LC is absolute perfection. In fact, the way it feels is very similar to my own Aston Martin V8 Vantage, and offers more in purity and actual appeal than the current Vantage. Power delivery from the Lexus V8 is buttery smooth and met with a ferocious, animal roar no turbocharged mill can come close to matching.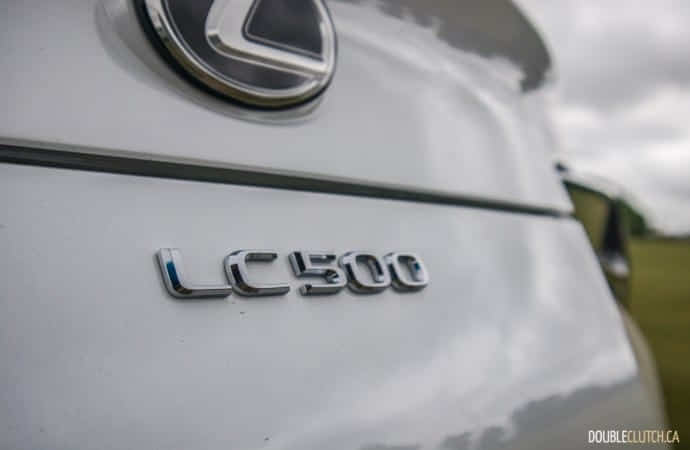 While the manual transmission is a thing of a past in this segment, the Lexus LC 500 comes with a 10-speed automatic that does an adequate job of making up for this omission. Paddle shifters are equipped on the steering wheel, and even if you choose not to use them (I recommend you do – they're good!), the transmission does a great job knowing when to shift. A drive mode selector can alter the throttle mapping, transmission and more between Comfort/Eco and Sport/Sport+ settings.
Power comes on quickly and immediately, with excellent throttle response that, also, turbocharged rivals can't come close to. It's not only fast, but carries itself with an immense amount of poise and confidence. The LC handles like it's on rails, with the rear end kicking out fairly eagerly on command. Steering response is good, with typical Lexus on-center feel. Pushing the LC 500 through some of our favourite twisty roads evoked a sense of satisfaction that few other cars are able to, and that's saying something in a world where luxury cars are becoming more about technology than engagement.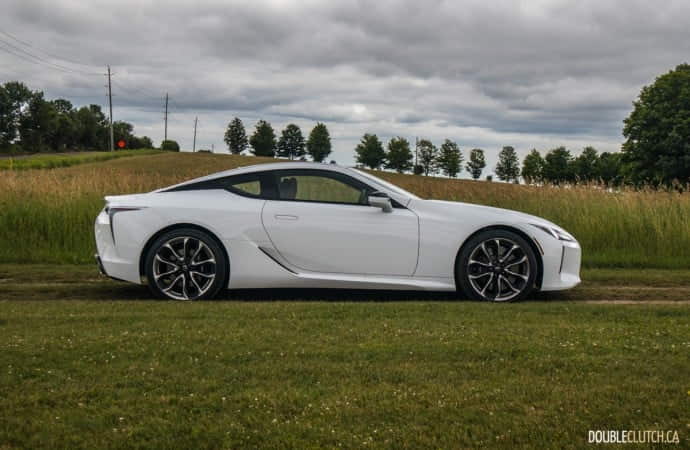 A 5.0L V8 doesn't do any favours for fuel economy, but the LC isn't all that bad in this regard. Lexus Canada officially rates it at 14.7/100km in the city and 9.1L/100km on the highway, running on 91-octane premium fuel. We actually observed a remarkable 8.3L/100km highway over a drive to Canadian Tire Motorsport Park for a media event, and the combined mileage for our test week was a surprisingly frugal 12.0L/100km. Our last test of the hybrid LC 500h saw a combined 9.0L/100km, for the sake of comparison.
The LC 500's interior is, as expected from any Lexus product, top-notch in every sense. My daily driver is a 2004 LS 430 Ultra Luxury, and even fifteen years later the interior still feels expensive (with the exception of dated infotainment). Our test vehicle was upholstered in Rioja Red semi-aniline leather. All materials used in the cabin look and feel exquisite, with a beautiful door handle that "appears" from the door panel with no surround.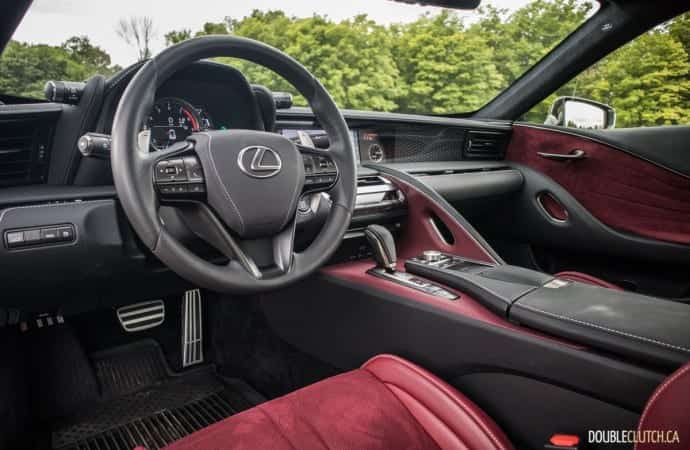 With regards to the driving position, the LC 500 excels in this area too. It feels every bit as special as an Aston from the driver's seat, and less cumbersome to maneuver in an urban setting than the comparable S-Class (reviewed here) and M850i. Visibility is generally fine, and the large side mirrors help significantly to minimize blind spots. The seats are supremely comfortable and offer plenty of adjustability, though the rear seats are mainly just for decoration – they're absolutely useless for anybody who actually, well, has legs.
Perhaps the only downside to the LC 500 is the user-friendliness of the Lexus Enform infotainment. While sufficiently modern, the 10.3" screen is incredibly cumbersome to navigate and can only be operated using a touchpad located to the right of the shifter. It offers Bluetooth connectivity along with an app suite, embedded traffic and weather, and now includes Apple CarPlay as well – no Android Auto support is offered at this time. This system is in dire need of a full overhaul, and is really the only negative characteristic of this car.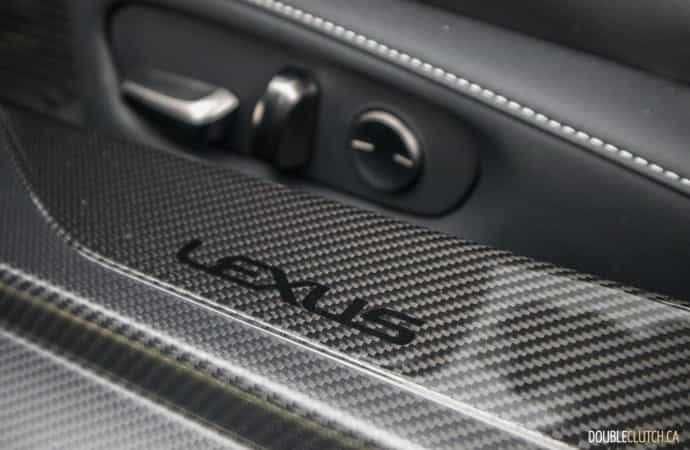 Pricing for the LC 500 starts at $102,750, and from the information we have seen, every single one sold in Canada since its launch in 2017 has been ordered with the $13,500 Performance Package. This adds a Torsen limited slip differential, carbon fibre roof and scuff plates, four-wheel active steering, sport seats, 21" wheels, Alcantara headliner, and a retractable rear spoiler. For 2019, a $14,800 Inspiration Series package can be ordered as an alternative to the Performance Package, which also adds bright Flare Yellow paint.
If image is what you're after but you prioritize efficiency over the raw driving experience, the hybrid LC might be worth a look. But, if you're like me and value simplistic purity in your grand tourer, I don't think there's a better option on the market, especially for the price. While $117,000 before taxes and fees is by no means a small sum of money, what the personality of the 2019 Lexus LC 500 delivers is well worth the price of admission. This one's a keeper, and while I can't predict the future, I'd be extremely surprised if it didn't become a rare collectible down the road.
See Also:
2018 Mercedes-Benz S 560 Cabriolet