The tenth generation Honda Civic has been on sale since 2016, and has enjoyed not only success on the sales chart but also a recuperation of its reputation as the go-to compact sedan. For 2019, Honda has given the Civic a facelift to keep it looking fresh, and with the keys to a 2019 Honda Civic Touring in my hands, I took it for a weeklong evaluation.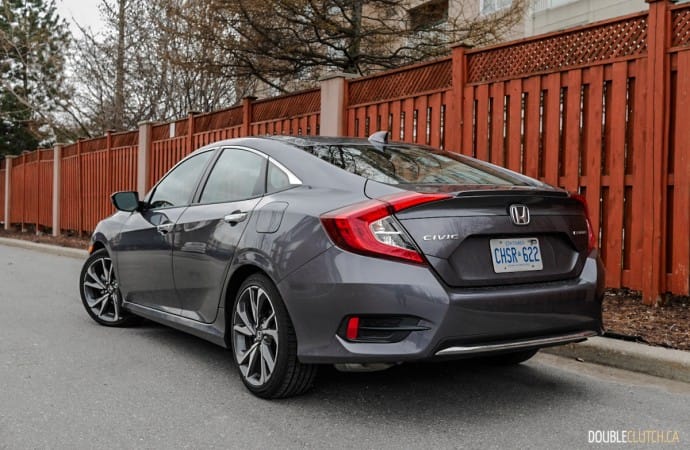 The Civic Sedan tested here, painted in Modern Steel Metallic, went under the knife and the result is a slightly different look that only diehard Honda fans can differentiate. The biggest change comes in the front, where the Civic receives a new piano black upper fascia 'wing' instead of the chrome from last year, updated LED headlights, a new bumper with a wider air inlet, and a full-width front splitter. The 18" wheel design is new, and a chrome accent on the lower rear bumper of the Sedan completes the refreshed look. The Civic is still a good-looking car in its segment, but with attractive new entrants such as the 2019 Mazda3 (reviewed here), the Civic's facelift might not be significant enough to grab potential buyers' attention.
Good news is, the Civic has been Canada's best-selling car for over 20 years not because of its good looks, but for its reputation as an affordable, reliable jack-of-all-trades. For a sedan, it's roomy with good headroom even with the raked roofline, and legroom that can put some midsized sedans to shame. The Touring trim comes with with heated leather front and rear seats, and the front seats are power-adjustable. It was easy to set the right driving position, with good visibility all-around. The 416L of trunk space is generous for its class, offering more volume than the Mazda3 Sedan and the Subaru Impreza (reviewed here), and the rear seatback can fold-down 60/40 for those who need more space.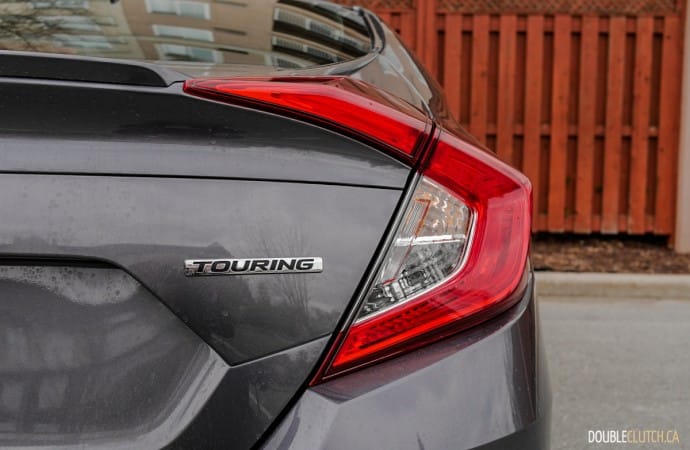 The suspension setup for the Civic Sedan is geared towards comfort, but it does not mean that it is a bad drive. The steering weight is light, requiring minimal effort to navigate, but turn-in is direct enough that there is no feeling of disconnectedness. There is no sport mode available, but the Civic sedan comes with an ECO-mode that dulls response in pursuit for maximum fuel efficiency. The Civic is willing to turn when the roads ahead get twisted, however it does understeer if you push it, much like every one of its competitors.
The task of pushing the Honda Civic around is assigned to the 1.5L turbocharged four-cylinder engine. This engine is shared between the Touring and the more powerful Si (reviewed here), and in the case of the Touring trim, the engine is tuned to produce 174 hp at 6,000 RPM with max torque measured at 162 lb.-ft. at 1,700 to 5,500 RPM. Power is routed to the front wheels using a Continuously Variable Transmission (CVT), which does a good job mimicking a regular transmission and keeping any transmission drone to a minimum. The Civic Touring feels quick to get up to speed during city commutes, and there is very little turbo lag observed when getting off the line. It manages to catch up in traffic without revving more than 2,000 RPM. As expected, given its small displacement figure, lag is more apparent when the Civic is asked to accelerate quickly for lane change or merging onto the highway.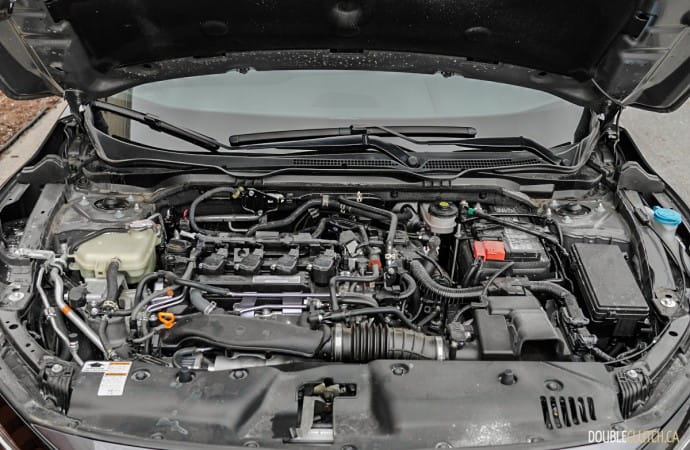 The reason Honda went with the small 1.5L engine is to achieve better fuel efficiency than rivals. With posted fuel economy figures of 7.8L/100km city, 6.2L/100km highway, and 7.1L/100km combined, we observed 6.8L/100km mileage figure during our mixed commute for the week. The Honda Civic is more frugal than the Mazda and Subaru, and is on-par with the Toyota Corolla's new 2.0L engine. Despite being turbocharged, the Honda Civic Touring will happily accept regular grade gasoline into its relatively small 46.9 litre fuel tank.
Infotainment is delivered by Honda's Display Audio System which accepts commands using the touchscreen on the centre console. The touchscreen is sensitive and accurate, with adequate graphic quality and is clearly legible even in direct sunlight. However, the mid-cycle refresh did not include an update to its infotainment, so the Civic is still using the old layout that unfortunately comes with pages of blank space with no real way of deleting them. It's also relatively clunky in application and slow to respond. Fortunately, the Honda Civic supports Apple CarPlay and Android Auto integration.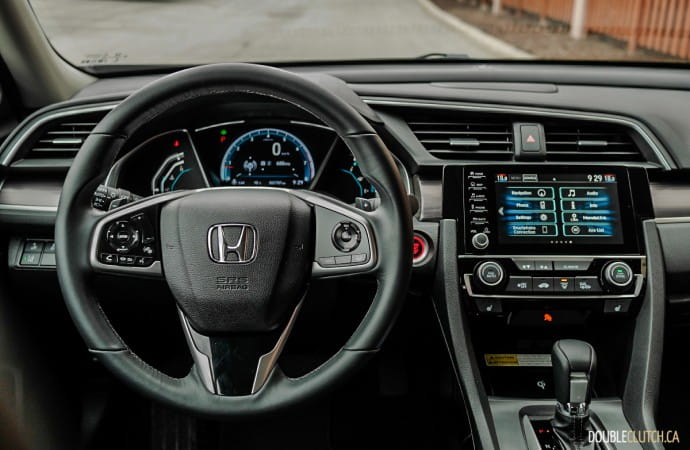 The Civic Touring, comes standard with a 10-speaker 452W premium audio system, a big upgrade over the setup in lower trim levels and a must have for those who want to use their first car as a mobile boombox. Touring and Si trims also come with wireless charging capability to keep those playlists going.
Honda has made a commitment to make their Honda Sensing safety technology standard equipment across their lineup by 2022, and made a leap towards that direction by including this technology standard in the 2019 Civics across all trims. It includes Collision Mitigation Braking with Forward Collision Warning, Road Departure Mitigation, Lane Departure Warning, Lane Keep Assist, and Adaptive Cruise Control systems. It is great to see these safety systems come standard at the compact sedan segment, as it will have a positive impact reducing the number of accidents on the road, especially for a segment that usually has a higher number of novice drivers.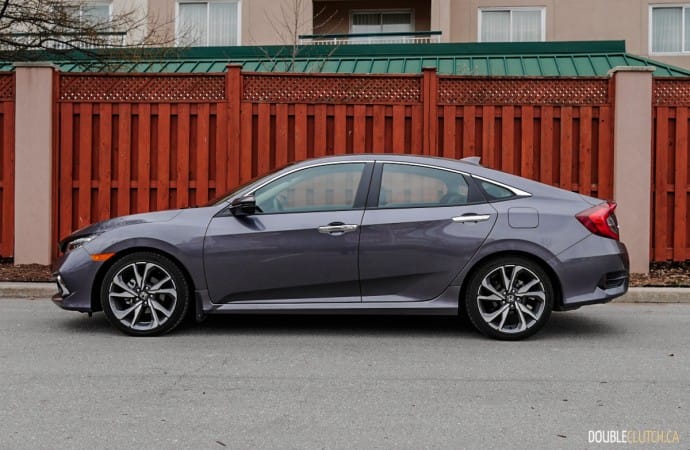 Pricing of the 2019 Honda Civic starts at $17,890 for the base DX trim, which comes standard with the Honda Sensing safety suite, Multi-angle rearview camera, and Bluetooth audio system. Step up to our as-tested, top of line Touring trim, and you will find a sticker price of $28,090. It competes head to head with the 2019 Toyota Corolla XSE CVT and the 2019 Mazda3 GT, which are within hundreds of dollars of each other. The Honda Civic is roomier than both the Corolla and the Mazda3, and has a bigger trunk for storage. It drives a bit better than the Corolla, but Mazda is definitely the most engaging to drive in this trio. Even though the 2019 facelift is subtle, by including the full suite of safety technology across the Civic lineup, along with its likeable personality and frugal appetite for fuel, it certainly has enough charm to keep up its fight to for Canada's best-selling car.
See Also:
2019 Subaru Impreza Sport 5-door