Thanks to my affinity for comfortable long distance cruisers, and the hefty depreciation rate on used Cadillacs, we've become a bit of a Cadillac household. For me to enjoy the bargains on the used market, someone has to be buying new Cadillacs, and we all know that buyers today are not lapping up big sedans like they used to. Enter the XT5, a midsize luxury crossover that has proven to be a strong seller for the brand by mixing luxury and panache with the practicality of the popular CUV platform.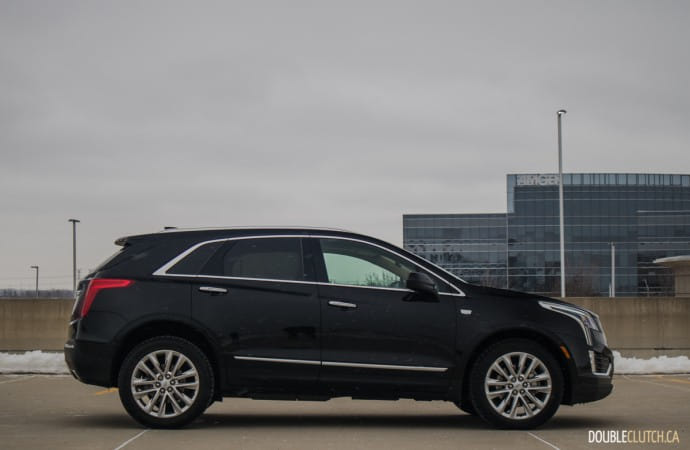 In fact, the XT5 has been such a success for Cadillac that it's sparked a full line of XT-series crossovers including the new XT4 (reviewed here) and the recently announced XT6. Now, the last time I tested an XT5 I came away pretty impressed, but with heated competition in the luxury crossover segment, is it still a standout? We spent a snowy, icy February week with a 2019 Cadillac XT5 Platinum AWD to see.
The XT5's styling doesn't stray too far from the SRX it replaced, only it is notably more aggressive and edgy looking. Rather than creating a mini-Escalade, the designers actually built a Cadillac crossover, a more traditional CUV shape but with the signature Cadillac lines, vertical LED headlamps and domineering grille with a large Cadillac crest to let everyone know you've arrived in style. Our tester, a top-line Platinum trim model, came with the Galvano grille and chrome lower fascia, along with unique rear exhaust tips and 20" wheels.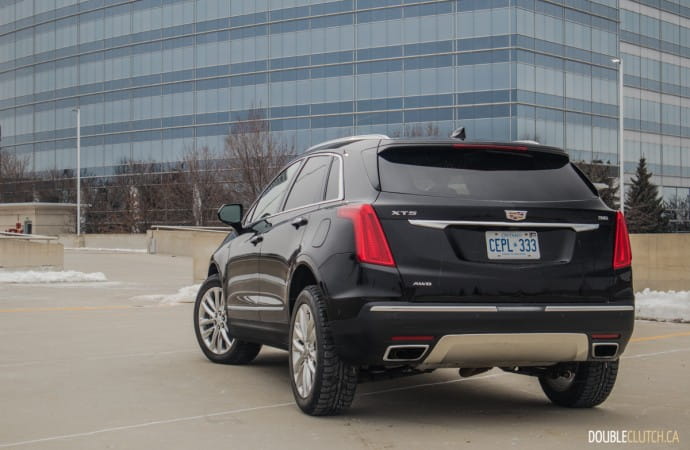 The interior in the XT5, especially in Platinum trim, is extremely well done and worthy of the Cadillac namesake, a nice change from brands that tend to skimp on materials in their mainstream offerings. The Platinum gets a microsuede headliner, a leather wrapped dash and door panels that really make the space feel properly luxurious. Materials are top-notch and tastefully executed with natural wood and aluminum accents. Frequently touched items like the steering wheel, door panels and console are all either leather or soft touch plastic and everything feels like it has been put together to a high standard. The cabin is comfortable and offers loads of head and legroom. With the rear seats in place, rear cargo room is seriously impressive for this midsize crossover.
In addition to refined materials, the Platinum comes with the full gamut of luxuries including; gorgeous heated and ventilated full semi-aniline leather seats, panoramic sunroof, heated rear seats, tri-zone climate control, Bose 14-speaker sound system and a well executed heads-up display. The controversial CUE touch screen infotainment system remains in the XT5, but has advanced so far from its early days that I'd now consider it one of the more user friendly and integrated systems on the market. Android Auto and Apple CarPlay are on board the latest system as well.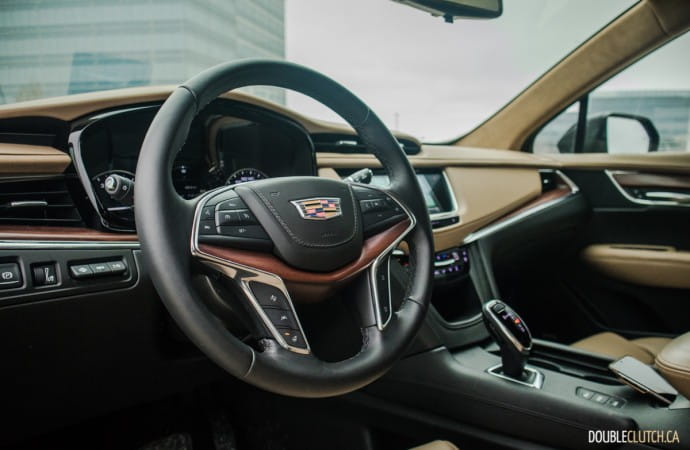 One of the more interesting little interior gadgets that the XT5 Platinum gets is the rear camera mirror. Flipping a switch on the interior rear view mirror turns it into a screen streaming a live video from the rear of the vehicle. This gives you a wider and less obstructed view of what's behind you. It's a novel feature and well thought out with its own washer system to keep the rear camera clean, but it would take some getting used to as the perspective is a little off compared to what your eyes are used to.
The XT5 is powered by GM's High Feature 3.6L V6. Now in its fourth generation, the engine has been through a series of changes to improve both economy and performance making it one of the more versatile and time-tested engines in GM's lineup. Power output is 310 horsepower at 6,600RPM, and peak torque is 271 lb-ft. at 5,000RPM. It would benefit from more bottom-end torque as it can feel a bit sluggish at times, but the refinement and smooth power delivery make this naturally aspirated V6 a treat to experience in comparison to the four-cylinder turbocharged units found in many crossovers today. The hearty V6 is mated to an Aisin eight-speed automatic transmission; the extra gears help keep the engine in its powerband and it delivers quick crisp shifts with no notable jerkiness or harshness.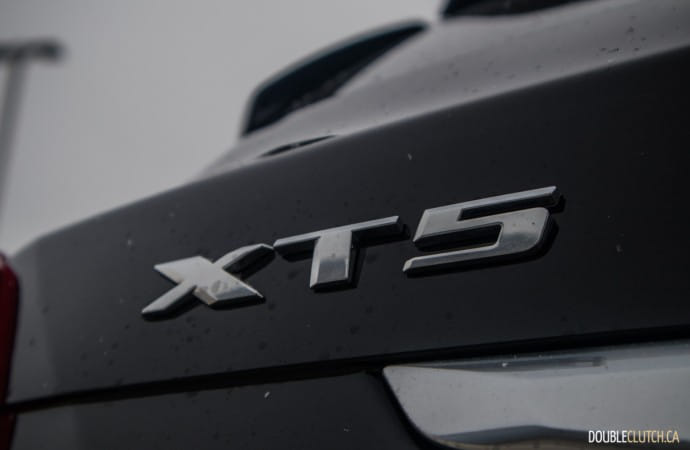 The XT5 drives smoothly and drama-free, with noise levels inside the cabin at an absolute minimum. As you may expect from any Cadillac, the XT5 makes an exceptional highway car, but surprisingly also remains incredibly well controlled and composed when tossed through corners as well despite its light steering. This is likely not an important factor to many buyers in this segment, but it does speak volumes to the chassis and suspension design.
We experienced a week of severe weather for our test of the XT5, and it proved to be a real champion in the snow and ice clogged streets. The XT5 has three user selectable drive modes; Tour, Sport and AWD; the last of which keeps the all-wheel-drive system active, while the others keep the car in FWD mode to save fuel.  Much of our driving was done in AWD mode on snow-covered icy roads and the system performed flawlessly, even when larger vehicles seemed to struggle.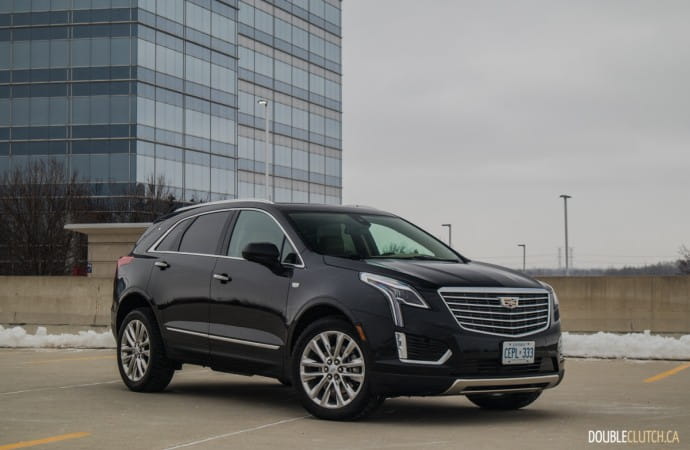 To keep the XT5 on track when the going gets tough, there is also an active Stabilitrak system which automatically applies brake pressure and reduces engine torque to keep you in control. To keep occupants from feeling the terrain, the XT5's Real-Time Dampening monitors conditions, adjusts the suspension every two milliseconds, monitoring road and driving conditions for a better ride.
As a result of the heavy all-wheel-drive system usage, and the extreme weather, fuel economy obviously suffered. It was not as bad as it could have been though, with my average for the week of rush hour commuting sitting at 10.9L/100km. The XT5 does employ start-stop technology, which is non-defeatable, but it is a lot smoother than in competitive vehicles. It also has Active Fuel Management, which can shut off two of the six cylinders when the power isn't required.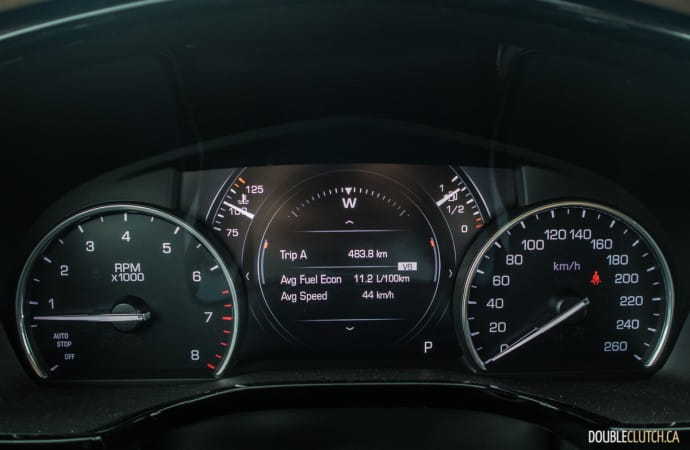 You can get into a base model FWD XT5 for as low as $44,795, which is a very aggressive price, but you don't want that. To get the proper Cadillac experience you'll need to step up, but that's not exactly cheap. You can upgrade with increasing levels of equipment starting with the Luxury at $54,295, the Premium Luxury at $61,795 and finally Platinum model which comes in at $72,195.
At that price it comes loaded to the gills including all the latest safety technology such as advanced adaptive cruise control, park assist, forward and reverse automatic braking, surround view camera, blind spot warning and more. If the Platinum isn't quite enough for you, Cadillac does offer a long list of dealer-installed accessories to personalize your XT5 including five different wheel styles, clear taillights, cargo accessories, and more. It's been a long time since we've seen an accessory list this broad.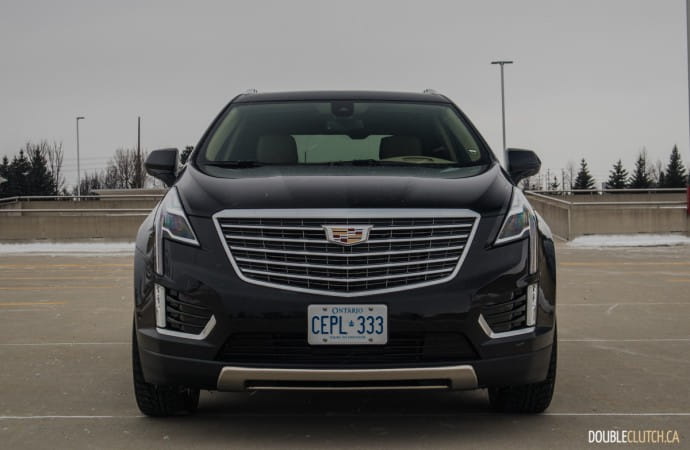 Time has been good to the XT5 and it remains sort of a low-key winner in it's segment. It doesn't enjoy the same recognition as say an Audi Q5 or Mercedes GLC (reviewed here); but it's able to compete with the Germans toe-to-toe and in Platinum guise offers true luxury from its plush, dare I say, best in class, interior, not to mention the long list of high-tech toys and sure-footed handling. Cadillac has a winner here, so if you're in the market for a luxury crossover you really owe it to yourself to spend some time with the XT5 before making a decision. Cadillac is setting the standard here and that's a statement that is long overdue.
See Also:
2018 Mercedes-Benz GLC 300 4MATIC