When a premium midsize crossover sport utility vehicle requires more than two rows of seating, there are a few options in the market. Acura's MDX, Infiniti's QX60, and Buick's Enclave all come to mind. This year, there's a new kid on the block: the 2020 Kia Telluride SX Limited. Measuring exactly 5,000mm (196.9 inches) in length, it brings very bold exterior styling to the table, impressive considering the fairly limited things one can do with a two-box configuration. The Telluride has immense road presence and looks much more premium than its price point would suggest, possessing all the right lines and details in all the right places. During its week of testing, it elicited almost unanimous positive reaction, and generated plenty of second looks from strangers on the street.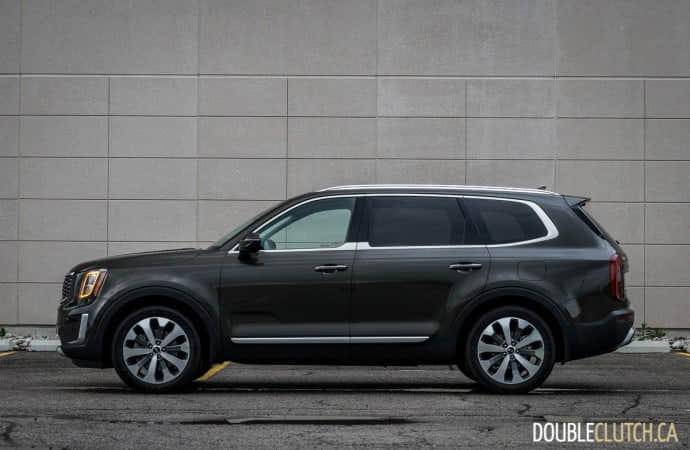 The crazy thing is that the Telluride SX Limited with Nappa came in at an as-tested price of $53,995, which is right in-line with similar sized contenders such as the Honda Pilot and Toyota Highlander. It slots above the somewhat smaller but still mid-size Sorento, which is another great value pick in its class. Like the trim suggests, the top SX Limited with Nappa trim comes with more premium leather and a deluxe cloth headliner. All SX Limited get seven passenger seating, a head-up display, LED headlights and taillights, Harman/Kardon premium audio, and a 360 degree view parking camera system.
For your fifty-four large, you also get 20″ alloy wheels, self-leveling rear suspension, a dual-panel power sunroof, an anodized roof rail, one-touch power sliding second row seats, power driver and passenger's seat with driver's cushion extension, heated and ventilated first and second row seats, and snazzy open-pore wood grain trim. Even when going down to a base EX trim that starts at $44,995, the Telluride includes a 10.25″ infotainment screen with navigation, a third row that folds into the floor, tri-zone climate control, and wireless phone charging.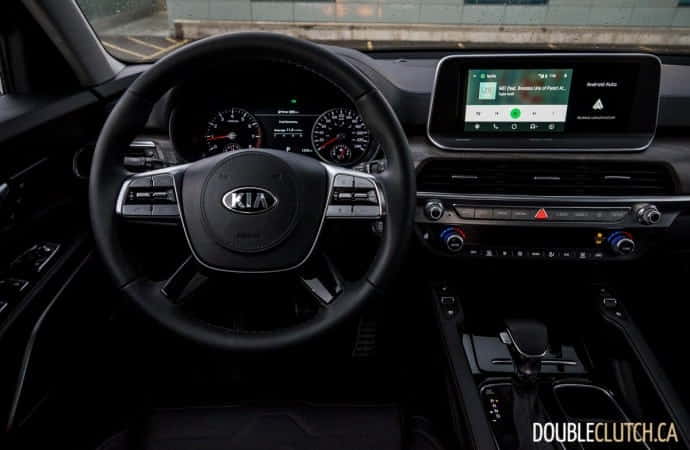 In the all-important safety department, the Telluride SX and up gets the full modern suite of driver aids. There's adaptive cruise control, blind spot monitoring with collision avoidance, lane departure warning with lane keep assist, driver attention warning, forward collision warning with automatic braking, front and rear parking sensors, and rear cross-traffic alerts with avoidance assist. What's especially good is the Lane-Follow Assist mode, which combines the adaptive cruise with lane keeping assist to provide what essentially feels like a Level 2 autonomous mode. In this mode, the big Kia stays perfectly centred in its lane, and even takes gentle curves without excessive driver correction. Of course, though, driver attention is always required with a system like this – hands on the wheel at all times, please!
Passengers in all seven seating positions of the Telluride SX Limited will find themselves pretty comfortable wherever they may end up – even if that's the third row. The front power driver's seat cushion extension is key for thigh support on longer drives, but some derriere numbness may set in on longer stints. If equipped, the supple Nappa leather is well worth the extra $1,000 over the regular SX Limited. For cargo, there's an 2,455, 1,304, and 601 litres (86.7, 46, and 21.2 cubic feet) of capacity behind the first, second, and third rows, respectively, which trumps the MDX and QX60 (reviewed here), and trails the Enclave only slightly.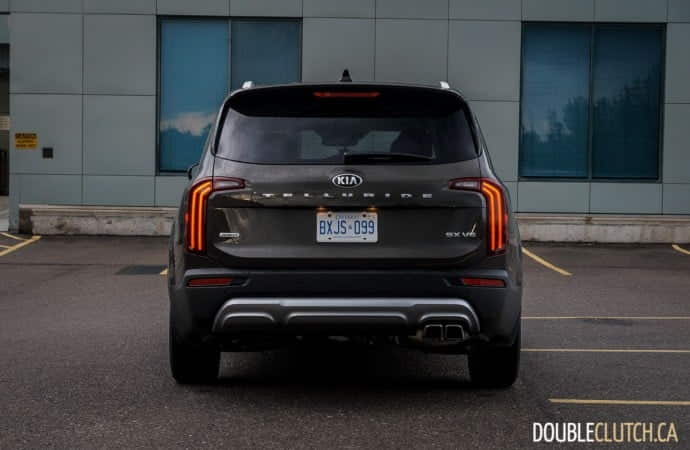 With its 10.25″ touchscreen, the Kia Telluride features one of the best infotainment systems in the industry right now. The menu systems are easy to navigate and nothing is too deeply buried, and there are enough hard buttons that can be operated with less distraction. Many automakers are eschewing driver focus in favour of snazzy but distracting interfaces – thankfully, Kia has managed to pull off something that looks good and functions well. The Harman-Kardon audio sounds great, and Apple CarPlay and Android Auto smartphone pairing is standard equipment. Combined with just enough metal trim and open pore wood, the Telluride's interior punches above its weight, and can easily be regarded as luxury spec.
Moving to the mechanicals, all trims of Kia Telluride come equipped with the same 3.8-litre naturally aspirated V6 engine. With only direct fuel injection and no laggy turbocharger trickery, throttle response is especially strong, and the throaty exhaust note cannot be matched by any other forced induction four cylinder. Peak power output is 291 horsepower at 6,000RPM, paired with 262 lb-ft. of torque at 5,200RPM. As expected with a torque peak coming in at the upper end of the rev range, there's a bit of a deficit of low-end grunt, and the V6 has to be wound up quite a bit to get things moving. Thankfully, it's extremely smooth and refined when doing so.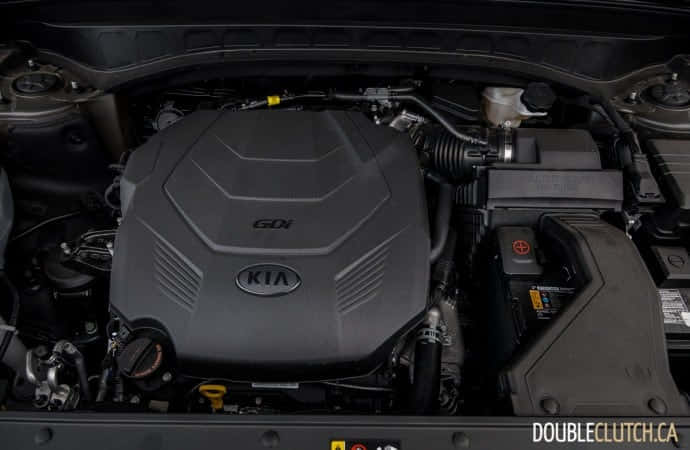 Further aiding the power delivery of the Telluride is an eight-speed automatic transmission. To take care of performance when getting off the line, gearing is spaced very well and the correct ratio is always selected – there's no hunting here. Shifts between each gear are very quick and direct feeling, with no time wasted each time. Kickdowns happen swiftly and predictably, which are needed for what is overall adequate, but not particularly speedy performance. Unlike sad automatic transmissions of years gone by, there's no "slush" in this slushbox.
Fuel consumption for the 2020 Kia Telluride comes in at nominal figures of 12.5L/100KM in the city, and 9.6L/100KM on the highway. Those are decent numbers despite the approximate 2,000 kilogram (4,400 lb) curb weight depending on trim level, and observed economy on a Toronto-Ottawa road trip managed to beat the rated figures even with five passengers, with 9.3L/100KM in mostly highway driving. Regular fuel is acceptable, tank capacity is 71 litres, and for those who tow, Telluride can handle 5000 pounds.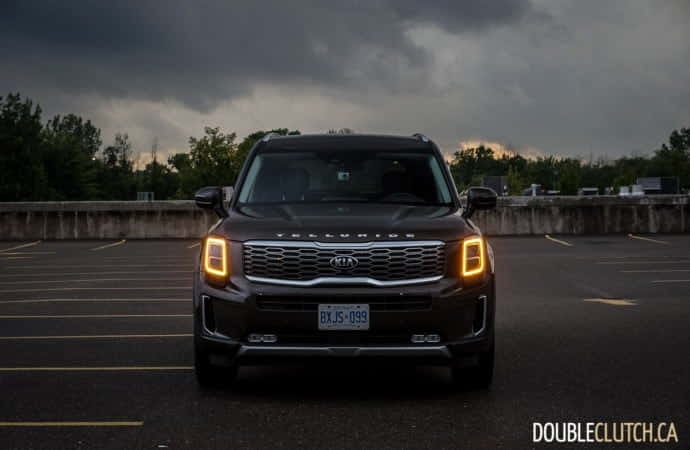 When on a longer road trip, the Kia held its own with very comfortable and quiet ride, with a whisper quiet cabin at any speed and a four-wheel independent suspension that's clearly been tuned well. Steering and brake inputs inspired confidence, and handling is more car-like than truck-like. After popping the hood to check fluid vitals, it was a surprise to find that everything was laid out in only the most optimal fashion for ease of maintenance. The engine air filter can be replaced in literally ten seconds, fluid reservoirs are all in plain sight, and service access both above and underneath the engine are top notch. Unlike many of the more complex powertrains of today, expect labour and diagnostic costs to be lower on a Telluride.
Overall, the 2020 Kia Telluride SX Limited with Nappa is a fantastic three-row SUV that competes in two segments at the same time, and still manages to do well in both. At $53,995, it's a very compelling premium midsize crossover for up to five figures' worth of savings, and with similar pricing, it still blows many of the mainstream options out of the water. It shares underpinnings with the also-new Hyundai Palisade, and between the two, you really can't go wrong by picking which styling you fancy most. Kia really hit the ball out of the park on this one, and the Telluride is more than just a pretty face – it gets things done, too.
See Also: