MONT-TREMBLANT, QUÉBEC – After twenty-one years on hiatus in North America, the 2020 Toyota GR Supra is back with a vengeance. Now a two-seater coupe instead of a 2+2, the fifth-generation "Mark V" or "A90" has big shoes to fill, due in large part to the Mark IV (sold from model years 1993 to 1998) creating a cult following after the 2001 movie The Fast & The Furious. Unless you've been living under a rock, the Internet in general has also made a big deal out of Toyota teaming up with BMW to develop their rear-wheel drive sports car. When Toyota Canada invited us out to Le Circuit Mont-Tremblant for a track test, we felt this was the best opportunity to cut through all of the online BS and see for ourselves just what the new 2020 Toyota GR Supra is all about.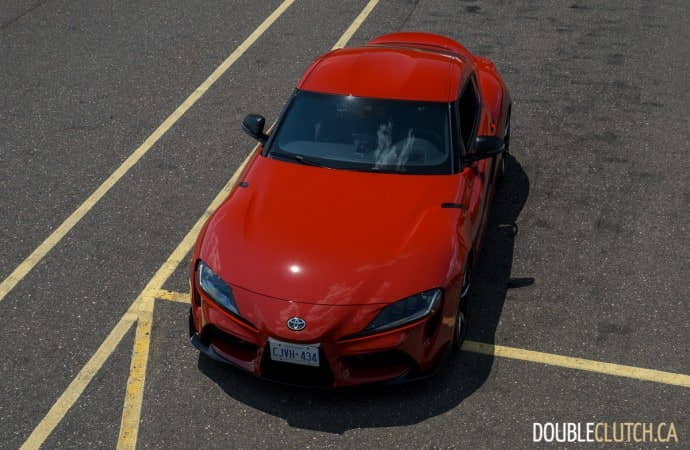 To thicken the plot a bit, I took the six hour drive from Toronto, Ontario to Mont-Tremblant, Quebec in the GR Supra's granddaddy, my own 1986 Mark II Celica Supra. Like the generations between Mark I through Mark IV, older Supras were usually more of a grand touring type of machine rather than full on sports car. For the 2020 model, Toyota is leaning more towards the sporty side, with the aim to create a peak performer that follows the "Waku Doki" mantra, which is Japanese for "heart pumping, adrenaline racing". Having the old one around, I felt, would put me in the right state of mind when it comes to considering what the Supra both was, and is.
In Canada at least, the new GR Supra comes one way only: fully loaded. For $64,990, buyers get premium JBL audio, Toyota Supra Connect infotainment (reskinned BMW iDrive 5.0) with navigation, dual zone climate control, 14-way power driver and passenger seat, head-up display, real carbon fibre interior trim, 6-lens adaptive LED headlights, forward collision warning with autonomous braking, and lane departure warning. All Supras get 19×9″ front and 19×10″ rear alloy wheels shod in Toyota-specific Michelin Pilot Super Sport rubber with a 255/275 section width stagger. For braking, there are four-piston front Brembo brakes with a floating single piston setup in the rear.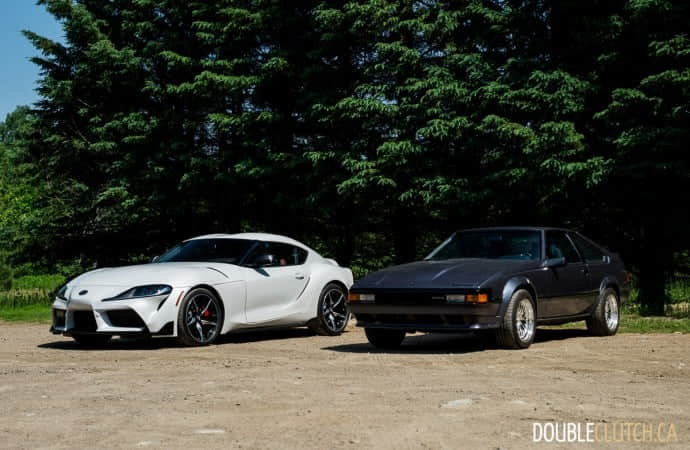 While the Internet is busy reacting to cars they haven't driven, it's important to note that Toyota has done a lot of their own work on the 2020 GR Supra, in addition to having influence during chassis development. While suspension mounting points and hardware are shared, the Supra has its own unique spring, shock, and sway bar tuning. When drawing back to historical models, seeking outside help was nothing new, but nobody seems to have made a big deal about that. Yamaha had involvement with much of the engines of the past, and some sources say that Lotus was involved with the suspension of the Mark II.
So, on Le Circuit Mont-Tremblant, what does that translate to? Awesomeness.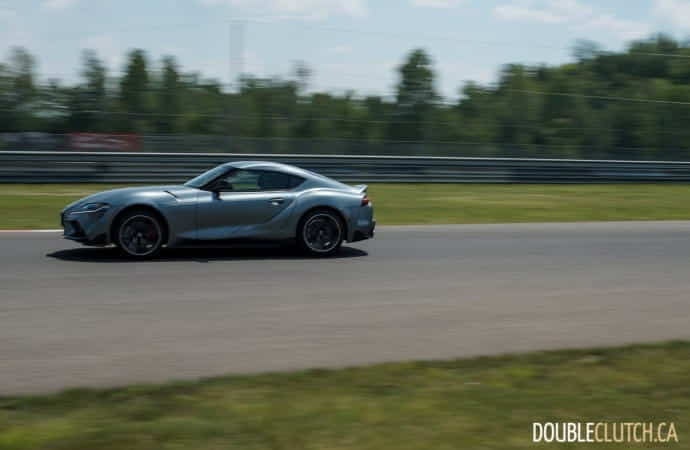 Having recently spent time behind the wheel of a BMW Z4 M40i, it became pretty obvious that the GR Supra is tuned much more aggressively and is the driver's car of the bunch. Steering is quick, turn-in is sharp, and grip is plentiful. The Z4 is tuned to progressively understeer at its quite high limits, which is a safe and slightly less fun way to do things. The Supra, on the other hand, will get properly sideways when provoked, and is a much more willing dance partner.
On the track, when hitting the corner apex, drivers can feel the rear end plant itself with the start of throttle application. It's as if the Supra is inviting drivers to push the envelope and really make use of the extra stiff chassis, and Toyota has given the car all of the subtleties required to unite man and machine. To put the power down, there's an electronically controlled active rear differential, which can lock between zero and 100%, giving a similar net result as a torque vectoring differential.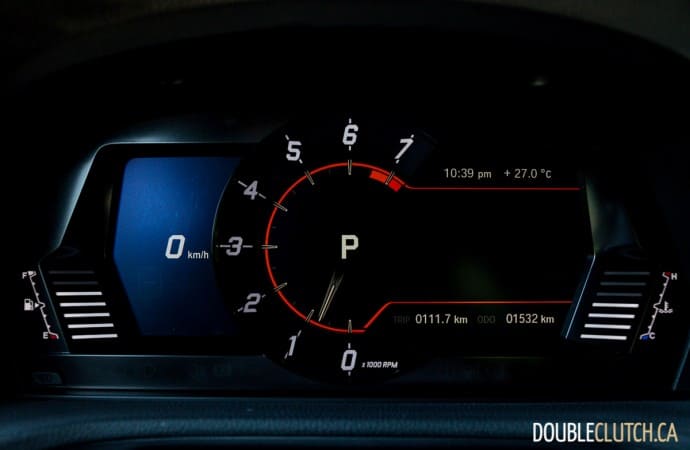 One triumph of the A90 is a 1,541 kilogram (3,397 pound) curb weight, which is lower than the Mark IV/A80 despite the structure requirements of today's safety standards. This relatively low weight pays dividends in agility and braking, and also preserves tires – the Michelin Pilot Super Sport rubber handled multiple laps and journalist abuse without any issues. In Comfort mode, the steering is light with some looseness on-centre (I'm looking at you, F30 BMWs), but firms up very well once set to Sport. Ride quality out of the adaptive dampers is firm but good, with better body control than the BMW Z4.
Powering the A90 GR Supra is a variant of BMW's B58 twin scroll, single turbocharged inline six. Considering that all Supras before the A90 were of the straight-six variety, this choice of engine is a smart move, considering how buttery smooth and strong it is in all of its BMW applications. Toyota did some tweaks of their own, and installed their own engine management calibration. Peak output is rated at 335 horsepower between 5,000 and 6,500RPM, paired with a very healthy 365 lb-ft of torque between 1,600 and 4,500RPM. Other publications have measured horsepower to the wheels on a dynamometer, and suggest that these figures are underrated. Makes sense, considering the 0 to 100km/h sprint happens in 4.3 seconds!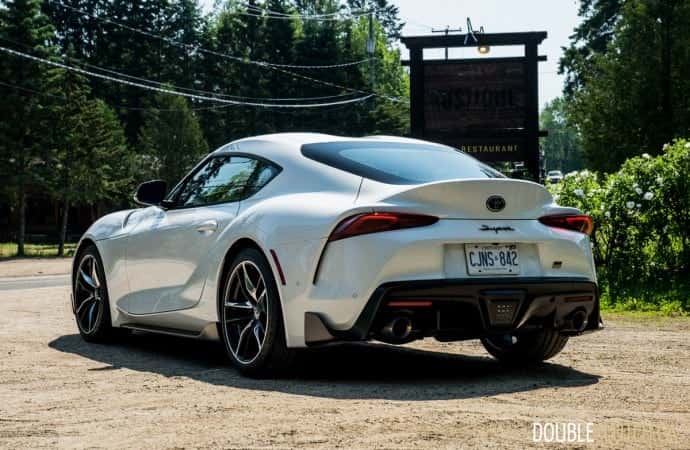 Coupled to the inline six is one transmission option only, which is the ZF 8HP eight-speed automatic. Currently, it's the pinnacle of automatic transmissions, and is able to handle gobs of power while also delivering excellent shift quality and control. Yes, there's no manual option – Toyota says there isn't one for now, but that doesn't necessarily mean there will never be one. The ZF gearbox's performance credentials will mop the floor with any manual but still, for the sake of Waku Doki, a row-your-own transmission would be icing on the cake.
With the lower curb weight and modern powertrain technology, rated fuel consumption is astoundingly good given the performance, with nominal figures of 9.9L/100KM in the city, and 7.7L/100KM on the highway. Of course, these figures will vary based on your own driving habits. If playing with the popping and crackling exhaust, expect considerably worse economy!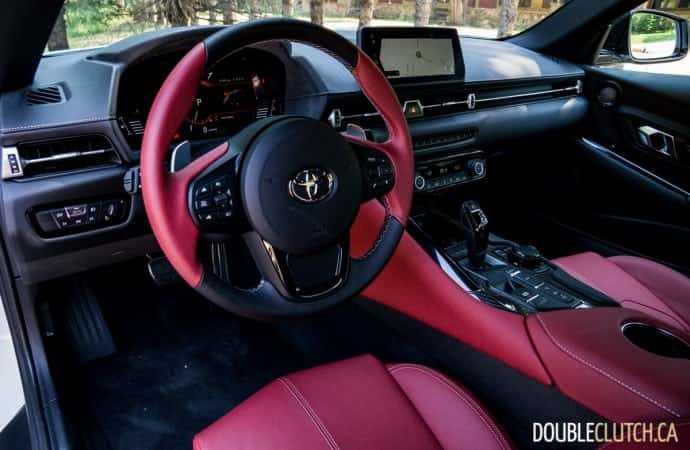 Inside, the 2020 GR Supra is function over form, but is still smartly designed and laid out. Many components come from the BMW parts bin, which is not necessarily a bad thing, as touch point and switchgear quality is very good. The real carbon fibre trim isn't overdone, and the gauge cluster is a little more simplified when comparing to a 3 Series or a Z4. The Toyota Supra Connect interface is based on the previous generation iDrive, and other than the menus being a bit too deeply buried, it's easy to use. Red leather is available in a multitude of exterior paint options at no extra charge, which is another Canadian-exclusive perk – Americans have to make do by optioning a special edition.
After driving various M40i BMW products before taking the 2020 Toyota GR Supra on the track, it's pretty safe to say that Toyota has given the Supra enough of its own unique flavour both inside and out. While the basic inputs and big picture are more or less the same, the subtle differences become much more apparent between each variant's intended use case. Compared with the Z4 M40i, the Supra is much more suited to a performance driving setting, with better overall feel and control. The Z4 is a more premium feeling product, and it's a given if you prefer open roof motoring. All in all, the GR Supra is objectively a good car: to the rest of the Internet, please stop complaining about the BMW DNA and don't look this gift horse in the mouth. Toyota has worked hard to make a kick-ass sports car, and for that, this old Supra owner is thankful.
See Also: