Prospective buyers want to know whether they are good cars to drive, whether they can live with it for the commute they have, and whether they are worth the premium over other comparable cars. Of course, majority of the questions around EVs are directed to the latest Tesla (reviewed here), to which I would provide them with my honest opinion on its pros and cons, followed by a reminder that there are other choices in the market with a lower barrier of entry.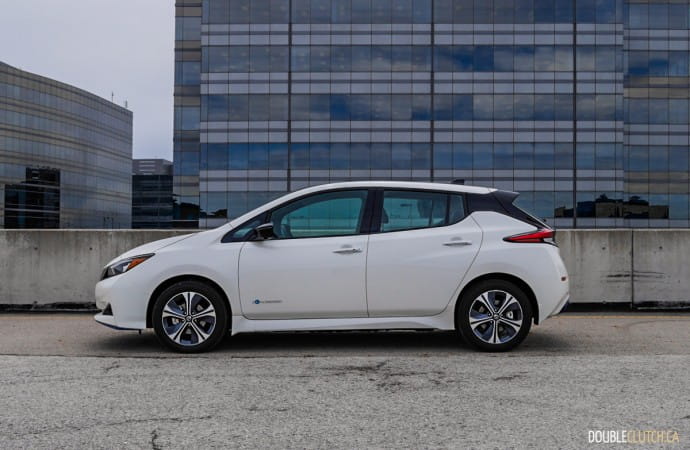 We borrowed one such example, the 2019 Nissan Leaf SL Plus. The Nissan Leaf starts at $41,698 for the base SV model with a 110 kW electric motor and a 40 kWh lithium-ion (Li-ion) battery, and the rest of the Leaf lineup receives a "Plus" badge behind the model name, along with a more capable powertrain. The Leaf SL Plus that we have in our garage starts at $49,798, plus an $600 charge for the White Pearl paint job with a Super Black painted roof, bringing our as-tested price to $50,398.
The Leaf, now in its second generation, features a rather conservative, two-box hatchback design. It shares resemblance to the first generation's aerodynamic design, but it traded the smooth and fluid design for a modern look that is pleasing to look at. The Nissan signature 'V-Motion' grille up front lets onlookers know this is undeniably a Nissan product, and the car features many aerodynamic parts such as its LED headlights, underbody cover, and rear diffuser that helps the Leaf conform to a 0.28 coefficient of drag.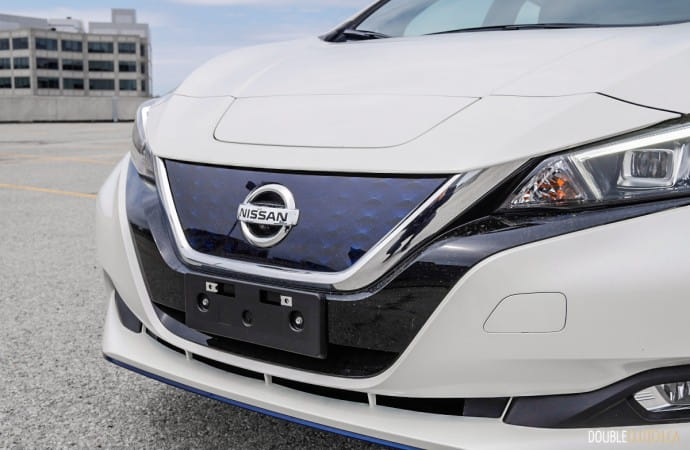 There is a small compartment up front, just below the edge of the hood, which houses the charge port with a light and lock. Overall, the 2019 Leaf is more attractive than the first generation it replaces, and the understated styling is appreciated in a market full of quirky looking green vehicles. It conforms to the adage that electric cars don't have to look like penalty boxes.
All Leaf Plus models are powered by a 160 kW AC synchronous electric motor, paired to a 62 kWh Li-ion battery, producing 214 horsepower and 250 lb.-ft. of torque. Like any EV, power comes on instantaneously once you step on the accelerator, and it continues its momentum just enough to let you catch up in traffic before any interruption. Drivers have the option of enabling one-pedal driving by pressing the e-Pedal button above the palm-shift drive selector, which engages the regenerative braking system as soon as you lift off the throttle.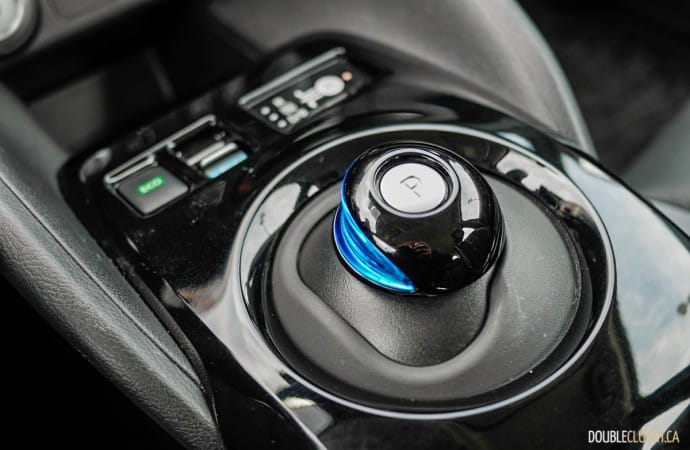 It took me some time to get used to not stopping using the brake pedal, but once I had enough practice with the brake force and distance, it became my preferred mode of driving all week. I enjoyed not needing to transition my foot between pedals in traffic, as well as allowing the car to recharge more using the kinetic energy collected from the brakes. Two things of caution about the e-Pedal are that the deceleration force is sometimes not as strong as predicted, and the system requires re-engagement after every trip.
Speaking of recharging, the Nissan Leaf Plus SL has a rated 363 km drive range, which is more than 120 km better than the standard Leaf model. In real world driving, the drive range is dependent on a myriad of variables, including your driving speed, climate control use, and even external elements such as cold weather. No matter how hard one tries to be nonchalant about an EV's drive range, there will be some anxiety felt at some point of your life with one.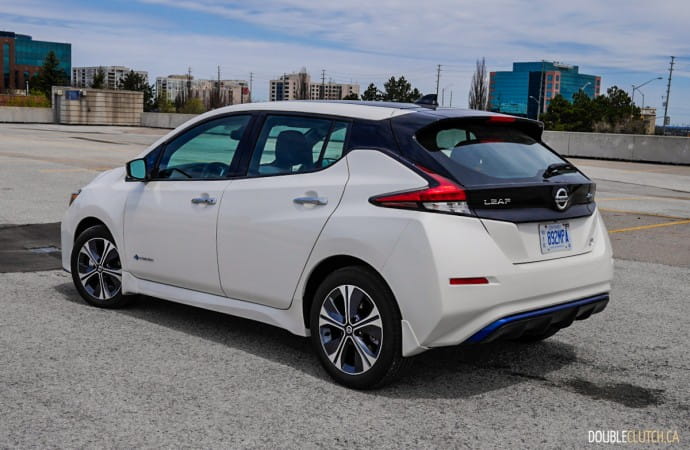 It is highly recommended for anyone who owns an EV to install a 240-volt Level 2 charger in their home, which can fully charge their Leaf Plus in just under 12-hours. Mapping out locations of DC Quick Charging stations to get up to 80% charge in as little as 45 minutes.  During my week of mixed driving over 480km with the Leaf, I consumed a total of 86.4 kWh of energy. By using Natural Resources Canada's assumption of 8.9 kWh being the equivalent to one litre of gasoline, my consumption equates to about 2.0Le/100km. The figure is better than the rated consumption estimate of 2.1Le/100km city, and 2.5Le/100km highway.
The Leaf's interior design takes a simple and practical approach. The front and rear seats are heated in all trim levels, and the SL Plus replaces the bio-cloth seats in other trims for leather-appointed ones. It is fairly equipped for a compact car with a seven-speaker Bose audio system, 360-degree round view camera, heated steering wheel, and HVAC timer that allows the Leaf to pre-climatize the cabin.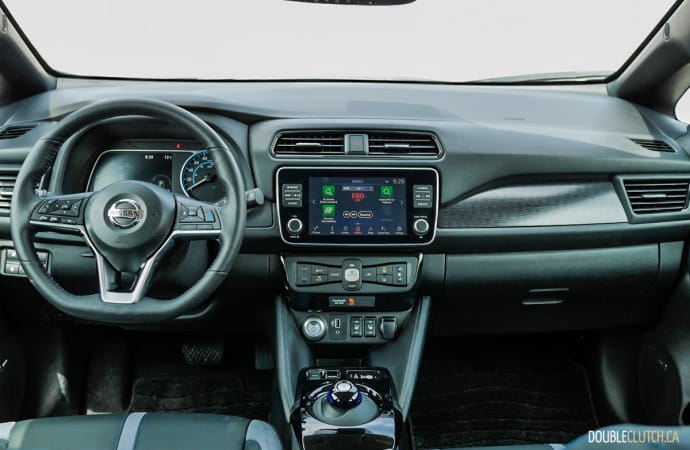 The Leaf's Nissan Connect infotainment system is controlled using a eight-inch touchscreen. Navigation is standard for the SL trim, and Apple CarPlay and Android Auto connectivity is included. The Leaf SL Plus also comes with Nissan's ProPILOT Assist system that offers Intelligent Cruise Control with steering assist. Other proactive safety systems such as lane intervention, blind spot warning, rear cross traffic alert, forward collision warning, and driver attention alert systems are all included that make the Leaf SL Plus a good choice looking for active safety tech.
With a window sticker price of just over $50,000, the Nissan Leaf SL Plus competes head to head against the Chevrolet Bolt Premier (reviewed here) and the Hyundai Kona Electric, and is a couple of thousand dollars cheaper than the base model Tesla Model 3 Standard Range Plus, which starts $53,700. If you are after the longest drive range, the Kona Electric is the only one in this group that offers over 400km between charges. It is worth mentioning to our Canadian readers that all of these models discussed would qualify for up to $5,000 incentive from the Canadian Federal Government under the current Incentives for Zero-Emission Vehicles (iZEV) program.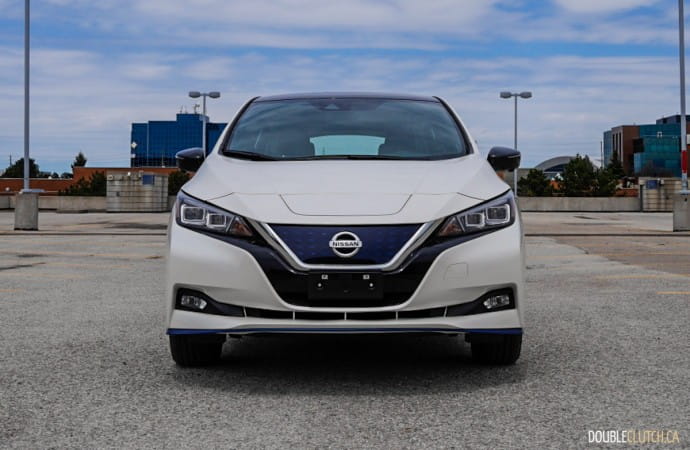 The 2019 Nissan Leaf SL Plus is an excellent vehicle for those who would like to venture into the EV life. Its conservative styling allows it to blend in if you are not one to broadcast your principles, and its 160-kW motor contains enough oomph to avoid you from getting left behind. It is fairly well equipped so there is not too much of a sacrifice to preserve fossil fuel, although the interior materials are far behind any gasoline-powered cars in its price range.
The Leaf's marked improvements over the last generation have not gone unnoticed, as J.D. Power Award recently gave the Nissan Leaf Plus an award for the highest-rated vehicle redesign, and it was also named the 2019 Canadian Green Car of the Year by the Automobile Journalists Association of Canada.
See Also: