When the likes of the Nissan Rogue, Honda CR-V, or Toyota RAV4 are too big for you, automakers have a solution for you. A whole new class of subcompact crossover sport utilities have cropped up over the last couple years, and are touted as offering most of the perks, without the extra size. They're generally good for young urban professionals with no kids and a small to medium sized dog, but can still accommodate a car seat or two in a pinch. The 2019 Nissan Qashqai SL AWD was new elsewhere in the world for 2014, and arrived on North American shores in 2017 to do battle against the likes of the Honda HR-V, Mazda CX-3, and Hyundai Kona. Unlike the rest of us, Americans know the Qashqai as the Rogue Sport.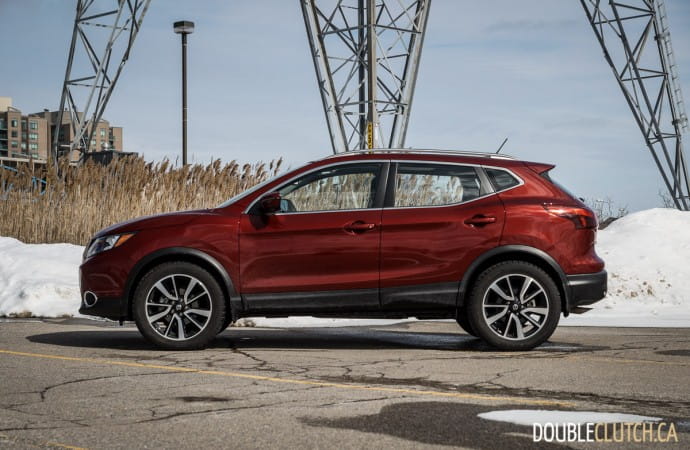 The base, front-wheel drive, manual transmission Qashqai starts at $19,998 and packs in extras such as heated seats and Android Auto/Apple CarPlay smartphone connectivity atop a 7.0-inch touchscreen interface. The top SL trim with all-wheel drive balloons up to $31,198, and at this point, there are 19″ alloy wheels, fog lights, a power moonroof, 360-degree cameras with parking sensors, leather seats, a heated steering wheel, an eight-way power driver's seat, dual zone climate control, and push-button start.
On the test car supplied by Nissan Canada, the $2,100 SL+ Platinum Package adds nine-speaker Bose audio, LED headlights, autodimming rear view mirror, and Nissan's NissanConnect mobile connectivity. The Scarlet Red paint job was $300 extra, and brought the as-tested price to $33,598. That's quite a lot of money for a car of this size and class, but it's also not hard to load up the competition this high, either.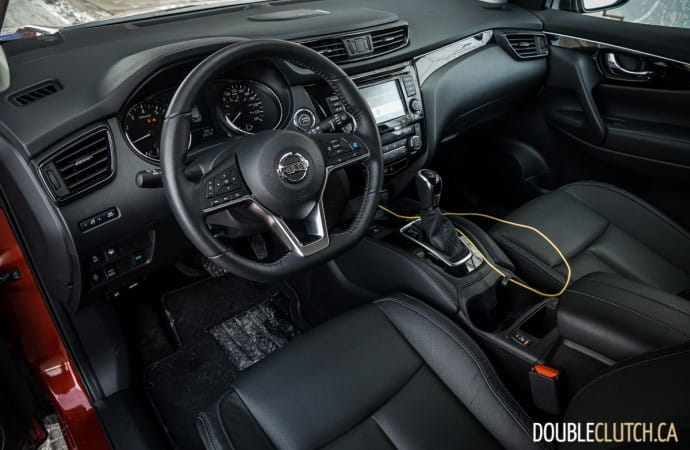 The SL versions of the Qashqai include Nissan's ProPILOT Assist technology, which is Nissan-speak for today's modern safety suite of driving assists. With the use of radar sensors and cameras up front, it includes lane keeping assist, forward collision warning with autonomous braking, adaptive cruise control, and automatic high beams. On top of this, ProPILOT Assist is capable of controlling the car in heavy traffic situations, covering acceleration, braking, and most steering functions mostly by itself. It is important to note that full driver attention is still required, as these systems aren't advanced enough to take full control.
Inside the 2019 Qashqai is a decent place to swallow up cargo, with 566 litres (20.0 cubic feet) of capacity available with the rear seats left up; this number grows to 1,500 litres (53.0 cubic feet) with them folded down. The "Divide-N-Hide" cargo system is a series of configuration options to accommodate things in various shapes and sizes, and stows away neatly when not in use. Against the competition, the Honda HR-V is closest to the Qashqai in both interior and exterior dimension, and trumps the Nissan in the cargo category with 657/1583 litres (23.2/55.9 cubic feet) with the rear seats up and down, respectively. The Mazda CX-3 is a lightweight at 408/1,484 litres (14.4/52.4 cubic feet), and the more compact Hyundai Kona is in between with 544/1,296 litres (19.2/45.8 cubic feet).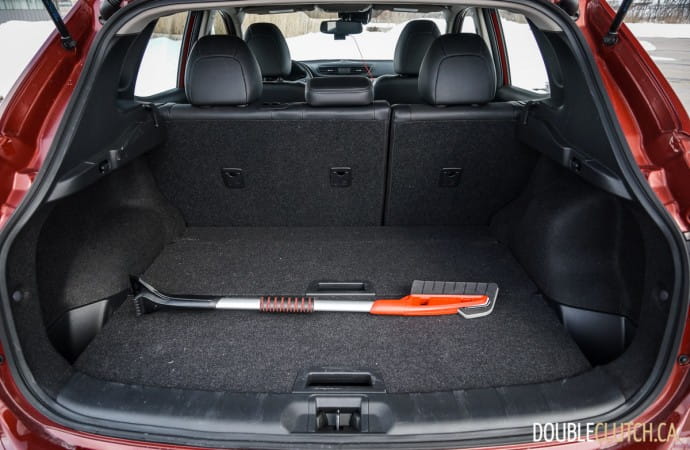 The 7.0-inch touch screen infotainment system is similar to what can be found in the current crop of Nissan products, and gets the job done with few extra frills. Button and switch ergonomics are not Nissan's strongest suit, with a few functions such as heated seats placed out of sight and not as easily within reach. The touch interface is a bit clumsy and doesn't feel as modern as its peers, but the good news here is that Android Auto and Apple CarPlay pairing largely negate most of the futzing around. For those considering the SL+ Platinum Package for the Bose audio, you may want to skip it, as the sound quality isn't what you'd expect out of a typical Bose system. Bass wasn't as strong as it could be, and sound clarity fell short at any given volume level. Interior plastics and material selection are also on the cheaper side, but the leather seats are reasonably comfortable in all seating positions.
Powering all forms of the Qashqai is a 2.0-litre inline four cylinder engine with direct injection and variable valve timing. It puts out 141 horsepower at 6,000RPM and 147 lb-ft of torque at 4,400RPM. It's a unit that gets the little Nissan around with an adequate sense of urgency, and vibration is relatively well controlled. It's coupled to a continuously variable automatic transmission (CVT), which eschews traditional gear ratios for an infinitely variable spread for better optimized acceleration.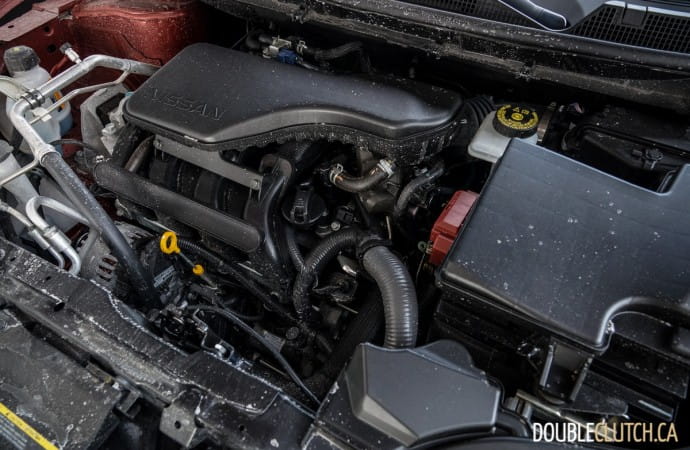 Nissan's calibration often results in the engine soaring past 3,000RPM in normal acceleration, and while it's not shaky, it can get a little buzzy and noisy. The good news about the CVT, however, is that fuel economy is pretty decent, with a city rating of 9.1L/100KM and a highway rating of 7.6L/100KM. With extreme cold winter weather and a whole gamut of stop-and-go city driving, observed economy missed the mark at 10.8L/100KM, but this is excusable given the circumstances.
On the open road, the Qashqai is very well isolated from wind and road noise, even at highway speeds and with winter tires. The steering feels well-weighted and the little Nissan handles as well as is expected for a crossover SUV with a higher ride height and centre of gravity. There's no full free lunch, however, as ride quality is more characteristic of a cheaper car closer to its $19,998 base sticker as opposed to the as-tested $33,598. The suspension is somewhat underdamped and has a more jarring ride over rough roads, and the CVT automatic engages and disengages abruptly when slowing down for anything more than moderate braking.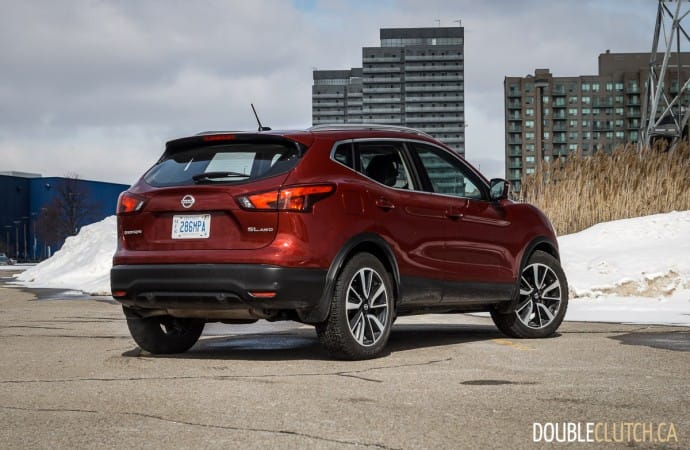 The 2019 Nissan Qashqai SL AWD has a very promising form factor, and looks pretty snazzy on the outside to boot. It is a fuel efficient subcompact crossover SUV that falls a bit short on comfort and interior design, but those who are long distance highway cruisers will appreciate the noticeably quiet cabin; urban dwellers will need to make the four cylinder engine kick and scream a little bit more. The manufacturer's suggested retail price north of $33,000 is very steep considering the competition. The Honda HR-V starts out at a couple grand less and gets all of ProPILOT Assist's safety functionality with Honda Sensing, except for the heavy traffic autonomous control. The Qashqai becomes a much better proposition when sales incentives are factored in, but in this case, you'll get what you pay for.
See Also: