However, they are not ready to back away from the mid-sized sedan market just yet, but rather wisely bringing some crossover to their midsized Altima, in the form of a standard all-wheel-drive system.  While the addition of AWD is likely the most exciting news for Canadians, the 2019 Altima is totally new and aimed right at taking a chunk of the sedan market from Camry, Accord (reviewed here) and Sonata. I spent an early spring week with a 2019 Nissan Altima Platinum to see how it would stack up.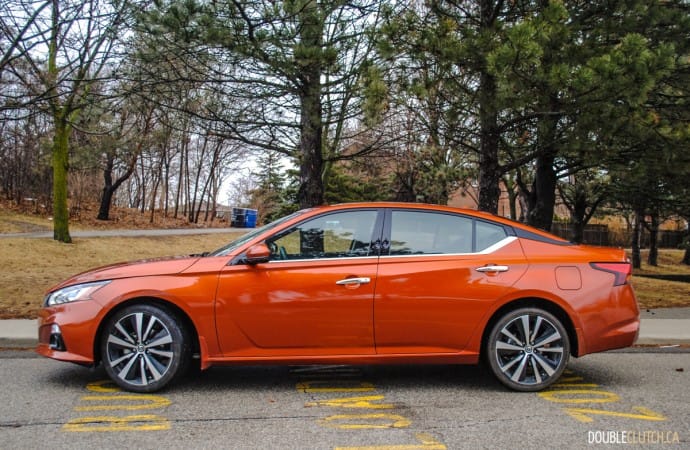 The Altima's styling has been dramatically revamped in that it looks totally different from the outgoing model. The new Altima proudly sports Nissan's latest corporate grille treatment and a prominently creased hood for an aggressive and sporty look up front. The side profile is handsome and features a couple of interesting lines, as well as a very awkward rear C-pillar area. The rear end is bold with a big rear diffuser look bumper and two large exhaust tips. It also features amber turn signals in the taillights, a rather uncommon treatment these days, but it's unique and I like it.
Overall, it's a nice design that is modern and just a bit edgy, but so are its competitors, so while good-looking, I wouldn't say the Altima's looks do a whole lot to set it apart. That said, our tester finished in 'Sunset Drift' orange and wearing sporty 19" wheels did catch a lot of looks during our time with it.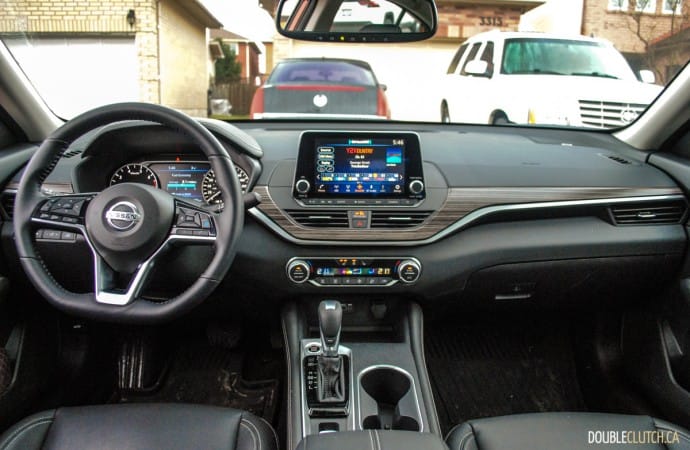 The interior represents a big step up from the previous generation both in utility and overall quality. Materials throughout are generally up to the higher standards set in the midsize sedan segment, with plenty of leather and soft-touch matte finish plastics to be found on all the frequent contact surfaces in our Platinum trim tester. The dashboard design is clean, modern and easy to navigate, however the piece of faux wood splitting the upper and lower portions looks low grade and cheapens the overall look.
Our Platinum trim tester came equipped with heated leather seats. They are comfortable, but the leather on the seats doesn't feel high quality like the soft stuff used on the steering wheel. From a utility standpoint, rear head and legroom is downright luxurious. In fact we used our tester to take a ride with our eight-month old and the rear-facing car seat fit with plenty of room to spare. The trunk is deep and wide, but the opening is a bit small. Up front, there are deep door pockets, a large center armrest storage bin and a well-designed console.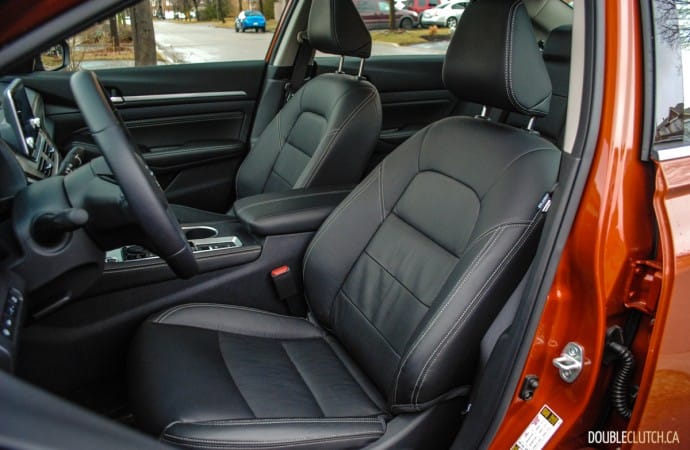 On the tech front, our Platinum test car came with the NissanConnect infotainment system with an eight-inch touchscreen with navigation, nine-speaker Bose audio setup (which sounds awesome), satellite radio and both Apple CarPlay and Android Auto capabilities. The touchscreen layout is simple and operation is quick and responsive. I also like the fact that Nissan still uses real buttons or knobs for the most frequent functions like adjusting volume and changing radio stations.
Unlike in the U.S., the Canadian Altima only gets one engine option, which happens to be the lower output 2.5L naturally aspirated four-cylinder. It makes 182 horsepower and 178 lb-ft. of torque at 3,600RPM, which is down from its competitors like the Camry, Accord and Sonata. Coupled with Nissan's notoriously sluggish CVT transmission and saddled with the weight of the AWD system, the 2.5L does feel a bit stretched. Throttle response is dim and acceleration requires patience in the Altima.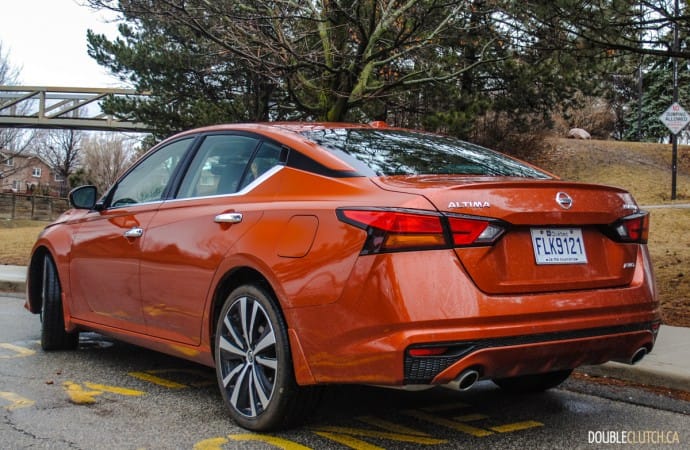 The Altima's lack of power really is a shame, because otherwise it's a very pleasant car to drive. The engine is smooth and quiet, and handling is sharp. It may not be as sharp as the Accord, but the Altima is definitely still fun to toss through the twisty backroads and could be so much more fun with a bit more oomph. On the highway it cruises admirably with silence in the cabin and a soft but planted ride. The Altima is easy to maneuver thanks to a tight turning radius, but large bumps and potholes are felt a bit more than in competitors with softer suspensions.
We did experience an early spring snowfall, which allowed me to put the AWD system through its paces. Despite wearing all-season tires, the car handled well thanks to its intelligent system pushing power to the wheels with the most available traction. It also uses a brake-based limited slip system to help stay on course. This AWD system allows the Altima to join the Subaru Legacy (reviewed here), and makes it a very tempting alternative to the oh-too-common crossover.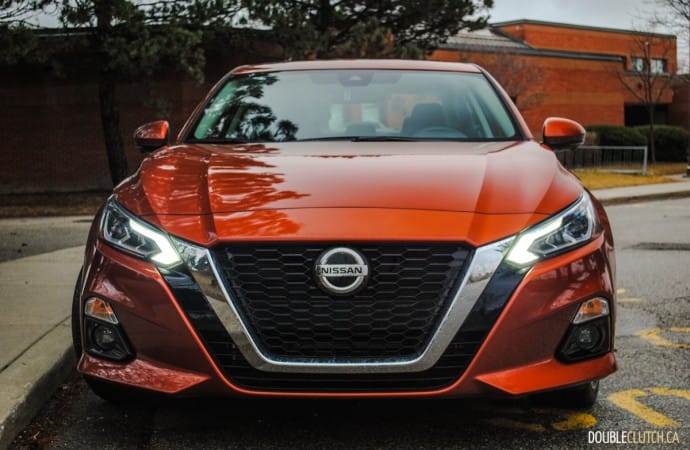 One advantage adopters will enjoy is the fuel economy. A week's worth of rush hour commuting returned an 8.2L/100km average on 87-octane regular fuel. That's not great compared to a front-drive sedan, but it is pretty darn good when compared to a four-cylinder AWD crossover where one could typically expect averages in the 9.5 to 10.5L/100km range.
On the driving safety side of things, the 2019 Altima Platinum comes standard with the ProPilot Assist suite of features, which include adaptive cruise control, lane departure warning, lane-keep assist, forward collision warning with automatic emergency braking, blind-spot monitoring and rear cross-traffic alert. A segment-exclusive 360-degree camera is also on board the Platinum model.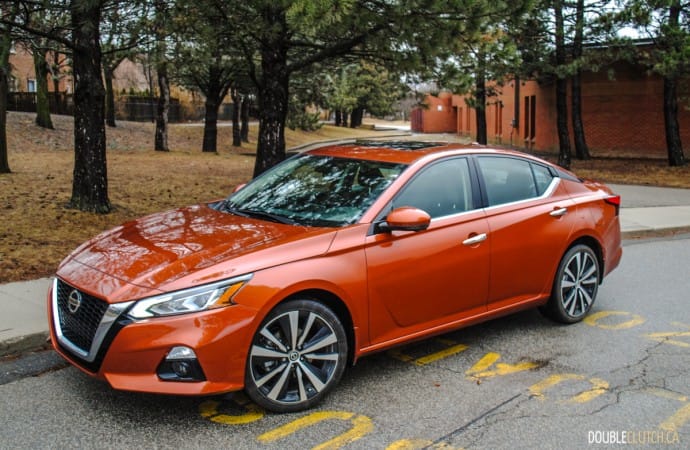 Starting price for a new 2019 Altima in the base S trim is $27,998, and at that price you still get the AWD, eight-inch touchscreen, rear-view camera and forward collision warning. Stepping up to the SV will run $31,498 and you'll get the full ProPilot package, 17" wheels and a power moonroof. Lastly, a Platinum like our tester comes in at $34,998 and comes fully equipped including leather, the 19" wheels and Bose sound.
As long as you don't mind the sluggishness of the 2019 Nissan Altima Platinum's 2.5L engine, it really is a fantastic commuter car. It has the AWD to deal with whatever conditions you run into, it's efficient, comfortable and loaded with all of the latest tech. This represents a big update to Nissan's volume sedan, and if it's enough to keep some buyers in sedans and out of crossovers, then I am all for it. Plus, if AWD is on your must-have list, and you're interested in a sedan, there really is no better option.
See Also:
2019 Subaru Legacy 2.5i Touring