For young urbanites, the compact, sporty two-door coupe seems to be going at least a little bit by the wayside. Their four-door sedan counterparts are seeing a similar fate, as consumers are moving to the practical sport utility vehicle in droves. They now come in all shapes and sizes, and today's test of the 2019 Lexus UX 250h is the Japanese luxury automaker's latest foray into the subcompact sport utility market. This type of vehicle can be fairly practical when the need arises, but doesn't necessarily commit to being a full-on family hauler. For the UX 250h in particular, having a hybrid electric powertrain can be of great appeal for those looking to save money at the pumps together with an easy to maneuver package.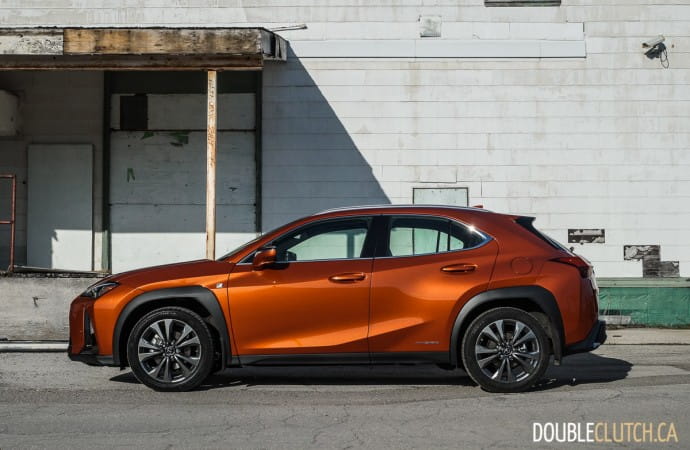 Starting at a base price of $39,700, the test car came finished in an eye-catching Cadmium Orange paint colour, which was $650 extra. Standard features include a leather wrapped steering wheel, dual zone climate control, heated and ventilated front seats, and Lexus' full safety suite of driver assists: automatic high beams, adaptive cruise control, forward collision warning with autonomous braking, pedestrian and bicycle detection, and lane keep assist. For those looking for more, any one of three option packages are available – the $2,100 F Sport 1, the $5,100 Luxury Package, and the $8,800 F Sport 2.
For the car in this review, the F Sport 2 adds onto the UX a garage door opener, power liftgate, wireless phone charging, navigation, premium audio, a 10.3-inch infotainment screen, triple LED headlamps that swivel with steering input, a heated steering wheel, power driver's seat memory, auto dimming rear view mirror, and 18-inch alloy wheels. With an as-tested price of $49,150 before taxes and fees, the UX 250h AWD is priced quite aggressively compared to its European rivals – it's cheaper than a comparably equipped Mercedes-Benz GLA 250 4MATIC, Volvo XC40, or BMW X1, and is only slightly more than an Audi Q3. The perk here is that only the Lexus offers a hybrid powertrain at this price point.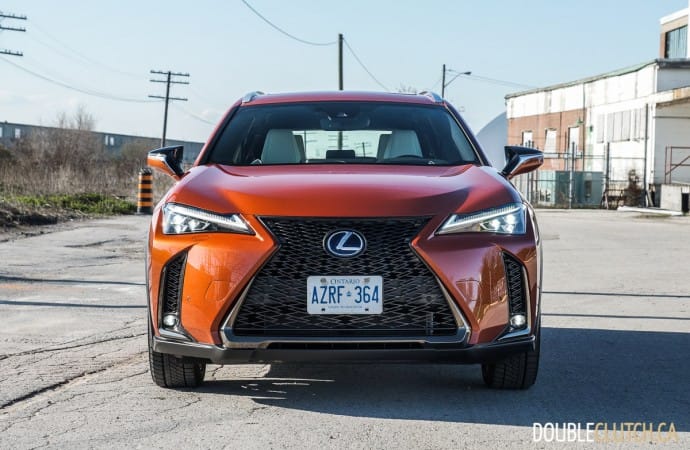 Paired with the very metallic orange paint job, the white NuLuxe synthetic leather interior on the UX would fool just about anybody into thinking it really came from a cow – it's soft, supple, durable, premium feeling, and comfortable. As a whole, it's a very well put together interior with the best of the best in terms of fit and finish and material quality. Front seat occupants have a reasonable amount of room considering a car of this size, although taller or wider occupants may find themselves a little claustrophobic.
Out back, one probably could get away with fitting space-hogging rear facing child seats if they aren't too tall, but the rear seats are best for occasional use, or for small dogs. Lexus rates cargo capacity with the rear seats up at 487 litres (17.2 cubic feet), which is less compared to the base front-drive UX 200. The gasser can swallow up 614 litres (21.7 cubic feet) – blame the hybrid system's batteries. Capacities with the rear seats folded were not available at the time of publication, but let the photos below speak for themselves.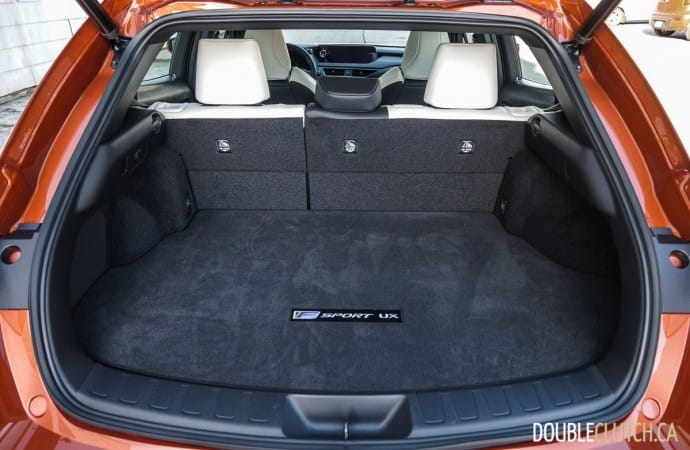 For technology, the UX gets Lexus Display Audio, and the Luxury Package or F Sport 2 models get a larger 10.3-inch display. It's not a touch interface, but instead requires input from a laptop-style touchpad. There are enough hard buttons on the dash to control most major functions (heated seats and climate control, for example), but needing to use the touchpad for deeper menu selections can be an exercise in frustration. Swipes on the pad often result in overshooting the desired selection, and drivers end up having to take their eyes fully off the road in order to figure out what's going on. The interface and style is very similar to that in regular Toyota products, except there's no touch function, which suggests that the Lexus approach could do with a lot more optimization. For those with Apple smartphones, thankfully, Apple CarPlay mirroring capability is standard. Android users are out of luck for now.
With the UX 250 AWD's hybrid electric powertrain, the gasoline engine's power is sent to the front wheels, and an electric motor is responsible for propulsion at the rear. There's no mechanical driveshaft connection between the two axles, and so each system works independently to maintain traction in inclement weather conditions. The 2.0-litre gas engine and electric output combined for a total system peak of 181 horsepower, which is a small bump from the UX 200 front-wheel drive's 169. An electronically controlled continuously variable transmission (CVT) makes the most of the two systems, and is a smooth unit that isn't too intrusive. In practice on the road, it didn't quite feel like the UX hybrid had 181 horsepower, with copious throttle and protest from the gas engine needed in order to merge and pass.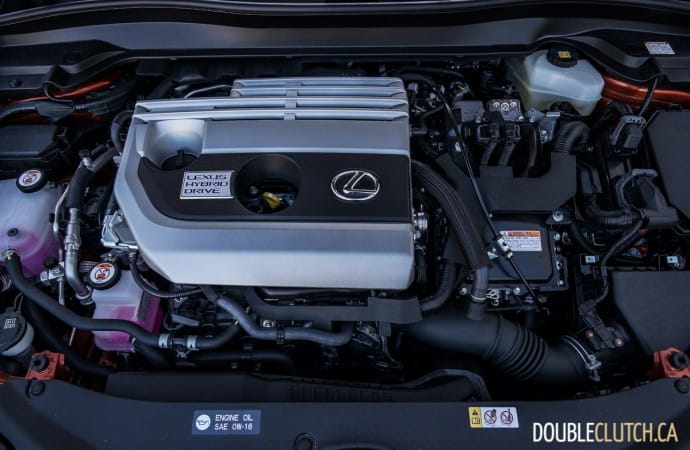 When it comes to driving a hybrid, in order to maximize fuel gains, there needs to be a small shift in driver mentality in addition to understanding the system's functionality. This doesn't necessarily mean driving slowly, but rather, it's more about driving smartly instead. Lighter brake pressure results in regenerative braking, which is essentially the electric motor being used instead of the traditional hydraulic brake system, and this returns energy to the battery in order to charge it. Hard braking makes the hydraulic system kick in, which should be avoided. For throttle use, pulsing and gliding (that is, accelerating gingerly but not too quickly) to the desired speed and then lifting off the accelerator is effective for shutting off the gasoline engine and cruising on electric for as long as possible.
Natural Resources Canada rates the 2019 UX 250 AWD at a very frugal 5.7L/100KM in the city, and 6.2L/100KM on the highway. Observed consumption after a week of mixed driving saw 6.1L/100KM. Tank capacity is smaller at 40 litres, but with such low consumption, range on a full tank can surpass 500 to 600 kilometres. Regular octane fuel is perfectly acceptable, which is another perk against BMW, Mercedes-Benz, and Volvo.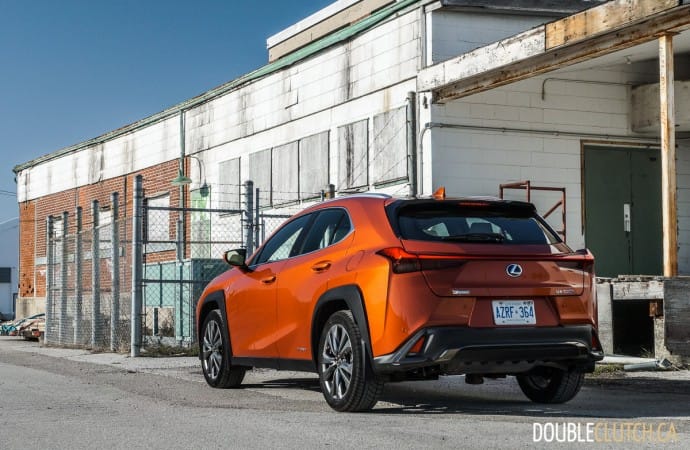 One potentially more hidden positive trait about the Lexus UX 250h AWD is its driving dynamics. Built upon what Lexus calls its Compact Global Architectural Platform, it shares underpinnings with parent company Toyota and their New Global Architecture (TNGA). As we've noticed on all products coming out on this platform, this means fantastic chassis rigidity, which helps with ride quality, noise and vibration control, and one (very) intentional side effect: great handling. Combined with well-weighted steering that inspires confidence, the UX's road holding abilities are quite impressive. While the general public may not be aware, cars like the new Toyota Avalon (reviewed here) and Camry (reviewed here) are also way more fun to drive than they let on. Even so, there are no real compromises, and the UX does not ride excessively firm; the cabin is also whisper-quiet at speed.
With its pricing coming in between forty and fifty grand (Canadian dollars), the 2019 Lexus UX 250h AWD puts itself right in the heart of the premium subcompact crossover sport utility segment. Its distinct advantages are its hybrid fuel economy, handling, and a premium feel interior. If it works for you, the exterior is sharp, if not a bit over the top. Rear passenger and overall cargo space is always at a premium for a vehicle of this size and stature, but there should be just enough practicality in a pinch for the average urban dual-income-no-kids scenario. The UX makes sense to get new buyers into the brand, who could grow into the larger NX or RX crossovers as needs change.
See Also:
2018 Mercedes-Benz GLA 250 4MATIC