Despite what current automotive trends are saying, it's not a crossover or sport-utility-vehicle. While many new parents are flocking to buy the latest CR-Vs and RAV4s, the subject of this road test is a real hidden gem. For just over two decades, Volvo's "Cross Country" moniker has been quietly becoming a household name and earning lifelong converts. This 2019 Volvo V60 Cross Country T5 is new for this year, and has all of the characteristics Volvo's loyal buyers want, and more.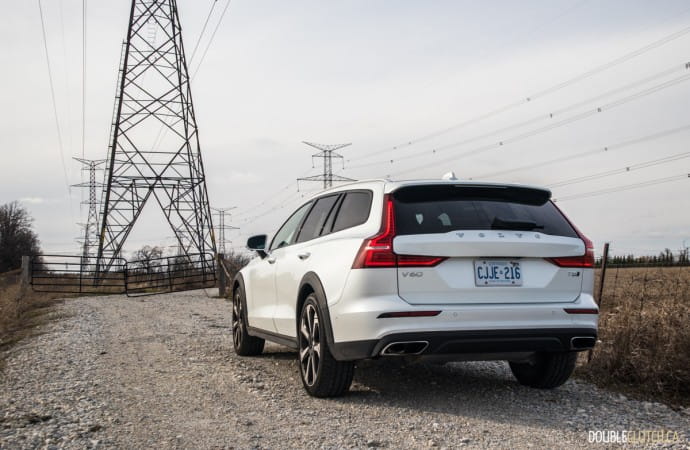 Just like almost everything else coming out of Chinese-owned Volvo these days, the underpinnings for the V60 Cross Country remain the Scalable Product Architecture (SPA). The formula for this raised station wagon is simple – they've taken the regular V60 (reviewed here) and added longer travel suspension and additional ground clearance (61mm, to be specific). It also gets some beefier body cladding and slightly more aggressive styling to add to its macho and rugged personality.
Unlike the regular S60 and V60 that get T5 and T6 powertrains, the Cross Country can only be had in Canada in T5 AWD form. Volvo's latest T5 application is a turbocharged version of the 2.0L inline four-cylinder that doesn't have the supercharger of the T6. It puts out 250 horsepower and 258 lb-ft. of torque right at 1,500RPM. This powertrain with all-wheel-drive is unique to the Cross Country model; the standard S60 and V60 T5 are both front-drive only. A pleasant surprise: the electric power steering actually has some feedback to it!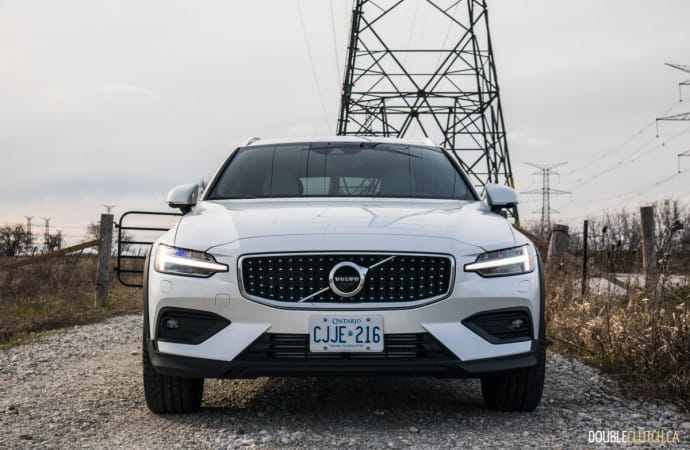 Power from the V60 Cross Country is more than adequate, and while it's not a straight line bahn-stormer, it accelerates onto the highway with ease and pulls off passes without much fuss. Volvo Canada claims a 0-100km/h time of 6.8 seconds, which seems just fine in our real-world testing. An eight-speed automatic transmission is the only available gearbox, and we found this to be the weakest point of the car. In low-speed traffic situations, the transmission tends to jerk and get confused, not knowing which gear to be in.
The V60 Cross Country uses a Haldex all-wheel-drive system that is front-based. When it detects any slip, it's capable of sending up to 50% of the power to the rear wheels using an electro-hydraulic clutch setup. As with every all-wheel-drive Volvo we've sampled, the system works imperceptibly and just like the powertrain, works its magic quietly while ensuring occupants are as comfortable and pampered as possible. Our test took place in favorable spring weather so we weren't able to closely evaluate the AWD system, but we've tested it on the regular S60 (reviewed here) in winter conditions and have come away very impressed.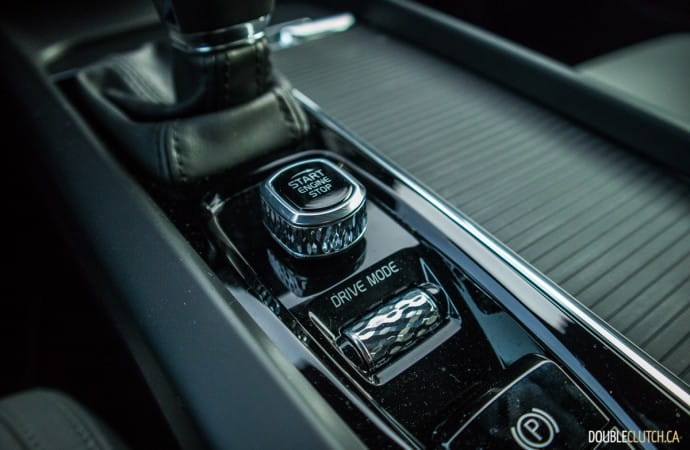 Selectable drive modes include a new "Off-Road" setting that sets up throttle response and transmission behaviour for optimal performance off the beaten path. It also enables Volvo's hill descent control, which requires no throttle or brake input from the driver as it slowly will bring the V60 Cross Country down embankments. The vehicle defaults to "Comfort", where ride quality is absolutely superb and markedly better superior to the ride in the lower V60. This alone, paired with the added ride height and ease of entry/exit, has me convincing many older buyers to gravitate to the Cross Country variant.
Inside, the V60 Cross Country is extremely pleasant, as expected. Volvo offers their very trendy "City Weave" fabric, which is effectively a plaid, but our fully loaded test vehicle was upholstered in full leather. These are the lower-end seats typically found on Momentum trim models, but even Volvo's "worst" seats are a step up over most other automakers' higher end examples. They provide excellent support and the headrests are well designed for long distance driving. Extendable thigh support would be appreciated as in the V60 Inscription, which would be beneficial to longer-legged drivers.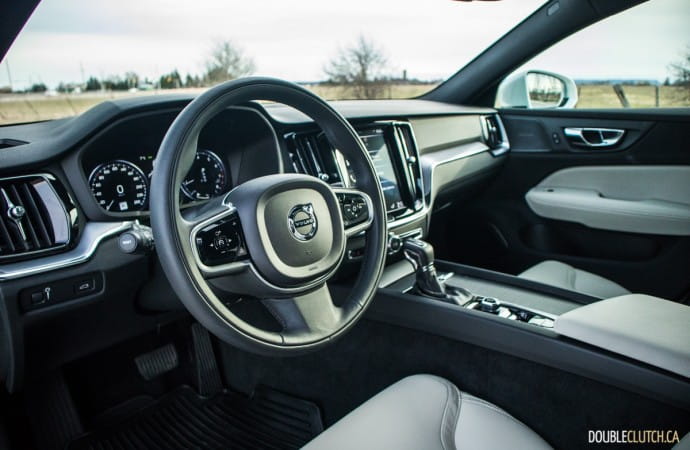 Space is plentiful for four, with plenty of headroom for both front and rear passengers. Two adults will be more than comfortable in the outboard rear seats, and rear heated seats will keep them warm on chilly winter days. The cargo area offers neat touches like a fold-up divider panel with hooks for grocery bags, a soft net, and 658L of space to swallow up your belongings. The rear seats fold flat at the touch of a button in the cargo area and expand this capacity to 1,441L.
The interior is well designed overall and will be no surprise to anyone that has driven a Volvo since 2016. Infotainment is through the Sensus touchscreen that features Android Auto and Apple CarPlay. While optional, Volvo's incredible Bowers & Wilkins sound system was not equipped on this tester; it instead had the Harman-Kardon setup. Our take is to splurge for the B&W as it really is the best car audio system in the business.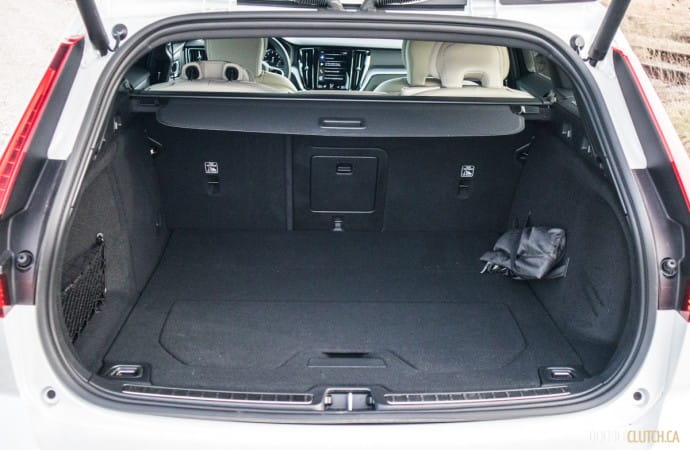 Volvo Canada has priced the V60 Cross Country from $48,900, a $5,000 premium over the standard V60 T5. A variety of packages is available, which brought the sticker of our tester close to $70,000, but the complication is in how these packages are laid out. Noteworthy available features include Volvo's Pilot Assist semi-autonomous driving technology, the spectacular Bowers & Wilkins audio system that's an industry benchmark, four-zone climate control, and a 360-degree camera.
Now, my better half and I are actually seriously considering adding a V60 Cross Country to our garage, but the packaging is proving quite detrimental. Out of the four packages which total $8,000, we found ourselves needing literally one option from each, none of which are available individually. For instance, to get a heated steering wheel buyers must opt for an $1,250 Climate Package, and to get LED headlights the $3,400 Premium Package must be checked off.
Pilot Assist isn't available individually (and this includes lane keep assist); only as part of the $1,500 Convenience Package, and lastly the 360-degree camera is only available with the $1,800 Vision Package. More annoyingly, while other safety features are standard, blind spot monitoring can only be had with the Vision Package. It's confusing that Volvo, a brand that has always taken immense pride in their safety features, hasn't made blind spot and lane keep assist standard, while much lesser brands have done so on vehicles costing half the price or less.
One of the best parts of the T5 AWD powertrain is fuel economy, which came in at 10.6L/100km over about 500km of combined driving. We observed highway mileage as low as 8.4L/100km on one longer jaunt across the city with minimal traffic. The downside to this engine is that the Drive E series of engines requires premium fuel; the previous turbocharged five-cylinder that Volvo offered for well over 20 years got away just fine on regular fuel.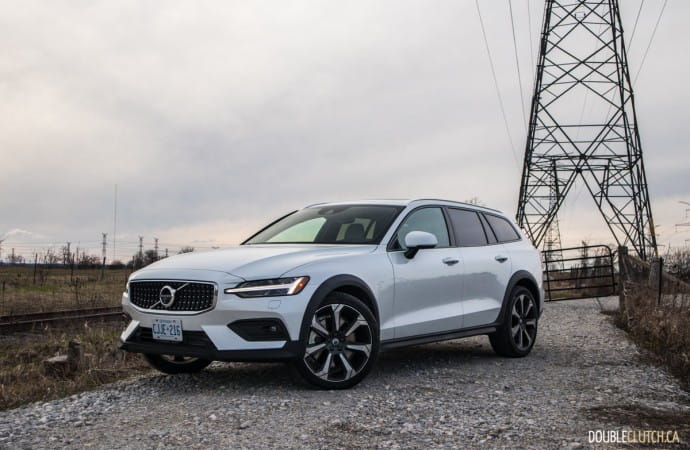 As with any other vehicle, the 2019 Volvo V60 Cross Country T5 isn't without its flaws, but it's an absolute winner on uniqueness. While many consider the station wagon to be "uncool", the more rugged looking wagon with an outdoorsy personality suddenly becomes the definition of cool, especially for a family. The only other options are the Subaru Outback and Volkswagen Golf Alltrack, both of which offer significantly less luxury and comfort. This new Cross Country is the sweet spot in the Volvo lineup, and an astonishing companion for the growing family.
See Also:
2018 Volvo V60 Cross Country T5