Take one look around the nearest parking lot or intersection it's pretty obvious that the crossover market is on fire. Honda is right on trend with the recent release of the Passport, their new mid-size crossover slotted between the smaller CR-V (reviewed here) and the larger three-row Pilot. We spent a week with a top of the line 2019 Honda Pilot Touring to see if Honda has yet another crossover destined for sales success on their hands.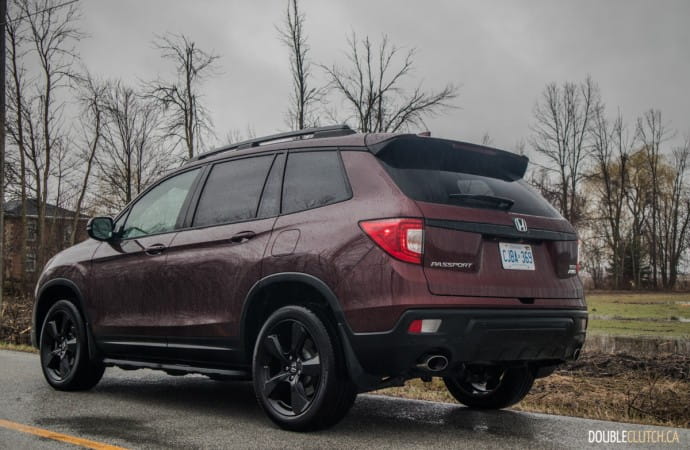 When the Honda Pilot was redesigned for 2016, I recall looking at its expanded dimensions and remarking on just how much it had grown. From its beginnings as a humble mid-sizer, the Pilot has grown towards large families who would make use of the third row and extra space. What about the buyers who don't need the excess size and heft, but want something a bit larger and more capable than the CR-V?
Enter the Passport. It actually shares its platform with the Pilot, right down to the wheelbase in fact, only the Passport loses four inches in overall length, as well as the third row, and gains some more aggressive and rugged styling cues, many of which have been lifted from the Honda Ridgeline. The Passport gets Honda into the midsize crossover game once again and takes aim squarely at the likes of the Nissan Murano, Ford Edge (reviewed here) and the newly reintroduced Chevy Blazer.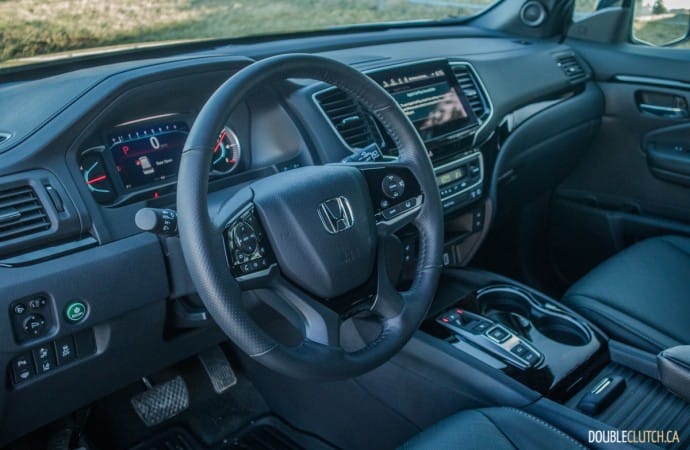 What we get is a very handsome looking "right-sized" crossover that boasts more of an outdoorsy off-road vibe than its siblings. Lots of gloss black trim, standard 20" alloys, and rugged looking body cladding set it apart from the Pilot. The Passport Touring tested here also gets LED lighting all around including a phenomenal set of LED headlights. This tester was also equipped with accessory running boards; they look great and compliment the Passport well. Unfortunately, they're fairly useless for entry and exit as they're too close to the body to be useful.
Inside, the Passport appears to be nearly a carbon copy of the Pilot, minus the third row, which is not a bad thing at all. Honda makes their interiors as practical as possible and the Passport is no exception. Every inch has been maximized for storage and convenience; the front door panels offer two levels of storage pockets, the centre console is massive and features a huge storage bin with a recessed lid, and the rear console between the two captain's chairs is just as well planned.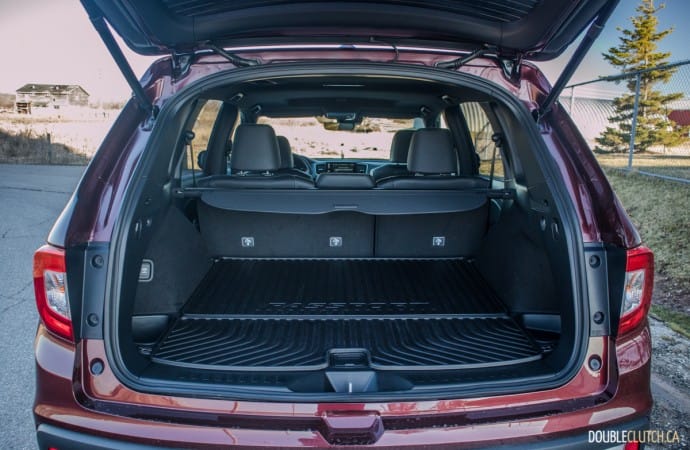 The rear cargo area is a generous 1,430 litres (50.5 cubic feet) with the rear seats up, and expands to 2,854 litres (100.8 cubic feet) with the seats folded down. It's significantly more space than a CR-V, and not significantly smaller than the Pilot (reviewed here) unless you need to have the third row seating option.
Speaking of seating, one of my biggest gripes with the Pilot I last drove has been carried over to the Passport, and that is the front seats and driving position. While the heated and ventilated black leather seats look good and have plenty of adjustability, including lumbar and adjustable arm rests, I find them excessively hard and struggle to find a comfortable driving position. After about an hour or so in the Passport my back is ready to get out, even if the rest of me is still enjoying the ride.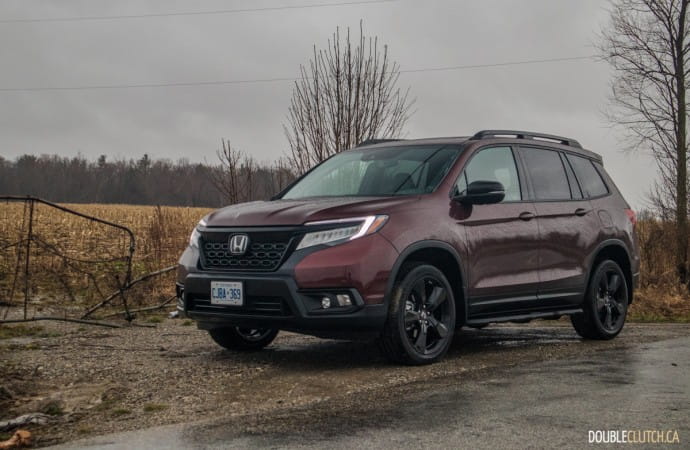 All controls are well placed and basic functions such as the tri-zone climate control are dead easy to understand and use. The touch screen is responsive, and the menu system is fairly intuitive and easy to navigate. Honda has added a volume knob, but I would really like a good old-fashioned tuner knob, as scanning radio channels while driving can be really distracting via the touchscreen.
Under the hood you'll find Honda's "J35" 3.5L V6 with direct injection. Output is 280 horsepower at 6,000RPM, and torque is rated at 262 lb-ft. at 4,700RPM. These are decent numbers and enough for the Passport to feel peppy at city speeds. On the highway or under hard acceleration the V6 does run out of breath quickly, even with VTEC kicking in around 5,400RPM. Where the V6 really does show its worth though is power delivery, which is buttery smooth and refined, just the way a family SUV should be.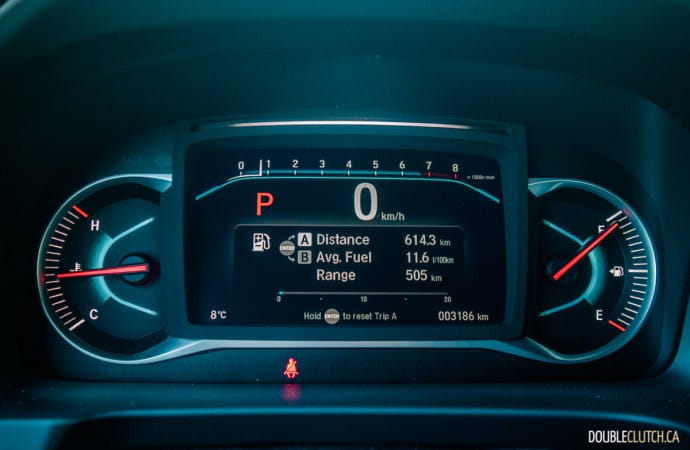 The V6 is mated to a ZF-sourced nine-speed automatic that has been dramatically improved over the years. It now delivers seamless shifting with only the odd occasional hiccup in low-speed traffic situations. Interestingly, our Passport had steering wheel mounted paddle shifters, which I never felt the urge to use given that this is in no way a sporty drive.
The Passport is rated at 12.8L/100km in the city, and 9.8L/100km on the highway. A week's worth of rush hour commuting returned an average of 11.1L/100km. That's very respectable for a large CUV with a hefty AWD system, but the Passport's less aerodynamic styling does mean it's slightly less efficient than the Pilot, which returned an average of 10.6L/100km on a similar commute. One piece of good news is that the Passport is happy on regular 87-octane fuel, unlike its Acura branded siblings.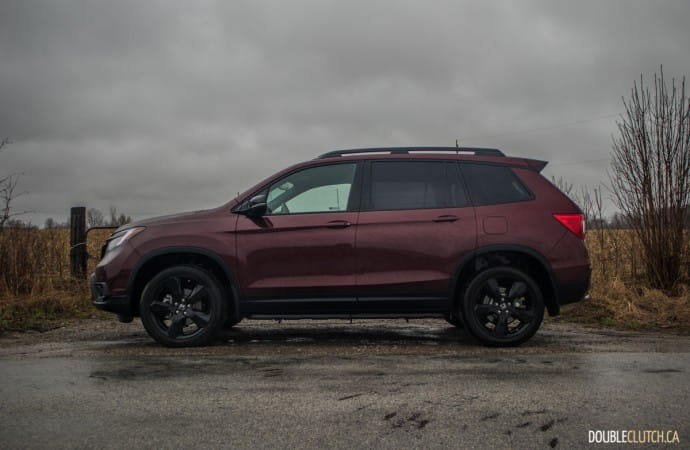 On the road, the electrically assisted power steering is very light and easy, but retains confident on-center feel while cruising on the highway. The suspension is exactly what you might expect from a Honda SUV. It's just firm enough to provide a touch of extra response, but still compliant and easy on the city's rougher roads. The interior is also extremely quiet, with dual pane glass up front and plenty of soundproofing to keep outside noise out.
Technology and gadgets rank high on the list of things buyers typically look these days, and the Passport aims to deliver. At $41,990 the base model Sport trim is a great value and comes standard with all-wheel drive, 20" alloy wheels, power moonroof, heated front seats and steering wheel, remote engine start, automatic high beams, LED daytime running headlights and fog lights, and a 10-way adjustable power driver's seat.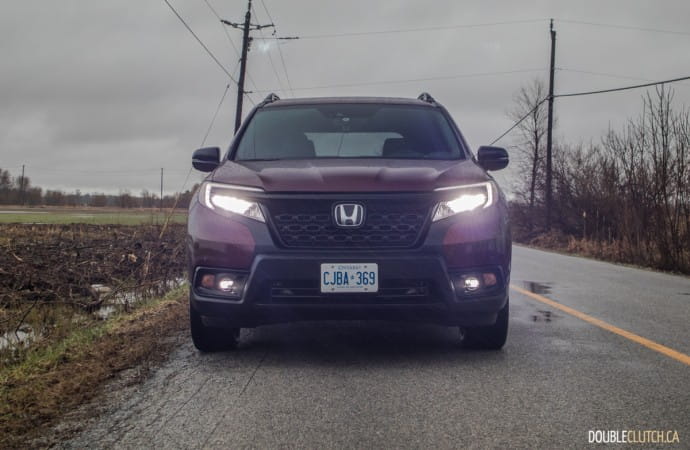 Stepping up a level to the EX-L at $45,590 adds more luxuries such as leather seating, heated rear (outboard) seats, power liftgate, an acoustic glass windshield and more. Finally, the top-of-the-line Touring like our tester rings in at $48,990 and boasts luxury gadgets like navigation, auto dimming and power folding side mirrors, LED headlights, a hands-free rear liftgate, rain sensing wipers, wireless phone charging, ventilated front seats, and the 550-watt stereo.
While the 2019 Honda Passport Touring does lack differentiation from the larger Pilot, the more rugged looks and tighter dimensions are likely to be a big success with both young families and empty nesters alike looking for a well mannered, refined and capable CUV with a bit more attitude. Similar to the Pilot, the Passport's smooth and known reliable powertrain, positive driving dynamics and spacious interior are the strengths that will keep Honda right at the front of the market.
See Also:
First Drive: 2019 Nissan Murano