Since 1989 when Lexus became a household name synonymous with luxury, the Lexus ES has been a key nameplate in the brand's lineup. Celebrating 30 years of existence, the seventh generation ES was released this year and comes to us this week in the form of a 2019 Lexus ES 300h Ultra Luxury dressed in Matador Red Micra paint.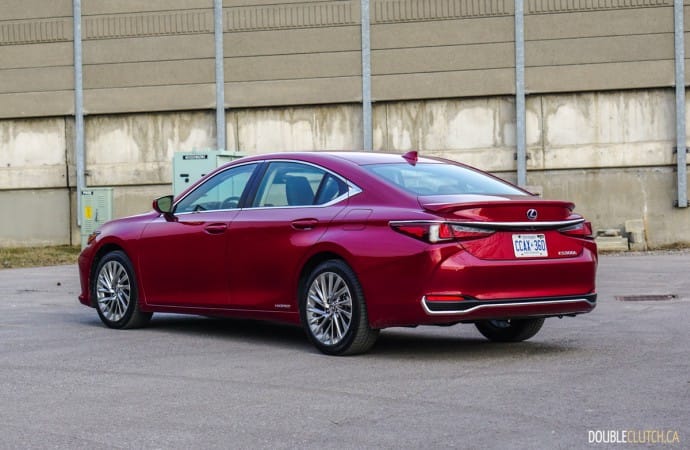 Available with either the hybrid 300h powertrain, or the more traditional ES 350 (reviewed here) nameplate, the new ES takes on the controversial and dynamic body style of the rest of the Lexus lineup. It has very large grilles and zig-zag shaped headlights up front, while the rear end takes on a different kind of subtle yet showy appearance. The styling is not for everyone, but it certainly leaves a lasting impression and gives off the notion that this is not just a facelifted rehash of last year's model.
With a starting MSRP of $47,000, the hybrid option is only a $2,000 premium over the base ES 350 offering. The Ultra Luxury is the highest trim available with the hybrid engine, and adds $14,500 to the base price for an as-tested sticker of $61,500. For that extra pile of money you get goodies such as a fantastic 14-speaker Mark Levinson sound system, a plethora of safety sensors and vision systems, power rear sunshade, rear seat sunshades, wireless phone charging and a 10" heads-up display. Canadians will be thankful that the Ultra Luxury also comes with a two-level heated steering wheel, and the seats have automatic heating and cooling settings.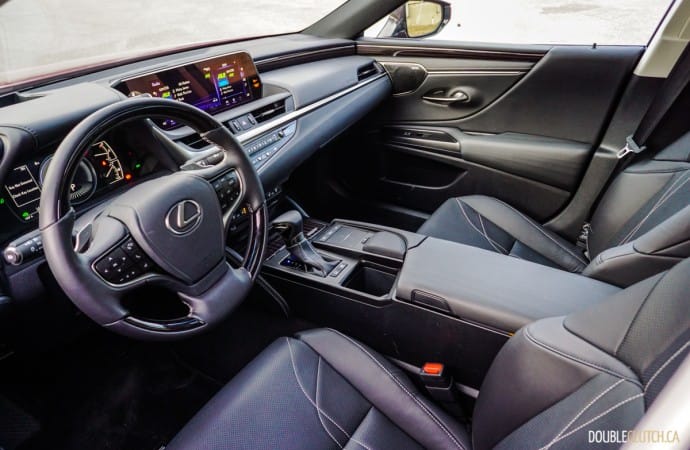 While some manufacturers do their best to keep the interiors very similar in terms of dashboard layout and design cues, Lexus designers seem to try to make every vehicle have its own unique features and quirks, with button layouts varying drastically. The layout inside of the ES300h is one that makes a lot of sense, with the seat temperature controls located in the same place as the steering wheel heater, all right below the rest of the HVAC buttons.
One odd design choice however, is the inclusion of two "handlebar" style control knobs sticking out above the driver instrument cluster for drive mode and traction control selections. It is odd to be constantly reminded about those two by having them prominently in your face at all times while driving.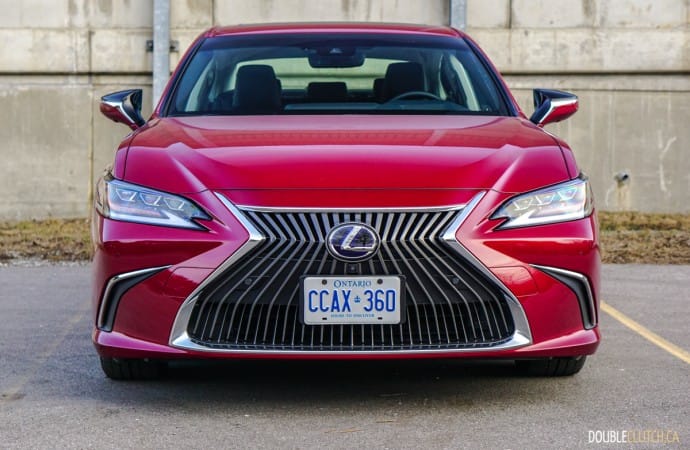 Infotainment is presented on a wide 12.3" screen and powered by the Lexus Enform system, including the Enform App Suite 2.0 and the Enform Safety Connect system to provide emergency assistance when needed. Control of the system is through the Remote Touch Interface, a touch pad on the center console that can be incredibly frustrating to use unless you develop just the right touch. A shining light here is that the Lexus ES is the first Lexus vehicle to finally get Apple CarPlay integration! Sorry Android users, no Android Auto support here yet.
Riding on a stretched out version of the TNGA (Toyota New Global Architecture) platform like the Toyota Avalon (reviewed here) does, there is no shortage of interior space in the ES 300h for all passengers, which is what makes it a favourite among livery companies. It really does provide Lexus LS (reviewed here) quality chauffeuring for a fraction of the cost. The seats are comfortable all around, masterfully crafted with great presentation, and enough room to comfortably seat five adults.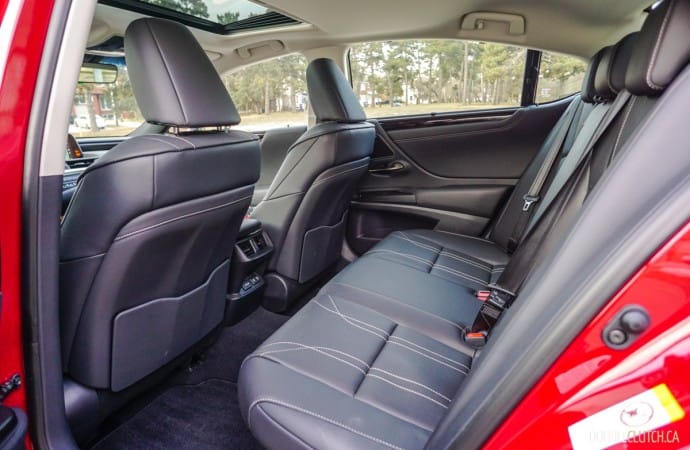 The hybrid powertrain is where this Lexus loses its charm. It feels like a refined Prius drivetrain, with engine drone clearly audible in the cabin and missing that soft, Lexus smoothness that we have come to expect. This shouldn't come as a surprise given that the hybrid runs on a four-cylinder Atkinson cycle engine instead of the smooth six-cylinder found in the ES350, but it is something that must be noted as it does make a very big difference. Rated for 176 horsepower and 163 lb-ft. on its own and 215 net horsepower including the hybrid motor, the ES 300h isn't breaking any records for acceleration times, but is no slouch either.
The hybrid ES does however clock in with some absolutely stellar fuel consumption numbers, which will ultimately justify both the lower power output as well as the loss of that fantastic V6 sound and feel. Touting a city rating of 5.5L/100km, highway rating of 5.2L/100km and a combined rating of 5.3L/100km, these numbers represent a combined 42% reduction in fuel consumption vs the ES350.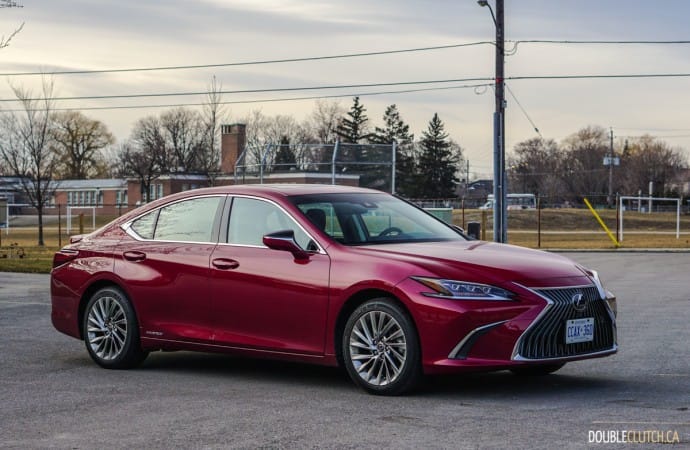 The eCVT transmission that is baked into the Lexus hybrid system is nicely programmed to do its best to keep engine revs and noise low when not under hard acceleration. Considering that the ES 300h weighs 3,704lb., has a huge passenger cabin, a 473L trunk, and can hold 65L of regular fuel, the value proposition of the ES 300h is actually pretty huge. That's a very comfortable 1,250km road trip without needing to stop for fuel. Competitors like the Lincoln MKZ Hybrid and Infiniti Q50 Hybrid might come close in terms of fuel economy numbers, but they're not as big, and they certainly don't have the Lexus feel.
Let's get back to talking about that Lexus feel. It's there, you can feel it. It is in the steering wheel, it is in the brake pedal. It's in how the body handles itself on turns, on the highway, over bumps and that's all thanks to not only the Lexus in its DNA, but also the Toyota Next Generation Architecture platform (TNGA-K) that it is built on. The TNGA platform underpins all of our favourite new Toyota and Lexus products, and makes for some great driving dynamics.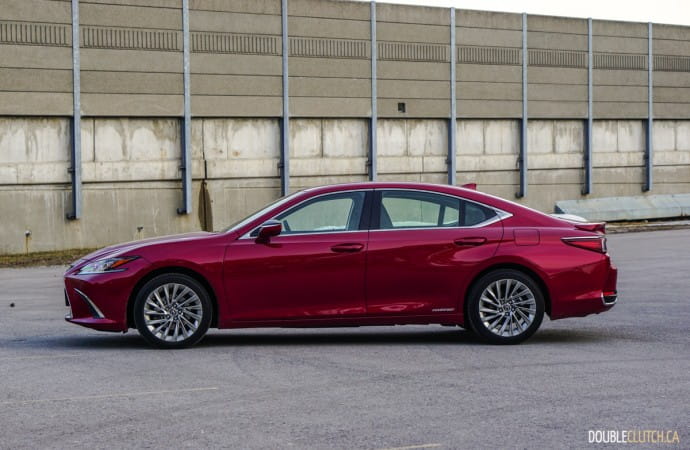 The 2019 Lexus ES 300h Ultra Luxury is a fantastic step forward for the marque and that large grille makes a statement. Great driving dynamics and a roomy interior make the ES 300h a worthy luxury sedan to occupy your driveway, and the kit that comes along with the Ultra Luxury package makes it convenient for any use. If you're not someone who piles on the miles every year however, consider skipping the hybrid option for more power and that sweet Lexus V6 feel.
See Also: