The vast majority of performance oriented vehicles these days are equipped with a dual-clutch transmission, which is essentially an automated manual with two clutches that can shift faster than any human. While this level of capability looks great on paper, it often leaves purists wanting for a whole lot more. Either the presence or a full moon has happened or our hometown Toronto Maple Leafs have won a Stanley Cup – we recently got our hands on a 2019 Volkswagen GTI Rabbit Edition for review, and man, we are glad that this car exists.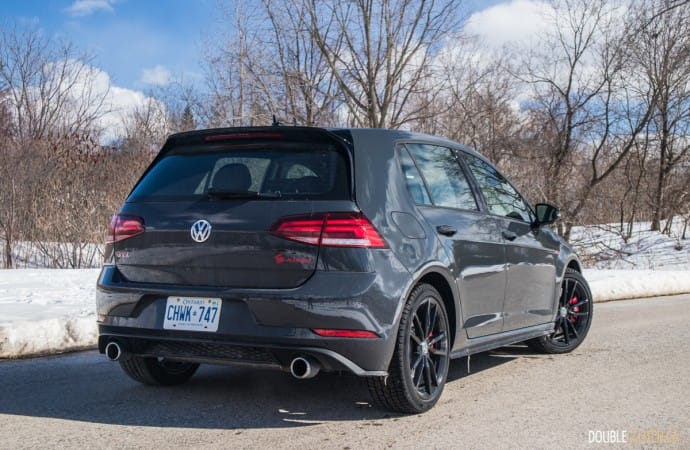 While the seventh generation ("Mark VII" in VW circles) Golf and GTI came out for the 2015 model year and was given a refresh in 2018, the 2019 model keeps things fresh by adding a new Rabbit Edition to the mix. It sits as a front-drive middle trim level to the base GTI and loaded Autobahn, and adds two unique colours available only on the Rabbit Edition – Urano Grey and Cornflower Blue. The former is a more subdued option that our test car came with, and the latter is a ballsy bright shade that is sure to command attention anywhere it goes. It's a cheaper alternative to the flagship Golf R, which takes things up a notch and adds all-wheel drive.
Powering all versions of the Golf GTI is a 2.0-litre turbocharged four cylinder engine that needs no introduction. Having been around for a few years, it's well regarded as an eager and torquey setup that has a peak output of 228 horsepower at 4,500RPM and 258 lb-ft. of torque at a super-low 1,500RPM. Even in 2019, competitors such as the Honda Civic Si (reviewed here) and the Hyundai Elantra GT N Line don't quite offer the same level of pizzazz as the VW. Over the Honda, turbo lag is kept to a minimum and the overall response is bette. Against the Hyundai, the GTI's willingness to rev makes things much livelier at any RPM.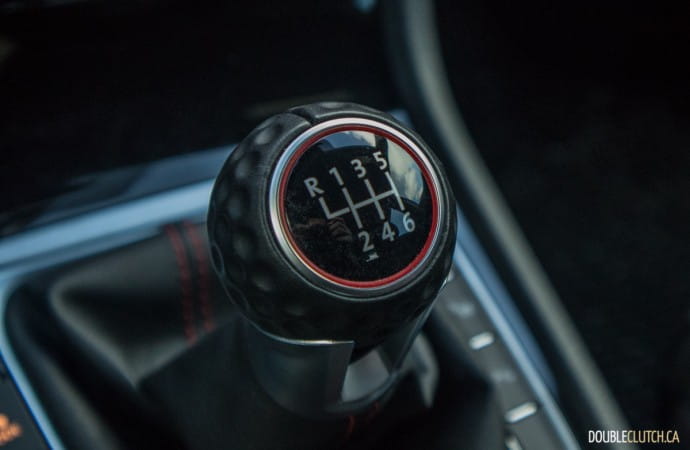 Together with the little turbocharged engine that could, the test car's six-speed manual was a slick shifting unit, with easy clutch engagement and a shifter that felt high quality. Continuously launching in stop and go traffic was very easy to do, and the spacing between each gear ratio allowed both strong torque response and minimized shifting while in any gear, at any speed. Heel toe downshifts take a little more time to get used to, as the throttle tip in under these conditions is very aggressive. This is great for more spirited driving, but rev matching during ordinary street driving takes a little more coordination in order to prevent overshooting the revs during a downshift.
Handling performance of the GTI Rabbit Edition is another very well-balanced aspect, and VW's pedigree in being the original purveyor of the hot hatch really shows. Steering response is sharp and the electrically assisted power steering is relatively heavy, making turn-in and higher-speed stability sources of confidence rather than fear. Thankfully, ride quality is not too heavily compromised, and although the GTI is relatively firm, it isn't particularly punishing. The use of 18-inch alloy wheels with 225/40R18 tires as opposed to lower profile 19-inch units surely helps, and also keeps unsprung weight and tire replacement costs down.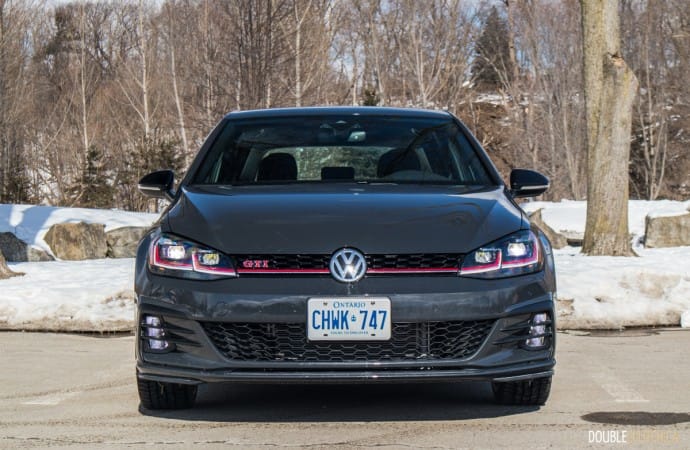 At the limit, the GTI does tend to understeer, as is expected for front-wheel drive, and isn't quite as composed as a Civic Si at 10/10ths. That said, the biggest news for 2019 is the addition of a mechanical limited slip differential to the GTI, which lets it make much more use of its power when accelerating out of a corner. Electronic brake-based systems have historically not held a candle to a proper mechanical setup, and big kudos go to VW for making this addition. Rather than pushing to the outside when the front inside wheel loses traction, the GTI is much more likely to go where you point it under throttle, giving up the ghost at a much higher threshold. There is no torque steer to speak of, and only in inclement weather will the all-wheel drive of the Golf R shine through.
Fuel consumption for the 2019 GTI comes in at 9.6L/100KM in the city and 7.3L/100KM on the highway for manual transmission-equipped cars. Expect dual-clutch automatic units to fare slightly better in the city, and slightly better on the highway. Fuel tank capacity is 50 litres, which is a little on the small side. Observed economy over a week of highway driving netted 7.5L/100KM, and Volkswagen says that regular octane fuel is completely acceptable, unlike the Honda Civic Si, which requires premium.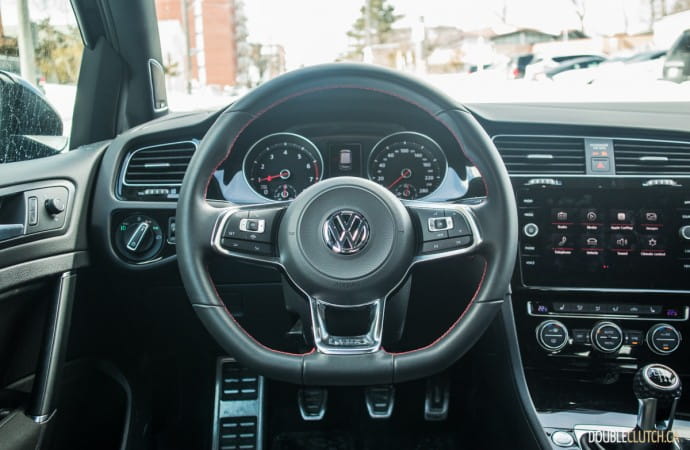 Inside, the GTI had a well-built, well-designed interior that got the job done well, if not with a little bit too much monotony on the dashboard. The "Clark" plaid pattern on the seats was a nice touch and broke up the dark interior well, but did not offer power adjustability other than the recline function. All GTIs feature dual-zone automatic climate control, an auto-dimming rear view mirror, a golf ball inspired shift knob, door sill plates with the "GTI" logo, and brushed stainless steel pedals. Rabbit Editions in particular have a Rabbit tag on the seats.
Utility wise, with seating for five, both passengers and cargo do pretty well considering a car of this size. Up to four adults can sit comfortably, and the rear cargo area swallows up 493 litres (17.4 cubic feet) with the rear seats up, growing to 1,521 litres (53.7 cubic feet) with them folded down. A standard cargo cover helps to keep valuables private, and the GTI should be just sufficient enough to accommodate child seats without too much hassle.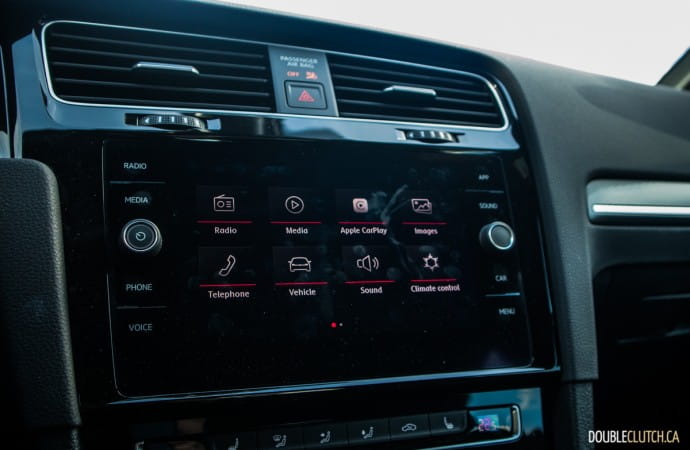 Technologically speaking, the GTI Rabbit Edition gets an 8-inch touch screen infotainment interface with Volkswagen's App-Connect smartphone integration system. This system includes three facets – Apple CarPlay, Android Auto, and VW's own in-house MirrorLink. The first two are the current gold standard for automotive smartphone connectivity, and if you are equipped with a compatible phone (which should be basically anybody Apple or Android), MirrorLink won't see very much use. There's also Fender-branded premium audio and SiriusXM satellite radio compatibility.
While the base GTI starts at $30,845, the Rabbit edition seen here is $33,995 to begin with. The Driver Assistance Package, at $1,750, adds forward collision warning with autonomous braking, park assist and distance control, blind spot monitoring with lane assist, rear cross traffic alert, adaptive cruise, and automatic high beams. With an as-tested price of $35,745, the GTI is a few thousand more than the Civic Si or Hyundai Elantra GT N Line, and is right in line with the wilder Veloster N.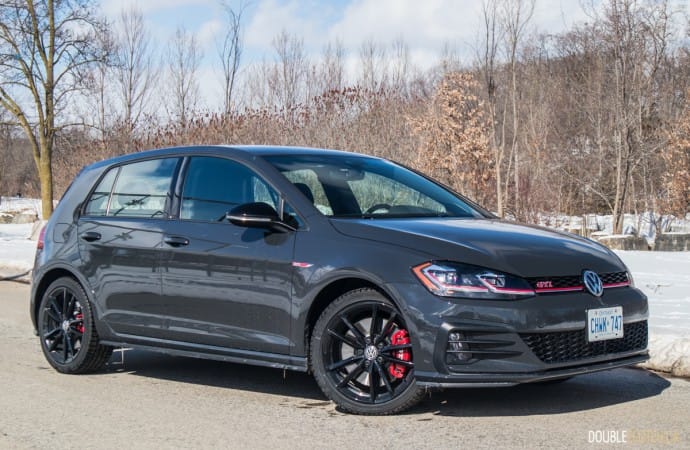 In the world of automotive enthusiasts, there is practically no group more fanatical than Volkswagen enthusiasts, and all seven generations of the GTI hot hatch are a clear demonstration as to why people keep coming back. It's a well-balanced machine that's amazingly fun to drive on the road, even if it does make a few sacrifices when pushed to its limits. It's a perfect mix of handling and daily driving, and the hatchback configuration aids in versatility, too. Add to that its handsome looks for all ages, as well as an overall feel that's more premium than its price suggests, and you have a recipe for a real winner, especially when equipped with a row-your-own manual gearbox.
See Also: