I'm just going to come out and say it – the current Hyundai Elantra is the best compact car currently available in the North American market. This year marks a mid-cycle refresh for this generation, first unveiled for the 2017 model year, and includes some significant styling updates. Personally, I think the design is a step backwards, with a goofy-looking fascia that actually detracts from the previous Elantra's stylish looks, but buyers won't need to care. We spent a week and about 650km with a 2019 Hyundai Elantra Ultimate, the top trim level, to see what this update has done for a favourite.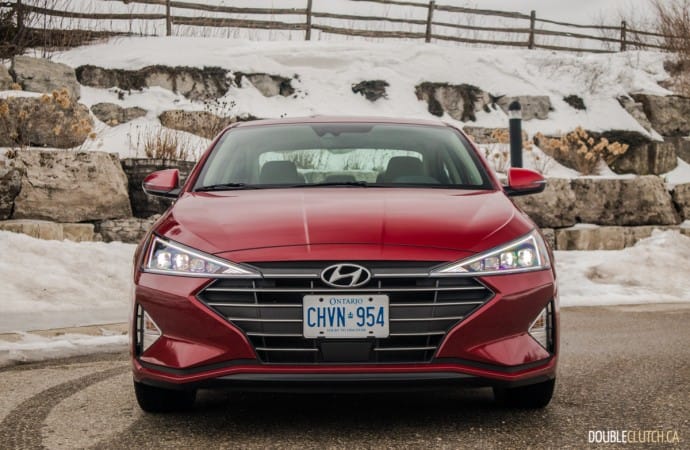 The new Elantra is priced from $16,999 in Canada, and even at the base "Essential" model includes heated front seats, mirrors, a rear-view camera, Bluetooth, air conditioning, hill start assist, and stability control. Higher level trims bring in premium features such as LED lighting all around, active safety features, a hands-free smart trunklid, and much more. Our fully loaded Ultimate trim car comes in at $27,599, with the only available option being the $200 Fiery Red premium paint. Hyundai employs a strategy of clever packaging at every trim level; negating the need for individual options and ultimately ensures a lower overall price.
There is only one engine available on the 2019 Elantra, and that's a 2.0L Atkinson cycle inline four-cylinder engine. It's part of Hyundai's "Nu" family of engines and outputs 147 horsepower at 6,200RPM and 132 lb-ft. of torque at 4,500RPM. This engine isn't a speed demon by any means, but it moves the Elantra along with minimal urgency. It's on the slower side for current compacts, especially Honda's turbocharged Civic (reviewed here). Those looking for more oomph can opt for the boosted 1.6L in the Elantra Sport (reviewed here), which has now morphed into the N-Line.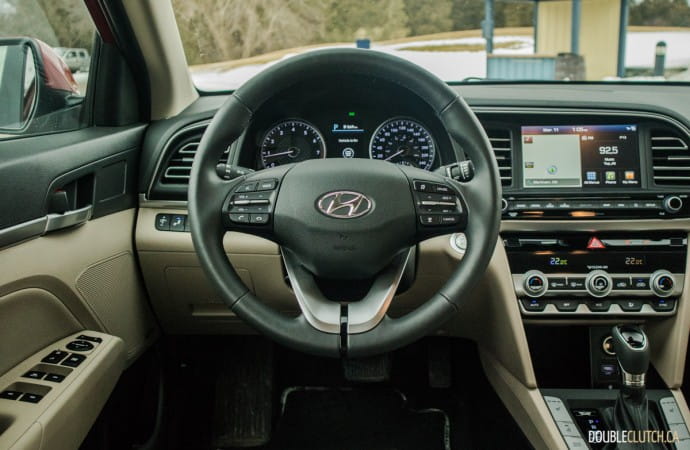 Base models can get a manual transmission, but the vast majority of buyers will opt for higher trim levels that are only available with the six-speed automatic transmission. It shifts smoothly and is geared towards efficiency. There is a "Sport" drive mode that holds gears longer and sharpens throttle response, but we opted to leave it in "Smart", which detects driving patterns and the environment, adapting the vehicle accordingly. Ride quality is also well sorted on better roads, but we found the Elantra getting a bit jittery on uneven pavement. The drive mode settings don't alter the suspension damping in any way.
Perhaps the only area in which the Elantra shows a real weakness, if you consider it one, is the extremely light steering with minimal feedback. This has been a Hyundai compact vehicle quality for quite some time now, and there was a point where Hyundai implemented adjustable steering weight. All that did was add artificial weight, but still little to no feedback. The good thing is that the average Elantra buyer doesn't care in the slightest, because the car goes where pointed without any fuss.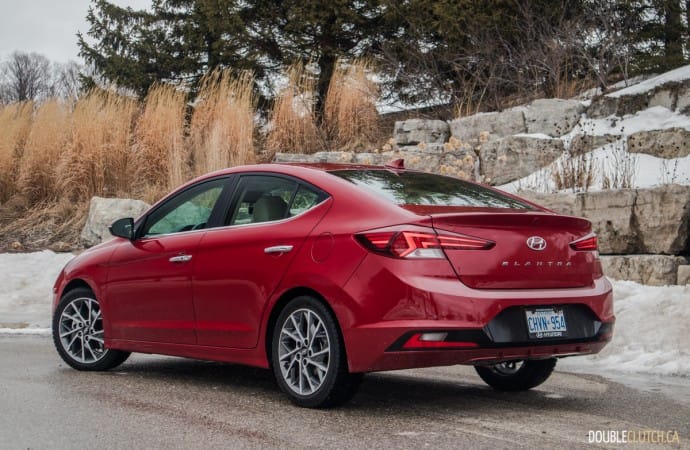 Extremely frugal on fuel, Hyundai Canada rates the Elantra at 8.3L/100km city and 6.4L/100km highway, for a combined rating of 7.4L/100km. Our test took place in combined driving and netted a thrifty 6.9L/100km even factoring in cold winter conditions. Highway runs saw as little as 5.8L/100km, which is substantially better than the manufacturer's claim. The Elantra's gas tank holds a very large (for the segment) 56L fuel tank and made for a theoretical driving range of over 800km. It also accepts regular 87-octane fuel.
Inside the Elantra is a decent place to spend time, with a light coloured interior gracing our test vehicle. The layout is convenient and well organized, with all major controls clearly labeled and easy to find. The large touchscreen has a matte finish to prevent fingerprints and the infotainment system is very responsive. The heated seat and steering wheel controls are located right next to the shifter and they are well marked. Material quality is fairly high for the segment, and while some plastics are visible throughout the cabin, they don't scream econo-box.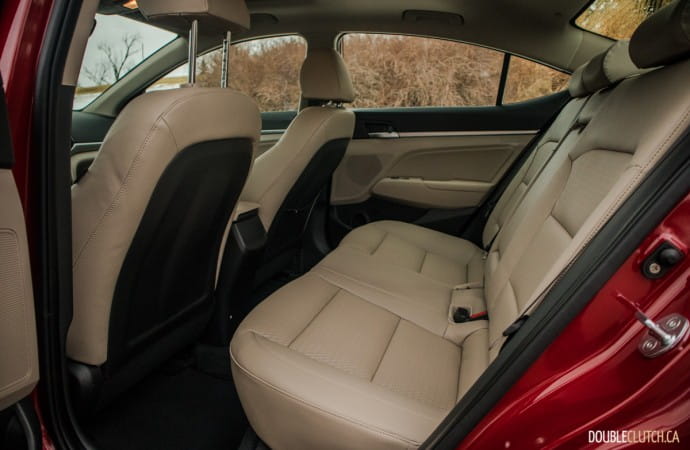 Hyundai has ensured that the Elantra is fairly spacious, too. We had no issues carrying two adult passengers in the rear seats, with sufficient headroom and legroom. The driving position is also pretty good, and better than that of the current (outgoing) Corolla. Active safety features on this model include adaptive cruise control, forward collision warning with pedestrian detection, and blind spot information. This is a competitive suite and on par with compact entries from Toyota, Honda and Subaru.
Regardless of how good it is, the Elantra is playing in one of the hottest segments in North America. With more and more buyers gravitating to crossovers, the most popular sedans are the compacts, namely the Honda Civic and Toyota Corolla. The way we see it, the Elantra is what the Corolla used to be – a solid appliance that provides buyers with confidence and comfort. Other key rivals include the Elantra's sister car, the Kia Forte (reviewed here), along with the Mazda3 and Chevrolet Cruze.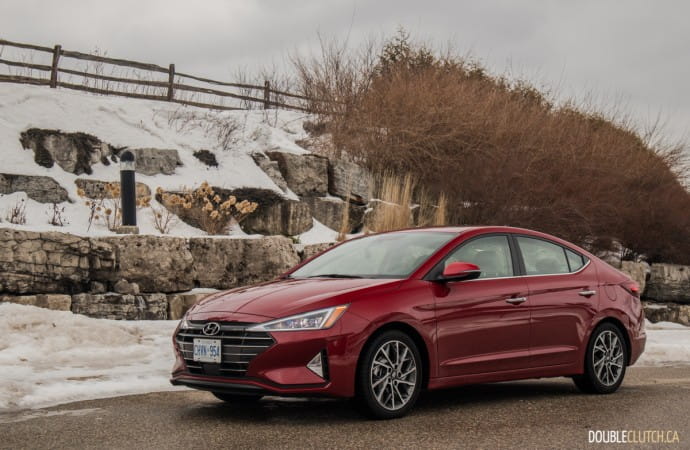 The real value in the new Elantra's lineup is the $20,449 Preferred with the automatic transmission. It includes a heated steering wheel, blind spot information, rear cross traffic alert, alloy wheels, and a 7.0" screen with Apple CarPlay and Android Auto. It's extremely well equipped and aggressively priced, especially factoring in the fact that Hyundai is continuously offering incentives to sweeten the deal even more. The 2019 Hyundai Elantra is a spectacular compact car with comfort, efficiency, and ease of use – a formula for success.
See Also: