It was the success of models like the LS 400 that propelled the brand to the status it enjoys today. However, the brand has kept evolving with the times, and now crossovers make up a large portion of sales. Lexus has dabbled in sport coupes; not true sports cars, but rather grand tourers like the SC series. Lexus has not backed away from the grand tourer game; in fact they've stepped up their presence with the recent and radical LC 500 (reviewed here).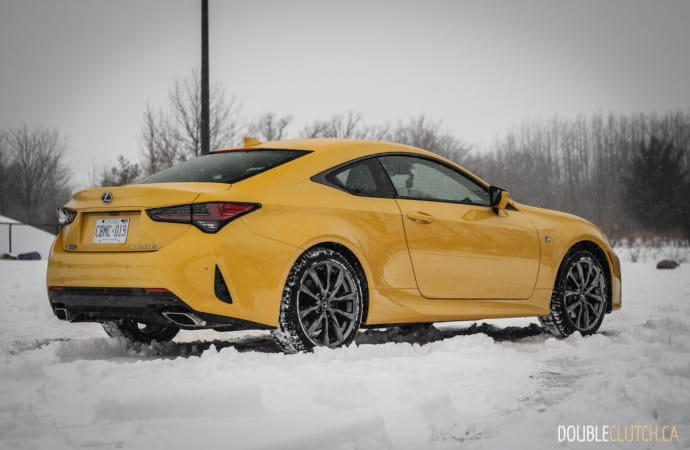 The volume in the segment remains with the RC series, which was originally launched in 2015 and gets some small tweaks for 2019 to keep it fresh. We spent a snowy week with a 2019 Lexus RC 350 F-Sport AWD to see if the years have been good to its platform and design.
The RC's styling isn't everyone's taste, but I really enjoy its traditional sports car good looks. It's a simple formula; two big doors, a swooping roofline, wide rear hips and a long hood. This is a difficult formula to mess up and it's executed smoothly here. The RC isn't without it's less graceful angles, but the aggressive front end and sexy profile are enough to grab the attention of just about any car enthusiast with a pulse.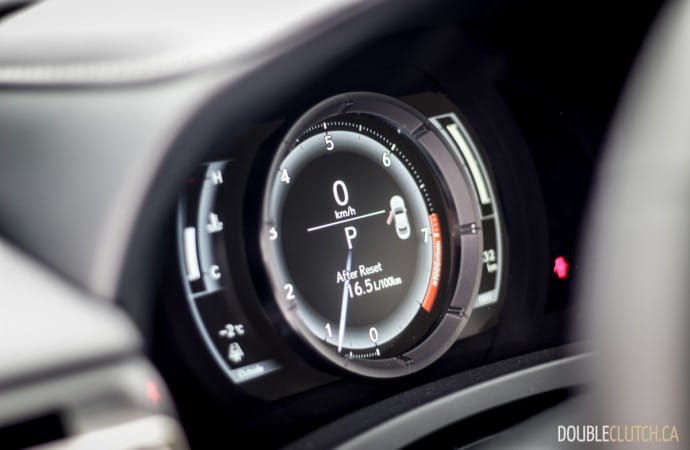 The optional ($650) Flare Yellow paint on our test car doesn't hurt in ensuring that the car catches eyes. I am not typically a fan of yellow, but it works pretty well here, and the charcoal colored 19" alloys are a nice contrast. One of the most notable exterior update for 2019 are new, stacked triple-LED headlamps that form a unique L- pattern as an expression of the Lexus identity.
The interior in the RC is everything a good grand tourer car should be. It's driver focused, highly equipped, comfortable and fairly roomy. The F-Sport package, standard on the RC 350 and optional on the RC 300, includes a unique interior boasting bolstered sport seats, carbon fiber accents, G-force monitor and a digital tachometer. The front seats are heated and ventilated, there's a big sunroof which would be nice if the sun ever shows up, and one of the best feeling steering wheels in the business.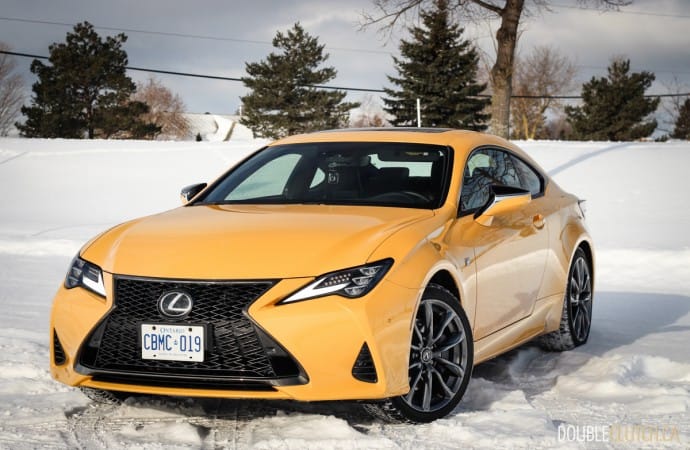 The center console features the touch pad style control system for the Lexus Enform infotainment system. While long-term owners might be able to get used to the touch pad system, I haven't been able to and find it very awkward to operate while driving. There is even a CD player in the dash, which is becoming rare for obvious reasons, but a CD would sound great on the Mark Levinson sound system. Lexus boasts about the fact the Apple CarPlay is now available in the RC, which is fantastic, but Android users are still left out.
Being a two-door coupe, don't plan on making the RC your primary family hauler, but it is surprisingly practical, enough to pull family duty in a pinch if necessary. The rear seats are fairly generous for a coupe and can seat adults if you must, but would be downright comfortable for children. The seat belts for the front seats do run across the opening for the rear seat; they can be detached rather quick, but it's a bit cumbersome.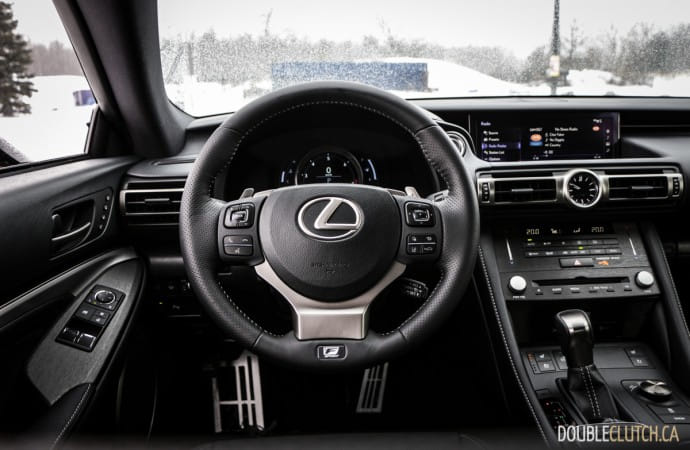 Storage is adequate with a decent amount of storage in the center console armrest and glovebox and two big cupholders. The door pockets are narrow and awkwardly divided rendering them pretty much useless. The trunk is surprisingly large, larger than some compact and mid-size sedans, but the opening itself is not nearly as accommodating – lots of space is only useful if you can get items though the opening.
A car like this though, really isn't about jamming stuff or people into it or fiddling with the infotainment. It's suppose to be all about the driving experience. That however, is where the RC 350 either really shines or fades, depending on what you're looking for behind the wheel. In Canada, there are only two models available; the RC 300 or the more powerful RC 350. Both are only available in AWD guise and use the same 3.5L V6.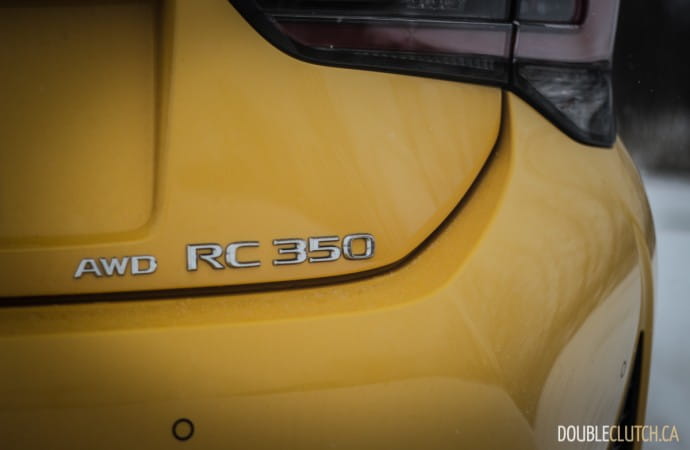 The RC 300 is tuned to 260 horsepower, while the RC 350 gets the full 311 horsepower the powerplant is capable of. Our tester benefits from the hotter engine and the 280 lb-ft. of torque at 4,800RPM. Thanks to the RC's smooth naturally aspirated V6 throttle response is as sharp as can be and power delivery is buttery smooth and linear, which is a very nice treat compared to the boosted four-cylinders you'll find in the German competitors in a similar price range. Rear-drive models offered in the United States get a sharp eight-speed automatic, and sadly AWD models are relegated to the six-speed equipped here.
While these power figures are nothing to turn your nose up at, this is a car that weighs just shy of 4,000 pounds so while plenty quick, it's not the rocket that its appearance might have you believe. It does accelerate with a confident, forceful and linear feeling that can keep a smile on the face of just about any enthusiast, and thanks to a resonance pipe that brings intake noise into the cabin while at high RPM, it delivers an acceleration experience that is in-line with a true performance car.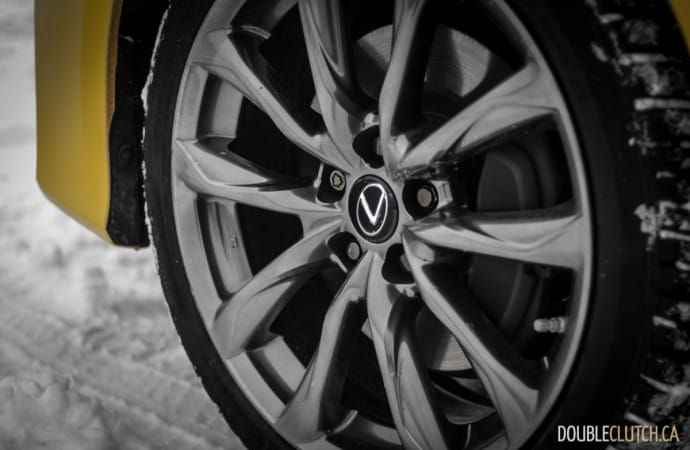 The RC's chassis is based on the Lexus IS (reviewed here), which is a very competent small sports sedan, but it does let the RC down a bit when it comes to a true performance driving experience. The steering, while direct and well weighted just isn't as responsive as it could be, and the suspension has a bit more give than expected in an aggressive looking coupe. Running in Sport or Sport+ modes will liven it up, especially the transmission that is capable of extremely quick shifts. It's not that the RC 350 isn't a capable performance car, because it is. It just has a certain numbness to it that makes it feel less engaging to drive than say the Infiniti Q60 (reviewed here).
The trade-off is that the RC 350 F-Sport makes for a fantastic daily driver. The suspension and seats are comfortable for long commutes, it has a tight turning radius for city parking, an excellent on-center steering feel, and like every Lexus, just melts away long distance miles in near silence on the highway. As a younger guy commuting to a corporate job in the city, the RC 350 checks all the right boxes for my commute, while looking the part.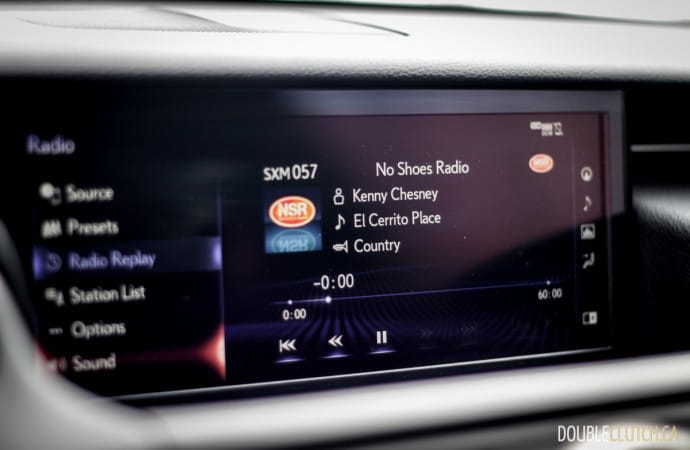 We were hit with yet another major snowfall while I was at the office with the RC 350, and as I walked out to the car at 5:30pm through about a foot of heavy snow, I worried a bit about how it would do. Wearing a nice set of Continental WinterContact tires, the RC proved a confident companion for a treacherous commute home. The AWD system is always a step ahead, keeping all four wheels powering through snow covered roads without so much as a slip.
The sexy Lexus pushed through the snow with absolute ease and confidence, shocking struggling crossover owners as it glided past. As fun as that was, the Lexus stability control system cannot be disabled, even though traction control can, which quickly put a damper on having too much fun. Again, as a commuter for someone like myself whose interest in playing the in the snow has waned, that's hardly a consideration.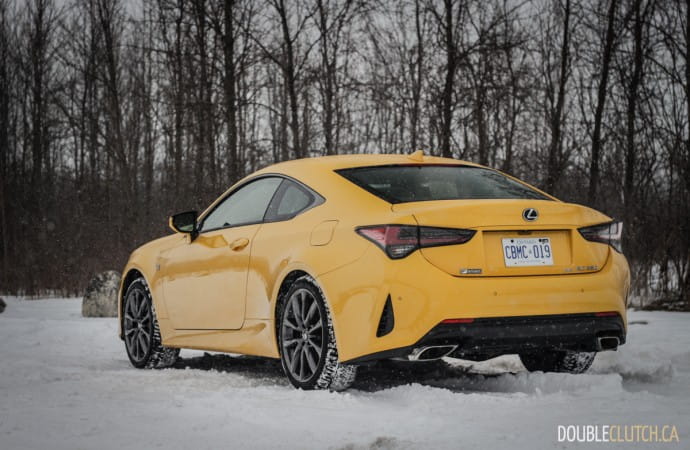 As far as powerful sport coupes go, the RC 350 AWD really doesn't come with much of a fuel consumption penalty, as long as you can keep your right foot under control. My average for the week of commuting was 10.7L/100km, which is more than fair for an AWD car of this caliber. It does require premium grade fuel.
You can get into an entry level RC 300 for a very tempting price of $48,950. Stepping up to the RC 350 is a big jump to $62,000, but you get the higher output engine and the larger 10.3" infotainment screen with navigation and a 17-speaker Mark Levinson sound system. The RC 350 also comes with all the F-Sport interior and exterior details, a sport steering wheel with paddle shifters, and a list of electronic driving nannies such as blind spot monitoring, rear cross traffic alert and pre-collision system with pedestrian alert and active steering assist.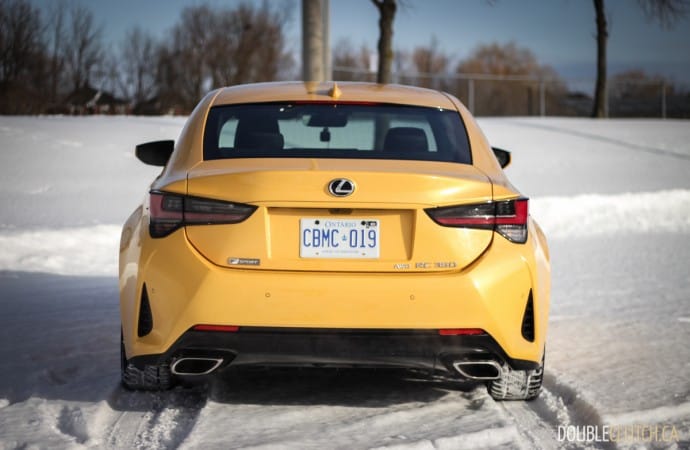 If you're seeking a hardcore performance car, and intend to drive it as such, then look elsewhere for your $60,000. But, if you're seeking a daily driver that looks stunning, has all the refinement of a proper naturally aspirated V6 and comforts of a Lexus, outstanding year-round capability and a sporty driving experience, the 2019 Lexus RC 350 F-Sport AWD really checks all the boxes and then some.
See Also:
2018 Infiniti Q60 Red Sport 400 AWD