In 1975, the BMW 3 Series was launched as a compact executive car and kicked off six successive generations of cult classic premium sedans. They were always fun to drive while remaining one of the cheaper ways to get into the BMW fold. For this year, a seventh generation model – codenamed "G20" – has made its debut, and the 2019 BMW 330i xDrive replaces the F30 model that has been around since 2012. With the first few examples starting to hit Canadian roads, we at DoubleClutch.ca Magazine editorial team were able to get our hands on what is expected to be the volume selling trim.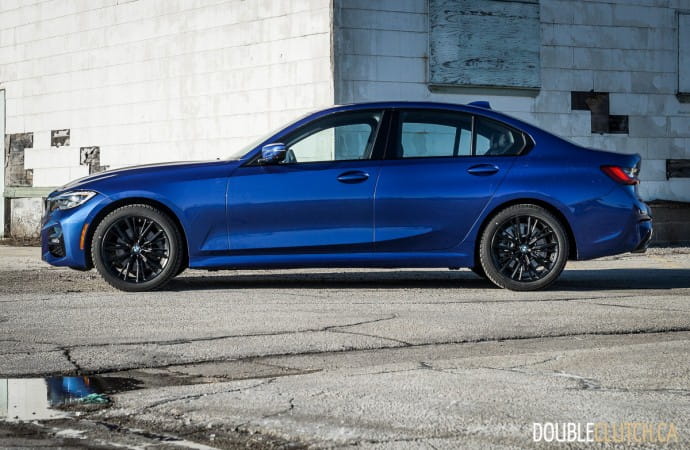 While it sits below the more powerful 340i, the 330 xDrive's starting price of $49,000 positions itself fairly well against others in its class, which include the likes of the Genesis G70, Audi A4, and Mercedes-Benz C 300. The test car was equipped with the $8,900 Premium Excellence Package, highlights of which include a heated steering wheel, a power trunk, automatic high beams, laser headlights, head-up display, Harman/Kardon premium audio, and wireless phone charging. It also had the $2,600 M Sport Package, adding to the mix a set of 19-inch M-specific wheels, adaptive M suspension, paddle shifters for the automatic transmission, and variable sport steering, among other cosmetic sportier extras. With an as-tested bottom line of $60,500, that's a lot of coin for a 330i, but it's also not hard to go even further once the higher output 340i is considered.
For the G20 3 Series, the B48 2.0-litre turbocharged four cylinder engine has been updated and boasts increased output and greater refinement. Peak output is up by seven for a total of 255 horsepower between 5,000 and 6,000RPM, and torque is up by 37, resulting in a stump-pulling 295 lb-ft between 1,550 and 4,400RPM. Thanks to BMW's TwinPower turbo setup – that's a singular twin-scroll turbo, to be clear – the 330i pulls much more like a naturally aspirated engine with a massive torque curve. There's no lag in response, and the gobs of torque available just off idle make ripping around town a very fun proposition. Smoothness and vibration control are much better than past BMW turbo fours, and the sound piped in through the speakers only adds to the overall experience, as artificial as it may be.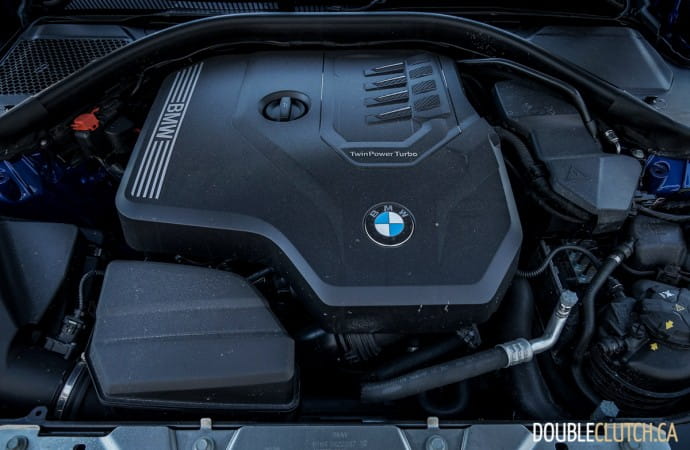 Unfortunately, like the previous generation 330i cars, there is no manual transmission available – and for those wanting the 340i, you're out of luck this time, too. An updated ZF 8HP eight-speed automatic is your only choice here, and while it doesn't offer ultimate driving engagement nirvana, the BMW variant of this gearbox is still the best automatic transmission in the business. Upshifts are impeccably timed and incredibly smooth and quick; the tachometer warps between each gear with not even a hint of a jerk to operator. This also allows for the surge of turbo torque to come on uninterrupted, and the 330i can end up getting to high speeds in a real hurry.
Combined with a newer xDrive all-wheel drive system, BMW says that the sprint from 0 to 100KM/H happens in a mere 5.6 seconds. Under normal conditions, 100 percent of the power is diverted to the rear wheels, and with less favourable traction, there's still a rearward bias in order to preserve as much of the fun rear-drive personality as possible. In practice, the 3 Series accelerates with certainty and surefootedness in all traction conditions, be it rain, snow, or shine.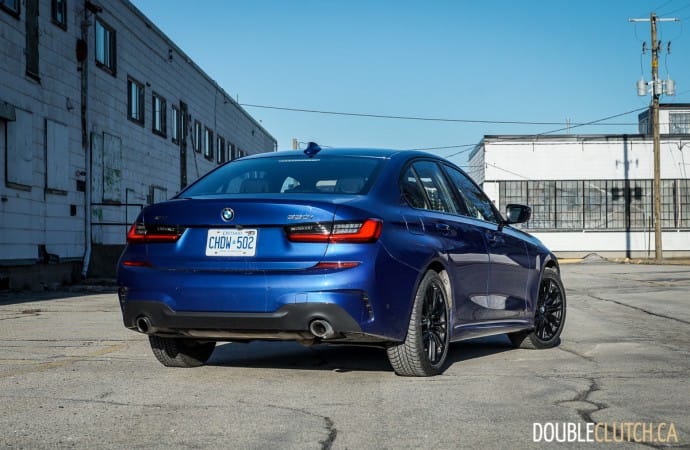 The extra curb weight and friction losses (albeit decreased over the last generation) negatively affect fuel economy, but to many Canadians, this is a small price to pay when it comes to winter driving. Official consumption figures were not available at the time of publishing, but observed economy came in at an impressive 8.0L/100KM with a bias towards highway driving. Tank capacity is 59 litres, and a minimum of midgrade fuel (89 octane AKI) is required – premium (91 octane AKI or better) is recommended. A start-stop system saves fuel when stopped at a red light, but is overly aggressive and tries to shut the engine off before coming to a complete stop, causing a lurch and making it impossible to stop smoothly. It stayed off for most of the week of testing.
As with other generations that came before it, one of the major points of focus for the BMW 3 Series is handling and driver engagement. The previous F30 generation ushered in several major changes, including electric power steering and a shift away from naturally aspirated inline six engines. Especially in more base, non-M3 trims, this left a lot to be desired in terms of steering feel and driver engagement. We are happy to report that the G20 330i xDrive is much better, with heavily weighted steering that has much less loose feel on-centre as compared to its predecessor. That's not to say that weight equals steering feel however, and a little more feedback would still be nice. In any case, it's a trend in the right direction.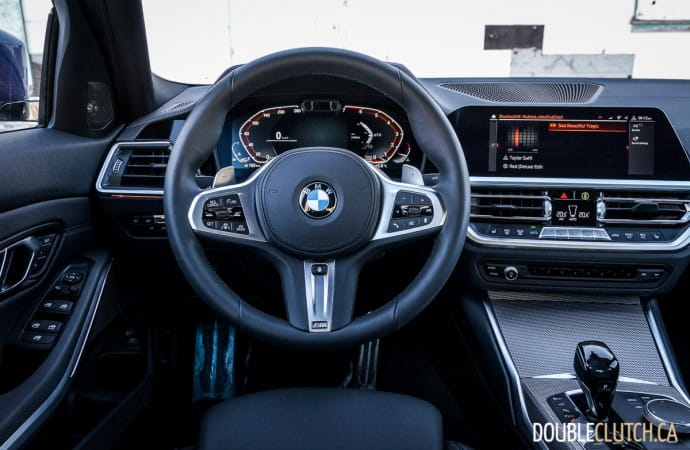 When cornering, the 330i's new chassis does wonders for both ride quality and handling. Body control was excellent, and the M Sport suspension offers adjustable damping in comfort and sportier settings. Both serve up two intensity levels of fun without being too punishing, although the test car was equipped with a not-very-pretty 18-inch winter wheel and tire setup that added more sidewall cushion. Expect a 19-inch summer setup to ride firmer. Overall, the 50/50 weight distribution, more rigid body, and improved variable dampers make for a new class leader in this regard.
Inside, the 2019 330i offers up the same same but different, as they say. It is instantly recognizable as a BMW interior, with similar monotone colour palettes and ergonomic layout. The seats are comfortable with manually adjustable thigh support on both front seats, and rear legroom is more usable than competitors such as the Genesis G70 (reviewed here) and Jaguar XE.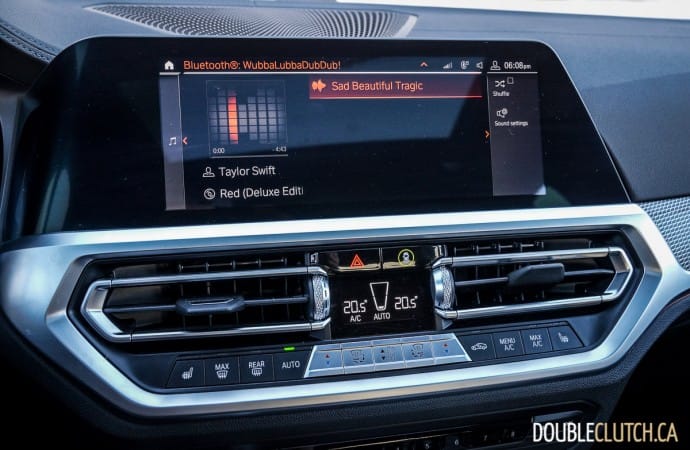 Turning the page to technology, the G20 330i's infotainment setup is an updated iDrive 6.0, which still retains the familiar control dial, which when combined with hard buttons, is a much more ergonomically superior and less distracting interface compared to a full touch screen or touch pad. For several screen and button based adjustments, the location has moved just enough for a previous BMW owner to hit the wrong function or no function at all, but expect this transition to work itself out within a week of use.
As with before, the screen menus are easy to navigate, but seemingly common functions are often buried several layers deep.  Kudos do need to go to BMW for re-introducing the "Sync" function to the dual-zone climate control, which makes single zone temperature adjustments much less annoying when driving alone.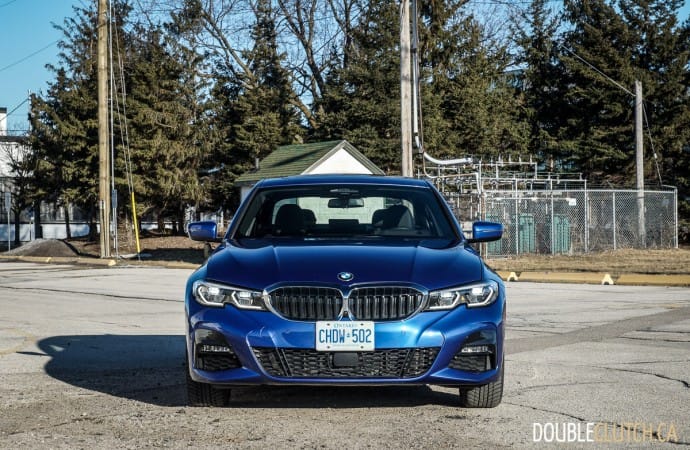 Even though much of the market is shifting over to crossover SUVs, the compact executive sedan is still a very important segment that garners a lot of sales annually, and the 2019 BMW 330i xDrive is the German automaker's latest effort in a class that continually gets better and better. The Genesis G70 nips at the 3 Series' heels very closely, and this new generation manages to stay a bit ahead of the Korean juggernaut that's been winning awards left, right, and centre. The catch? The BMW is thousands of dollars more, and depending on how it is equipped, this delta can clear the $10,000 mark. Against other Europeans like the Audi A4, Mercedes-Benz C300, and Volvo S60, the BMW also sits at the top of the pile for driving dynamics, but loses out for things like interior design. At the end of the day, it fixes the gripes that were had with the F30 3 Series that it replaces, and adds a few more awesome touches of its own.
See Also: