It was five years ago. My wife and I were expecting our firstborn, and I was driving a 2012 Acura TSX. Talking to a good friend of mine who at the time had a one-year old, my friend was telling me how great her Honda CR-V was and how it's all the car a family would need. As a car enthusiast, I scoffed at the idea I would ever like the CR-V; a seemingly boring grocery getter that blends into its surroundings.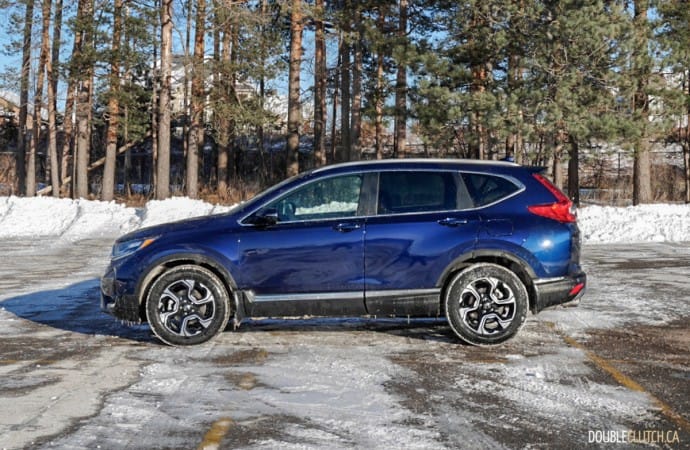 Fast-forward to today; I am now the father of two lovely children, and I have grown to appreciate the importance of practicality and proactive safety systems. The fifth generation Honda CR-V debuted for the 2017 model year, built on the same platform as the tenth-generation Honda Civic (reviewed here) and powered by a turbocharged engine. Our 2019 Honda CR-V Touring AWD test car arrived painted in Obsidian Blue Pearl, and maintaining the classic CR-V silhouette despite adding more sculpted lines.
This top-of-the-line Touring trim level comes equipped with LED headlights, fog lights with chrome garnish, heated power folding door mirrors with integrated turn signal indicators, roof rails, 18" alloy wheels, and dual chrome exhaust. Overall the CR-V is pleasing to look at and looks more mature and sophisticated than many of its edgy looking competitors.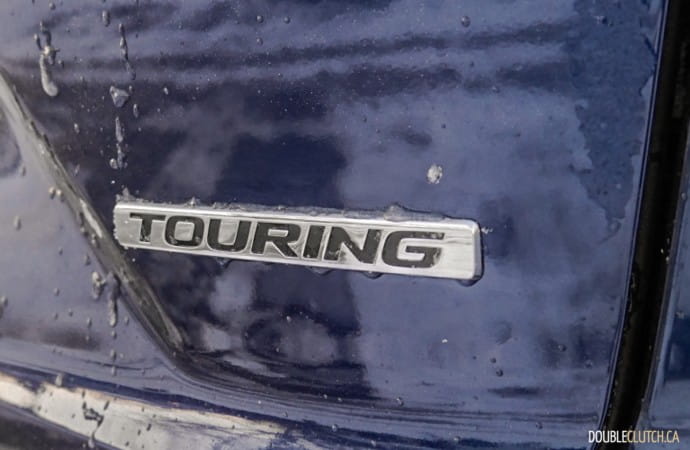 All 2019 CR-Vs are powered by a 1.5L turbocharged four-cylinder powerplant, producing 190 horsepower at 5,600RPM and 179 lb-ft. from 2,000 to 5,000RPM. Power is sent to all four wheels through a Continuously Variable Transmission (CVT) system and delivered using Honda's Real Time AWD with Intelligent Control. Power delivery of the CR-V is silky smooth and it feels just as capable moving along in traffic as any peers. Honda engineers' effort to perfect this CVT deserves to be recognized in this example; operation is unobtrusive and indistinguishable from a traditional automatic.
The handling is nimble, with above-average steering feel and weight. It is not the most fun to drive crossover; that award remains with the Mazda CX-5 (reviewed here), but the CR-V is enjoyable enough that driving it does not feel like a chore. The CR-V's AWD is what one would call a "slip-and-grip" system, where it operates in front-drive mode until the system detects slippage and sends power to the rear wheels instantaneously. We had a chance to put this to the test driving through a major winter storm, and the CR-V never once felt out of place.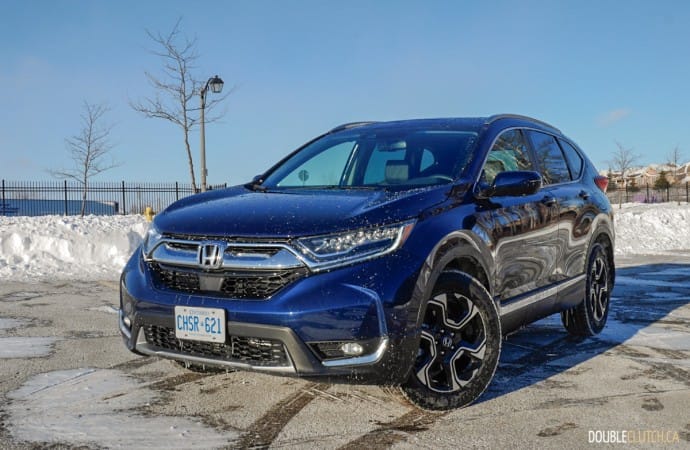 Fuel economy of the 2019 CR-V is rated at 8.7L/100km city, 7.2L/100km highway, and 8.0L/100km combined. The combination of winter weather and city commuting typically does a number on a car's mileage and it's no exception here. We observed an average of 10.0L/100KM over our entire week, a figure that is a fair bit higher than the estimate but still respectable. The CR-V's fuel tank has a capacity of 53L and accepts regular grade gasoline.
Honda has always been a genius in crafting out the maximum usable space within a cabin, and the CR-V is another masterpiece of practicality. The moment I entered the cabin I was greeted with a host of purposeful storage cubbies and dividers, allowing me to put away every loose object and maintain a neat appearance. Any remaining doubts about the CR-V being a great family vehicle were wiped away upon opening the power tailgate.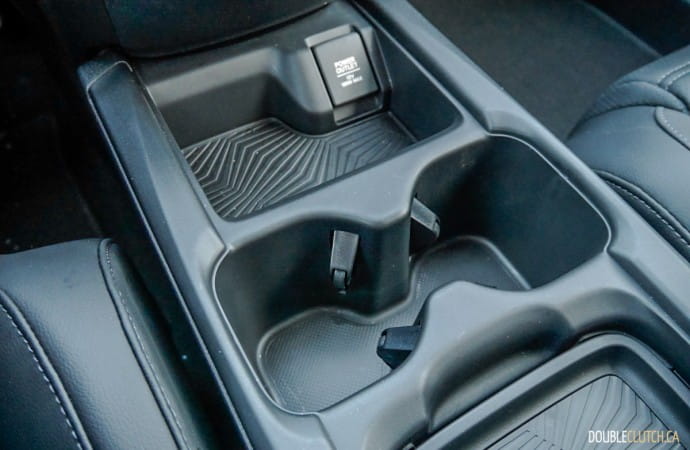 Honda has crafted out a class leading 1,065L of cargo volume in the Touring model (1,110L in all other trim levels). The difference between trim levels is presumably due to the lack of hands-free access of the power tailgate, which along with the low loading floor makes packing for any and all family road trips a sheer breeze.
Sitting in the cabin, excellent head and legroom is observed in all five seats. I was able to quickly get adjusted to a comfortable position with the 12-way power adjustable leather driver's seat, and outward visibility is excellent. The Touring trim's panoramic moonroof allows for an abundance of sunlight into the airy cabin. The heated steering wheel, front and rear seats provide for excellent comfort in the extreme cold weather. The CR-V could use ventilated front seats in forthcoming models to keep up with competition such as the CX-5.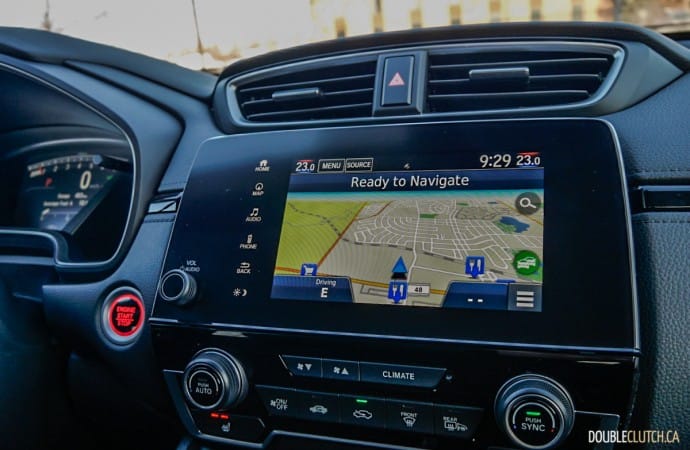 Infotainment is provided by Honda's seven-inch Display Audio System, which includes navigation for the Touring trim. Apple CarPlay and Android Auto connectivity are included as standard equipment across all trim levels. Unlike some of Honda's 2019 models such as the Insight and Pilot, Honda has yet to update the software in the 2019 CR-V. There is nothing wrong with usability in the CR-V's infotainment system, with most of the commonly used features found on the main page, and the ever-important volume knob is present.
The issue lies in the home screen layout. Four blank screens are observed when swiping from the main page, but with limited applications to add to the pages and the lack of option to delete blank pages, it was not the best presentation and creates confusion. The new Honda infotainment interface has solved this issue by using an eight-box grid on the main screen with the ability to fully customize the layout and allow optional pages only if needed. This new setup should start to make its way across all of Honda's forthcoming models.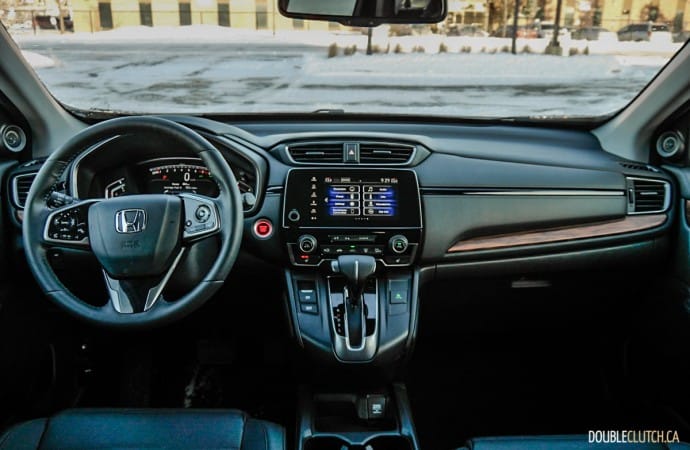 Our CR-V Touring tester is equipped with the full suite of Honda Sensing Technologies, including Forward Collision Warning, Collision Mitigation Braking, Land Departure Warning, Lane Keep Assist, Blind Spot Information with Rear Cross Traffic Monitor, Road Departure Mitigation, and Adaptive Cruise Control with Low-Speed Follow systems. In keeping with the CR-V's overall theme of taking care of all of a family's needs without demanding any unneeded attention, the Honda Sensing technologies work flawlessly in the background with timely interventions only when necessary.
Pricing of the 2019 Honda CR-V starts at $27,490 for the LX 2WD trim, with the as-tested Touring trim starting at $38,890. Honda does not offer any optional equipment, a strategy that is much appreciated to keep pricing simple for buyers. The 2019 CR-V Touring is priced competitively against its archrival, the 2019 Toyota RAV4 Limited, and offers a slightly roomier interior and more trunk space. For those who are looking for the best bang for the buck, the LX AWD would deserve serious consideration here as it offers all of the Touring's practicality and utility, and most Honda Sensing systems, for a $30,290 price tag.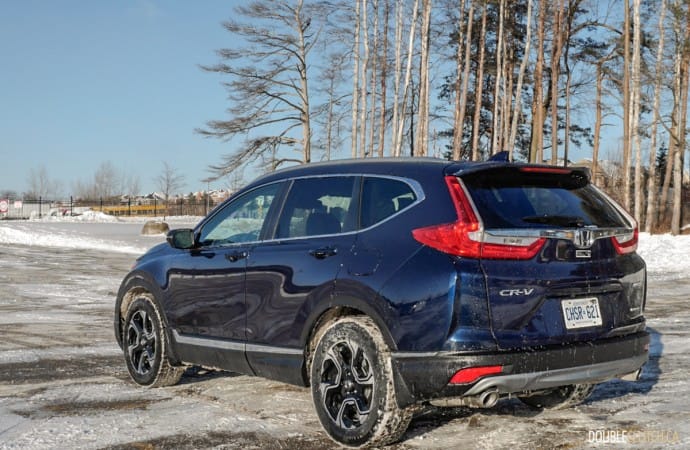 After spending a week with the 2019 Honda CR-V Touring, I am convinced that it is the perfect sidekick to every family. I realize now what my friend was going on about how practicality becomes the priority once kids come into the picture, and the CR-V is tough to beat in this regard. It is not the class leader when it comes to performance, handling, or comfort, but it does everything well enough as a package. Yes, it blends everywhere it goes, but that might not a bad thing after all when becoming the backdrop to every precious moment a family shares.
See Also: