Not everybody can afford or justify the sublime Mercedes-AMG E 63 Wagon (reviewed here), as desirable as it is. The idea of a boosted V8 and a trick all-wheel-drive system in an elegant station wagon body makes the E 63 a unicorn for the average car enthusiast. Mercedes-Benz has decided to capitalize on the desire for this in a more attainable package, and brought its smaller sibling to Canada. This 2019 Mercedes-AMG C 43 Wagon 4MATIC is unavailable in the United States, and Canadians are the only North American market in which it's offered.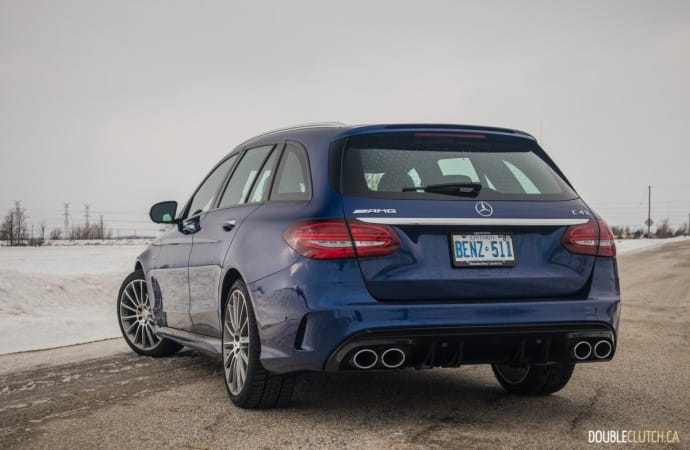 For 2019, the C-Class gets a mid-cycle refresh that freshens the whole line up appropriately to keep up with the competition. The Audi A4 and BMW 3-series are both newer than the C-Class, so this subtle update to styling and tech is exactly what this Mercedes needed to bring it back to the top. It's still a very handsome car both inside and out, with excellent proportions and an updated fascia that complements the LED lighting nicely.
Hustling this hot little wagon is what Mercedes calls an "AMG-enhanced" 3.0L twin-turbocharged V6. Power is up this year from 369 to 385 horses at 6,100RPM, and 384 lb-ft. available between 2,500 and 5,000RPM. Using a compression ratio of 10.5:1, this V6 has immediate response and makes glorious noises. It almost has the urgency of a supercharged engine, but still feels turbocharged at the end of the day. This brings the AMG wagon to 100km/h from a standstill in just 4.8 seconds. This is a whole second slower than the E 63, but the C 43 is also about 60% of the price.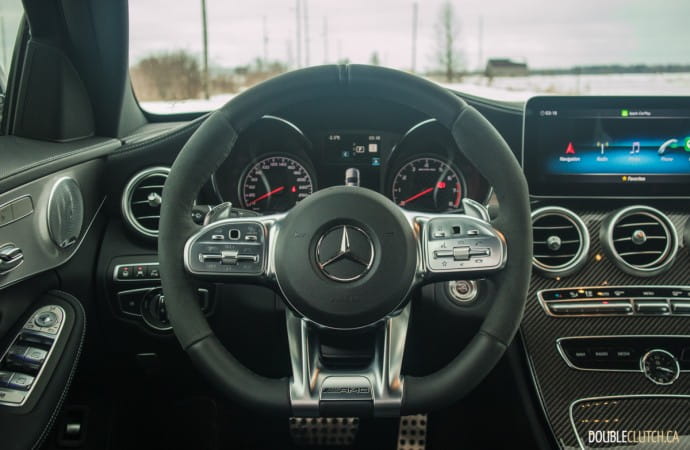 The nine-speed AMG Speedshift TCT (short for "torque-clutch transmission" is quick to change gears and also eager to hold ninth gear when cruising at highway speeds. This has been an ongoing challenge with nine and ten-speed gearboxes and we're glad to see it rectified here. When the C 43 is left in its "Comfort" setting, the transmission's behaviour is imperceptible. Set it to "Sport" or "Sport+", however, and the paddle shifters make for a genuinely fun time out on the open road.
While it's no tiny roadster, the C 43 handles with grace and poise, thanks to the electric power steering's fast response time and good feel. It's still a bit too light in parking lot settings, but highway driving requires almost no overcorrection. The 4MATIC all-wheel-drive system is rear-biased and was competent during a winter storm. An AMG Ride Control Sport Suspension keeps the ride planted, but definitely on the firmer side for a Mercedes-Benz. It's softer than the rather hardcore E 63, but those wanting a slightly more powerful C 300 and not a full-on performance machine may want to consider the added firmness and power of the C 43.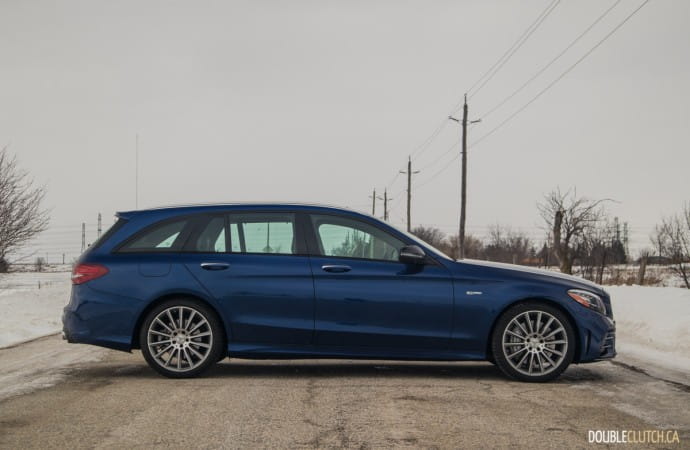 Mercedes-Benz Canada rates the AMG C 43 Wagon at 12.4L/100km city, 8.9L/100km highway and a combined 10.8L/100km. Our winter test took place on winter tires in frigid conditions, and those who opt for the AMG model will make use of the sharp throttle response and intoxicating exhaust note. As such, our overall consumption after approximately 500km was 11.6L/100km. The twin-turbocharged V6 here requires 91-octane premium fuel due to its high-strung nature, and the tank has a capacity of 66L.
A new 10.25" infotainment screen with updated COMAND is what brings the C 43's technology up to date. It now is compatible with Android Auto and Apple CarPlay, and also features new connectivity options. Optional but not equipped here is a 10.25" digital instrument cluster that sits flush with the infotainment screen, creating a vast and very futuristic interior layout. This is a trickle-down feature from the E-Class (reviewed here), and we've found it looks quite good and more high-tech than the competition from BMW and Audi.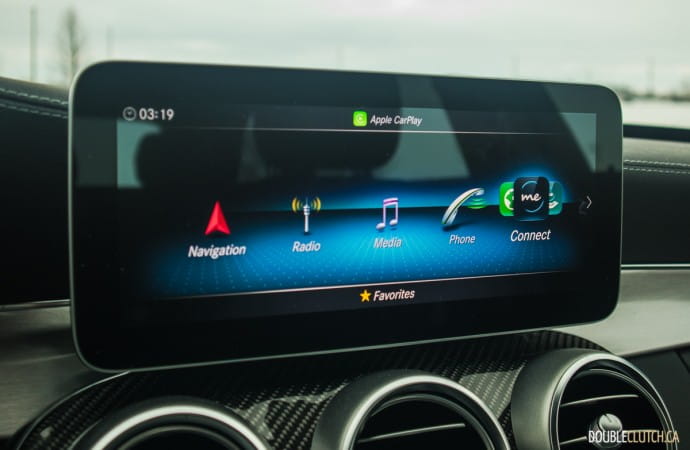 Interior appointments in the C 43 are quite nice, including matte aluminum and carbon fibre throughout the door panels and center console. Our test vehicle is equipped with a flat-bottom AMG steering wheel and aggressive front seats to go with the performance theme. Fit and finish is spectacular and up to par with what we expect from Mercedes-Benz, but one of the biggest challenges remains navigating this infotainment system. Two touch pads on the steering wheel control the system if you choose not to use the rotary dial and/or touchpad on the console, but it's a bit distracting and the touch pads are reminiscent of Blackberry products from a decade ago.
The C-Class starts at $46,100 for the C 300 sedan, and $47,400 for the station wagon (reviewed here). The C 43 Wagon starts at $59,900 and comes far better equipped. Adding onto this, our test vehicle had a $2,000 AMG Driver's Package that adds 19" wheels, a performance exhaust system, and AMG steering wheel. A Premium Package at $5,900 adds a 360-degree camera, 10.25" display, Apple CarPlay, park assist, and much more. Checking off a few extra options including the Intelligent Drive Package, premium seats and a head-up display brings the total to $76,380 before taxes or fees.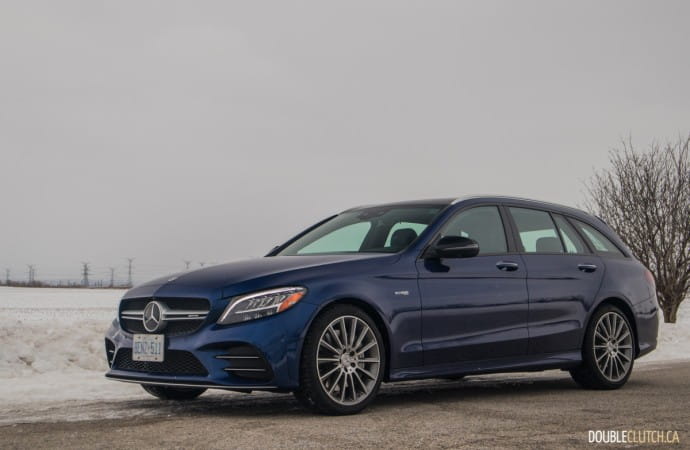 AMG enthusiasts who want a powerful wagon but at a lower price than the E 63 will find themselves right at home here. The 2019 Mercedes-AMG C 43 Wagon 4MATIC is a performance bargain at a relative budget, especially if you opt out of some of the, albeit tempting, options. It offers more performance than any other wagon at its price point, and with 460L of storage behind the rear seats, enough space for that weekend outdoor adventure. Plus, with standard 4MATIC all-wheel-drive, it's a beast for all four seasons.
See Also:
2018 Mercedes-AMG E 63 Wagon 4MATIC+
2019 Mercedes-AMG GLC 63 4MATIC+